Learn how to easily make the best Chinese-style pork or chicken char siu that is perfectly tender, sticky, and sweet in the oven or roasting on the pan. Made with natural red color.
Never in million years I thought I could make my own char siu or known as Chinese barbecued pork at home. I thought it was complicated and with the oven we have at home, I didn't know how it's gonna turn out. Well, it turned out delicious. I've made this char siu several times since.
CHINESE CHAR SIU
Traditionally, char siu is usually made with pork marinated in sauces, usually dyed with red color. The strips of pork are skewered and then cook over an open fire. You will find recipes cooking char siu in the oven too, like in this recipe. Most Chinese restaurants will hang this barbecued pork vertically on the hook and it's actually part of a "display" when you first walk in the restaurants. In Indonesia, we call it "cha sio" in the town where I grew up. The cha sio is usually served with rice, slices of cucumbers on the side and serve with sweet sauce. I haven't been able to duplicate the sauce, but this sauce that I made is delicious to drizzle over the meat when you serve it.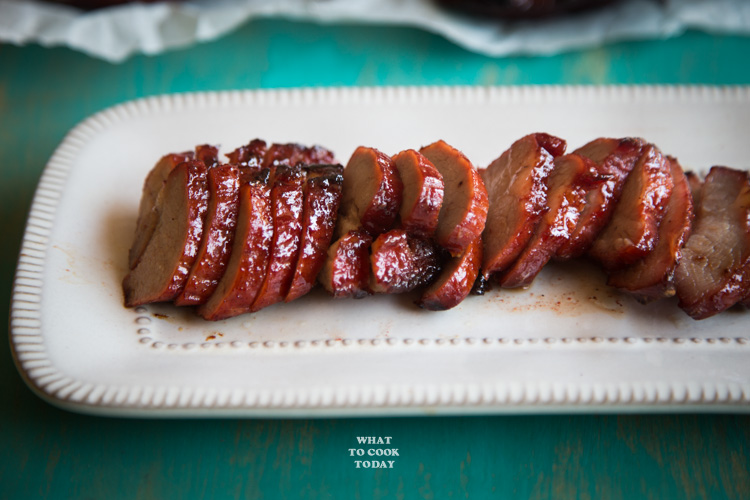 WHAT CUT OF MEAT IS BEST FOR MAKING CHAR SIU?
I've tried making char siu with pork loin but the family complained that it was too lean and dry. I've tried it with pork belly, and while I love pork belly, I found it a bit too greasy for char siu. But you may like it. Finally, I tried to use pork shoulder/butt. This is the best cut for making char siu IMHO. Pork shoulder is not super lean and it has some fat, but not so fatty as pork belly.
CAN I MAKE CHICKEN CHAR SIU WITH THIS RECIPE?
You certainly may. I've tried it before and it's tasty too. Simply substitute the pork with boneless and skinless chicken thighs. I will not make it with breast though. It's too lean.
WHAT MAKES CHAR SIU RED IN COLOR?
Most restaurants used red food coloring. It's simply easier. Some recipes use fermented red bean curd in the marinade to give it that natural red color. My mom usually uses red yeast rice that she grinds into powder and hence red yeast rice powder (shown in the photo below). Skip all the coloring if you want, you will still end up with really good char siu.
HOW DO YOU MAKE CHAR SIU SAUCE?
The finished product looks like something that you won't be able to attempt at home, BUT, making char siu is actually one of my favorites because it's pretty easy and this recipe is pretty foolproof. The sauce is made with only few ingredients :
HOISIN SAUCE
HONEY
OYSTER SAUCE
CHINESE FIVE-SPICE POWDER
RED COLORING: I use red yeast rice powder. You can use red food coloring as red yeast rice powder is not easy to find here in the U.S. My mom brought it for me when she visited.
DO I NEED MALTOSE TO MAKE CHAR SIU?
What is maltose you would ask? In short, it is a malt sugar and commonly used in Chinese cooking to prepare roast duck and char siu. It gives the finished product a shiny, sweet, and brown crispy glaze on the outside. Do you need maltose to make char siu? No you don't. If you have one, feel free to use it. This can be purchased at Asian grocery store. I use honey instead, which gives that nice shine, sweet, and sticky feel to the char siu as well.
HOW TO MAKE GOOD CHAR SIU BBQ PORK IN THE OVEN OR PAN-ROASTED
1. CHOOSE THE RIGHT CUT OF MEAT YOU LIKE
My choice will be either pork shoulder/butt or pork neck, it's not too lean or too fatty. If you like very lean char siu, you can use pork loin. If you like juicy fatty char siu, pork belly will be your choice.
2. CUT INTO LONG STRIPS
I highly recommend to cut the pork into smaller strips instead of roasting the entire pork shoulder. More surfaces of the meat get marinated instead of one super big piece. It cooks faster too.


3. MARINADE
Marinating the meat for at least 24 hours is highly recommended. I won't recommend going over that though. Longer is not always better. Not in this case. Use a plastic bag as I find that this helps to marinate the pork more evenly.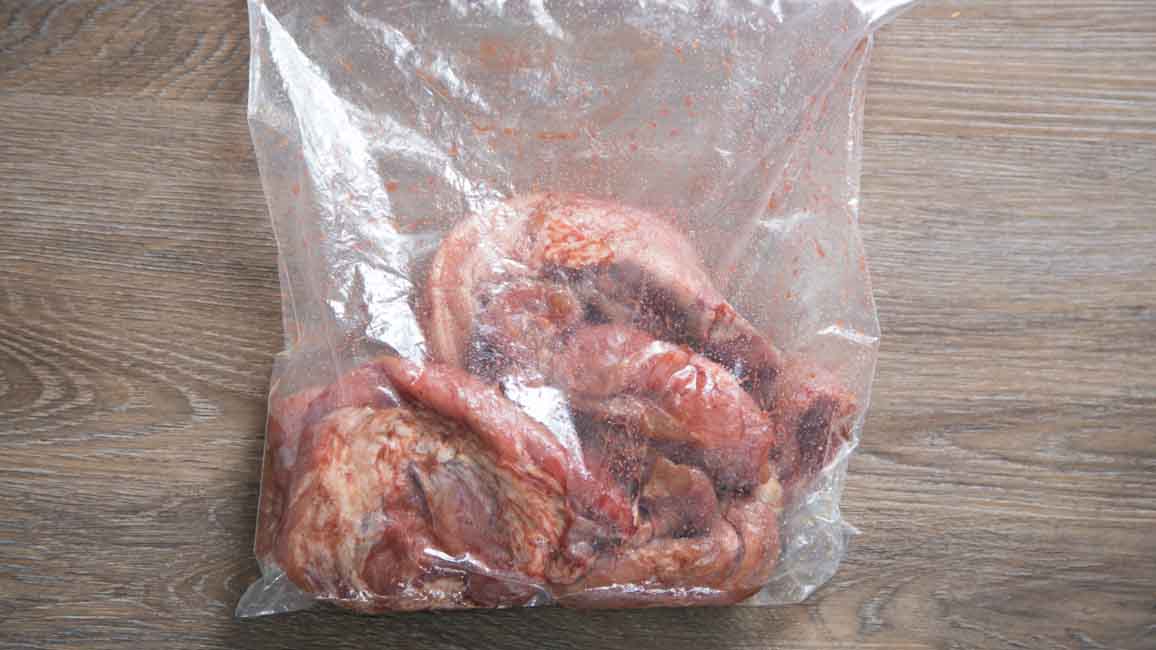 4. LET MEAT COMES TO ROOM TEMPERATURE
30 minute before you plan to cook the pork, pull it out from the refrigerator and let it sit on the counter for 30 minutes while the oven is preheating. This will help to cook the pork more evenly.
5. PAN-ROASTED METHOD
Preheat a pan and then add cooking oil. Place the strips of pork on the pan. Let them sear about 2-3 minutes on each side.


Pour 1 Tbsp of cooking wine over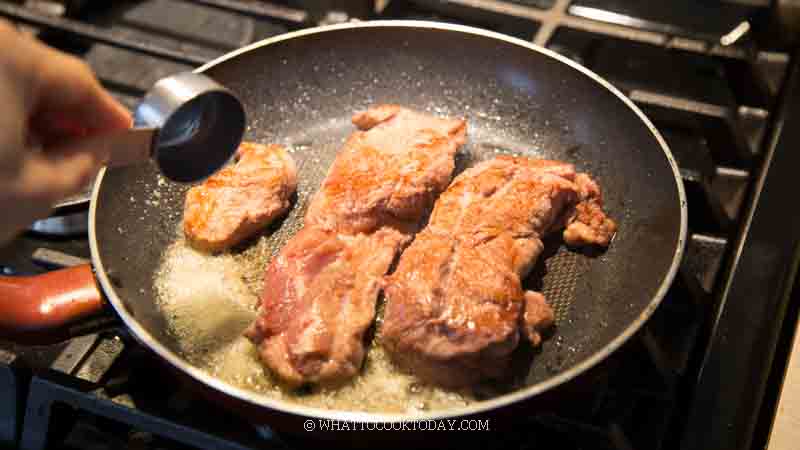 Cover and let it cook until the wine reduces. Uncover the lid and flip the pork strips to the other side and pour another 1 Tbsp of cooking wine and cook until the wine reduces again.

Uncover the lid and remove smaller pieces that have cooked. Pour about 1/2 cup of water into the pan.


Cover the lid and let the pork continues to cook until they are cooked through or thermometer reads 145 F.


Remove pork from the pan and continue to reduce the liquid left on the pan.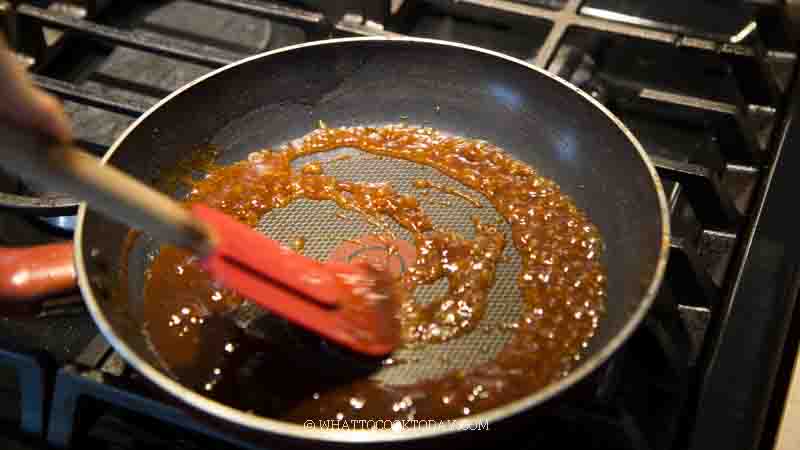 Add the strips of pork back into the pan to make sure the sauce coats the pork. Remove from the pan.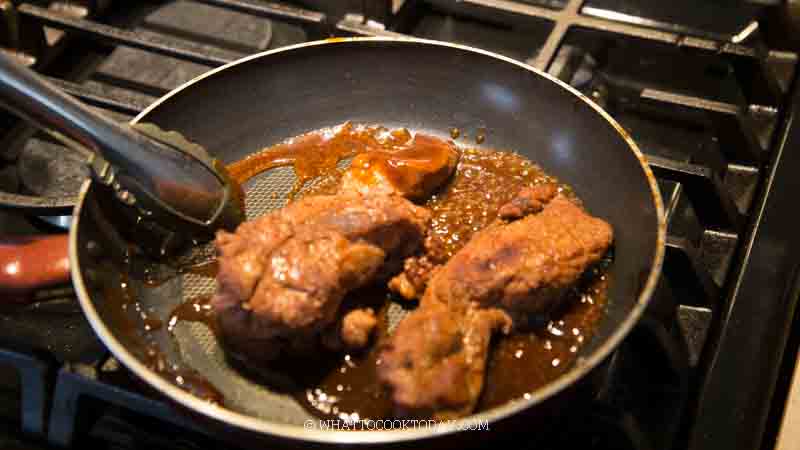 5. OVEN METHOD
Set the meat on top of the rack. The rack helps to evenly cook the pork and fat will drop to the bottom of the pan.


Roast the pork for about 25-30 minutes or until thermometer inserted into the pork reads 145 F.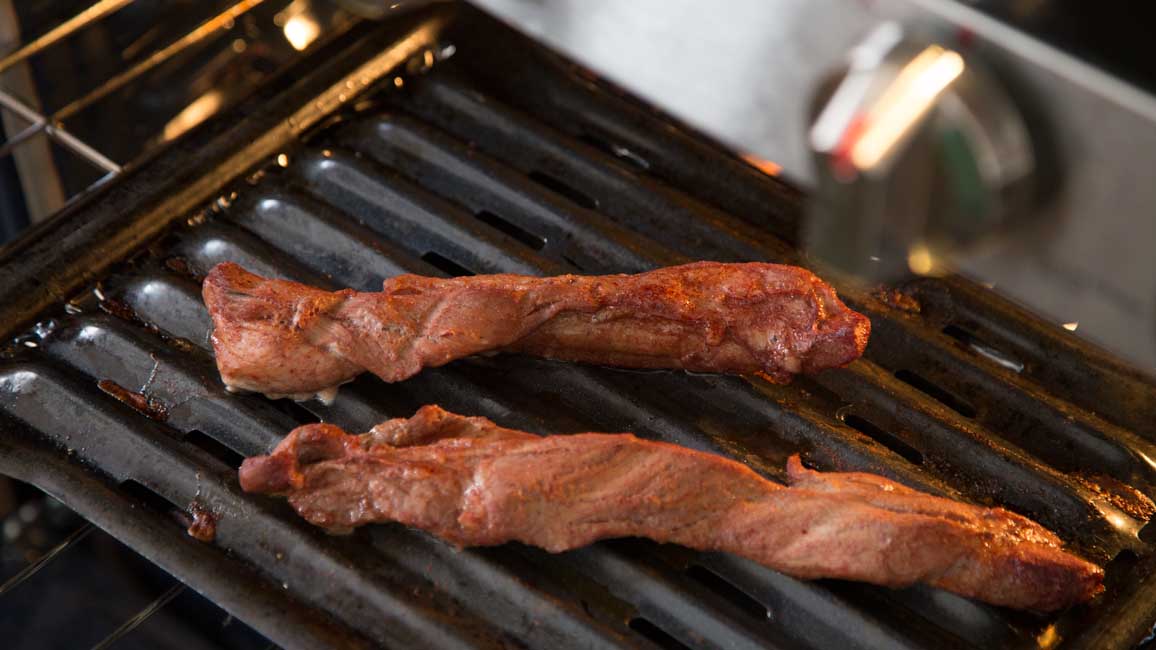 Halfway through cooking, baste the pork with the marinade juice and let it roast 2-3 minutes then flip and baste with some marinade and repeat until the pork is cooked through
Turn off the oven and turn on the broiler to low. This part is to create nice caramelization on the outside. When you are happy with the color, remove from the oven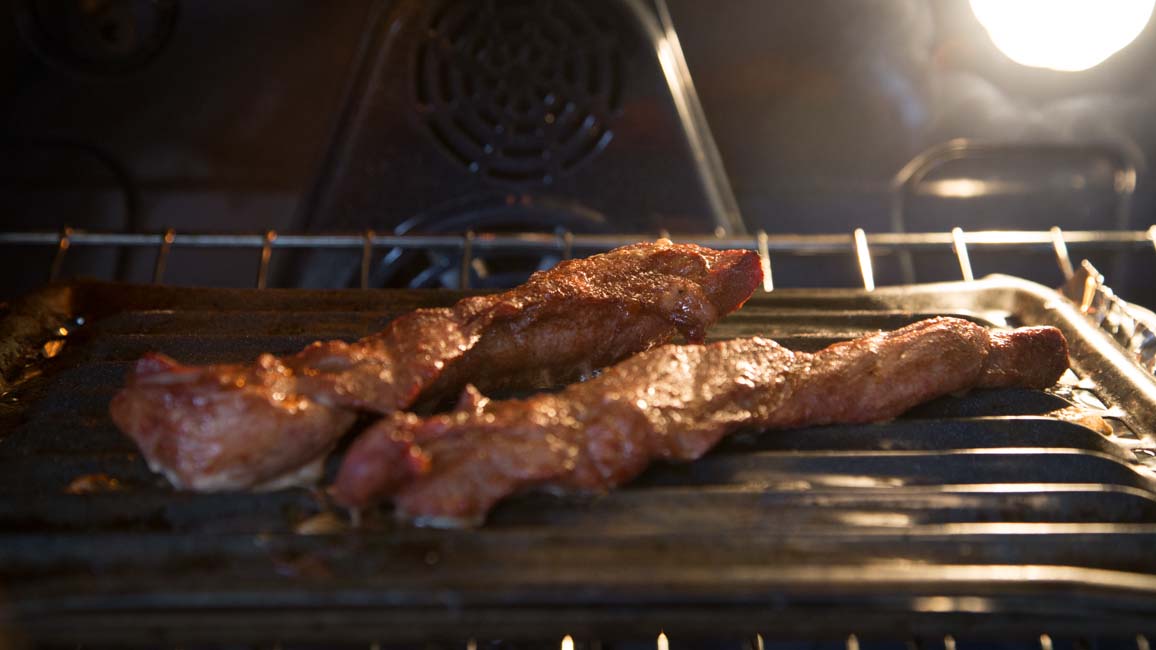 6. REST THE MEAT BEFORE SLICING
When you cut the meat immediately right after it comes out from the oven, you are risking losing all those juices. Loosely tend the meat with aluminum foil and let them rest for 5 minutes before slicing. This will ensure you get a moist meat.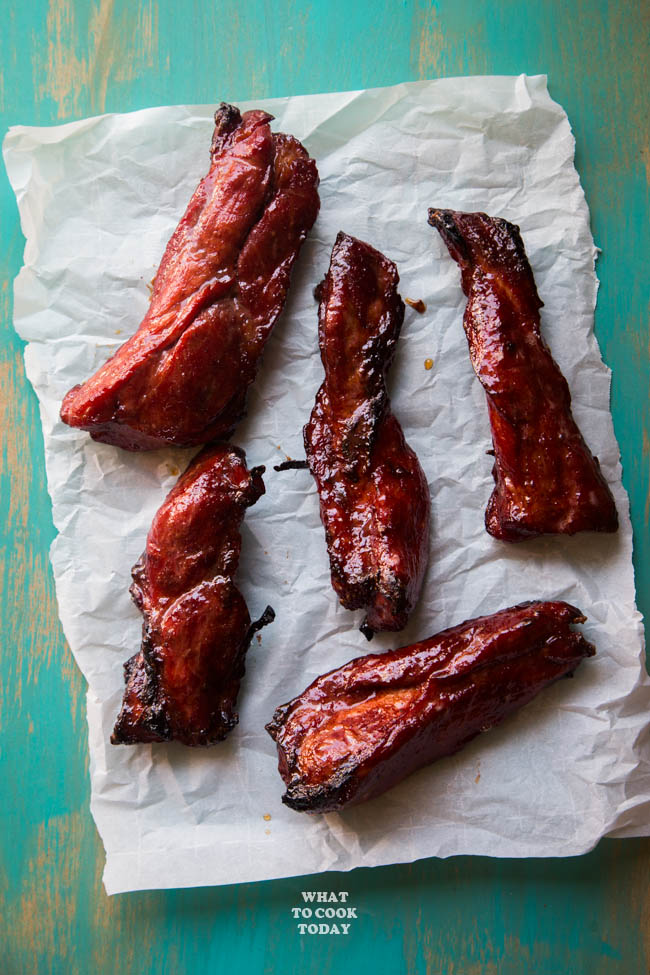 HOW TO STORE LEFTOVER CHAR SIU?
I recommend to only slice the amount of char siu you are going to serve. You can store the rest of the char siu strips in the refrigerator for up to 3 days or wrap them up and place them in the freezer bag and can be frozen for up to 1 month. Just thaw in the refrigerator before reheating.
HOW TO REHEAT LEFTOVER CHAR SIU?
Preheat oven to 375 F. Wrap the char siu strips in a foil and then bake for 10-15 minutes. Rest 10 minutes and then slice.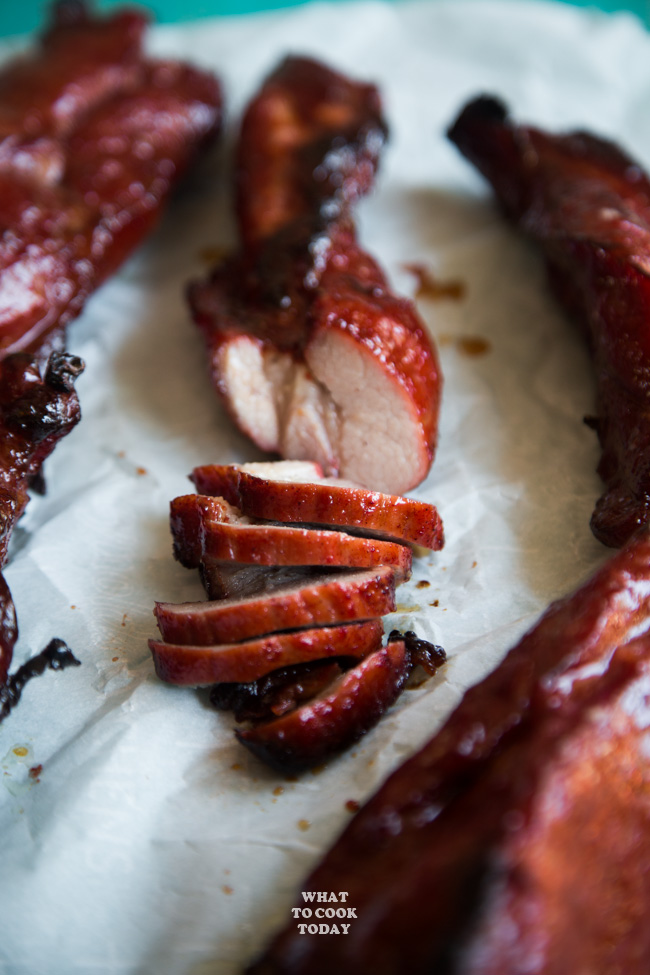 WHAT TO SERVE OR EAT WITH CHAR SIU?
You can cut up the char siu and make yang zhou fried rice, stir-fried noodles, roast pork puff pastry, make char siu bao, wonton noodles, eat with rice, eat with noodles, I mean…pretty much anything!
Now that you have all the tips you need to make some really good char siu at home, you will find that it's not as intimidating as it looks.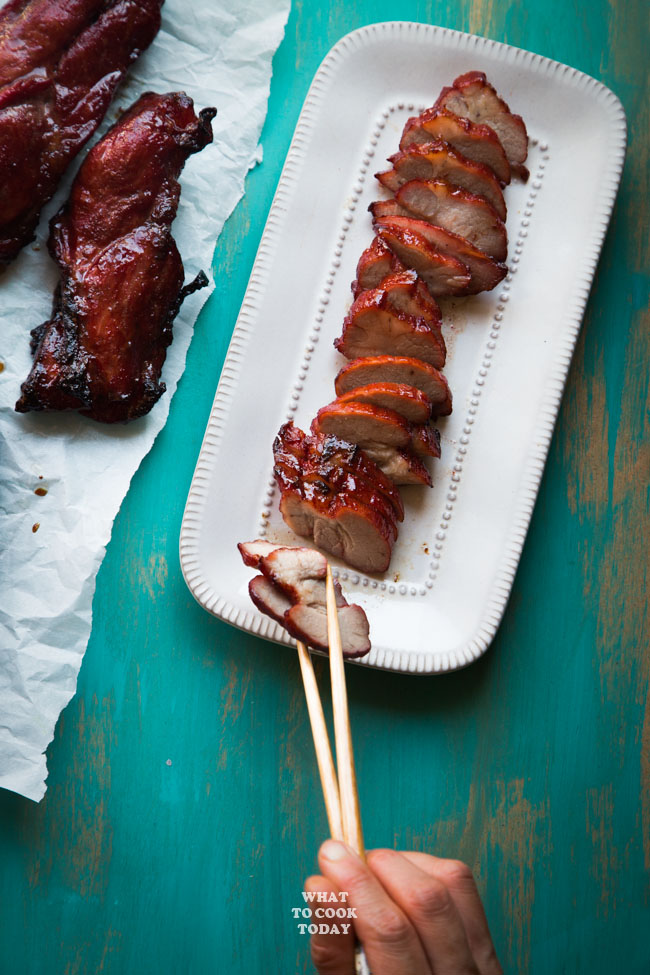 Easy Chinese Char Siu BBQ Pork (Oven or Pan-Roasted)
Ingredients
1.4

kg

pork shoulder/butt

or use boneless skinless chicken thighs

2

Tbsp

cooking oil

2

Tbsp

cooking wine
Sauce to serve with:
4

Tbsp

oyster sauce

2

Tbsp

hoisin sauce

4

Tbsp

honey

2

Tbsp

brown sugar

or more for sweeter taste

4

Tbsp

water

1

cube

red-fermented bean curd

mashed, skip if you don't have any
Instructions
Make the sauce:
Combine the sauce ingredients in a bowl. Place in a small saucepan and cook until the sugar is melted and the sauce is slightly thickened. Have a taste. It should be more sweet than savory. Add more brown sugar if needed. Keep in the fridge for up to one week. Simply reheat in the microwave or on the stove before serving
Cut the pork into strips:
Trim off any visible excess fat from the pork. Don't trim all as you want a little bit of that. But I don't like the pork to be too fatty either. Cut the pork vertically into 5-6 long strips, about 2 to 3 inches in width is ideal
Marinade the pork:
Place all the ingredients for the marinade in a large ziplock bag (or 2-3 bags if necessary), big enough to place the pork in. Place the strips of pork in.  Push out any air and seal. Marinade for at least 24 hours, but no longer than that
Pan-roasted method:
Preheat a pan and then add cooking oil. Place the strips of pork on the pan. Let them sear about 2-3 minutes on each side

Pour 1 Tbsp of cooking wine over and then cover and let it cook until the wine reduces. Uncover the lid and flip the pork strips to the other side and pour another 1 Tbsp of cooking wine and cook until the wine reduces again

Uncover the lid and remove smaller pieces that have cooked. Pour about 1/2 cup of water into the pan. Cover the lid and let the pork continues to cook until they are cooked through or thermometer reads 145 F. Remove pork from the pan

Continue to reduce the cooking liquid on the pan until it starts to thicken. Add the strips of pork back into the pan to make sure the sauce coats the pork. Remove from the pan
Oven method:
Preheat your oven to 375 F. Prepare a roasting pan and line with heavy-duty aluminum foil. Place the pork strips on the rack set on the roasting pan and then put them in the oven (3rd from the top). Roast the pork for about 25-30 minutes or until thermometer inserted into the pork reads 145 F

Halfway through cooking, baste the pork with the marinade juice and let it roast 2-3 minutes then flip and baste with some marinade and repeat until the pork is cooked through
Finishing touch in the oven:
Turn off the oven and turn on the broiler to low. This part is to create nice caramelization on the outside. When you are happy with the color, remove from the oven
Serving:
Cover the char siu loosely with aluminum foil and rest for 5 minutes before slicing. Slice only the amount of char siu you are going to serve. Drizzle some sauce over or serve the sauce on the side