Learn how to make delicious Cantonese dim sum bbq pork puff pastry or known as char siu sou with juicy sweet and savory bbq pork filling wrapped in homemade flaky puff pastry.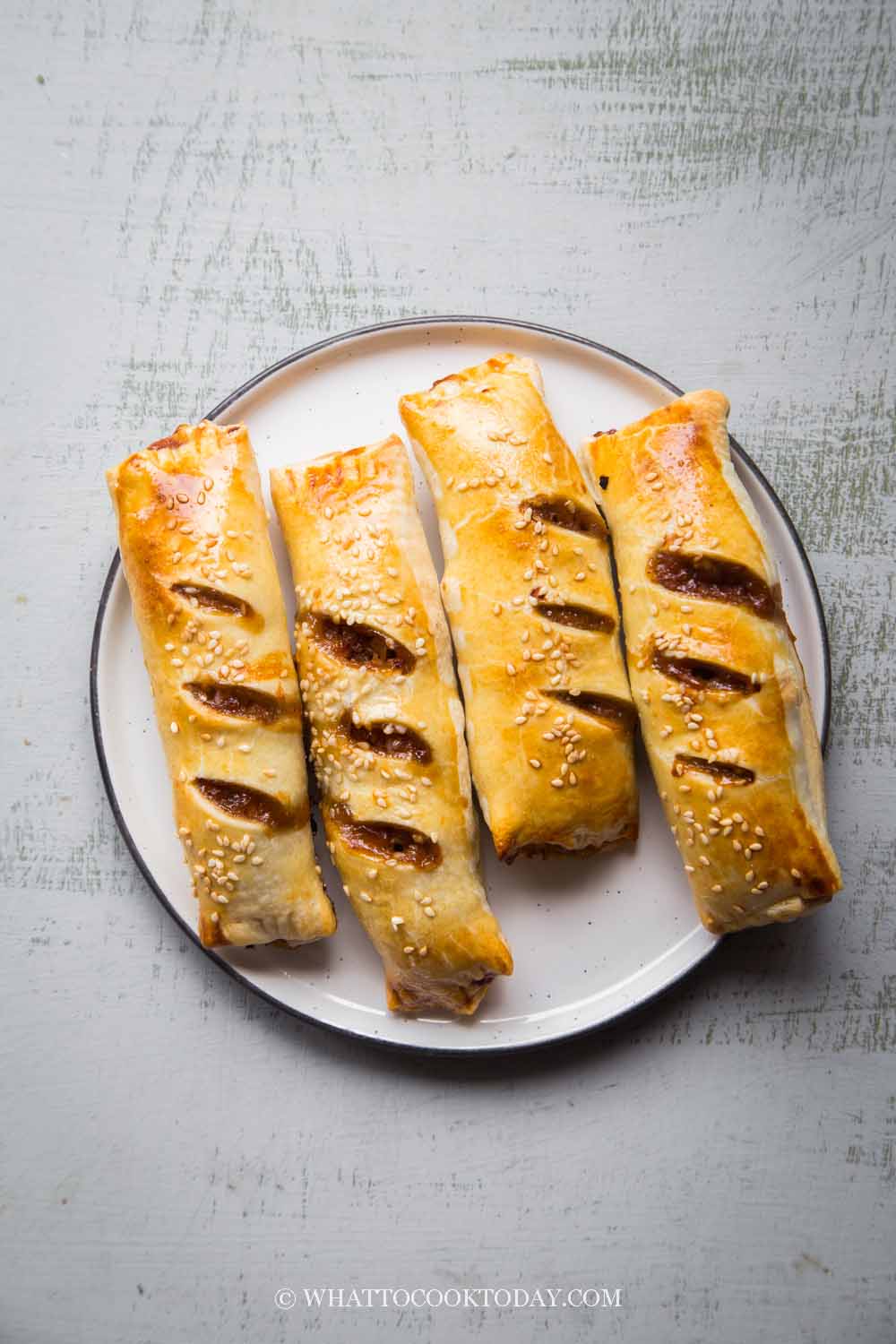 What is char siu sou? (叉燒酥)?
Char siu is Cantonese-style barbecued pork made with a mixture of Chinese seasonings and spices and more often than not, you will see it reddish in color. It has a sweet and savory taste profile and is used in many cookings, fillings for buns or bread and pastries. Sou is the Cantonese word for flaky or crispy. The char siu is cooked in savory and sweet sauce and then thickened. This juicy char siu filling is then wrapped in Chinese-style flaky and crisp puff pastry.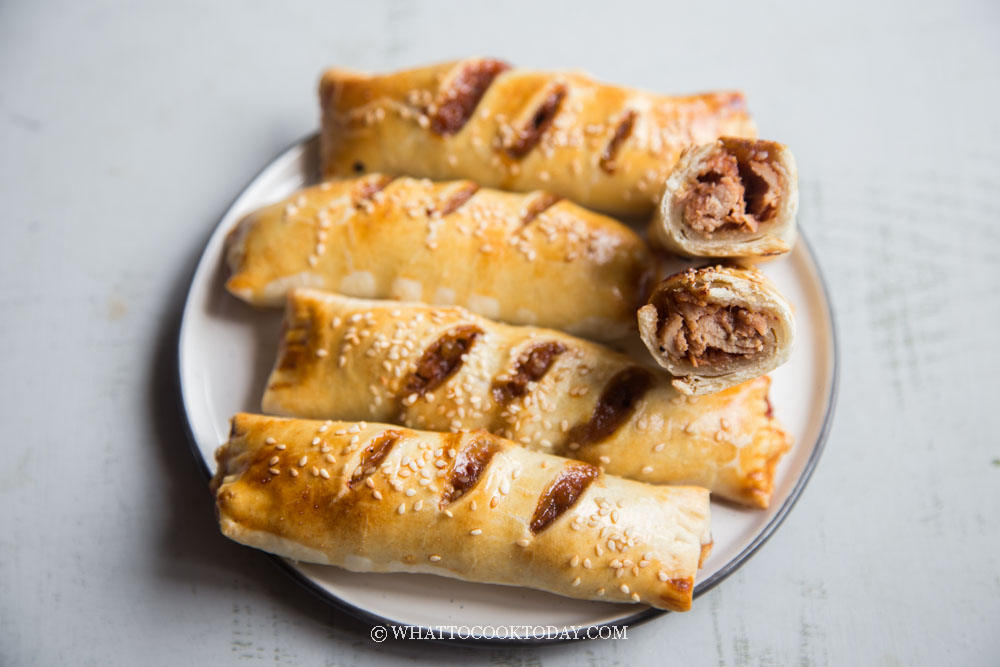 How to make the flaky Chinese puff pastry
The pastry dough usually consists of water dough and oil dough. The two is then combined and gone through a laminating process to create the flaky layers. Here's how:
1. Prepare the oil dough by combining the flour with the lard in a mixing bowl. Knead with your hand until no more dry flour is visible and it comes into a smooth dough. Cover with a cling wrap while you prepare the water dough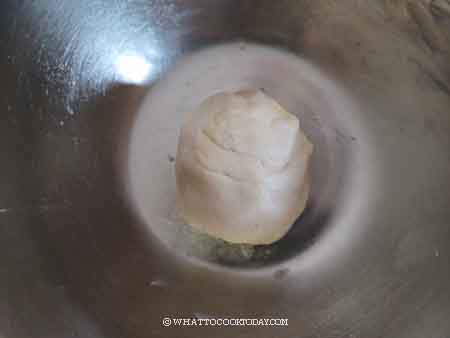 2. Combine all the ingredients for the water dough in a mixing bowl. Knead until it comes into a smooth dough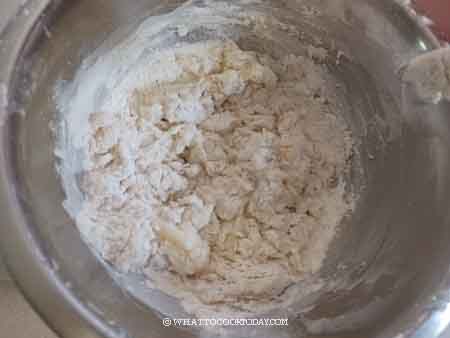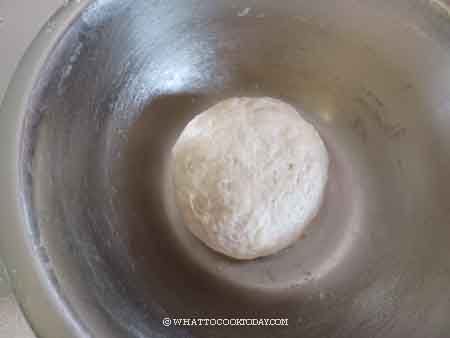 3. Let both water and oil dough rest for 15 minutes


4. Take the water dough and flatten it into a disc, bigger than the oil dough. Put the oil dough in the middle. Wrap the water dough around it. Flatten slightly into a disc. Cover it with a cling wrap again and let the dough rest for 15 minutes. This rest is to relax the gluten so you can roll it out easily later


5. After resting for 15 minutes, roll the dough out using a rolling pin into a rectangle about 10 x `15 inches


6. Fold the right into 1/3 and the left into 1/3


7. Rotate 90 degrees and roll it out again into a rectangle. Fold the right into 1/3 again and the left into 1/3


8. Rotate 90 degrees and roll it out again into a rectangle (I didn't show the photo of these anymore). This time fold the right to meet with the left in the middle and then fold it over.


9. Rotate 90 degrees again


10. Roll it out into a rectangle again. At any point during laminating, if you find it hard to roll the dough out, cover the dough and let it rest for 15 minutes and you will have an easier time rolling it out again


11. Use a pizza cutter or dough scraper to cut into 12 roughly equal pieces

How to wrap and bake char siu sou
1. Preheat the oven to 375 F (190 C) for a conventional oven. For a convection oven, lower the temperature by about 20 degrees. Take one cut-out pastry dough and put about 2 teaspoons of filling in the middle


2. Fold one side over to cover the filling and then the other. Pinch the two sides to seal tightly. You can use a fork to crimp the edges too


3. Repeat with the rest of the filling and the dough. Arrange them on a baking sheet lined with parchment paper, about 1 inch apart. Use a sharp knife to make 3 slits on the surface. This is optional


4. Beat one egg with a fork to loosen the yolk and the white. Add water and beat it again to combine. Use a pastry brush and brush the egg wash on top of the shaped pastry, sprinkle with some sesame seeds


5. Bake for 25-30 minutes on the middle rack until they are golden brown. Serve warm or transfer to a cooling rack to let them cool down completely before storing

How to store
We found that eaten these char siu sou the next day is even better as the pastry has time to "mature" and has better flavor.
1. Let them cool down completely
2. Store in an air-tight container
3. The puff pastry will soften after storing, that's normal. Simply reheat in the oven or an air-fryer if you have one. The instructions are in the recipe card below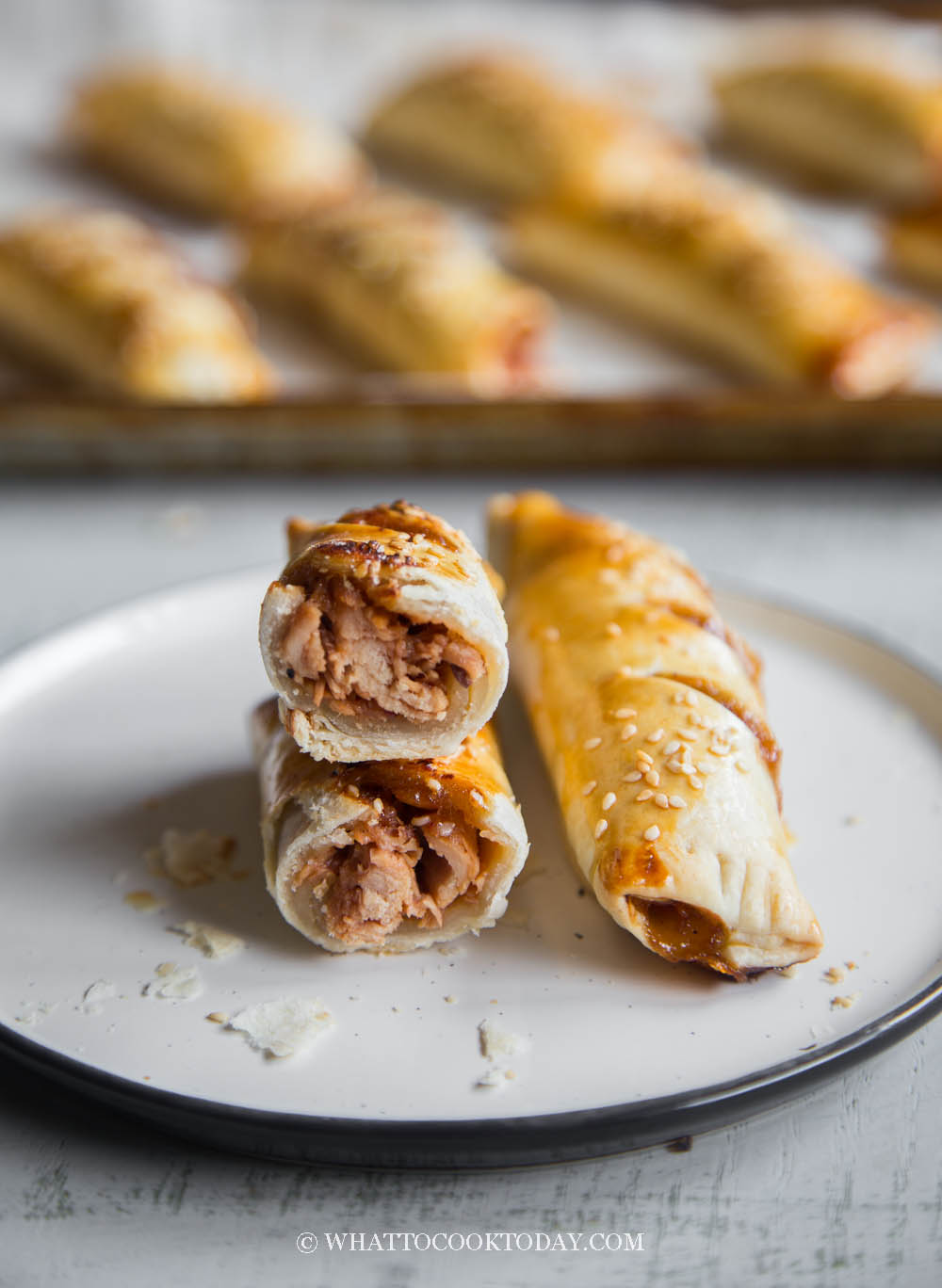 Did you make this char siu sou recipe?
I love it when you guys snap a photo and tag to show me what you've made 🙂 Simply tag me @WhatToCookToday #WhatToCookToday on Instagram and I'll be sure to stop by and take a peek for real!

Char Siu Sou (Chinese BBQ Pork Puff Pastry)
Ingredients
Filling:
150

gr

char siu

diced

2

Tbsp

oil

30

gr

red onion or shallots

diced

100

ml

water
Instructions
Prepare the filling (can be a few days before and kept in the fridge):
Preheat a pan with 2 Tbsp of oil. Add red onion and saute for about a minute. Add the water followed by seasonings listed on the ingredient list. Bring it to a simmer. Combine the corn starch with water and mix well. When the water comes to a simmer, gradually pour in the corn starch slurry while the other hand keep stirring with a spatula. When the mixture starts to thicken, add the char siu pieces and keep stirring until all is combined

Remove from the pan to a plate, spread it out to let it cool down completely before using
Prepare the pastry dough:
Prepare the oil dough by combining the flour with the lard in a mixing bowl. Knead with your hand until no more dry flour is visible and it comes into a smooth dough. Cover with a cling wrap while you prepare the water dough

Combine all the ingredients for the water dough in a mixing bowl. Knead until it comes into a smooth dough.

Let both water and oil dough rest for 15 minutes. Take the water dough and flatten it into a disc, bigger than the oil dough. Put the oil dough in the middle. Wrap the water dough around it. Flatten slightly into a disc. Cover it with a cling wrap again and let the dough rest for 15 minutes. This rest is to relax the gluten so you can roll it out easily later
Laminating the dough:
This is how those multiple flaky layers are created, through a laminating process. It sounds more complicated than it actually is.

After resting for 15 minutes, roll the dough out using a rolling pin into a rectangle about 10 x `15 inches, fold the right into 1/3 and the left into 1/3

Rotate 90 degrees and roll it out again into a rectangle. Fold the right into 1/3 again and the left into 1/3

Rotate 90 degrees and roll it out again into a rectangle. This time fold the right to meet with the left in the middle and then fold it over.

Rotate 90 degrees again and roll it out into a rectangle again and use a pizza cutter or dough scraper to cut into 12 roughly equal pieces

At any point during laminating, if you find it hard to roll the dough out, cover the dough and let it rest for 15 minutes and you will have an easier time rolling it out again
Wrapping:
Preheat oven to 375 F (190 C) for a conventional oven. For a convection oven, lower the temperature by about 20 degrees. Take one cut-out pastry dough and put about 2 teaspoons of filling in the middle. Fold one side over to cover the filling and then the other. Pinch the two sides to seal tightly. You can use a fork to crimp the edges too

Repeat with the rest of the filling and the dough. Arrange them on a baking sheet lined with parchment paper, about 1 inch apart. Use a sharp knife to make 3 slits on the surface. This is optional
Baking:
Beat one egg with a fork to loosen the yolk and the white. Add water and beat it again to combine. Use a pastry brush and brush the egg wash on top of the shaped pastry, sprinkle with some sesame seeds

Bake for 25-30 minutes on the middle rack until they are golden brown. Transfer to a cooling rack to let them cool down completely

We found that eating these pastries the next day is even better as the flaky crust is more flavorful
How to reheat in the oven:
Reheat in a preheated oven at 350 F (180 C) for 5-8 minutes or until the pastry is crisp and warm through
How to reheat in the air fryer:
You don't need to preheat your air fryer. Reheat in the air fryer at 350 F (180 C) for 3-4 minutes. You need to monitor carefully as my air fryer may not be the same as yours. You may need a shorter or longer time. Just check every 1-2 minutes to make sure they don't get burnt
Nutrition
Serving:
1
piece
|
Calories:
166
kcal
|
Carbohydrates:
27
g
|
Protein:
4
g
|
Fat:
4
g
|
Saturated Fat:
1
g
|
Polyunsaturated Fat:
1
g
|
Monounsaturated Fat:
2
g
|
Trans Fat:
1
g
|
Cholesterol:
19
mg
|
Sodium:
240
mg
|
Potassium:
48
mg
|
Fiber:
1
g
|
Sugar:
8
g
|
Vitamin A:
373
IU
|
Vitamin C:
3
mg
|
Calcium:
29
mg
|
Iron:
1
mg