Thin and springy egg noodles are tossed in a delectable savory sauce, flavorful garlic oil, and served with homemade succulent wontons and slices of pan-cooked Chinese BBQ Pork. They are so good and satisfying.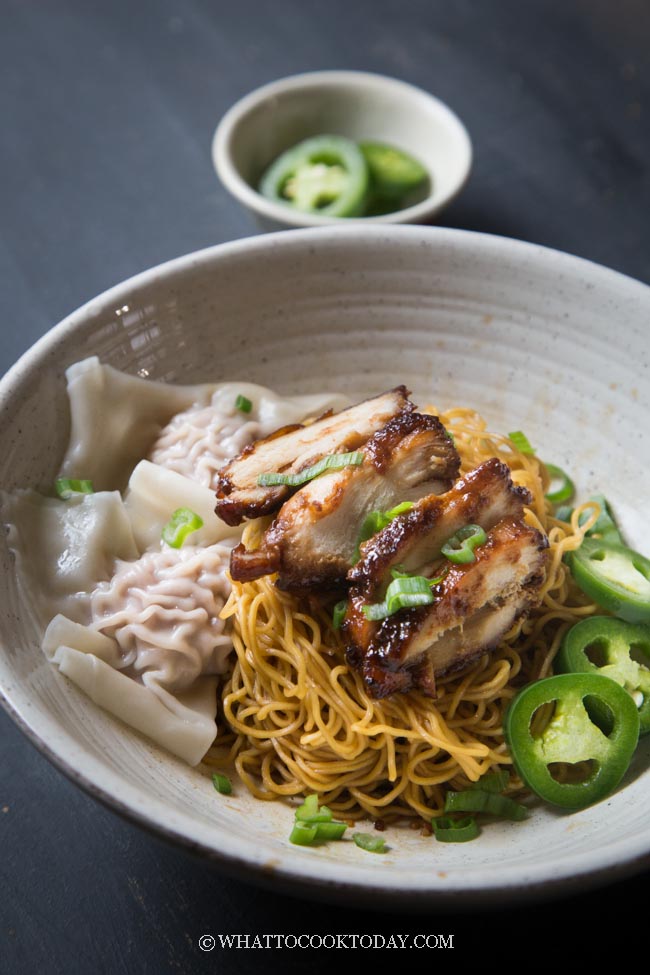 A friend brought me to have this amazing kon lo / kon loh wantan mee when I was in KL, Malaysia many years ago. It's a dry noodle with savory dark sauce laced with the amazing flavor of shallot oil (I used garlic oil), delicious char siu slices and amazing wontons. A bowl of that was simply not enough I can tell you that!
Kon lo mee literally means dry-tossed noodles. It's popular in Hong Kong, Malaysia, and Singapore. The one I made here is closer to the Malaysian version, tossed in darker sauce. In my hometown Medan, wonton noodles are usually served in soup, though there is dry version with a soup on the side, but usually not tossed in soy sauce or any dark sauce, usually only lard and fried lard bits.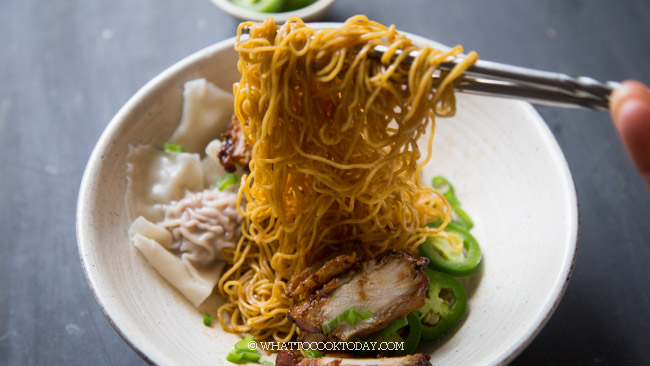 EGG NOODLE TO USE
This is the wonton noodles I use. Feel free to use your favorite brand if you've found one. The noodles are usually thin, though there's wide version too. I like to use the thin one for dry wonton noodles. They are springy in texture.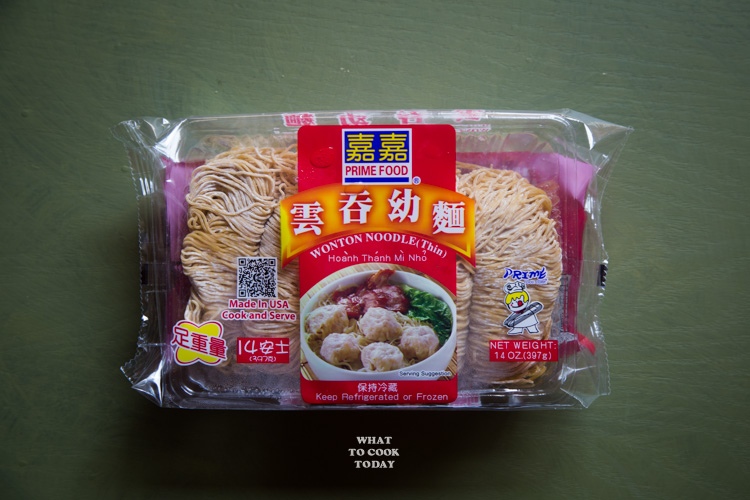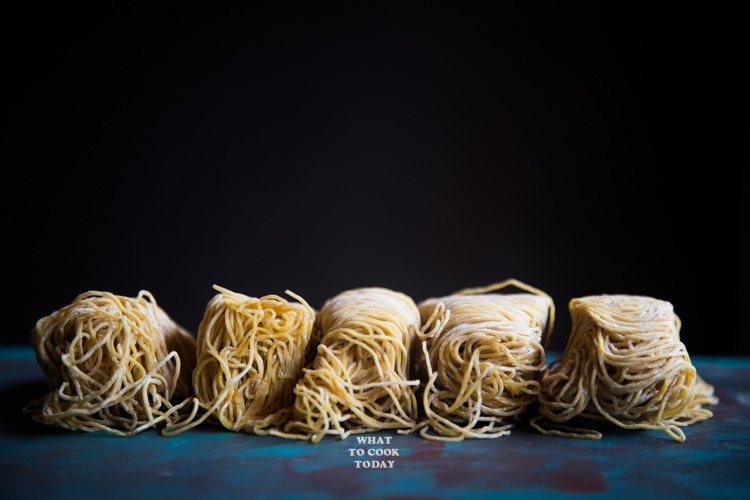 Here are few tips I'm sharing on how you can make really good wontons from scratch and how to boil wontons properly so you don't end up with soggy and fall-apart wontons.
HOW TO MAKE GOOD PORK AND SHRIMP WONTONS FROM SCRATCH
1. Use both pork and shrimp
I grew up with wontons made with both pork and shrimp and I found that this combination is really tasty. I use equal weights of pork and shrimp in the recipe, but you can adjust to less pork and more shrimp if you prefer.
2. Egg yolk and cornstarch
The addition of egg yolk and cornstarch will give you a soft tender filling inside and they act as a binder at the same time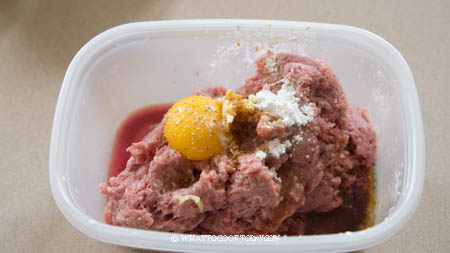 3. A bit of sugar
I don't use MSG in my cooking and so mom often tells me that adding a bit of sugar in cooking actually helps to bring out flavor in the food, just like how salt does
4. Do not overmix the filling
You want to mix the filling thoroughly with other ingredients, but try not to overmix and make the filling all tough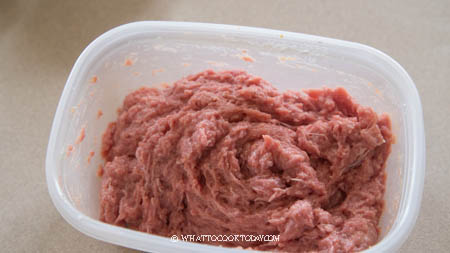 5. Marinate
Let the filling rest and marinate for 1 hour in the refrigerator or overnight if you prepare ahead. This will enhance the flavor of the filling.
6. Bigger is not always better
While I love myself large succulent wontons, I've learned that if you put too much filling inside the wonton wrapper, the filling may not be cooked through while the wonton wrapper is already turning soggy from all the boiling.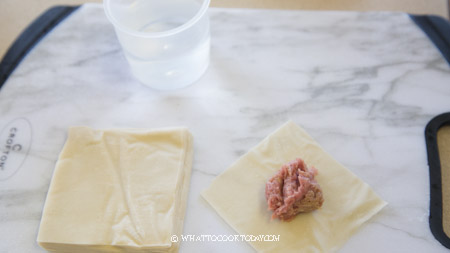 7. Push the air out
As you wet the edges of the wonton wrapper to seal with water, push the air out as much as you can. This will give you a nice and tight looking wontons once they are boiled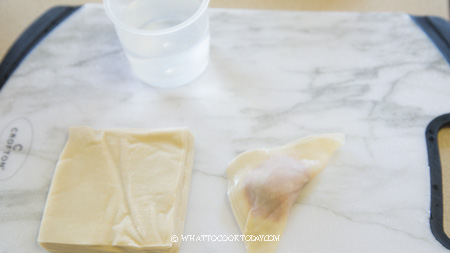 8. Pinch to seal
The last thing you want is to have your filling dislodge from the wonton. Really use your fingers to pinch the edges to seal properly
HOW TO BOIL WONTONS PROPERLY
All the work for making wontons from scratch will go to waste if you ended up with broken or worse mushy wontons
1. Bring water to a boil
This is always a must. The longer the wontons sit in the water, the mushier they will get.
2. Stir every now and then
Once you put the wontons into the boiling water, give them a quick stir so they won't stick to the bottom of the pot
3. Do not overcook
Wontons usually take about 3-4 minutes to cook. That is why as I mentioned above not to wrap your wontons too big that the filling is not cooked through and the wonton wrappers, which are usually thin, turn mushy and torn apart from too much boiling.
4. Plunge in cold water quickly
This step is optional. If you are making wonton soup, this step is not necessary. But if you are serving them dry or on the side, I like to plunge them in cold water very quickly just to stop the cooking process and so they won't turn sticky and mushy.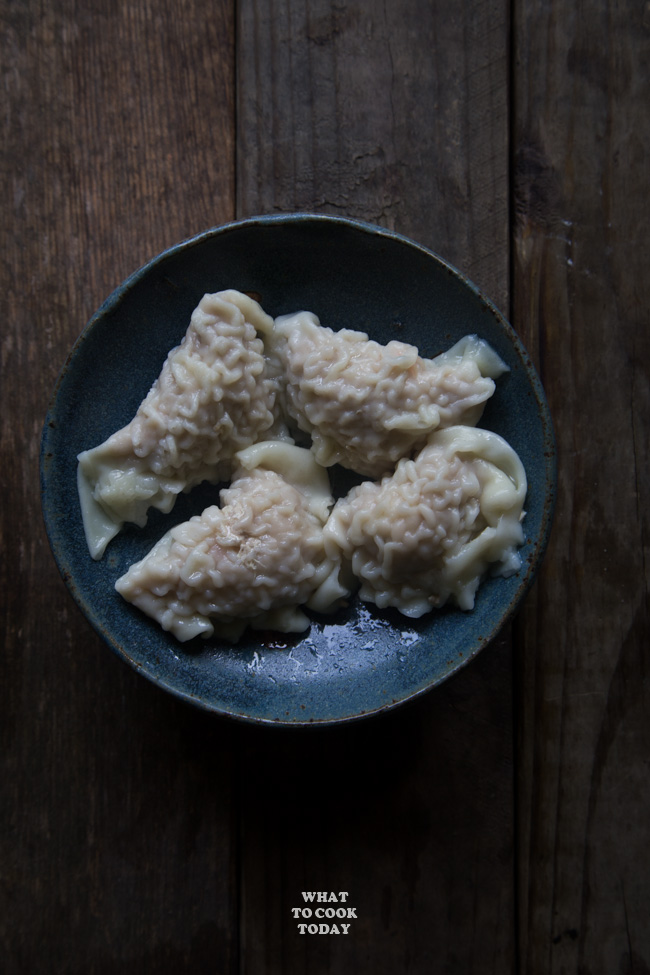 Now that you know how to make really good wontons from scratch, you can make them in a large batch and they can be freeze for months. They come in handy so many times for me when I don't have much time to cook.
HOW TO FREEZE HOMEMADE WONTONS
Place the wontons in a baking sheet, not touching each other. Place them in the freezer for 1 hour. They will harden, but not 100% frozen yet. You can transfer them to a freezer bag to save freezer space and they won't stick to each other anymore. I promise! When ready to cook, do not thaw, just place them in boiling water, you may add a few seconds or a minute to make sure they are cooked through.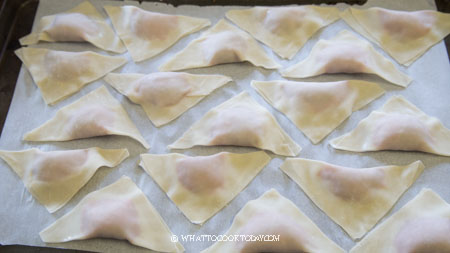 HOW TO COOK SPRINGY WONTON NOODLES
1. Bring a large pot of water to a boil. Loosen up the bundles of wonton noodles and then briefly cook the wonton noodles for about 40 seconds or so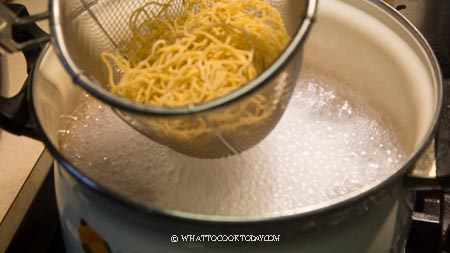 2. Rinse the noodles under cold running water or submerge in a pot of cold water to stop the cooking process and to avoid the noodles getting soggy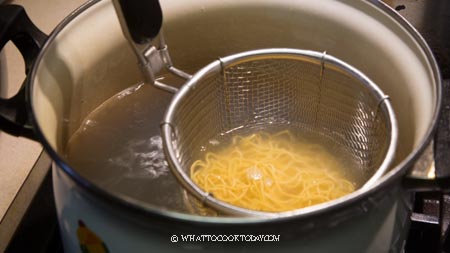 3. Then immediately plunge them back into the hot water you boil the noodle earlier for about 5 seconds then transfer to a serving bowl with tossing sauce in it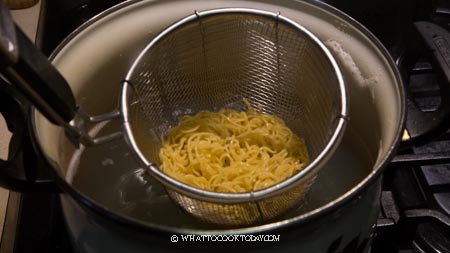 HOW TO PREPARE KON LO WANTAN MEE
1. MAKE GARLIC OIL
Heat the cooking oil in a small pan over medium heat. Add the minced garlic and let them cook over medium-low heat for 5-6 minutes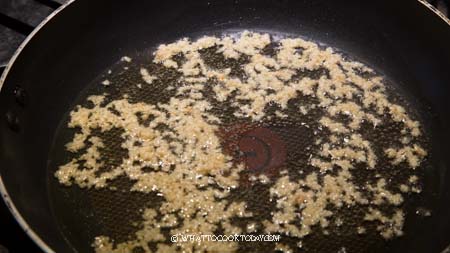 They get burn easily so you don't want to crank up those heat. When they get to these light golden brown color lower the heat and watch them closely, cook until the color are slightly darker, then remove from the heat immediately and transfer to a glass jar and let them cool down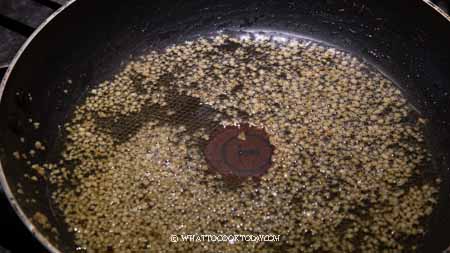 2. PREPARE TOSSING SAUCE
Put all the tossing sauce in a bowl and stir to mix. Have a taste and you can always adjust it to your liking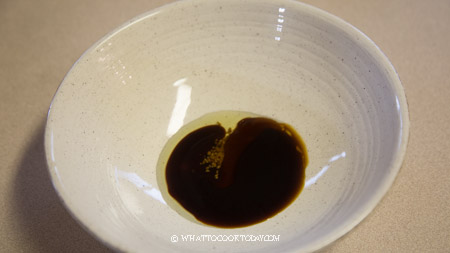 3. TOSS FRESHLY COOKED NOODLES IN THE SAUCE
Toss the noodles in the sauce to make sure it coats the noodles nicely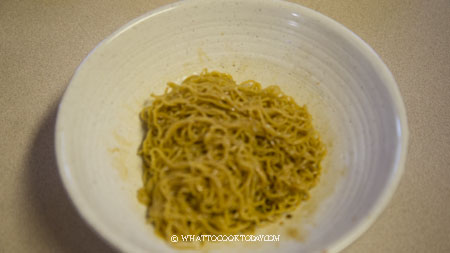 4. DRESS THE NOODLES
Top with 3-4 slices of Chinese BBQ pork and 2-3 pieces of wontons, some briefly blanched bok choy or choy sum. Garnish with some chopped green onion and slices of pickled green chili and ready to be served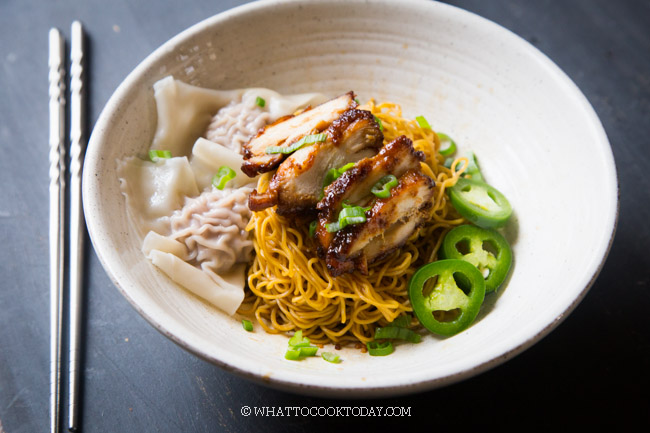 If you use store-bought wontons and use this pan-roasted char siu recipe, you don't really have much work to do, to be honest.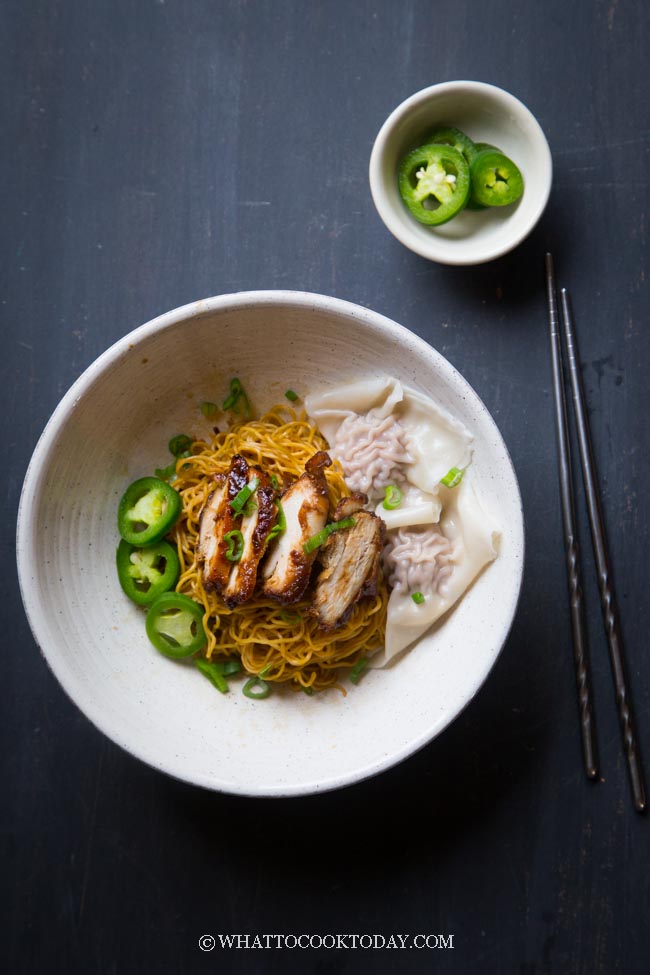 This kolo mee is our family's favorite. The kids love the springy noodles and the succulent wontons and the char siu, well, pretty much everything in this dish 🙂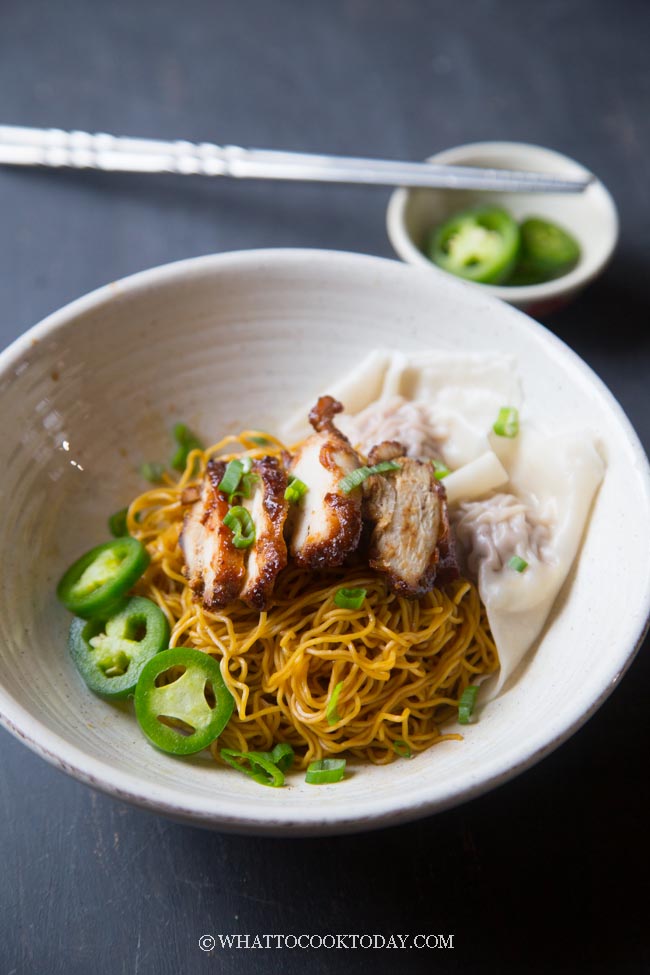 VARIATIONS
You can also serve kon lo mee with leftover cooked chicken meat (shredded) instead of wontons or char siu. I like to do this when I have leftover rotisserie chicken I got from Costco. Just toss the noodles in the sauce and some shredded chicken and we are good to go 🙂 Easy meal!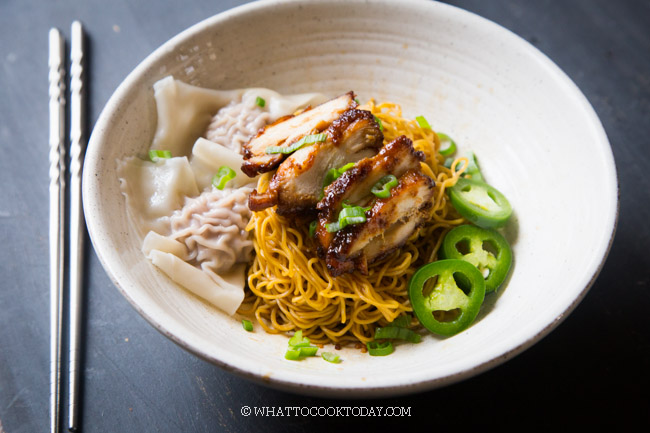 DID YOU MAKE THIS KOLO MEE/KON LOH MEE RECIPE?
I love it when you guys snap a photo and tag to show me what you've made 🙂 Simply tag me @WhatToCookToday #WhatToCookToday on Instagram and I'll be sure to stop by and take a peek for real!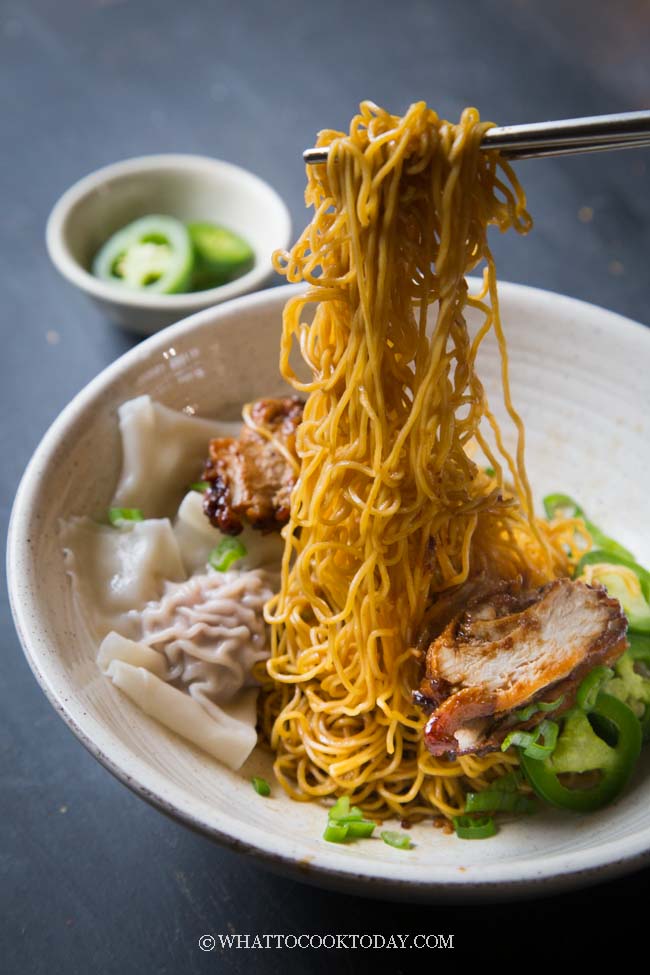 Kolo Mee / Kon Loh Mee (Malaysian Dry Noodles)
Ingredients
400

gr

wonton noodles

or 8 small bundles of store-bought wonton noodles
Homemade wontons (if you choose to make yourself):
30

-40 thin wonton wrappers

300

gr

ground pork

preferably with some fats

300

gr

large shrimp

peeled, deveined, and finely chopped

1

tsp

fresh ginger

grated

2

large

egg yolks

lightly beaten

1

stalk

green onion

finely chopped

1

tsp

cornstarch

1

Tbsp

sesame oil

1

tsp

sugar

2

Tbsp

soy sauce

¼

tsp

ground white pepper
Veggie (not used here):
1

bunch

bok choy or choy sum
Tossing sauce for noodles (per 1 serving):
Garlic oil:
6

cloves

garlic

finely minced or thinly sliced

75

ml

cooking oil

5 Tbsp
Serve with:
1

stalk

green onion

finely chopped

Pickled green chilis
Instructions
Blanch the veggie:
Bring a small pot of water to a boil. Add bok choy or choy sum and cook for about 30-40 seconds or until cooked through but still retains its nice green color. Refresh with cold water and set aside
Prepare garlic oil (can be prepared ahead):
Heat the cooking oil in a small pan over medium heat. Add the minced garlic and let them cook over medium-low heat for 5-6 minutes. They get burn easily so you don't want to crank up those heat. Let them cook until they start to turn golden brown, then lower the heat and cook for another minute then remove from the heat immediately and transfer to a glass jar and let them cool down
Making wontons (can be prepared ahead):
Place all the filling ingredients in a large mixing bowl and stir to mix everything. Take care not to overmix so your meat filling won't turn tough. Let them marinate for at least one hour or overnight

When ready to wrap, take one wonton wrapper and scoop about 1 Tbsp of filling onto the middle of the wrap. Dip your finger in water and run your finger through the edges of the wrapper. Bring the opposite end together to form a triangle. Push as much air out as you can as you press to seal the wonton. Repeat until you run out of filling or wrapper, whichever comes first
Boiling the wontons:
Bring a large pot of water to a boil. Add the wontons and cook for about 3-4 minutes or longer if your wontons are large. They will float to the top when they are cooked. Take one out and make sure they are cooked through. Remove with a slotted spoon. I like to plunge the cooked wontons in a cold water briefly to stop the cooking process
Putting it together:
Put all the tossing sauce in a bowl and stir to mix. Have a taste and you can always adjust it to your liking. Next, cook the noodles when you are ready to serve
How to cook the noodles properly so it's springy (only cook when you ready to serve):
Bring a large pot of water to a boil. Loosen up the bundles of wonton noodles and then briefly cook the wonton noodles for about 40 seconds or so

Rinse the noodles under cold running water to stop the cooking process and to avoid the noodles getting soggy and then immediately plunge them back into the hot water you boil the noodle earlier for about 5 seconds then transfer to a serving bowl with tossing sauce in it
Dress the noodles and serve:
Top with 3-4 slices of Chinese BBQ pork and 2-3 pieces of wontons, some briefly blanched bok choy or choy sum. Garnish with some chopped green onion and ready to be served
Recommended products:
You can also make your own homemade wonton noodle from scratch. It's not as hard as you think 🙂