Easy Singapore Bak Chor Mee (Minced Pork Noodle) – Just imagine chewy and bouncy egg noodles (mee pok or mee kia) are tossed with savory, tangy, spicy seasonings, pork lard, and topped with braised mushrooms, soft minced pork, sliced pork, meatballs, pig's liver, and crispy lard. I simplified the recipe but they are still very tasty.
If you ask me what is one of my favorite foods to eat in Singapore, I will tell you it's Bak Chor Mee (Minced Pork Noodles). My sister introduced bak chor mee to me when I first moved to Singapore and I swear to God, I got hooked ever since to this date.
WHAT IS BAK CHOR MEE?
Bak Chor means ground/minced meat. Mee means noodles. I usually eat the soupy version. You can use thin noodles (mee kia) or wide noodles (mee pok) to make bak chor mee. I like mee pok, but if you hand me mee kia, I would inhale them within seconds too. In the video I used my own homemade Chinese egg noodles. It's a bit thicker than mee kia because I used a spaghetti cutter. The noodles are then tossed in pork lard, Chinese black vinegar, stock from braising mushroom, chili sauce (or not), a bit of fish sauce and then topped with tender slices of braised mushroom, pork meatballs, pig's liver (not in this recipe because I couldn't find fresh ones), minced pork, and sliced pork. I have the soup served on the side.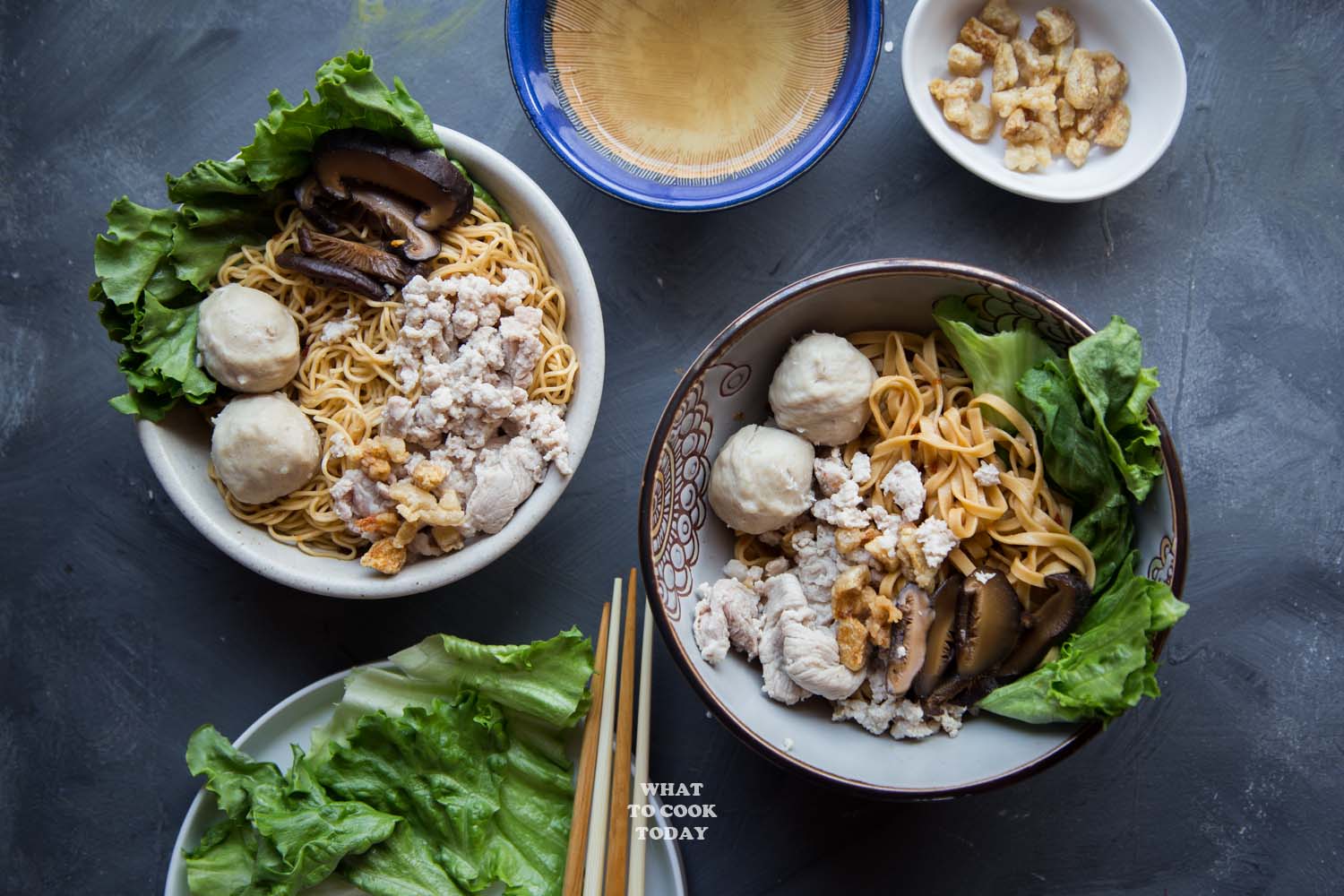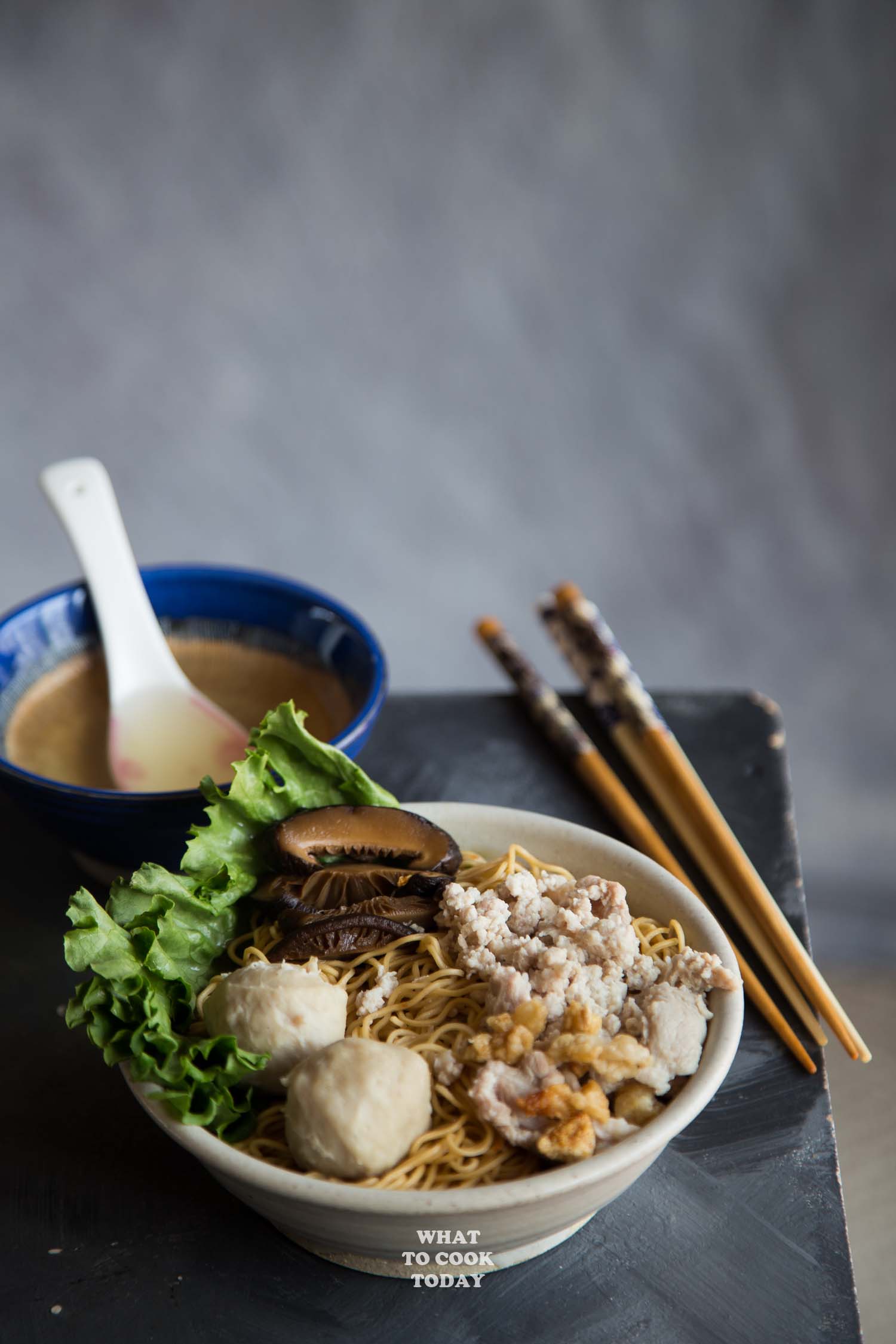 MAIN INGREDIENTS
From top to bottom and left to right:
Wide and thin egg noodles, noodle mesh strainer, marinated minced/ground pork, crispy lard, braised mushrooms, marinated sliced pork, pork lard (in a solidified state), pork balls.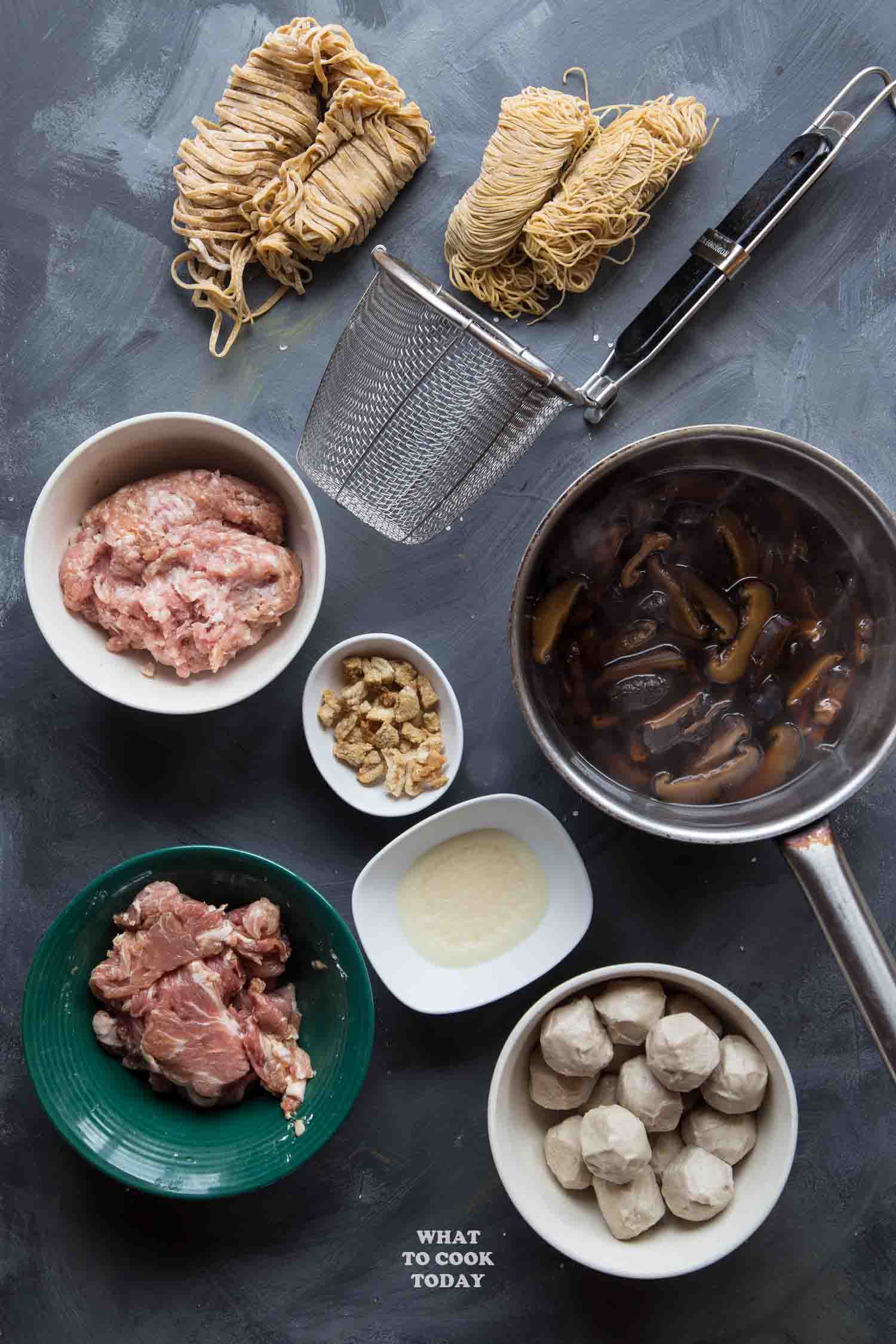 TOSSING SAUCE FOR BAK CHOR MEE:
Soy sauce, fish sauce, Chinese black vinegar, liquid from braising mushrooms, pork lard, chili paste or use ketchup for non-spicy version
WHY IS THIS EASY BAK CHOR MEE?
I call it easy version because I simplified the recipe, but trust me it is still tasty. I didn't make the broth from scratch using pork or chicken bones. I used organic chicken broth (you don't have to do organic) and then boil them with dried anchovies (ikan bilis). It saved so much time but still gives you that nice flavor.
HOW TO EASILY PREPARE SINGAPORE BAK CHOR MEE
It helps to prepare things the day before so you don't feel overwhelmed on the day you want to serve bak chor mee. It may seem like still a lot of things to do, but it's actually not as complicated as it seems
1. Prepare things the day before
-I marinade the thinly sliced pork, minced pork, and liver slices (if using) with seasonings and cornstarch the night before
-Braise the mushroom the night before
-Prepare the broth by using store-bought chicken broth, ikan bilis, and soybeans if you choose to. I didn't use the soybeans
–Prepare lard and crispy lard if you choose to use. I use crispy garlic bits in place of the crispy lard
2. On the day of serving
On the actual day of serving, I just need to quickly cook the noodles and tossed them with seasonings. The minced and sliced pork cook very quickly in a boiling broth and that's why they are still tender when you eat them
TOOL THAT I SERIOUSLY THINK HELPS A LOT WHEN YOU MAKE BAK CHOR MEE:
Noodle Blanching Basket (Noodle Mesh Strainer)
Whatever you call it, this little basket is my favorite thing to cook noodles. It cooks portion by portion and it helps to prevent overcooking the noodle too. I also use this very same tool to blanch the minced and sliced pork. Everything is contained in the basket and doesn't make a "mess" in the broth.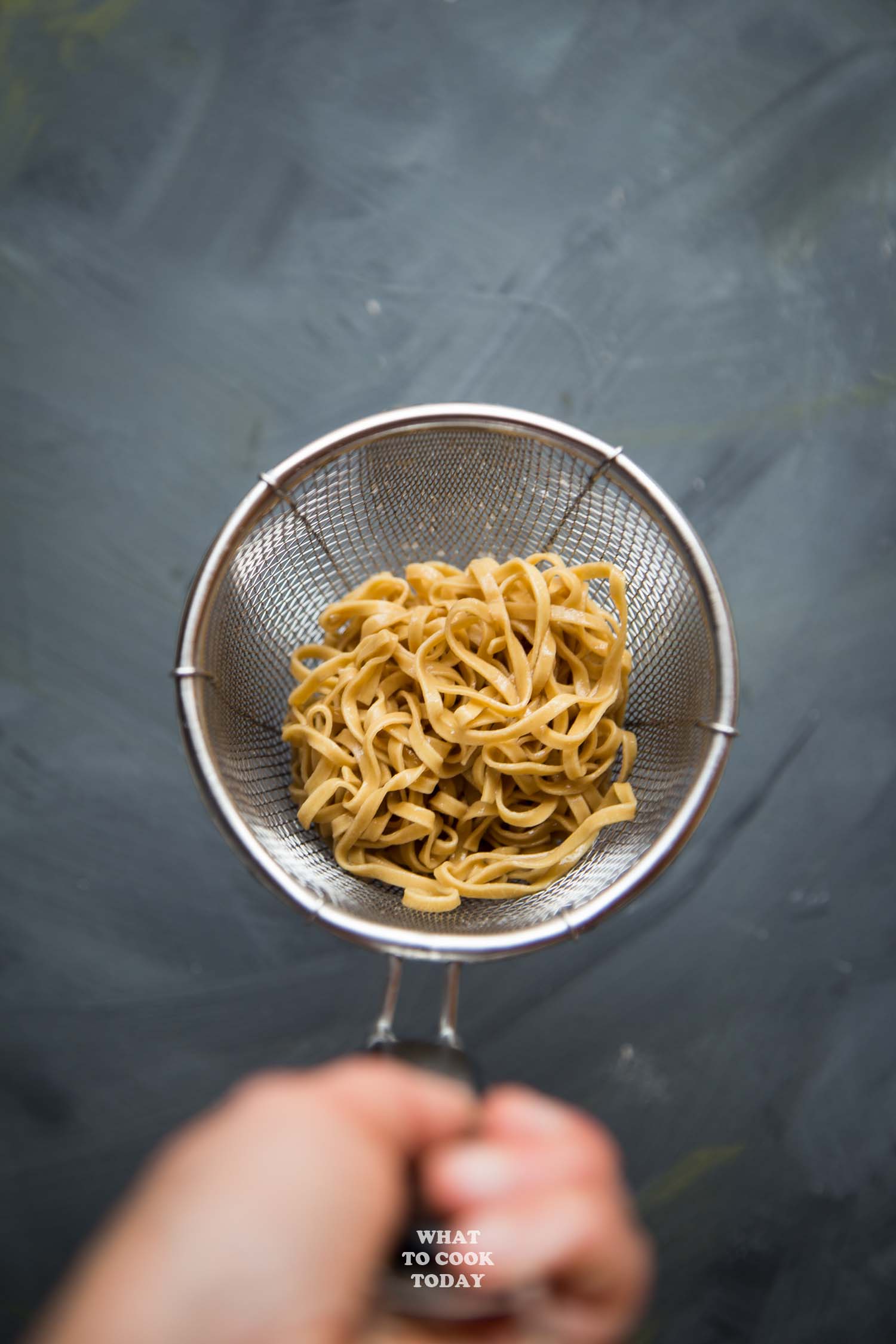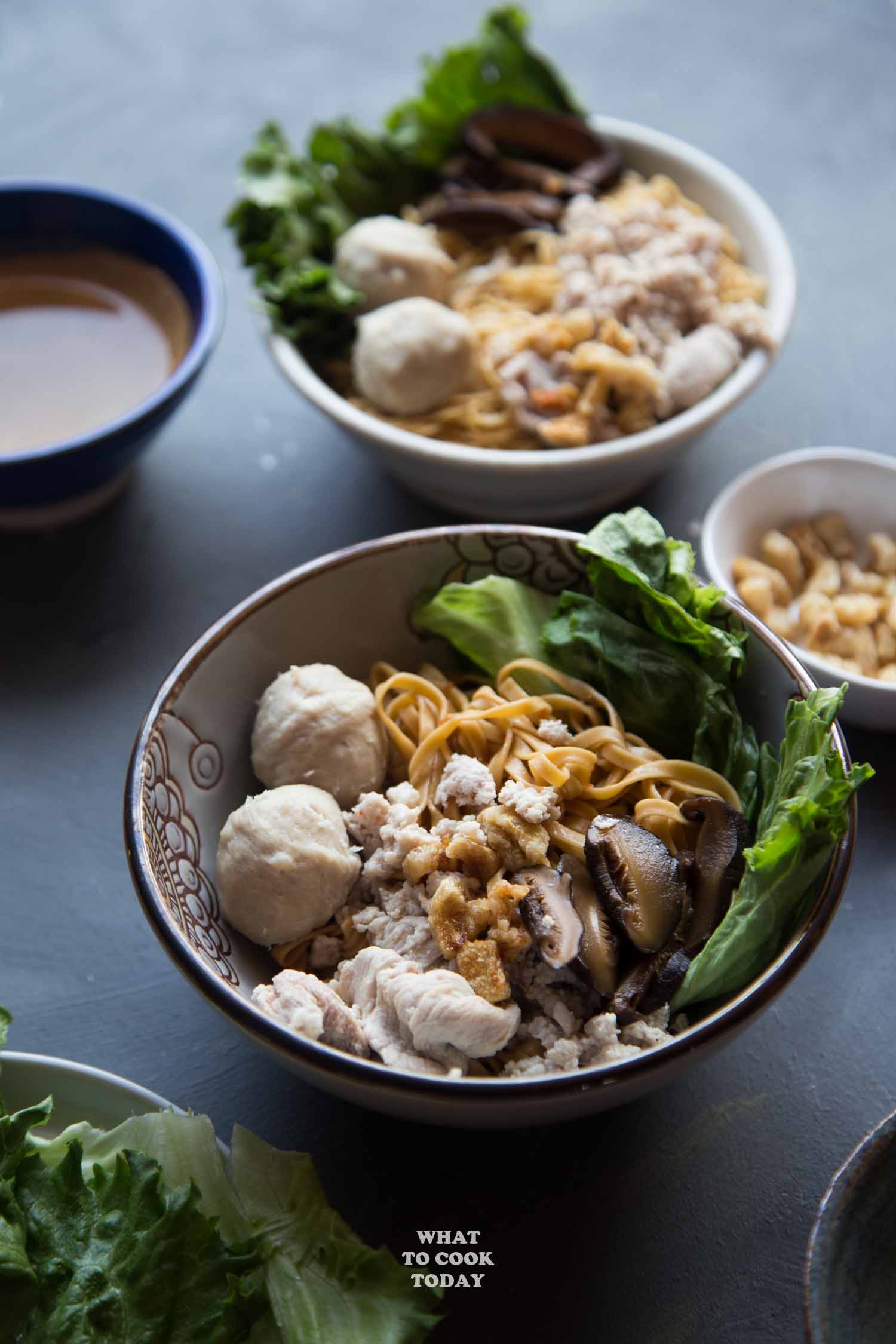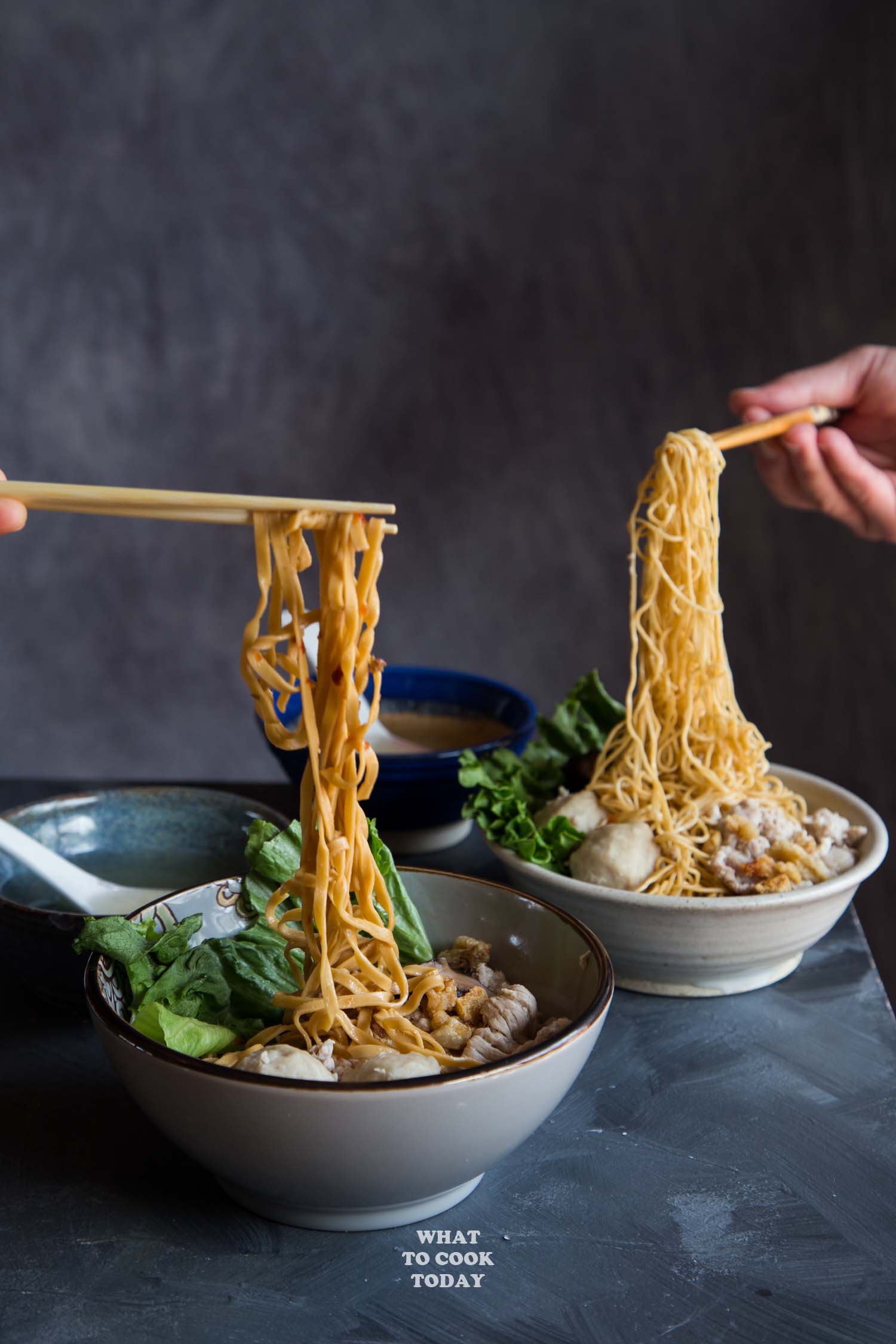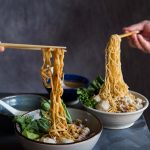 Easy Singapore Bak Chor Mee (Minced Pork Noodle)
Ingredients
Easy broth:
6

cups

store-bought chicken stock

100

gr

dried anchovies

(ikan bilis)

1

tsp

sugar

or to taste

1

tsp

salt

or to taste
Tossing sauce for noodle (this is the recommended amount for each serving bowl):
1

tsp

lard

melted. You can use cooking oil / shallot oil

1

tsp

soy sauce

1

tsp

fish sauce

1

tsp

black vinegar

more if you like more, I do

1

tsp

chili paste

or use ketchup

2

Tbsp

liquid from braising mushroom

2

Tbsp

soup your prepared
Toppings (you can use any of the followings):
8

pork balls

8

wontons

crispy lard

or use crispy garlic or fried shallots
Garnish:
6

pieces

lettuce leaves

washed and pat dry

1

stalk

green onion

finely chopped
Instructions
TO PREPARE THE DAY BEFORE
Braised mushroom:
Rinse the dried mushroom with water. Place mushrooms in a large pot and then pour about 4 cups of hot water and let them soak for 30 minutes. Get the all soaked and plumped mushroom out and cut into slices. Save the liquid and top up with water to make up 500 ml. Add the mushroom slices back, the rest of the seasoning and bring to a boil. Lower the heat, cover and let it gently simmer and braise for the next 1 hour
Marinade the pork slices, ground pork, and liver:
Marinade the minced pork, pork slices, and liver with the seasonings in separate bowls. Cover and keep in the refrigerator
Easy broth:
Bring the chicken broth to a boil. Add ikan bilis and seasonings. Lower the heat and let it simmer gently for 30 minutes. Season to your taste
Cook the noodles:
Prepare the tossing sauce in each individual serving bowl

Bring a large pot of water to a boil. Loosen the egg noodles with your hand if they come in tight bundles. Place the noodles in the noodle blanching basket and cook for about 45 seconds and use chopsticks on the other hand to stir the noodles while cooking. Remove from boiling water and rinse in cold water briefly to stop the cooking process and to make the noodles springy and chewy. Shake off any excess water and then plunge the basket back into the boiling water for about 2-3 seconds so the noodles are warm. Put in a serving bowl. Toss the noodles with the sauce
Cook the meat and liver:
Bring the easy broth to a boil and then put the pork balls in the broth and let them cook for about 1 minute since they are already precooked most of the time. Lower the heat and keep the broth warm while preparing other things

Portion the minced pork and sliced pork for 1 portion in an empty bowl. Ladle the hot broth over the meat. Use the back of the ladle to gently break up the meat. Let them sit for about 5 minutes. This will not fully cook the meat

Bring the broth back to a boil. Transfer the minced and sliced pork back to the noodle blanching basket and submerge this into the hot broth and use a chopstick to gently break up the meat. Only cook until the meat is no longer pink and cooked through. Do not overcook them. Top the meat on top of the noodles
Finish up with toppings and garnishes:
Portion some braised mushrooms and its liquid, 2 pork balls or any toppings you use and garnish with 1-2 pieces of lettuce, garnish with chopped green onion, and crispy lard. I used crispy garlic bits in the video. Serve the soup on the side if you want. Serve immediately
Recommended products: