These homemade Taiwan pineapple cakes/tarts are truly one of the best I have ever made. The buttery, light, and melt-in-the-mouth shortcrust pastry is filled with homemade pineapple jam.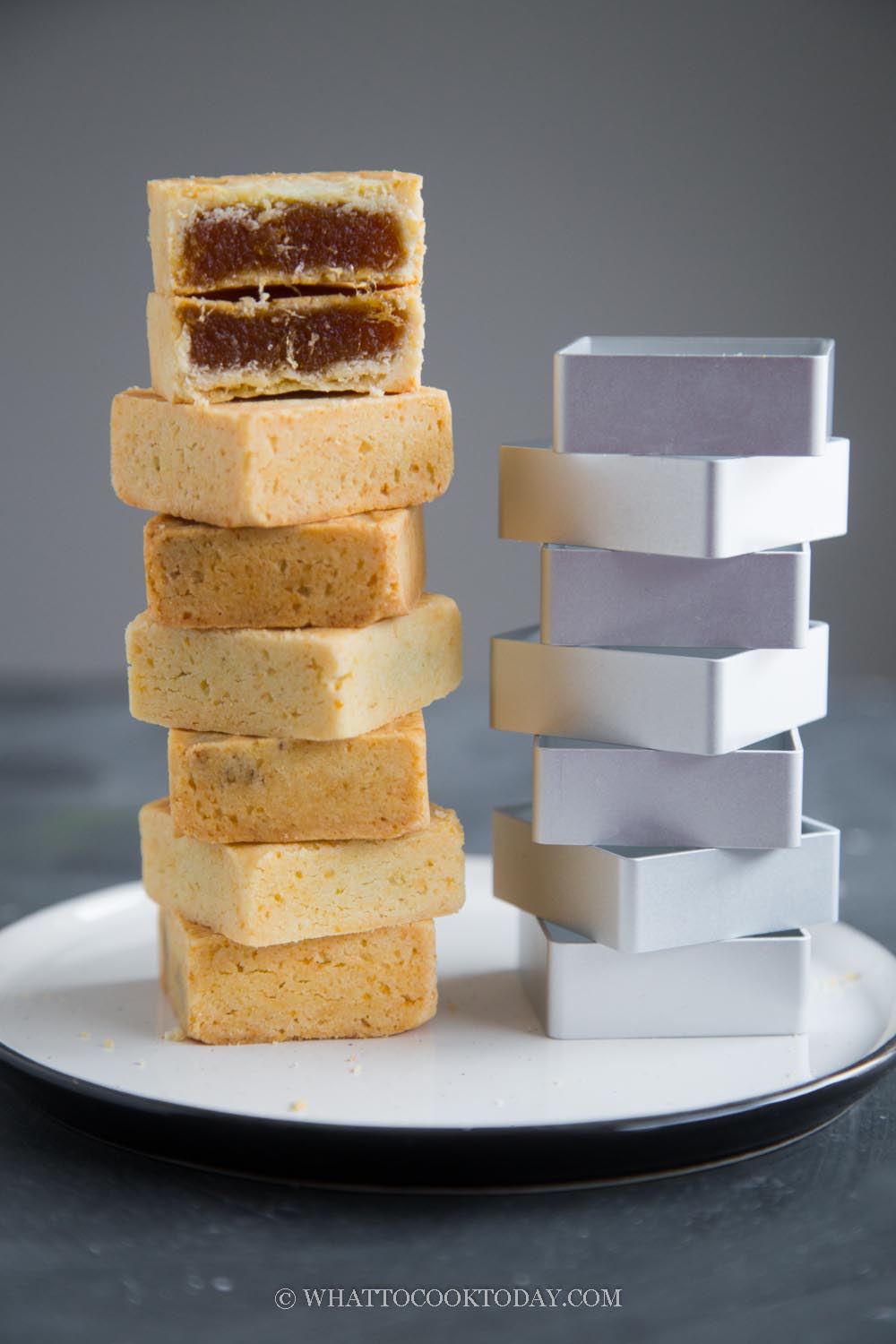 Asian-style pineapple tart, pineapple cookie, or pineapple cake is one of the most popular items you will see during Chinese New Year celebration. In Hokkien dialect, we call pineapple "Ong Lai". The sounds of the words literally mean "fortune come this way". The golden yellow color represents gold, which means wealth/fortune.
Each country in Asia seems to have its own version. In Indonesia, the popular one is called kue nastar/kue nenas. In Singapore and Malaysia, the more common ones are the open-face pineapple tart and the rolled pineapple tart (nastar gulung).
Now, I'm adding these Taiwan pineapple cakes/tarts to my Chinese New Year Cookies collection. This is utterly delicious too.
What is Taiwan pineapple cake/tart?
Taiwan pineapple cakes are almost similar to other pineapple tarts I have mentioned above. They are made with butter pastry crust filled with thick pineapple jam. The tarts are baked in an individual mold, usually in square or rectangle molds, though recently I've seen pineapple-shaped mold as well. The baked tart is then wrapped individually in attractive packaging and placed inside a really nice sturdy box for gifting purposes. People like to buy these as gifts to family members or friends when they come back from Taiwan. They are made in original flavor, which only has pineapple jam inside. There are also varieties like pineapple with salted egg yolk and pineapple with dried fruits and nuts. Pineapple cake/tart is one of the highlights of Taiwan culinary.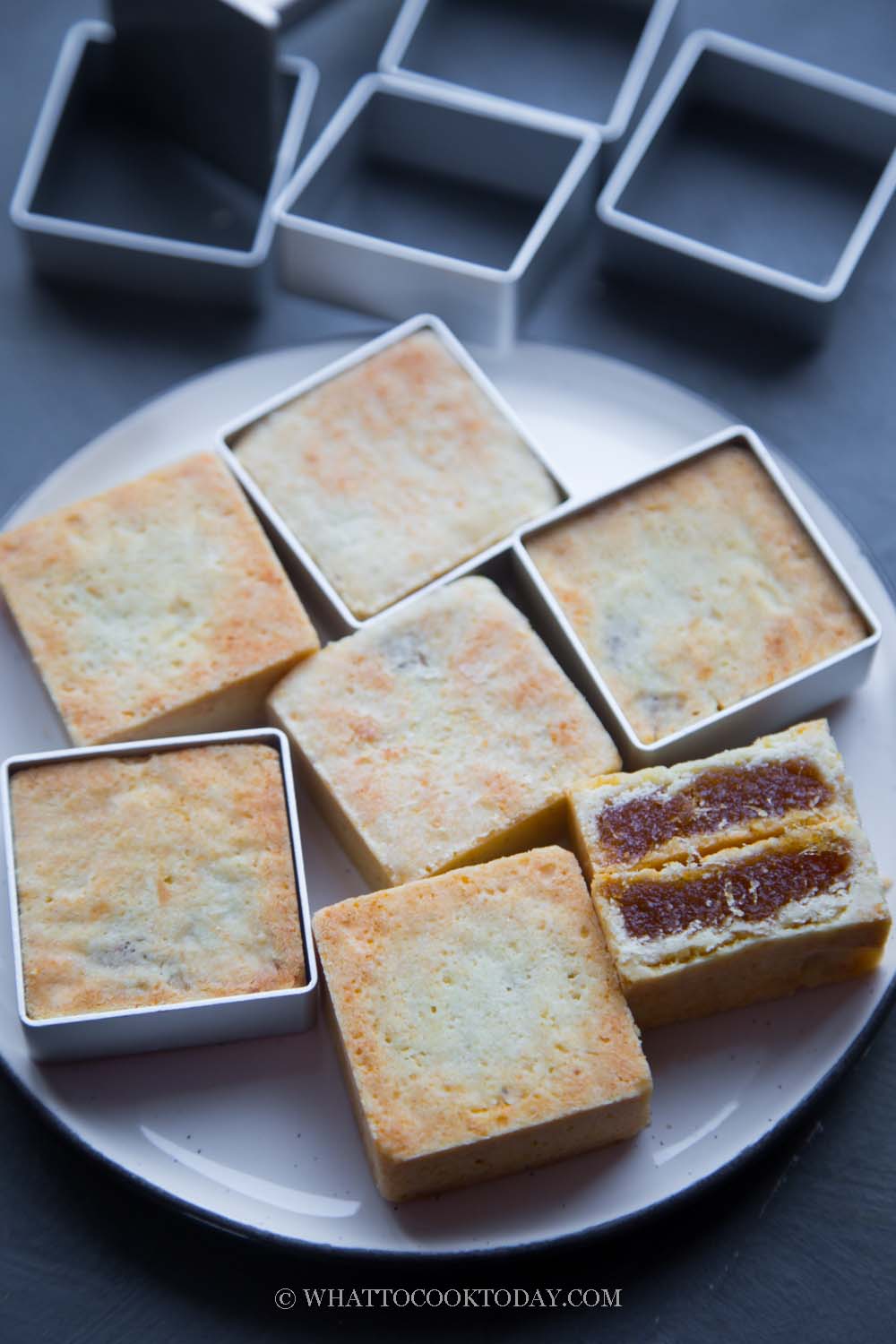 What is Chia Te pineapple cake/tart?
Chia Te is a famous bakery shop in Taiwan that sells the best pineapple cakes in Taiwan. You can see a long queue outside the store. People will buy boxes and boxes of Chia Te pineapple cake for gifting (or own consumption). The attractive packaging makes it so perfect for gifting.
Why you will love this Taiwan pineapple cake/tart
My son who is not crazy about sweets or cakes, LOVES this Taiwan pineapple tart. When he does, I know this recipe is a hit! and it sure is! He asked me to bake more! I have tasted Chia Te pineapple cake before, and this homemade version is really very good too. To me, this recipe is a keeper!
Taste: The crust is buttery with just a hint of savory from the cheese. The filling is just perfect, not too sweet. The crust to filling proportion is spot-on. Thin crust with the right amount of filling
Texture: The crust is crumbly and melt-in-the-mouth and the pineapple jam is just perfectly thick but not tough
How to make Taiwan pineapple tart
1. I suggest you prepare the pineapple jam at least the day before and let it chill in the fridge. Portion out the filling into 18-gram portion and roll into round balls for easier wrapping. Cover and let them chill in the fridge until ready to be used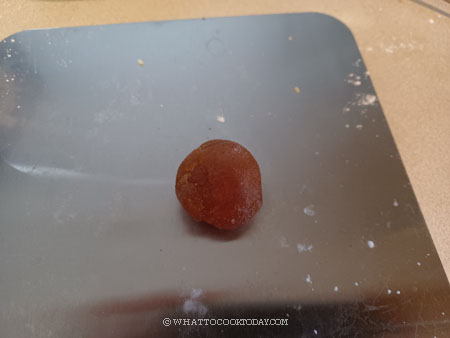 2. Line a large baking sheet with parchment paper. Whisk all the dry ingredients in a bowl and set aside
Put the softened butter in a mixing bowl. Cream on medium speed for about 2-3 minutes, just until it's creamy, don't overbeat.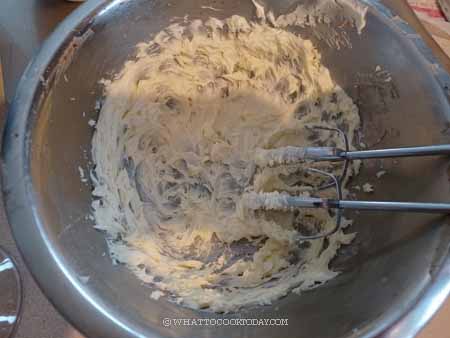 3. Add icing sugar and beat again until just mixed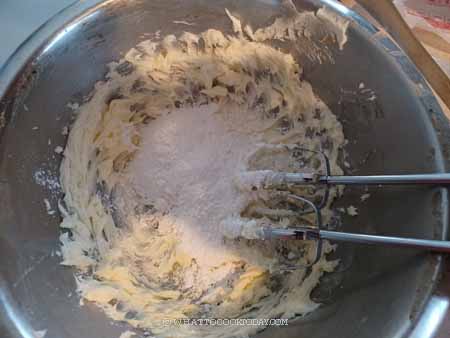 4. Add the room temperature egg yolk and condensed milk and mix again until just combined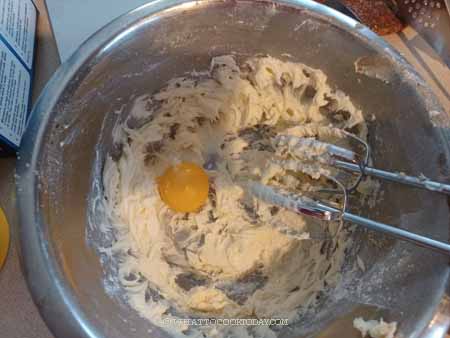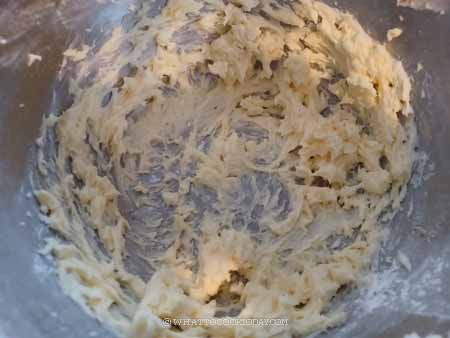 5. Add the dry ingredients. Use a spatula to fold to combine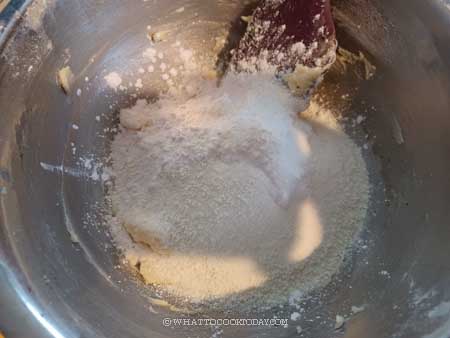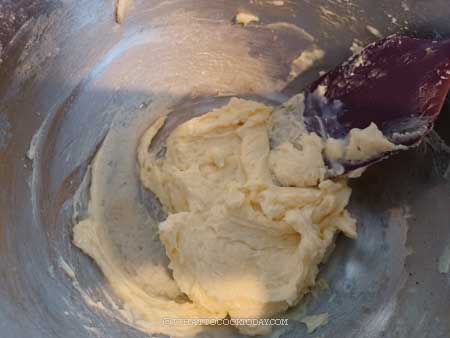 6. It may appear dry at first. Then use your hand to form a dough. Wrap it with a cling wrap and let it rest for 30 minutes at room temperature (not the fridge) to relax the gluten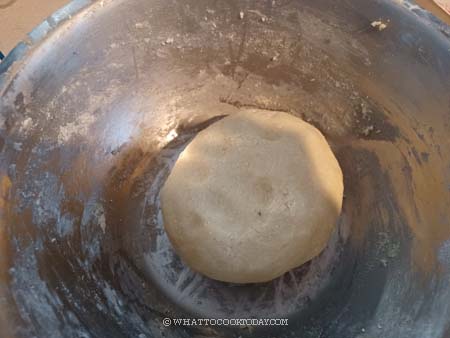 7. After resting, portion the dough out into about 20-22 grams dough ball. Roll them into round balls and keep them cover to prevent the dough from drying out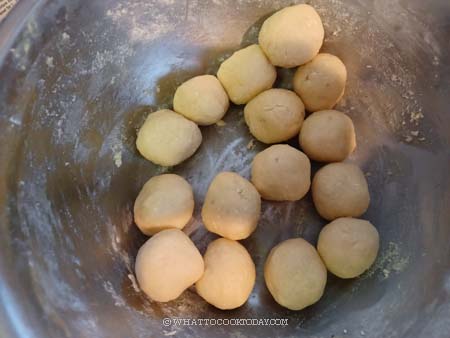 8. Work with one dough at a time. Flatten the dough and roll into about 3-inch circle, roughly. Place one filling in the middle and wrap the dough around it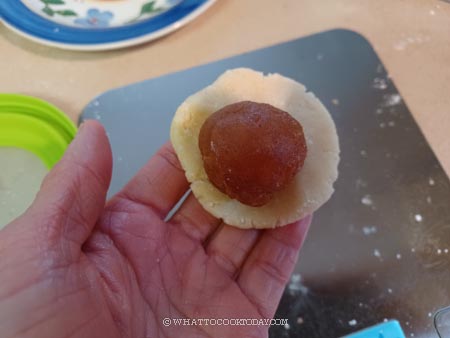 9. Gently stretch the dough to cover the filling and roll it into a round ball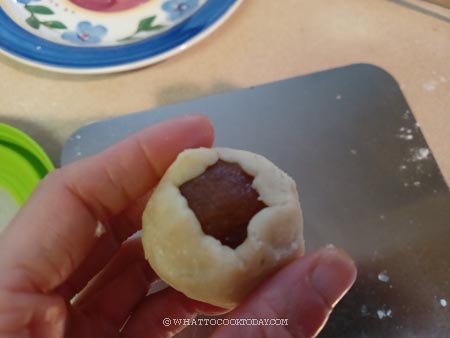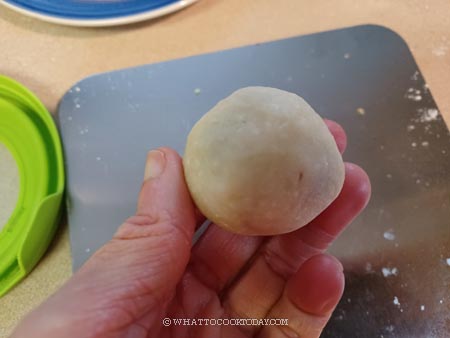 10. Put this round ball into the mold and place on top of a baking sheet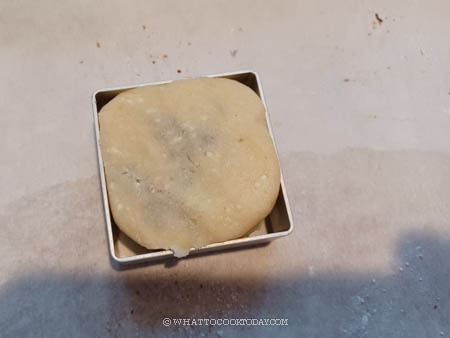 11. If the mold you have comes with a press, use that to press the dough to fit into the mold corner to corner.

12. Turn it over and do the same on the other side to make sure the surface is flat and level. The pastry will expand a bit after baking, so there should be a tiny bit of room left on top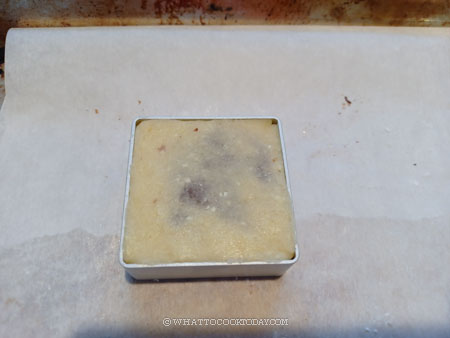 13. Put the whole tray inside the fridge to let them chill for 15 minutes. Preheat oven to 340 F (170 C) while waiting


14. Bake on the middle rack for 10-15 minutes or until golden brown (I need 15 minutes)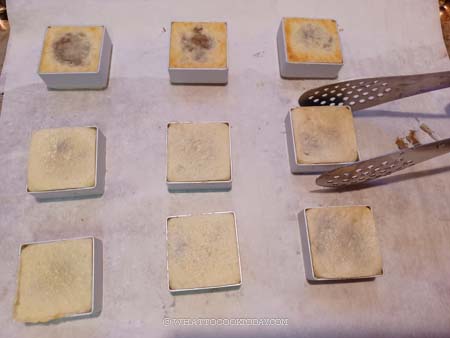 15. Then remove from the oven and use a tong to flip each mold over and return to the oven to bake again for another 5-8 minutes or until golden brown again. I need 8 minutes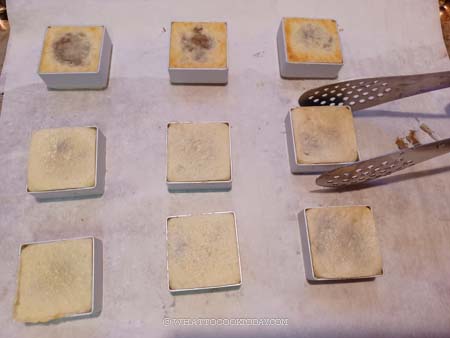 16. Remove from the oven and let them cool down for 5 minutes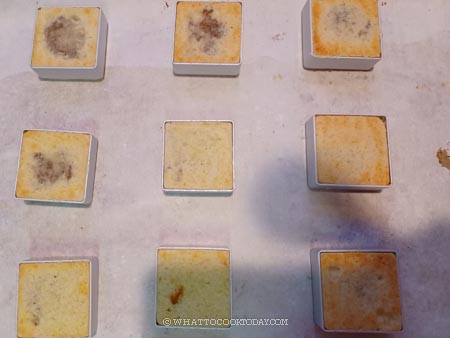 17. Then lift off the mold (it will slide right off). Transfer to a cooling rack to cool down completely. Then transfer to an air-tight container and store for a week at room temperature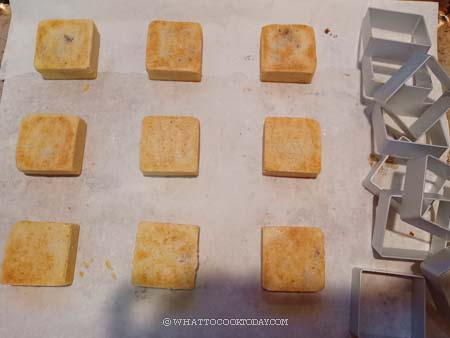 18. This pineapple tart doesn't taste as good the same day you make them. I highly suggest waiting for at least 24 hours (I know, it's hard!) before serving them. They seriously tastes better and better as time goes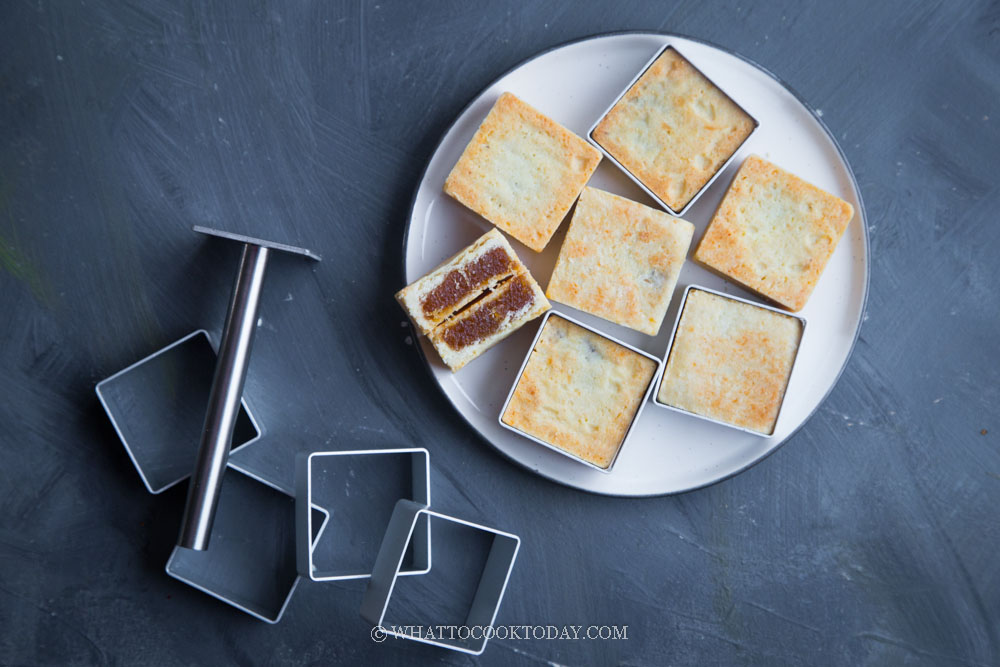 Important tips
1. It is important that the pineapple jam is really thick. Otherwise, they will leak out from the tart and/or the shape of the tart may be skewed because the pineapple jam is too soft
2. It is important that butter and egg are at room temperature. The butter needs to be soft but not melty
3. Let the dough rest for 30 minutes to relax the gluten so your pastry will be tender
4. You can use the ratio of 3:4 for filling to dough. This gives good balance of filling and crust
Did you make this Taiwan pineapple tart recipe?
I love it when you guys snap a photo and tag to show me what you've made 🙂 Simply tag me @WhatToCookToday #WhatToCookToday on Instagram and I'll be sure to stop by and take a peek for real!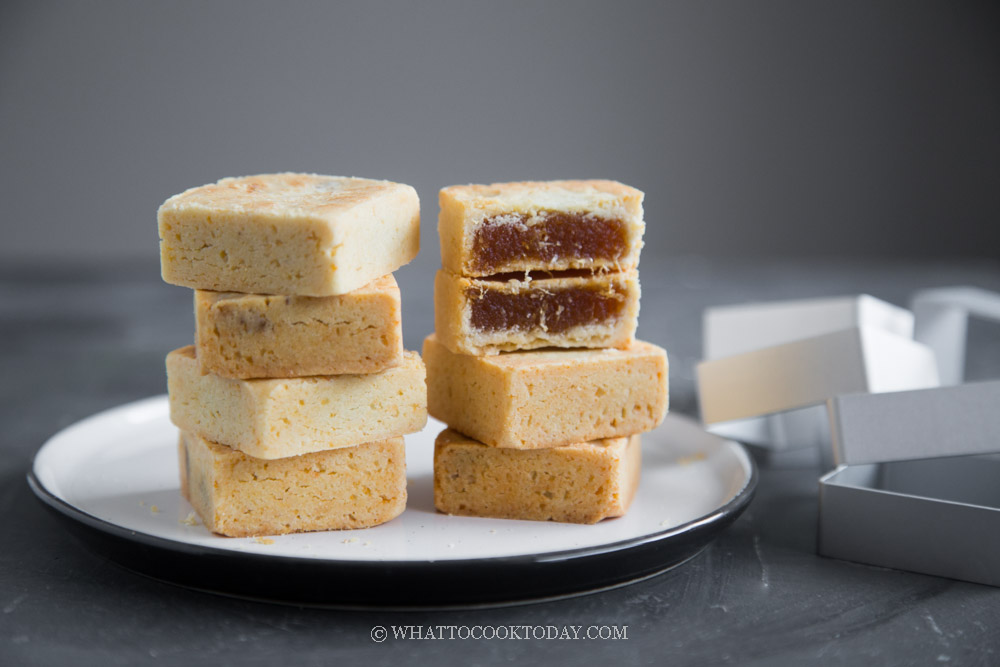 You may also like these
Taiwan Pineapple Cakes/Tarts (Feng Li Su)
Ingredients
Instructions
I suggest you prepare the pineapple jam at least the day before and let it chill in the fridge. Portion out the filling into 18-gram portion and roll into round balls for easier wrapping. Cover and let them chill in the fridge until ready to be used
Prepare pastry dough:
Line a large baking sheet with parchment paper. Whisk all the dry ingredients in a bowl and set aside

Put the softened butter in a mixing bowl. Cream on medium speed for about 2-3 minutes, just until it's creamy, don't overbeat. Add icing sugar and beat again until just mixed. Add the room temperature egg yolk and condensed milk and mix again until just combined. Add the dry ingredients. Use a spatula to fold to combine. It may appear dry at first. Then use your hand to form a dough. Wrap it with a cling wrap and let it rest for 30 minutes at room temperature (not the fridge) to relax the gluten
Wrapping:
After resting, portion the dough out into about 20-22 grams dough ball. Roll them into round balls and keep them cover to prevent the dough from drying out

Work with one dough at a time. Flatten the dough and roll into about 3-inch circle, roughly. Place one filling in the middle and wrap the dough around it. Gently stretch the dough to cover the filling and roll it into a round ball. Put this round ball into the mold and place on top of a baking sheet. If the mold you have comes with a press, use that to press the dough to fit into the mold corner to corner. Turn it over and do the same on the other side to make sure the surface is flat and level. The pastry will expand a bit after baking, so there should be a tiny bit of room left on top

Put the whole tray inside the fridge to let them chill for 15 minutes. Preheat oven to 340 F (170 C) while waiting
Baking:
Bake on the middle rack for 10-15 minutes or until golden brown (I need 15 minutes). Then remove from the oven and use a tong to flip each mold over and return to the oven to bake again for another 5-8 minutes or until golden brown again. I need 8 minutes

Remove from the oven and let them cool down for 5 minutes and then lift off the mold (it will slide right off). Transfer to a cooling rack to cool down completely. Then transfer to an air-tight container and store for a week at room temperature
Wait for at least 24 hours before serving (recommended):
This pineapple tart doesn't taste as good the same day you make them. I highly suggest waiting for at least 24 hours (I know, it's hard!) before serving them. They seriously tastes better and better as time goes
Nutrition
Serving:
1
pineapple cake
|
Calories:
142
kcal
|
Carbohydrates:
23
g
|
Protein:
2
g
|
Fat:
5
g
|
Saturated Fat:
3
g
|
Polyunsaturated Fat:
1
g
|
Monounsaturated Fat:
1
g
|
Trans Fat:
1
g
|
Cholesterol:
14
mg
|
Sodium:
136
mg
|
Potassium:
42
mg
|
Fiber:
1
g
|
Sugar:
13
g
|
Vitamin A:
157
IU
|
Vitamin C:
2
mg
|
Calcium:
22
mg
|
Iron:
1
mg