Nourishing and nutritious black silkie chicken is cooked with Chinese herbs. It can be prepared with Instant Pot pressure cooker, on the stove, or in a slow cooker.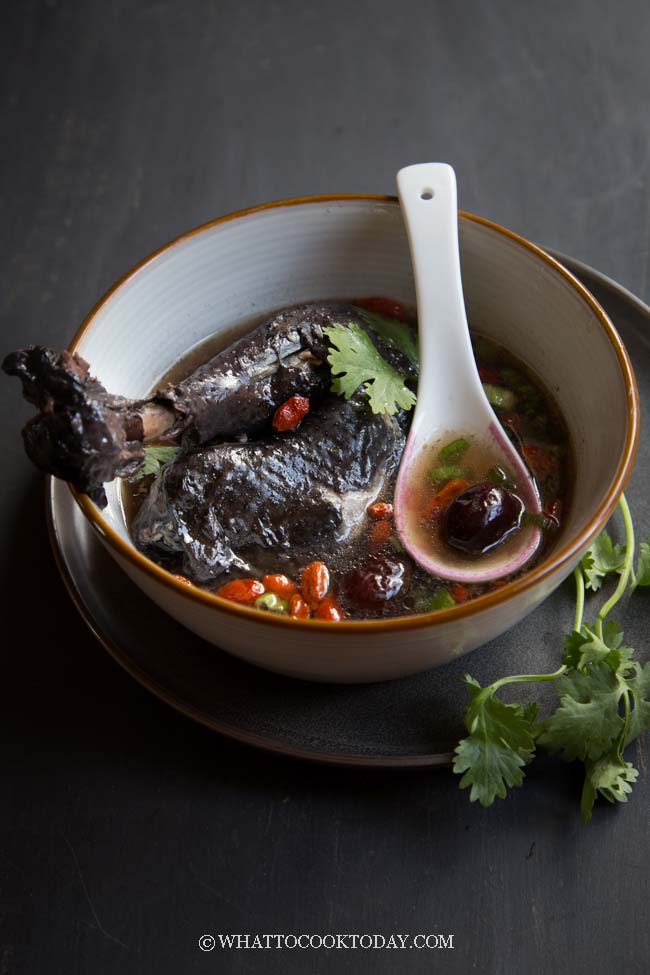 SILKIE CHICKEN
The Chinese values silkie chicken for its tonic property, especially for those who just recovered from illness, surgery, after having baby, or just as overall healthy soup for the family. My mom prepared soups using silkie chicken when I just had a baby and doing a confinement diet.
The silkie has a soft feather and also a bluish-black skin and grayish bones and flesh.
WHY I LIKE SILKIE CHICKEN
Despite cooking the whole silkie along with the skin and everything, the soup does not turn out greasy like it normally would if I use regular chicken. The flesh is lean but it tastes good.
COMMON USAGE OF SILKIE IN COOKING
Silkie is usually prepared as a soup in Chinese cuisine. All the goodness of the Chinese herbs and silkie goes into the soup, so I usually do not season the soup too heavily because I want to consume the soup without excess sodium.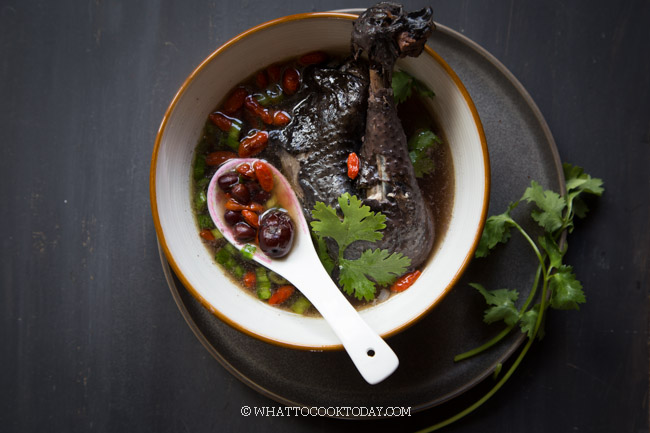 CHINESE HERBS USED IN THIS SILKIE CHICKEN SOUP
The Chinese herbs used to prepare this soup is pretty flexible, I guess depends on what you need. You can take out or add any Chinese herbs to suit your needs. Make sure you source for Chiense herbs from a reputable and trustworthy store. This shouldn't be a problem if you live in Asia. It's a bit challenging for me to get Chinese herbs like dong quai, chuan xiong, dang shen, and huang qi here. My mom or relatives who visit us will usually bring us some Chinese herbs. Goji berries, Chiense red or black dates are easier to find here in the U.S. Costco is selling goji berries now 🙂
Here are what I used in this recipe:
1. Goji berries (not in this photo): as a blood tonic, restore qi, improve strength, increase immunity
2. Chinese red dates (hong zao): To strengthen spleen, improves appetite, nourish blood and circulation.
3. Chinese black dates (hei zao): the black dates are considered to be more "heaty" compared to the red dates. They help to nourish blood as well.
4. Dong quai (Angelica sinensis): sometimes you will hear dong quai nicknamed as the "female ginseng". Many women consume dong quai to help with gynecological issues such as irregular period, infertility, hormonal imbalance, etc. However, dong quai can actually benefit the male as well to help reduce inflammation.
5. Chuan xiong (Sichuan lovage root): to increase blood flow.
6. Dang shen (radix codonopsis): also known as a poor man's ginseng. It aids with digestion, weakness, fatigue, and poor appetite.
7. Huang qi (Astragalus): it is known to help with boosting immunity.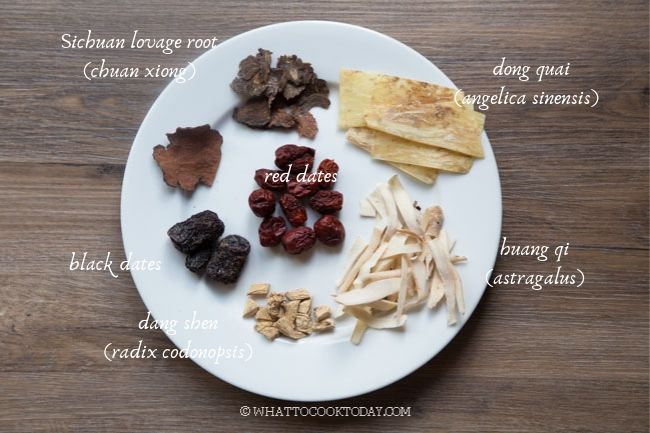 8. Ginger (not in this photo):
HOW TO PREPARE THE SILKIE CHICKEN
1. THAW IF FROZEN
The silkie I got come in a frozen form with internal organs already removed.
2. REMOVE HEAD, NECK AND FEET
Use a cleaver or sharp knife to detach the head and feet at the joints
I trimmed off the nails from the feet (as shown in the video)
HOW TO COOK CHINESE HERBAL SILKIE CHICKEN SOUP
1. PREPARE THE CHINESE HERBAL PACKET
Place all the Chinese herbs except for red and black dates and goji berries in a tied cheesecloth or stock pack (photo below) . You don't have to fish out all the herbs later.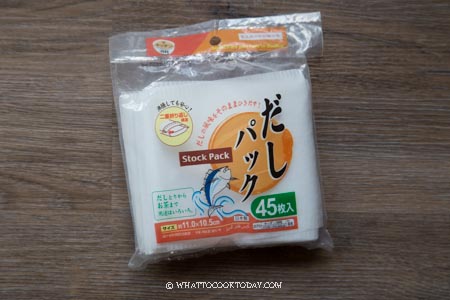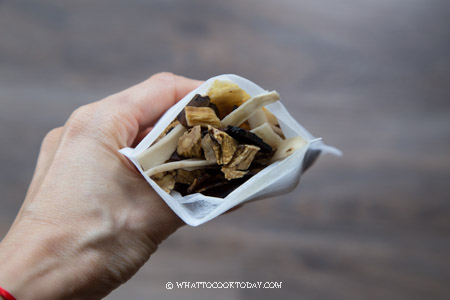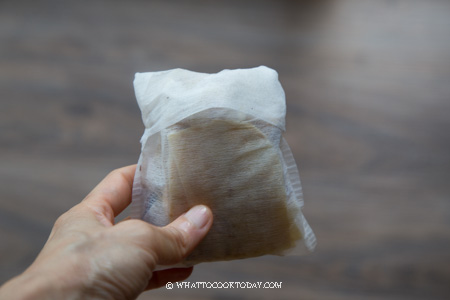 2. COOKING: Place the whole silkie inside the inner pot of Instant Pot or a large pot if cooking on the stove. Add the herbal pack, black dates, and red dates, ginger, dried scallops. Add water and seasonings. Bring to a boil. When it comes to a boil, lower the heat to let it gently simmer, with lid partially close, for the next 30 minutes or until the chicken is tender
If using Instant Pot pressure cooker, close the lid and pressure cook on high for 18 minutes and then wait 5 minutes to release pressure.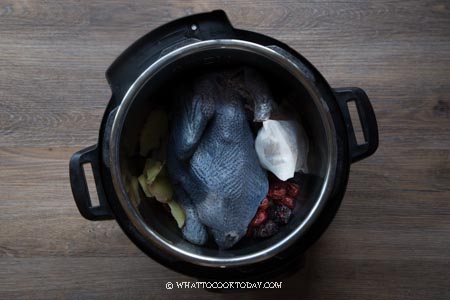 3. ADD THE GOJI BERRIES LAST AND SEASON TO TASTE
When the chicken is done cooking, stir in goji berries. Let the residual heat soften the berries. Season the soup with salt to your taste or skip the salt altogether if you prefer like I did.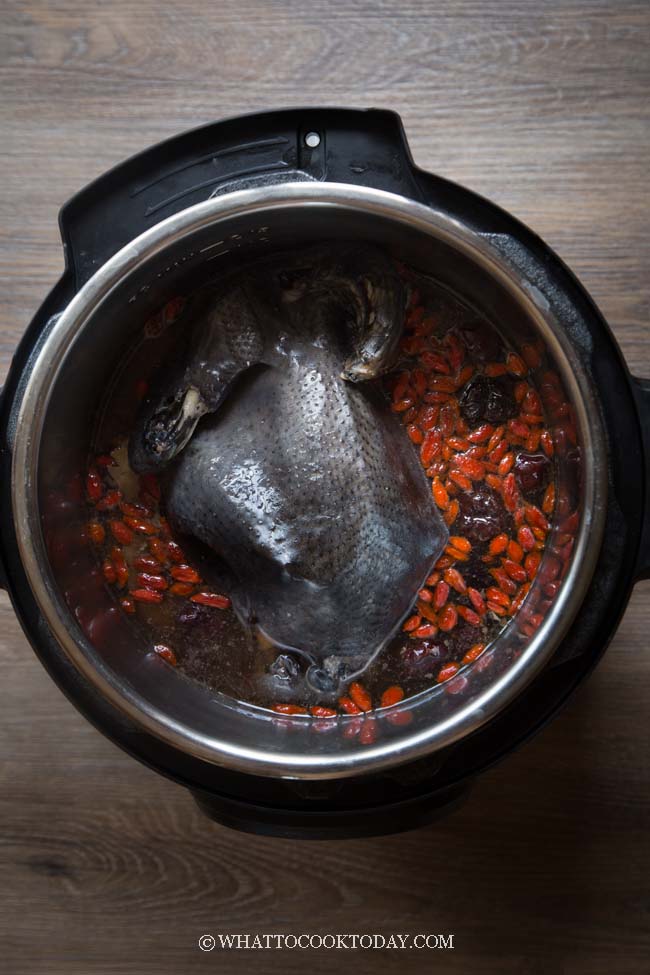 You have just prepared a nourishing and tasty Chinese herbal silkie chicken soup.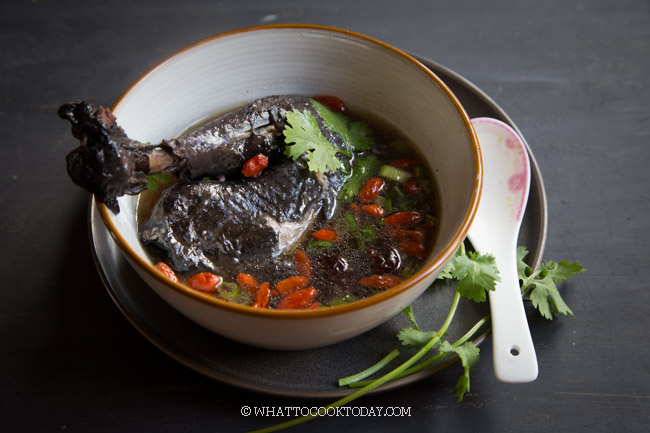 DID YOU MAKE THIS CHINESE HERBAL SILKIE CHICKEN SOUP RECIPE?
I love it when you guys snap a photo and tag to show me what you've made 🙂 Simply tag me @WhatToCookToday #WhatToCookToday on Instagram and I'll be sure to stop by and take a peek for real!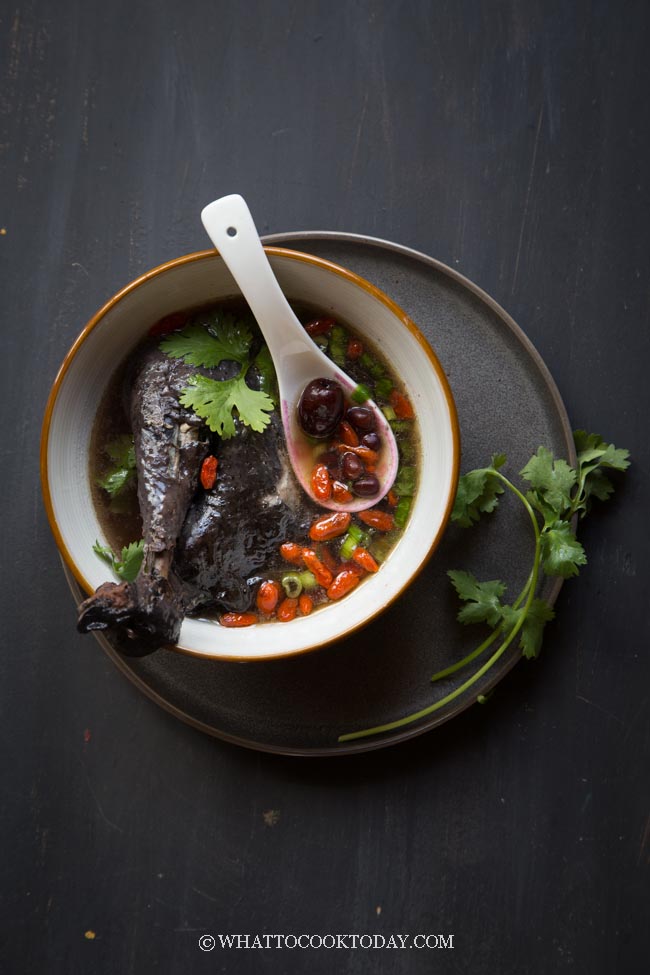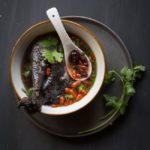 Chinese Herbal Black Chicken / Silkie Soup (Pressure Cooker)
Ingredients
1

whole black chicken, about 3-4 lbs

thawed if frozen

3

slices

fresh ginger
Chinese herbs to put inside stock pack:
6

Sichuan lovage root (chuan xiong)

3-4

slices

dong quai (angelica sinensis)

10

pieces

huang qi (astragalus)

12

small pieces

dang shen (radix codonopsis)
For additional flavor:
Seasonings: (adjust to your taste)
Instructions
Prepare the herbal pack:
Place all the Chinese herbs except for red and black dates and goji berries in a stock pack or tied cheesecloth. You don't have to fish out all the herbs later
Prepare the silkie:
I can only get silkie in a frozen state. Thaw in the refrigerator if frozen. Remove from the package and rinse with water. Remove the head, and the finger nails from feet if they are still attached
Instant Pot Pressure cooker method:
Place the whole silkie inside the inner pot of Instant Pot. Add the herbal pack, black dates, and red dates, ginger, and dried scallops. Add about 3 litre of water and seasonings. Close the lid. Press "pressure cooker" and make sure it's on high pressure. Set the timer to 18 minutes, about 6 minutes for every pound of the chicken. When it's done cooking, wait 5 minutes and then release pressure

Carefully unlock the lid, stir in goji berries and let the residual heat soften the goji berries. Overcooking goji berries will make the soup tastes sour. Discard the herbal pack
Cooking on the stove:
Place the whole silkie inside a large pot. Add herbal pack, red dates, black dates, and ginger. Add about 3 litre of water into the pot. Bring to a boil. When it comes to a boil, lower the heat to let it gently simmer, with lid partially closed, for the next 30 minutes or until the chicken is tender

When the chicken is done cooking, stir in goji berries. Turn off the heat. Season the soup with salt to your taste
Slow cooker method:
Place the whole silkie inside a large pot. Add herbal pack, red dates, black dates, and ginger. Add about 3 litre of water into the pot. Let it cook for 6 hours on high setting or 8 hours on low setting. Stir in the goji berries and let the residual heat softens the berries. Season with salt to your taste
Serving:
You can remove the chicken from the pot and cut into pieces if you want. You can easily pull the parts off without cutting too. Garnish with fresh chopped green onion and some cilantro leaves if desired. Serve immediately
Recommended products:
Nutrition
Serving:
1
serving
|
Calories:
70
kcal
|
Carbohydrates:
19
g
|
Protein:
1
g
|
Fat:
1
g
|
Saturated Fat:
1
g
|
Polyunsaturated Fat:
1
g
|
Monounsaturated Fat:
1
g
|
Sodium:
1
mg
|
Potassium:
167
mg
|
Fiber:
2
g
|
Sugar:
16
g
|
Vitamin A:
2
IU
|
Vitamin C:
1
mg
|
Calcium:
10
mg
|
Iron:
1
mg