Now you can easily make this ku chai kuih with confidence with this recipe. Savory chives and pork filling are enclosed in soft, slightly chewy and translucent wrap is quite a treat. I'm also sharing how you can easily wrap dumplings without rolling.
STEAMED CHIVES CRYSTAL DUMPLINGS
Crystal dumplings usually refer to any steamed dumplings with almost translucent crystal looking skin after being steamed. This ku chai kuih is one of our family's favorites. They are easier to make than you think. I have tried so many recipes before I got to this one. This one is a keeper forever 🙂 I love how soft, yet slightly chewy and nicely transparent the skin is. The best part is they stay soft even after they have cooled down for hours at room temperature.
WHY YOU'LL LIKE THIS RECIPE
1. The dough is easy to work with
2. The dumplings' skin do not tear easily and stay soft even after hours
3. And of course they gotta taste awesome too right?
WHAT MAKES THE SKIN ALMOST TRANSLUCENT
The dough for the skin is made with wheat starch (not wheat flour), also known as teng mien and tapioca flour/starch (the same thing, at least here in the U.S). The wheat starch contributes to the almost translucent appearance of the dumplings. The tapioca flour contributes to the slight chewiness and the resilience of the skin.
IS WHEAT STARCH AND WHEAT FLOUR THE SAME?
No it's not. I did mention before that the term "starch" and "flour" is used interchangeably in the U.S., but in Asia, particularly when it comes to wheat starch, it really means wheat starch and not the wheat flour (like the all-purpose flour here in the U.S.). Wheat starch has almost no gluten in it anymore (though I won't say it's completely gluten-free). Wheat starch is also known as teng mien is made by dissolving the water-soluble starch and then the water is evaporated, leaving you with the starch. The starch is much finer in texture compared to flour.

GARLIC CHIVES OR ONION CHIVES
This recipe calls for garlic chives or sometimes known as Chinese chives. The chives have flat leaves and grass-like leaves and have a strong garlicky aroma. The bulbs or flowers of garlic chives aren't edible. Don't be mistaken with onion chives, which have hollow round leaves with beautiful purple bulbs that are edible.
Now that we've clarified on the wheat starch and the type of chives to use in this recipe, let's get cooking, shall we?
HOW TO MAKE KU CHAI KUIH FROM SCRATCH (THE FOOLPROOF WAY)
1. PREPARE THE FILLING
Preheat 1 Tbsp of cooking oil. Saute the garlic and dried shrimp until fragrant, about 1 minute.


Add the ground meat and saute until they turn color.


Add mushrooms, chives, and seasonings. Saute until the chives are soft and the mixture is dry.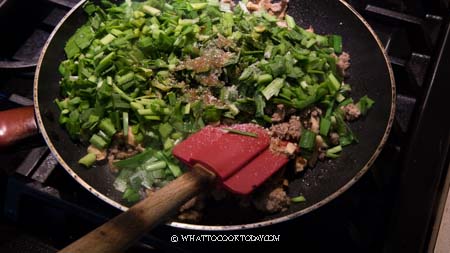 Let the filling cools down completely before wrapping.


2. MAKE THE DOUGH
Mix the wheat starch, tapioca starch, and salt in a bowl and whisk to mix. and then pour the hot boiling water in. Use a wooden or rubber spatula to stir.


It will be really sticky at this point. Keep stirring until it roughly comes into a rough dough.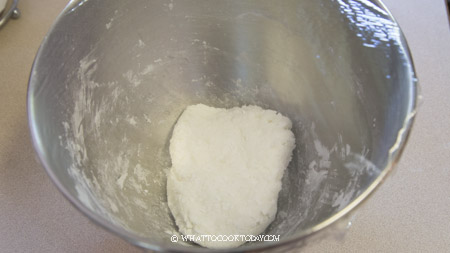 Add cooking oil and continue to knead until the dough is smooth and not sticky. Cover and rest for 5 minutes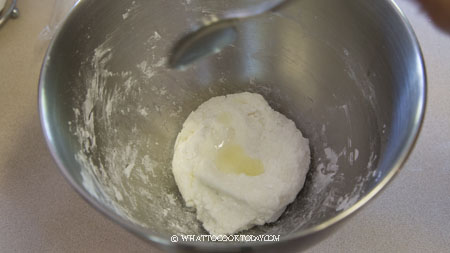 3. SHAPING
After 5 minutes, uncover and transfer to a silpat (silicon mat) if you have one. It makes the job easier.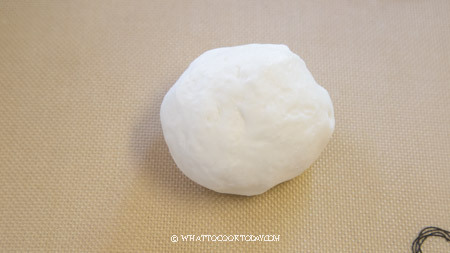 Divide the dough into 12 equal pieces.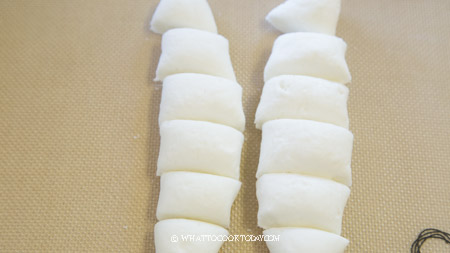 Work with one dough at a time and keep the rest covered


dust your thumb and index fingers with some wheat starch. Use your thumb and push through the dough


And with other hand holding the dough and your other thumb and index finger keep pushing towards the sides of the dough all around to form a bowl. You can watch the short video on how I did this and you'll get the idea immediately.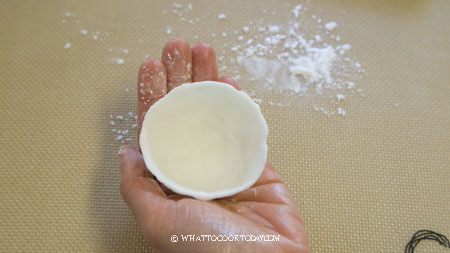 Fill up the bowl with the filling.


Pinch the top part to seal it close. Continue with the rest of the dough and filling.

4. STEAMING
Lightly brush a plate with some oil. Place the dumplings on top. Steam the dumplings over high heat for 8 minutes


The skin should be translucent at the end of cooking time

IMPORTANT TIPS
1. Make sure the water is hot boiling not just warm. If you use warm water, the dough will crack and difficult to work with. I've made enough of these dumplings to spare you the disaster!
2. Make sure the filling has cooled down completely before wrapping
3. Make sure to steam over high heat
HOW TO STORE UNCOOKED KU CHAI KUIH DUMPLINGS
You can make in a bigger batch and store the uncooked dumplings in the freezer and steam them whenever you want them. Here's how:
1. Place them on a baking sheet lined with parchment paper, not touching each other.
2. Place in the freezer for 1 hour and then transfer to a freezer bag (save some space). They will not stick to each other anymore

DID YOU MAKE THIS KU CHAI KUIH / STEAMED CHIVES DUMPLINGS RECIPE?
I love it when you guys snap a photo and tag to show me what you've made 🙂 Simply tag me @WhatToCookToday #WhatToCookToday on Instagram and I'll be sure to stop by and take a peek for real!
Recipe for the dough is adapted from Peng's Kitchen. I've tried so many and this one is rock solid!!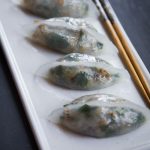 Ku Chai Kuih / Koo Chai Kueh (TeoChew Chives Dumplings)
Ingredients
Filling:
3

cloves

garlic

finely minced

100

gr

ground pork (with some fat)

200

gr

garlic chives (flat-leaf chives)

cut off the about1-2 inch at the bottom and chopped into 1-inch pieces

15

gr

dried shrimp

soak in warm water

5

shiitake mushrooms

soak in warm water

1

Tbsp

cooking oil
Instructions
Preparing the filling:
Finely chop the pre-soaked dried shrimp. Cut the soaked mushrooms into small pieces

Preheat 1 Tbsp of cooking oil. Saute the garlic and dried shrimp until fragrant, about 1 minute. Add mushrooms, chives, and seasonings. Saute until the chives are soft and the mixture is dry. Let the filling cools down completely before wrapping
Making the wrapper:
Mix the wheat starch, tapioca starch, and salt in a bowl and whisk to mix and then pour the hot boiling water in. Use a wooden or rubber spatula to stir. It will be really sticky at this point. Keep stirring until it roughly comes into a rough dough. Add cooking oil and continue to knead until the dough is smooth and not sticky. Cover and rest for 5 minutes
Shaping:
After 5 minutes, uncover and transfer to a silpat (silicon mat) if you have one. It makes the job easier. Divide the dough into 12 equal pieces. Work with one dough at a time and keep the rest covered

Watch the video on how I wrap the dumplings or the step-by-step photos above. It is a much easier way to wrap and also you get a nice and full dumplings
Steam:
Lightly brush a plate with some oil. Place the dumplings on top. Steam the dumplings over high heat for 8 minutes or until the skin is almost translucent
Store uncooked dumplings:
Place them on a baking sheet lined with parchment paper, not touching each other. Freeze in the freezer for 1 hour and then transfer to freezer bag (save some space). They will not stick to each other anymore

When ready to serve, steam over high heat for 10 minutes or until the dumplings are cooked through. Brush with some cooking oil and serve
Recommended products: