Mie Aceh is a spicy noodle dish originated in Aceh region in Indonesia, known for its spicy food. This is a stir-fried version and slightly saucy with great flavors from all the spices. It's one of my favorite noodle dishes I have to share with you guys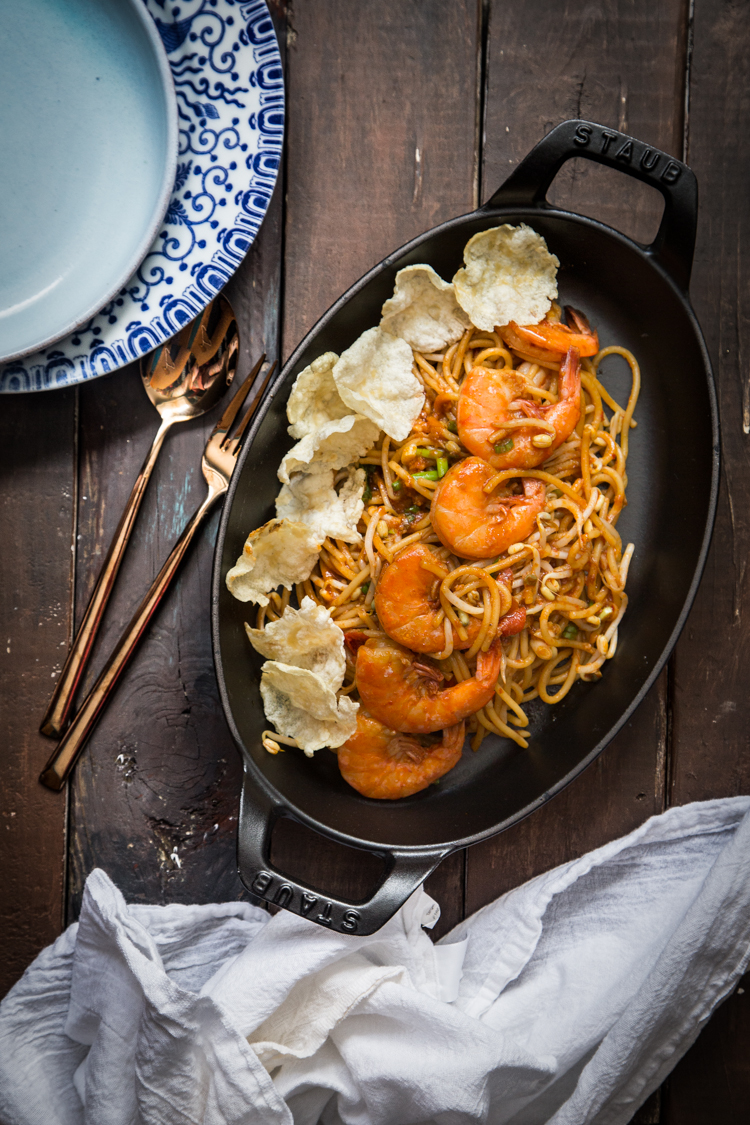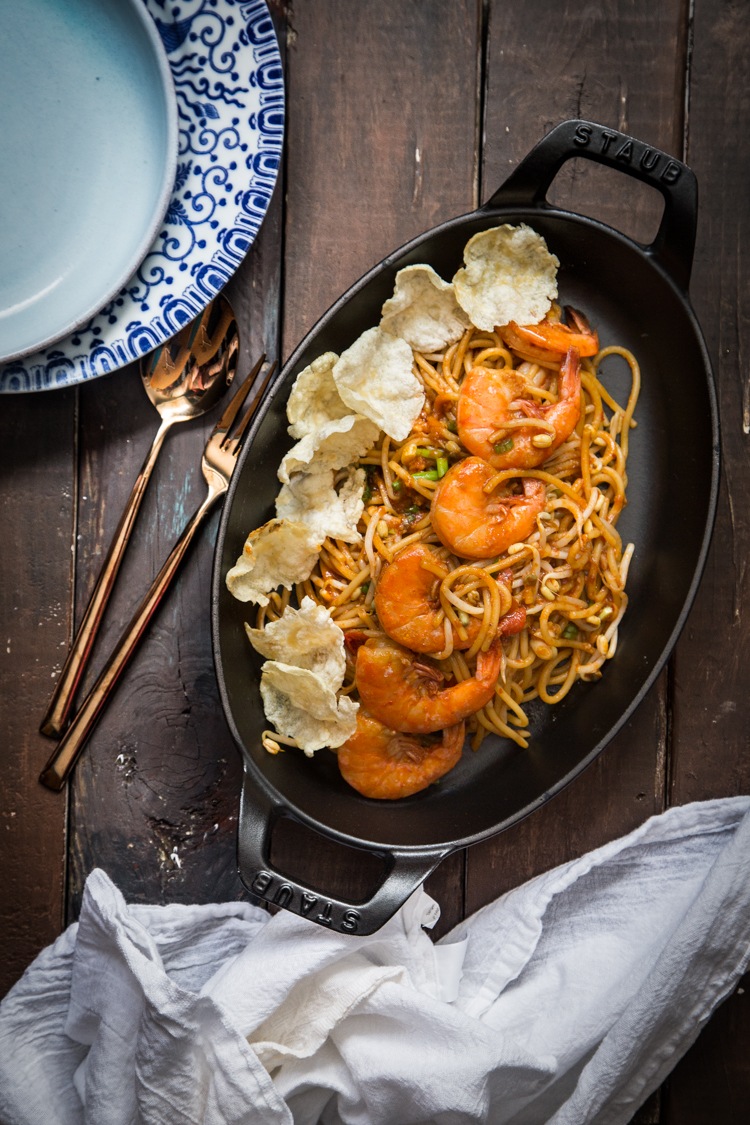 After almost seven years of slaving in the kitchen, I swear to God I'm still asking "What To Cook Today?" or "What To Cook This Week?". A joke came up when we got together with family and friends that I should roll out the series of "What To Cook Tomorrow?", "What To Cook Tonight?", "What To Cook The Day After?", "What To Cook Next Week?" Okay, you get it !! It's funny (because I laughed) and it's not (because apparently I'm still struggling with it). It is indeed an old-age conundrum in every kitchen on planet earth I think ?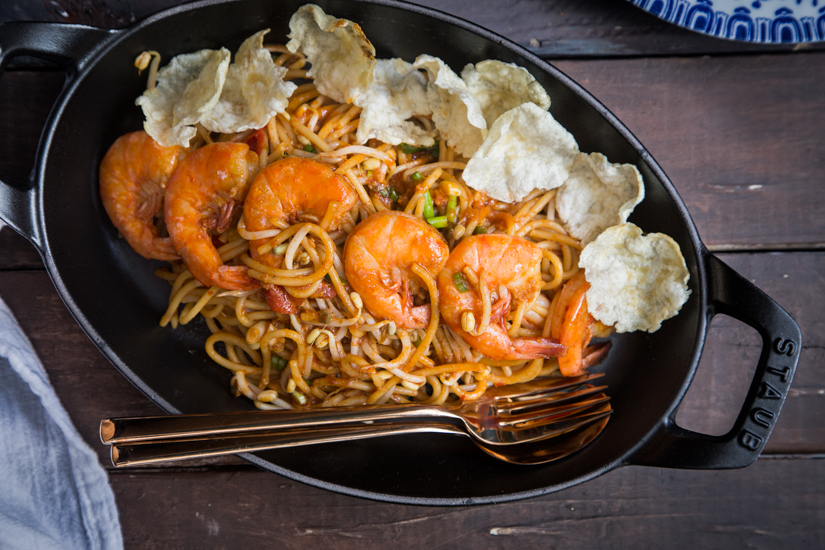 I always have noodles stocked in the pantry and shrimp in the freezer. So, I decided I wanted something spicy. Maybe something like mouth-on-fire kinda spicy! (I threw in probably more than 10 Thai chilis in that chili paste!) and took a peek at the pantry and fridge and I had all the ingredients I need. So, I decided to whip up this Mie Aceh. Mie means noodles in Indonesian language 😉
To be honest though, I have never been to Aceh myself even though it is located in the same province as the little hometown I lived in. But I love the food. Usually spicy!!!! My father-in-law is from Aceh and when my husband introduced Sambal Aceh to me 7 years ago, I was hooked immediately. Mie Aceh is spicy, aromatic, and addicting. It's not uncommon to have noodles or rice dishes served with crackers in most Indonesian dishes.
Despite what I've said earlier about the love-hate relationship, that first bite just reminded me why I (sometimes) love slaving at the kitchen!!! WICKED FOOD!!!!


Aceh noodles (Mie Aceh)
Ingredients
12

oz

of Asian egg noodles/ lo mein noodles

spaghetti is a great substitution too

2

Tbsp

of cooking oil

divided

10-12

large shrimp still in shell

deveined and pat dry with paper towel

1

tsp

of cumin powder

1

tsp

of good-quality curry powder

1

cup

or more chicken/beef broth

4

Tbsp

soy sauce

3

Tbsp

of sweet soy sauce

kecap manis

¼

of whole cabbage

shredded

2

cups

of mung bean sprouts
Ingredients to be ground in food processor:
2

Tbsp

sambal oelek

2-3

or more Thai chili

the amount depends on how spicy you want it to be

4

shallots

peeled

3

cloves

garlic

peeled

4

candlenuts/kemiri

omit if you don't have any

1

large tomato

¼

cup

cooking oil
Optional accompaniments:
Emping Crackers

Squeeze of lime juice
Instructions
If you use fresh egg noodles/lo mein noodles in boiling water for about 3 minutes or so and then discard the water and rinse with cold water. If you are using dried spaghetti or dried egg noodles/lo mein noodles, cook to al dente or undercook a little bit is fine too and then rinse in cold water. Set aside

Place all the ingredients to be ground in a food processor and process into a smooth paste. The oil should help the grinding process going. Don't add any water, you can add a bit more oil if you think it's necessary

Preheat a large wok or skillet with 1 Tbsp of oil on high heat. When it's hot, add in the shrimp and stir fry until they turn pink and cook through, about 3-4 minutes (might be less if the shrimp is smaller). Dish them out from the wok/skillet and set aside. In the same wok/skillet, add in another 1 Tbsp of oil and let it preheat. Add in the shredded cabbage and stir fry until they are just started to wilt. Dish out to the same dish the shrimp is. Set aside

In the same wok again, pour in the ground spices paste into the wok. There's already oil in the paste. Add in cumin powder and curry powder. Stir fry until they are fragrant, about 5 minutes. Add in the cooked noodles/pasta. Add in soy sauce and the kecap manis. Stir to mix everything. Add in the broth and bring it to a gentle boil and let it cook for about 2 minutes. It won't be as soupy, but there should somewhat saucy. Add more broth if you think you need more. Add in the shrimp, cabbage and mung bean sprouts. Give it a good stir again. Have a taste on the sauce and the noodles. Season with salt and kecap manis to your taste. It should be spicy, savory with hint of sweetness. Remove from the heat and serve immediately with emping crackers on the side if you have some. Enjoy!