Combining the crispiness of cabbage, the tenderness of chicken, and the zing of Vietnamese herbs, this salad offers a tantalizing experience for both the taste buds and the senses.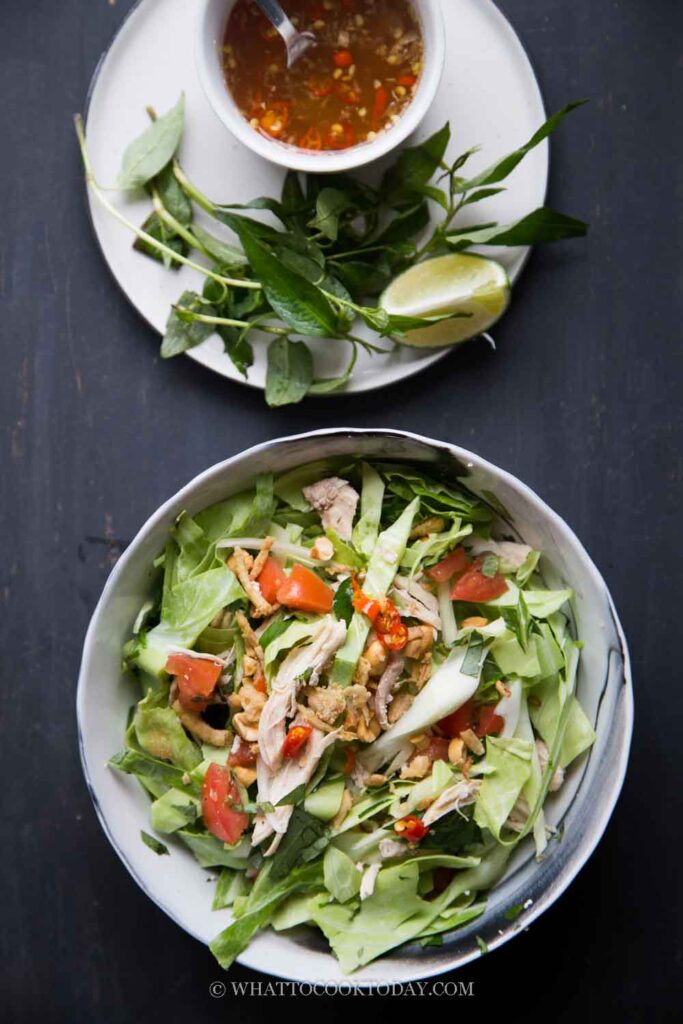 Goi ga bap cai is absolutely one of my favorite salads. When I crave a light, refreshing, and flavorful salad, this is one of my go-to. It has spicy, sweet, savory, tangy all in one bowl. It truly is a culinary adventure that celebrates the beauty of Vietnamese cuisine. Have I mentioned it is easy to put together too?
What is goi ga bap cai?
The key ingredients of Goi Ga Bap Cai include shredded cabbage, poached chicken, Vietnamese herbs known as rau ram /Vietnamese mint/Vietnamese coriander, and a tangy umami dressing. The cabbage provides a crunchy and refreshing base, while the poached chicken adds a protein-rich component to the dish. Goi Ga Bap Cai has its roots in Vietnamese cuisine, which draws influences from various culinary traditions, including Chinese and French. This particular dish exemplifies the Vietnamese emphasis on light and healthy meals packed with flavors and textures. Traditionally, Goi Ga Bap Cai is often served during family gatherings, festive occasions, or as a popular street food snack in Vietnam. Its refreshing qualities make it an ideal dish for the country's tropical climate.
A simple yet amazing salad
Goi Ga Bap Cai offers a multi-dimensional taste experience that showcases the diversity of Vietnamese cuisine. The crispness of the cabbage provides a satisfying crunch, while the tender poached chicken adds a delightful contrast. The fragrant rau ram infuses the dish with its distinctive aroma, elevating the overall flavor profile. The dressing ties everything together, with its combination of tangy, sweet, and savory notes, creating a harmonious blend that tantalizes the taste buds.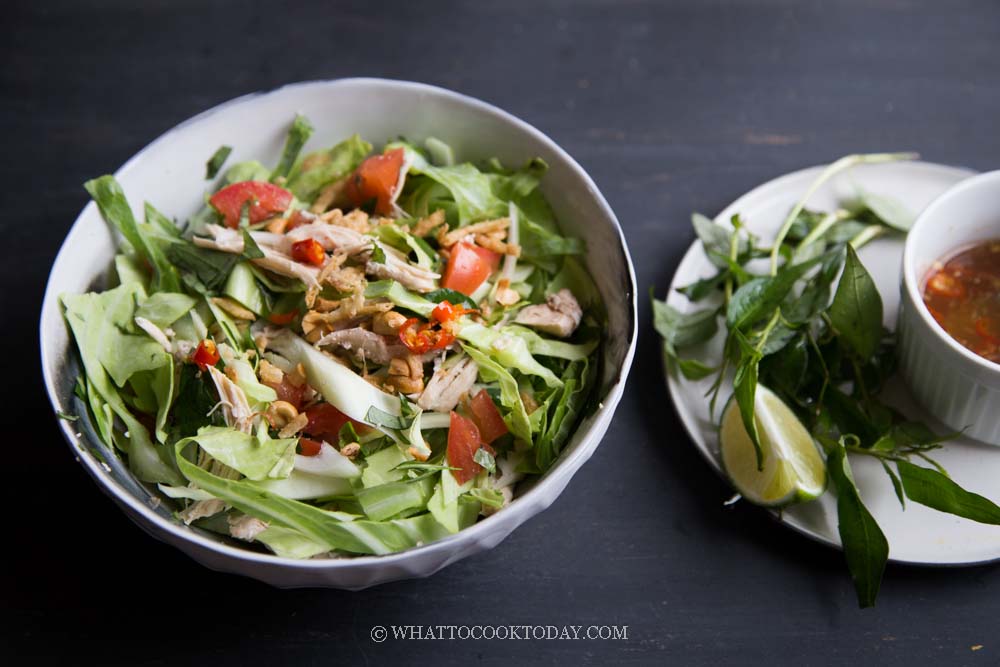 How to prepare goi ga bap cai in few simple steps
1. Cook the chicken.
Start by boiling boneless chicken breasts until they are fully cooked. Once cooked, allow them to cool before shredding the meat into thin strips.
2. Prepare the salad
Finely slice the cabbage and rinse it under cold water to maintain its crispness. Thinly slice the onion and soak in ice water to get rid of the pungent taste and to crisp up the onion
3. Prepare the dressing
Combining fish sauce, lime juice, sugar, garlic, and chili. The dressing should strike a harmonious balance between sweet, sour, and savory flavors.
4. Assembling
Finally, toss the shredded cabbage, chicken, and herbs together in a bowl, and drizzle the dressing over the mixture. Gently mix all the ingredients, ensuring that the flavors are evenly distributed. Add the peanuts and fried shallots. The result is a vibrant salad that bursts with flavor and texture.
Can I use leftover cooked chicken ?
Absolutely! I have prepared this salad several times and I used leftover rotisserie chicken I got from Costco (or any place). It turned out so well and a great idea to use leftover cooked chicken meat too.
Variations
Goi Ga Bap Cai is a versatile dish that can be customized to suit individual preferences. Additional ingredients such as sliced carrots, bell peppers, or roasted peanuts can be incorporated, adding more complexity and textures to the salad. This adaptability allows each person to create a personalized version of Goi Ga Bap Cai, making it a favorite among those with varying taste preferences. It can also be made vegetarian by using meatless options such as tofu, seitan, and vegan-friendly fish sauce
Did you make this goi ga bap cai recipe?
I love it when you guys snap a photo and tag it to show me what you've made. Simply tag me @WhatToCookToday #WhatToCookToday on Instagram and I'll be sure to stop by and take a peek for real!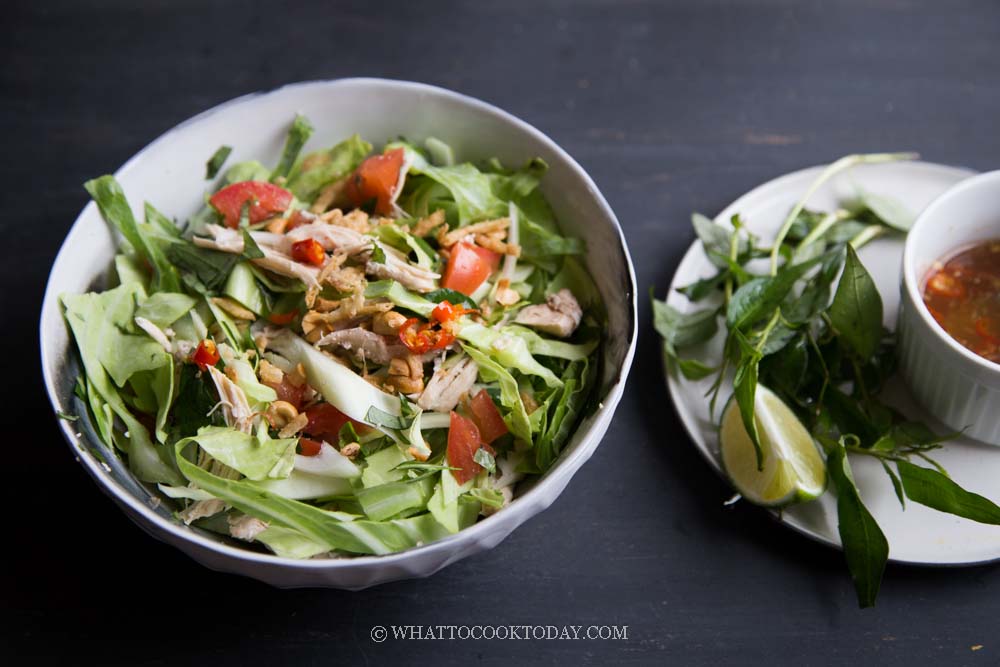 Goi Ga Bap Cai (Vietnamese Chicken and Cabbage Salad)
Ingredients
Instructions
Prepare the dressing:
Combine all the ingredients for the dressing and keep it covered and store in the fridge for up to one week
Prepare the chili sauce:
Combine all the ingredients for the chili sauce. Keep it covered and store in the fridge for up to one week
Cooking the chicken:
Keep the skin of the chicken for cooking if the skin is still intact. Bring a small pot of water to a boil. Add 1 teaspoon of salt. Add the chicken in and cook for 15 minutes or until the meat is tender and cooked through

Remove from the water and let it rest and cool down while you are preparing other things
Prepare the salad:
Remove the core of the cabbage and thinly slice the cabbage leaves

Cut the onion into thin slices and soak them in cold ice water to keep them crisp and to tone down the pungent taste of onion. Drain off the water before using
Shred the chicken meat:
Remove the skin and shred the meat into long pieces. Of course you can always keep the skin too if you prefer
Assembling:
Place the shredded chicken meat, cabbage leaves, onion, rau ram, tomatoes, into a large salad bowl. Pour the dressing over and toss the salad to make sure they are evenly coated with the dressing

Top with the peanuts and fried shallots just before serving
Nutrition
Serving:
1
serving
|
Calories:
634
kcal
|
Carbohydrates:
58
g
|
Protein:
43
g
|
Fat:
29
g
|
Saturated Fat:
6
g
|
Polyunsaturated Fat:
7
g
|
Monounsaturated Fat:
9
g
|
Trans Fat:
0.01
g
|
Cholesterol:
80
mg
|
Sodium:
2428
mg
|
Potassium:
1669
mg
|
Fiber:
11
g
|
Sugar:
32
g
|
Vitamin A:
2041
IU
|
Vitamin C:
165
mg
|
Calcium:
180
mg
|
Iron:
4
mg