Seafood Noodle in Ginger Garlic Broth is a simple, easy, and satisfying noodle soup that you will definitely make over and over. Swap it out with other meat of your choice if you are not a seafood person. Works like a charm too!
We just lost 1 hour of sleep since Sunday (a.k.a daylight savings time) and every time that happens I always ask my husband why in the world do we need daylight saving time! Actually, I wasn't really asking. But he did explain to me anyway! Nobody likes to lose sleep I suppose (unless it's the day before going on a vacation, I just can't sleep!) but that means Spring is heading this way. I'm so ready for it to be here. I know I talk a lot about weather and please forgive me if that bores you! It's kind of a big deal after I move to Minnesota.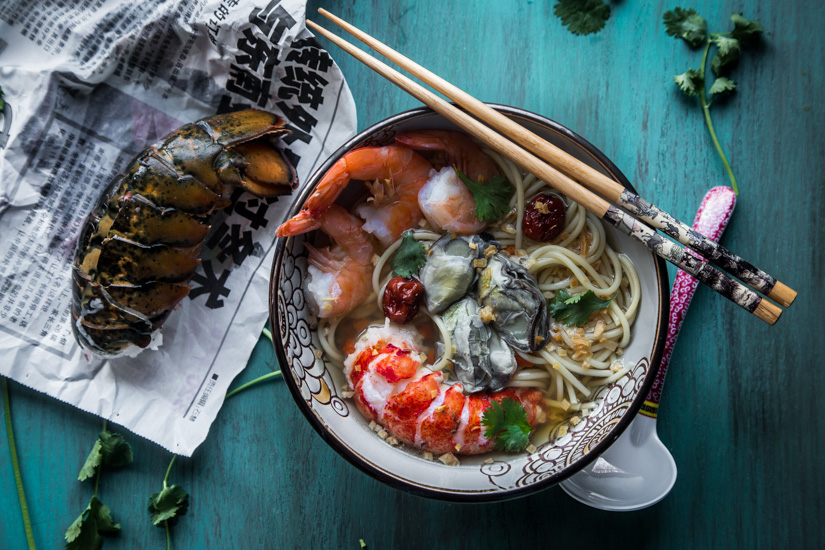 Anyway, I'm thinking a warm thought and just have to share this simple seafood noodle in ginger garlic broth recipe with you guys. It's honestly something I randomly made one cold evening but it went down well with everyone.
Seafood Noodle in Ginger Garlic Broth
Ingredients
12-16

oz

fresh or dried wheat noodles/pasta
Ginger Garlic Broth
1

Tbsp

cooking oil

2

inch

knob of fresh ginger

peeled and thinly sliced

2

stalks

green onions

cut into 2-inch pieces

6

cloves

garlic

peeled and smashed

6

cups

chicken broth

12-15

pieces

of Chinese dried red dates - see notes

rinse with water and make 2-3 cuts on the dates with a knife

Pinch or sugar

Salt to taste

4

lobster tails

9-12

large uncooked shrimp

deveined

8

pieces of oyster

fresh or canned
Garnishes
1

stalk

green onions

thinly sliced

Fresh cilantro leaves

Crispy fried garlic
Instructions
Cook the noodles according to instruction on the package. I used spaghetti and cook it to al dente

In a large pot, preheat cooking oil. Add in ginger and stir fry until fragrant, about 3 minutes. Add in the green onions, and garlic. Stir fry until the green onions just started to wilt and the garlic is lightly brown. Pour in the chicken broth and bring to a boil. Lower the heat and add in the red dates. Let it simmer for 20 minutes. Season with salt and a small pinch of sugar. It should be savory with just hint of sweetness from the dates. Keep them warm on low heat while preparing the rest

Preheat your broiler on low. Meanwhile, prepare the lobster tails. Place them on a cutting board, top side up. Use your finger to lift up the shell a little bit and use kitchen shears and cut through the middle of the shells. Gently pull apart the shell but leave them on. So the shells will be cut in half leaving the flesh intact. Pull out any black veins if you see one. Run your finger underneath the bottom shells, this will loosen up the flesh from the shells. Now leave the flesh up to rest on the shells (as shown in photos). Brush them generously with butter

Place them in the broiler and broil for about 10 minutes or less. I will not walk out from the oven if I were you. Keep a very close eye on it as you don't want to overcook the lobster tail. The shells will turn red and flesh will turn opaque and that's the sign that the lobster is done. Pull them out from the oven and transfer to a plate
When ready to serve
Portion the noodles out into individual serving bowls. Bring the broth back to a boil. Place the shrimp in and cooked until they turn pink and cooked through, about 5 minutes. Place about 3-4 shrimp and one lobster tail into each bowl. Arrange about 2 oysters on each bowl and generously ladle the hot soup over the oyster and the noodles. If you want the oyster to be more cooked, you can submerge them in a boiling broth for few seconds

Garnish with chopped green onions and fresh cilantro leaves. Sprinkle in the crispy garlic. Serve immediately
Recipe Notes
If you can't find dried Chinese red dates, you may just omit. You may use goji berries (not as substitution because it's not the same) in the soup too. It's easier to get goji berries and I love using them in savory soup too