Seafood Noodle in Ginger Garlic Broth- Succulent piece of lobster tail, shrimp, and oyster are served in aromatic ginger garlic broth will satisfy that craving for noodle soup.
In the end of the week, I had a bit of this and that left in the fridge and they were all seafood 🙂 That's how this Asian seafood noodle in ginger garlic broth was created. I love seafood more than I love meat. I wanted to create something simple and it had to be noodle soup 🙂
GINGER AND CRISPY FRIED GARLIC ARE GOOD COMBO FOR THIS SEAFOOD NOODLE SOUP
GINGER: It's always a "rule of thumb" to include ginger when seafood is involved. At least that's the case with my mom. Ginger helps to "tame" what people like to refer to as "fishy" taste when it comes to seafood.
CRISPY FRIED GARLIC: My mom loves to make crispy fried garlic. Not garlic chips, but finely chopped garlic is fried until crispy and then kept in its oil and the crispy fried garlic is used as topping with soup and the soup is drizzle with a bit of the garlic oil. Something so simple but kicks the overall dish up a notch.
HOW TO MAKE CRISPY FRIED GARLIC TOPPING
Like I've mentioned before crispy fried garlic is pretty common in Asia. They are used to flavor soup, noodle dishes, fried rice, stir-fried veggies. Just to mention a few. There are only 2 ingredients needed to make fried garlic, garlic and oil 🙂 Here are few tips to make sure you don't end up with burned garlic
1. The size of the garlic pieces
I know we are not machine and so do your best to chop the garlic to about the same size as much as possible. This helps to ensure that smaller pieces won't get too dark while bigger pieces are still not crispy yet.
2. Control the heat
Because the garlic is chop into fine pieces, they get burn easily. Make sure the heat is on low to medium while cooking the garlic. Once the garlic turns golden brown and get crispy, remove from the heat immediately. The garlic will still continue to cook in the hot oil.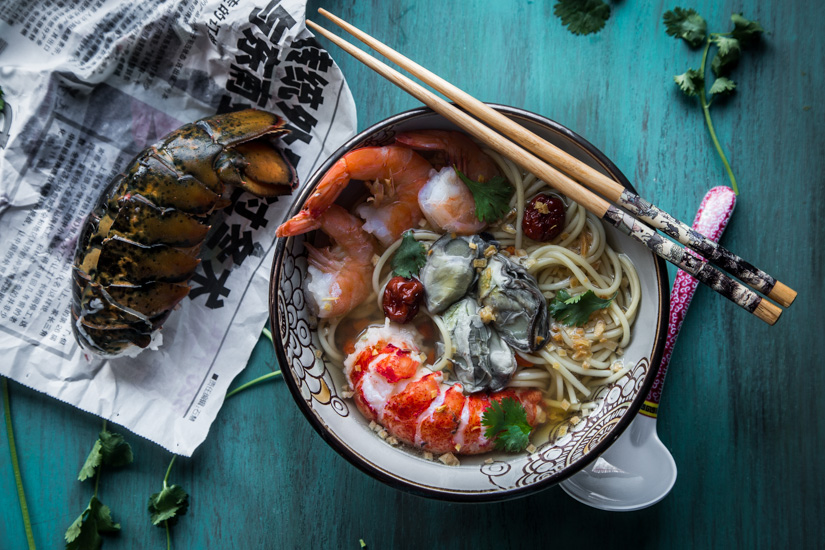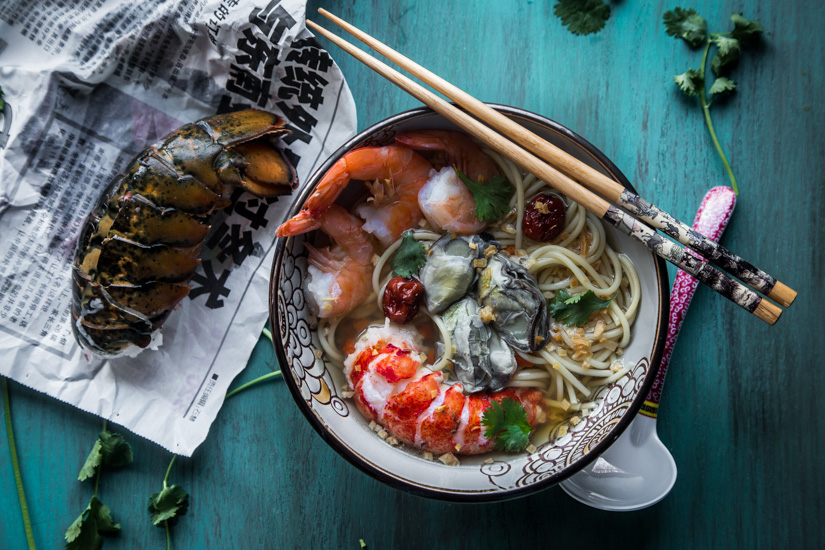 TYPES OF NOODLES YOU CAN USE FOR THIS SEAFOOD NOODLE SOUP
Pretty much anything goes if you ask me. I used spaghetti as you can see from the photos. You can also use: tapioca noodles, egg noodles, angel hair pasta, mee sua (vermicelli noodles), rice noodles.
This blog post contains affiliate links. I earn a small commission when you made purchase at no extra cost to you. Learn more.
Asian Seafood Noodle in Ginger Garlic Broth
Ingredients
12-16

oz

fresh or dried wheat noodles/pasta
For crispy fried garlic (if you decide to make yourself):
1

bulb

garlic

peeled and finely chopped

1

cup

cooking oil
Aromatics:
3

cloves

garlic

peeled and grated

2

inch

knob of fresh ginger

peeled and grated
Garnishes:
1

stalk

green onions

thinly sliced

Fresh cilantro leaves

Crispy fried garlic
Instructions
Prepare crispy fried garlic:
Preheat cooking oil over medium heat. Add the chopped garlic and let them cook. Do not be tempted to crank up the heat. They will start to turn golden brown in about 2-3 minutes and started to get crispy. If they turn brown too quickly, your heat is too high. You need to remove the pan from the heat immediately. Once they turn golden brown, remove from the heat. Transfer to a glass jar along with the oil. This will keep pretty indefinitely
Cook the noodles:
Cook the noodles according to instruction on the package. I used spaghetti and cook it to al dente
Prepare the broth:
In a large pot, preheat cooking oil. Add ginger and stir fry until fragrant, about 3 minutes. Add in the green onions, and garlic. Stir fry until the green onions just started to wilt and the garlic is lightly brown, about 1 minute. Add the shrimp and saute until they turn pink. Remove the shrimp from the pan and set aside

Pour in the chicken broth and bring to a boil. Lower the heat and add the red dates. Let it simmer for 20 minutes. Add seasonings. It should be savory with just hint of sweetness from the dates. Add more salt if needed. Keep them warm on low heat while preparing the rest
Cook the lobster while the soup is simmering:
Preheat your broiler on low. Meanwhile, prepare the lobster tails. Place them on a cutting board, top side up. Use your finger to lift up the shell a little bit and use kitchen shears and cut through the middle of the shells. Gently pull apart the shell but leave them on. So the shells will be cut in half leaving the flesh intact. Pull out any black veins if you see one. Run your finger underneath the bottom shells, this will loosen up the flesh from the shells. Now leave the flesh up to rest on the shells (as shown in photos). Brush them generously with butter

Place them in the broiler and broil for about 8-10 minutes or less. I will not walk away from the oven if I were you. Keep a very close eye on it as you don't want to overcook the lobster tail. The shells will turn red and flesh will turn opaque and that's the sign that the lobster is done. Pull them out from the oven and transfer to a plate
When ready to serve:
Portion the noodles out into individual serving bowls. Bring the broth back to a boil. Place the shrimp in and cooked until they turn pink and cooked through, about 5 minutes. Place about 3-4 shrimp and one lobster tail into each bowl. Arrange about 2 oysters on each bowl and generously ladle the hot soup over the oyster and the noodles. If you want the oyster to be more cooked, you can submerge them in a boiling broth for few seconds

Garnish with chopped green onions and fresh cilantro leaves. Sprinkle in the crispy fried garlic with some drizzle of garlic oil. Serve immediately
Notes
If you can't find dried Chinese red dates, you may just omit. You may use goji berries (not as substitution because it's not the same) in the soup too. It's easier to get goji berries and I love using them in savory soup too. Just put goji berries at the end of cooking and let the residual heat soften the berries. Don't cook the goji berries for too long or they will turn sour.