Saucy Curry Shrimp Chow Mein-Super easy chow mein is stir-fried with shrimp, veggies, and has coconut curry sauce is a busy weeknight staple. Can be made in wok, skillet, or instant pot.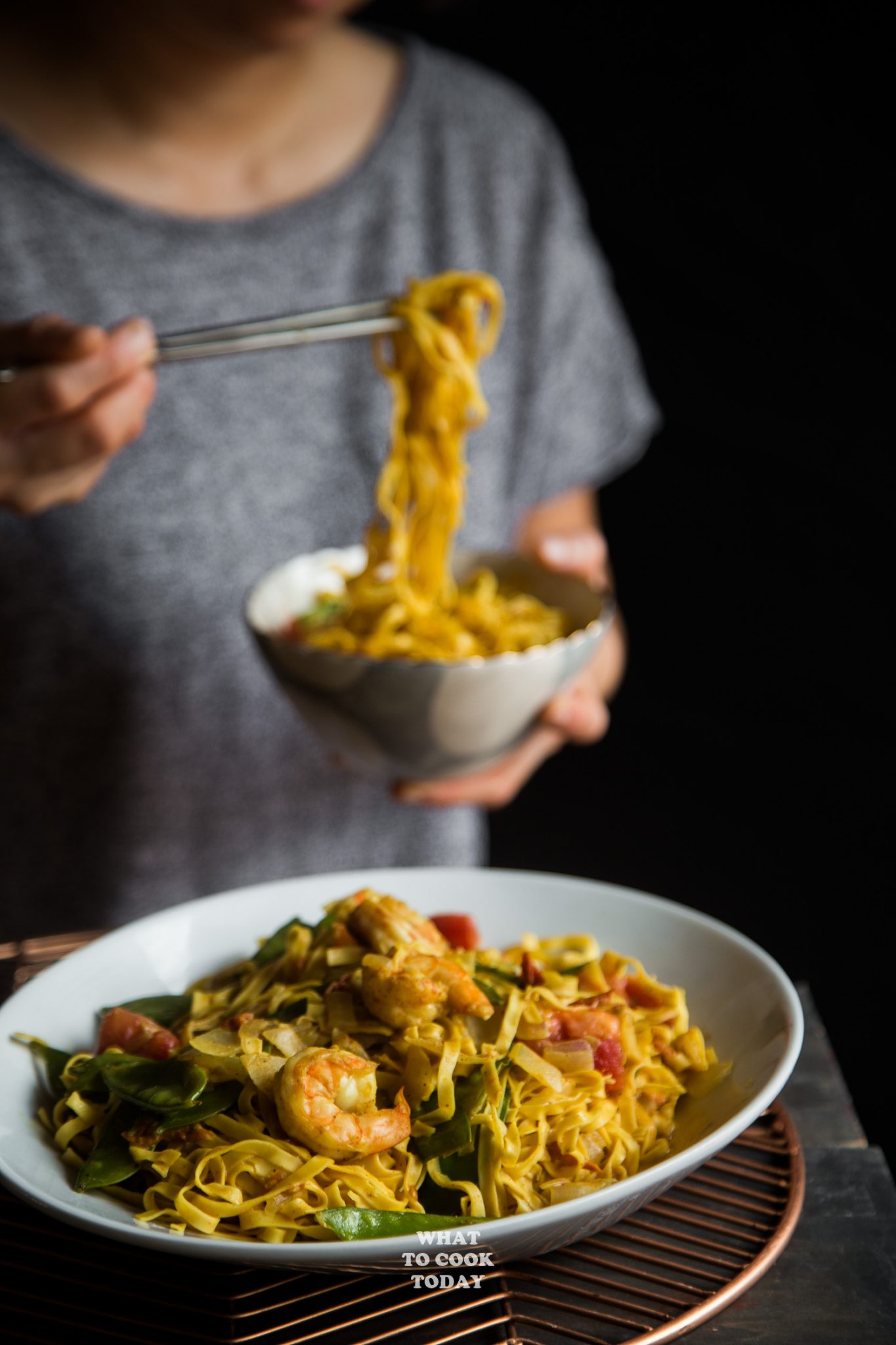 Chow Mein is probably one of the most popular Chinese American cuisines. Having said that, of course, Chow Mein has many varieties around the globe too. Chow Mein 炒麵 literally means Stir-fried Noodles. This version I made here is saucier and there is also a crispy version where the noodles are deep-fried and then served with saucy gravy. In a way, it's almost like Crispy E Fu Noodle and seafood gravy.
The chow mein I used here is a little bit thicker and flatter (broad version), which is usually used for the crispy chow mein. Another variety of chow mei noodles are thinner and round noodles. I think you can't go wrong with either one.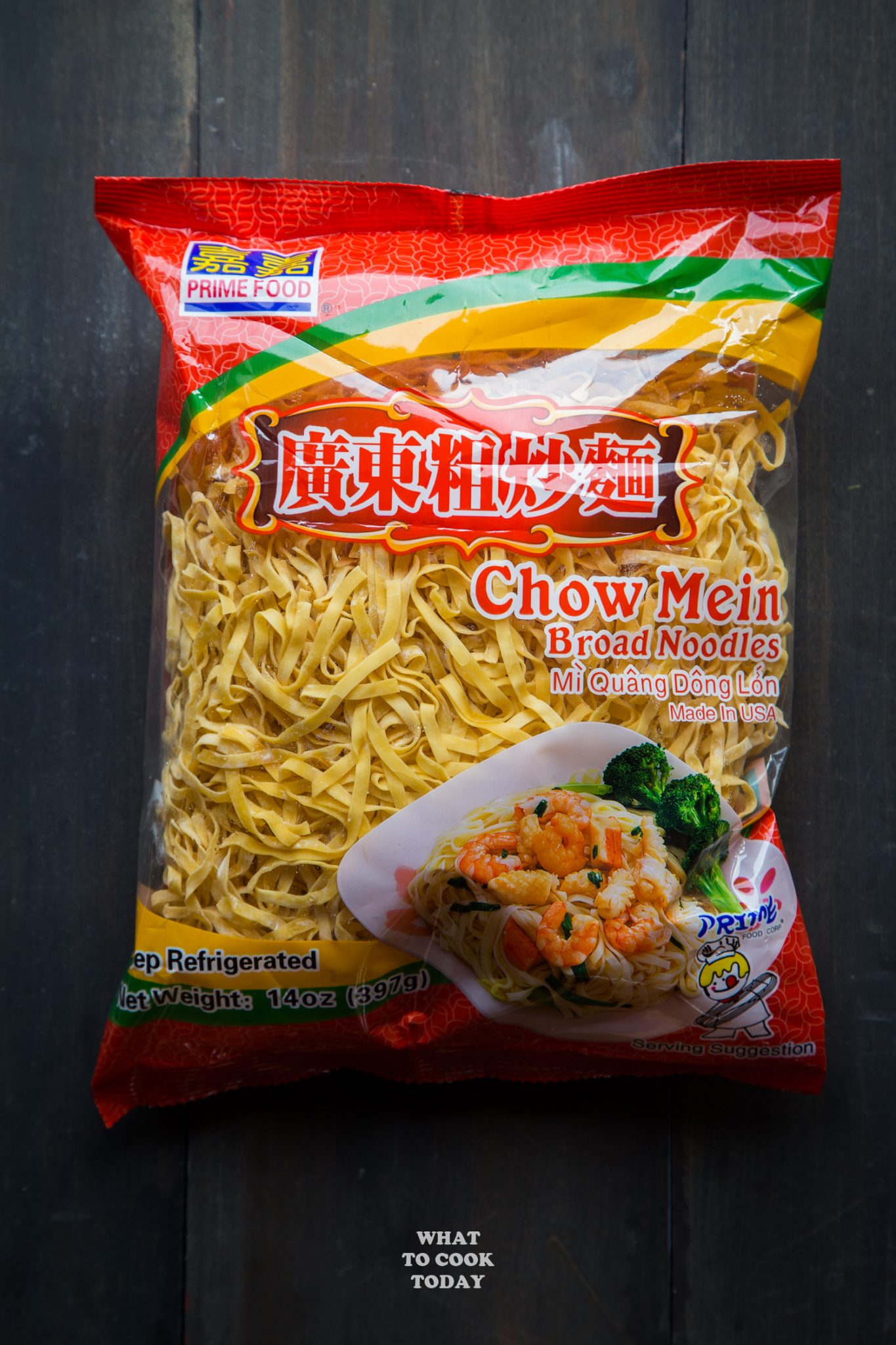 I tried to make this saucy curry chow mein using instant pot. I have a 6 quart instant pot and I found that I needed to half the recipe below to get a good result, otherwise the heat distribution is just not even. If you have 8 quart instant pot, of course, you can probably fit in more noodles in there.
I like my stir-fried noodles with a little bit of sauce. The coconut milk curry sauce is just perfect in this chow mein noodles. It doesn't turn into a noodle soup, but a bit of sauce just binds all the flavor together.
This blog post contains affiliate links. I earn a small commission when you made purchase at no extra cost to you. Learn more.
*Recipe is written for 6-quart Instant Pot. Cooking time should remain the same for 8-quart size but will take longer to pressurize. For mini duo (3-quart), I suggest to half the recipe and use the same amount of time to cook*
Saucy Curry Shrimp Chow Mein
Ingredients
14

oz

Chow Mein Noodles

thick or thin is fine. You may use yakisoba noodles too

1

Tbsp

cooking oil

1

medium onion

peeled and finely chopped

1

tsp

paprika powder

optional

1

cup

snow peas

trim tough end

8

oz

large shrimp

peeled and deveined

2

Roma tomato or 1 large tomato

quartered

1

Tbsp

curry powder

1

tsp

turmeric powder

1

cup

coconut milk

Salt

to taste
Equipment recommended:
Instructions
Blanch the noodle briefly in hot water and then refresh with cold water. Set aside.
If using instant pot (I recommend half the recipe if cooking with instant pot for best result):
Push saute on instant pot. When it's "ON" you can add cooking oil and swirl the pot so the oil covers the bottom of the pot. Add onion and saute for about 3 minutes. Add paprika powder (if using), snow peas and stir fry for another minute. Add the shrimp, tomato and saute until the shrimp turn pink. Sprinkle in the curry and turmeric powder and then coconut milk. Stir to mix everything. Wait until the coconut milk comes to the point of almost boiling, but don't let it boil. Add the chow mein noodles and stir to mix everything. If you want it a bit saucier, you can add more coconut milk. Season with salt to taste. Serve immediately
If cooking with wok or skillet:
Preheat your wok/skillet over high heat. Add cooking oil. Swirl it around so the oil coats the base and sides of the wok or skillet. Add onion and saute for about 3 minutes. Add paprika powder (if using), snow peas and stir fry for another minute. Add the shrimp, tomato and saute until the shrimp turn pink. Sprinkle in the curry and turmeric powder and then coconut milk. Stir to mix everything. Wait until the coconut milk comes to the point of almost boiling, but don't let it boil. Add the chow mein noodles and stir to mix everything. If you want it a bit saucier, you can add more coconut milk. Season with salt to taste. Serve immediately


You might also like:
Instant Pot Recipes
Noodle Recipes