Mie Sop Ayam Medan (Indonesian Chicken Noodle Soup) is a popular street food in Indonesia. It's basically a chicken soup cooked in aromatic spices. So humble yet so satisfying on every level. Instant-pot recipe included.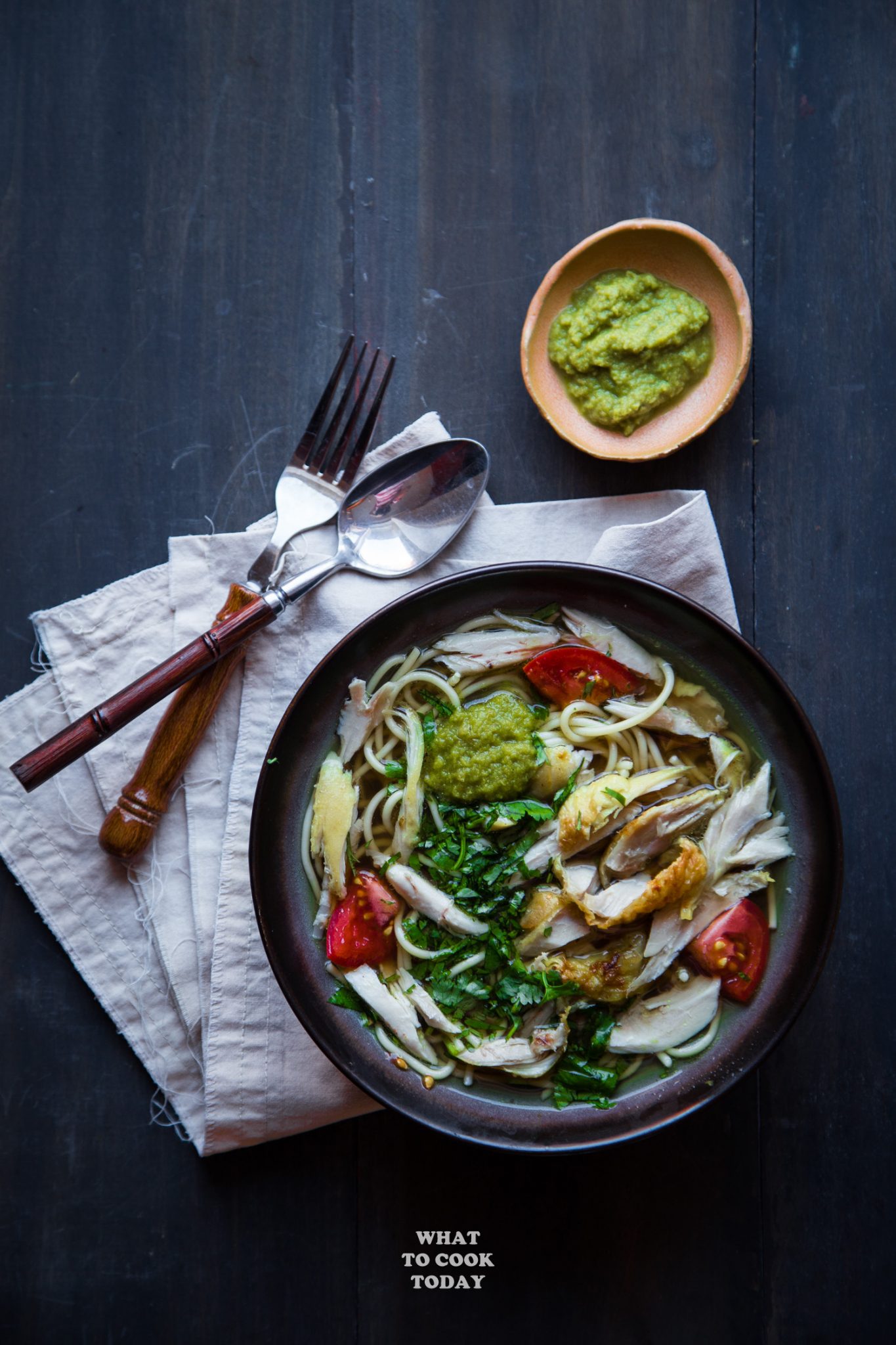 This popular mie sop ayam started out as a push-cart food and has made its way into restaurants' menu. There is one mie sop stall that has been known to be one of the best mie sop in town at the little city where I grew up in Indonesia. If you are from Medan, you know which one I'm talking about 😉 We've eaten there several times too. Business is so good that they are sold out in just a few hours of opening. Crazy isn't it? They also serve fresh coconut drink in a coconut shell, which I find it very refreshing.
Mie sop is basically a noodle soup served in aromatic soup and topped with shredded chicken meat and other toppings. However, like the mee rebus, the broth is the key of the dish. So, it is important to make the soup taste good. The soup is brewed from the goodness of all kind of spices you can think of. Simple, delicious and can be very addicting too (at least to me and most people who have this before). There is also a beef version. But the majority of the Chinese population in my hometown does not consume beef for religion purpose, including my parents, and so the chicken version is always popular!
The addition of celery leaves is also what makes mie sop…well, mie sop! I'm referring to the Chinese celery stalks, which is usually skinnier. They have much more intense aroma compare to the American version of celery. You can usually find them in Asian grocery store, but you can always use American celery too if you can't find any.
Mie sop is usually also served with colorful tapioca crackers, which I don't have. The crackers are usually red and white in color. It's not complete without it, but it's not going to break the deal either! Just make sure you make that green chili! I don't eat my mie sop without the green chili 😉

My husband gets excited at the sight of mie sop. It's his favorite childhood food that he hasn't had for the long time…until we got married and I learned how to make it:)

This blog post contains affiliate links. I earn a small commission when you made purchase at no extra cost to you. Learn more.
*Recipe is written for 6-quart Instant Pot. Cooking time should remain the same for 8-quart size but will take longer to pressurize. For mini duo (3-quart), I suggest to half the recipe and use the same amount of time to cook*
Mie Sop Ayam Medan (Indonesian Chicken Noodle Soup)
Mie Sop Ayam Medan (Indonesian Chicken Noodle Soup) is a popular street food in Indonesia. It's basically a chicken soup cooked in aromatic spices. So humble yet so satisfying on every level. Instant Pot recipe included
PIN RECIPE
PRINT RECIPE
Ingredients
1

lb

egg noodles

or you can use spaghetti noodles too

1

lb

rice noodle stick/bee hoon

optional

1

Tbsp

cooking oil

3

lbs

bone-in skin-on chicken leg or drumsticks or thighs

1

medium size cinnamon stick

2

stalks

lemongrass

trim off woody ends and bruise with heavy objects to release flavor

3

stalks of Chinese celery

(keep the leaves for garnish) or 5 stalks of regular celery

8

cups

water

1

Tbsp

Better Than Bouillon

or use 1 block of chicken bouillon

Salt to taste

cooking oil for deep-frying
Things to be ground in food processor (add a bit water if you need to):
10

shallots

(peeled)

1

bulb or garlic

(peeled)
Spices and herbs:
3

cardamoms

5 cloves

1

tsp

whole white peppercorns
Garnishes:
A bunch of Chinese celery leaves

(finely chopped)

Fried shallots crisp
Green Chili:
50

gr

green chili

1/4

tsp

salt
Instructions
Cooking noodles and making the chili:
Cook the noodles according to instruction on the package. Set aside. Destem the green chili. Boil in water until soft, around 5 minutes. Remove and use a mortar and pestle to crush them with a 1/4 tsp of salt for that rustic appearance. I just use a blender. It's up to you. Can be kept in refrigerator for up to 1 week
Using Instant Pot:
Press saute on Instant pot. When it says "hot", eat 1 tbsp of cooking oil in a skillet, saute ground spices until fragrant, about 1 minutes. Add the cinnamon stick, lemongrass, the chicken and add water to the pot. Add all the ingredients for spices and herbs. Close the lid. Turn the steam release handle to seal. Press pressure cooker, high pressure and set the timer for 20 minutes

Once the timer is up, wait 5 minutes and then release pressure. Once the pressure valve has collapsed, open the lid carefully. Remove the chicken pieces to let them cool down for deep-frying. Strain the soup and discard the rest of the solid

Heat up oil enough to deep fry the chicken until golden brown. The oil doesn't have to cover the chicken. As the chicken is already cooked, the frying is only to brown them and to create some crunch. Remove and let them cool before shredding the meat
Stove-top method:
In a meantime, heat 1 tbsp of cooking oil in a skillet, saute ground spices until fragrant, about 1 minutes. Add the cinnamon stick, lemongrass, the chicken and add water to the pot. Add all the ingredients for spices and herbs. Bring it to boil again, then lower heat to low-medium and let it gently simmer until chicken meat is cooked through (about 45 minutes), remove the chicken meat out and set aside and let cool

Turn off the heat and strain the soup and discard the rest. Now you should have a clear broth, which is the base of this mie sop

Heat up oil enough to deep fry the chicken until golden brown. The oil doesn't have to cover the chicken. As the chicken is already cooked, the frying is only to brown them and to create some crunch. Remove and let them cool before shredding the meat
Serving:
Prepare individual serving bowl. Portion the noodle into an individual serving bowl by mixing half with yellow noodles and another half with the rice stick noodles (if using). Top with shredded chicken meat. Laddle the hot soup over the noodle. Garnish with fried shallots crisp and chopped celery leaves. Drizzle with some Indonesian sweet soy sauce on top if you like. Serve with the chili on the side and you are good to go