Thank you Royal Delights for sponsoring this post. Bring the luxury of restaurant desserts into your own home with Royal Delights Chocolate French Silk and White Chocolate Dessert Mix
Coconut Black Sticky Rice with White Chocolate Mousse – Black Sticky Rice is cooked until tender in coconut milk and then topped with delicious white chocolate mousse. A perfect dessert for chocolate lovers out there!
Valentine's day is just around the corner! Isn't that crazy how fast time goes? February usually is one of the coldest months here in Minnesota. We try to find every reason to get cozy and stay at home. We usually celebrate Valentine's Day at home with easy but delicious home-cooked meals followed by a homemade dessert. I'm excited to share with you guys this Coconut Black Sticky Rice with White Chocolate Mousse dessert. Black sticky rice or often called black glutinous rice or black sweet rice is popular in Southeast Asia. It is not the same with the Chinese black rice or forbidden rice that you may have heard of. Black sticky rice is well…you've guessed it…sticky, creamy, and slightly chewy after you cooked it.
Traditionally, the black sticky rice dessert is usually served by drizzling coconut milk on top of it, but I opted for different presentation and also used this delicious White Chocolate Dessert Mix by Royal Delights to make White Chocolate Mousse instead. Oh YES!!!!
I added coconut chips as part of the presentation too. The contrast of texture and the flavor of the White Chocolate Mousse, the coconut, and the creamy black sticky rice is out of this world.
This Coconut Black Sticky Rice with White Chocolate Mousse is like the perfect answer for chocolate lovers out there. Will you please look at that scoop of deliciousness?

One of the things that I love about celebrating Valentine's day at home is watching my husband's reaction and hearing his comment after he takes that first bite of the food I prepare, in this case, Coconut Black Sticky Rice with White Chocolate Mousse. He loves how light and airy the white chocolate mousse is and what a perfect combination of flavors this dessert has.
If I may suggest one thing, pass on the dessert menu this Valentine's day. Your loved one will love this Royal Delights Dessert Mix creation!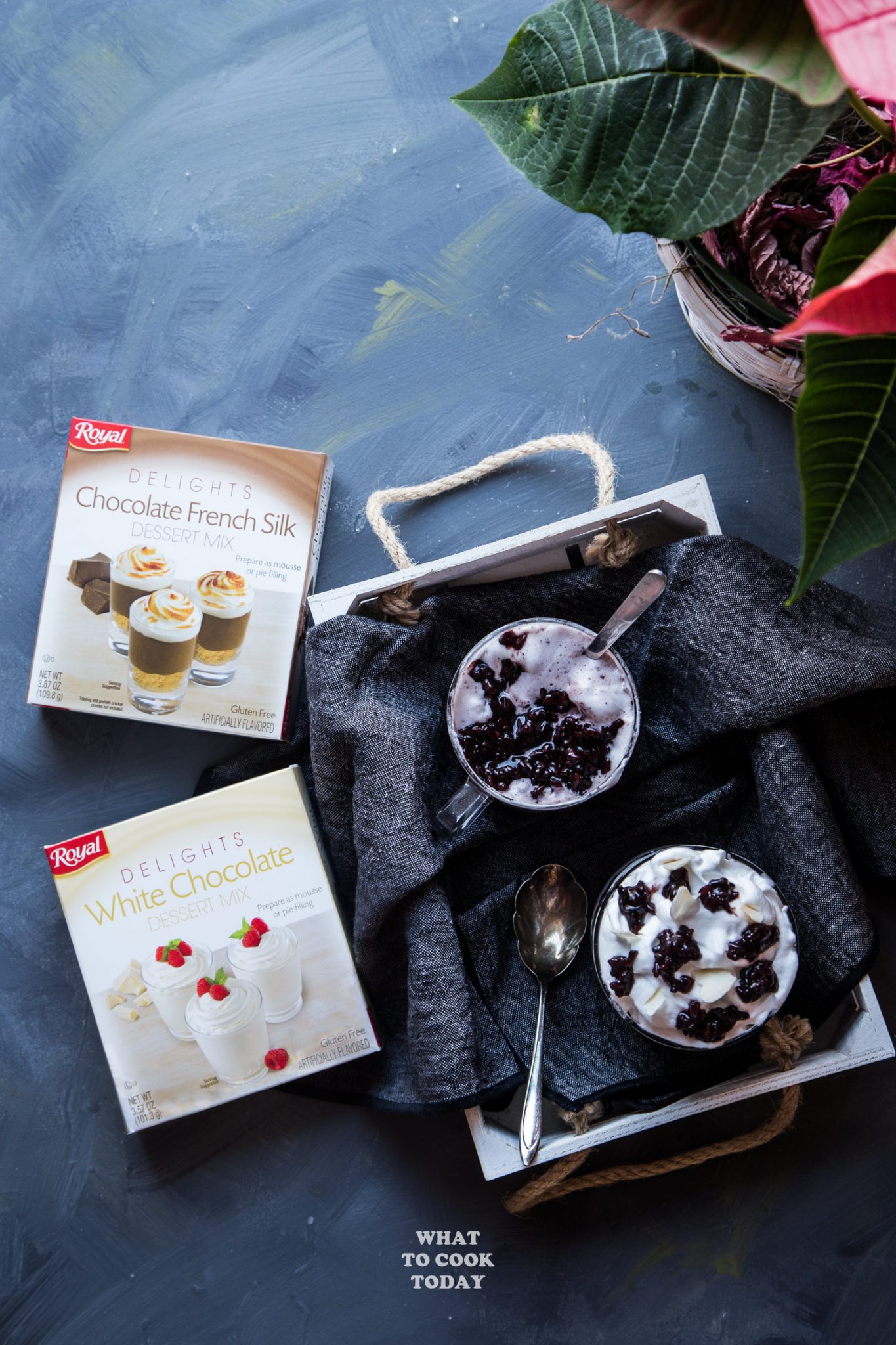 These Royal Delights new, chef-inspired, Chocolate French Silk and White Chocolate Dessert Mixes are so delicious and so simple to make in your very own kitchen!
Head to the links below to find your nearest Walmart store where this product is available today
Chocolate French Silk
White Chocolate Dessert Mixes

Black Sticky Rice with White Chocolate Mousse
Ingredients
White Chocolate Mousse:
1

cup

cold coconut milk

unsweetened
Other ingredients:
1

cup

black sticky rice

2

cups

water

1

cup

unsweetened coconut milk

4

Tbsp

sugar

¼

cup

Coconut flakes/chips

unsweetened
Instructions
Preparing White Chocolate Mousse:
Add 1 package of White Chocolate Dessert Mix to 1 cup of cold coconut milk in a mixing bowl

Mix with an electric mixer using whisk attachment or wire beaters at medium speed for 2 minutes to disperse the mix and then switch to high speed for 4 minutes. Cover and chill in the refrigerator for at least 3 hours or until set
Preparing Black Sticky Rice: (Best to prepare one day before)
The black sticky rice cooks much faster when you soak them in water for at least 4 hours. I usually soak them overnight. Drain off water when ready to cook

Place the soaked rice, water, and coconut milk in a medium saucepan. Bring to a gentle boil and then reduce to simmer and let it cook for the next 30 minutes until the rice is tender and thickened. Stir in between cooking. Stir in sugar and cook for another minute. Remove from the heat
Assembling:
I recommend serving this in 4 to 6 oz individual jars/cups. Scoop about 3 Tbsp of cooked sticky rice into the jar or cup. Layer with about 3-4 Tbsp of white chocolate mousse you prepared earlier. Top with another 3 Tbsp of black sticky rice and finish off with another layer of white chocolate mousse. Decorate with coconut chips and serve
What will you make with Royal Delights Dessert Mix ? I'd love to hear all about it 🙂
I was selected for this opportunity as a member of CLEVER and the content and opinions expressed here are all my own.