Ayam Goreng Kremes (Indonesian Fried Chicken with Crunchy Bits)- Pieces of chicken is marinated in spices and then boiled or pressure cooked and then quickly fried and served with crunchy bits (kremes) made separately. Recipe for Instant Pot included.
I have to say that it is a shame that Indonesian culinary is not as well-known to the world compare to its neighboring countries like Malaysia, Singapore, Vietnam, and Thailand. I have many American friends who are very familiar with Thai and Vietnamese food but they have little clue about Indonesian food. Needless to say, I haven't found one Indonesian restaurant (one that truly devoted to Indonesian food) here in Minnesota 🙁
I strongly believe though if people are more educated about Indonesian culinary, they probably will enjoy Indonesian food. Indonesian food is well-known for using lots of aromatic spices and herbs like turmeric, galangal, coriander seeds, star anise, bay leaves, kaffir lime leaves, candlenuts…just to name a few. Which makes the cooking ever so special.

I remember my mom used to grind up all the spices and herbs ahead of time and freeze them into smaller portions. So, when recipes call for any of the spices and herbs, she can just get what she needed. It really saved her lots of time. She was a full-time SAHM to three kids and I only have two kids and I know how hectic my life has been with just these two around. That also makes it easier for me when I want to cook Indonesian food. Because honestly, thinking about grinding all the spices at the time I need to get the cooking done, discourage me from cooking Indonesian food. It takes too much of my time.

So, let me introduced you to this very popular Indonesian food. I wasn't even sure how to name it properly in English and this was the best I could come up with..twice-cooked chicken with spiced crunch or famously known as ayam goreng kremes.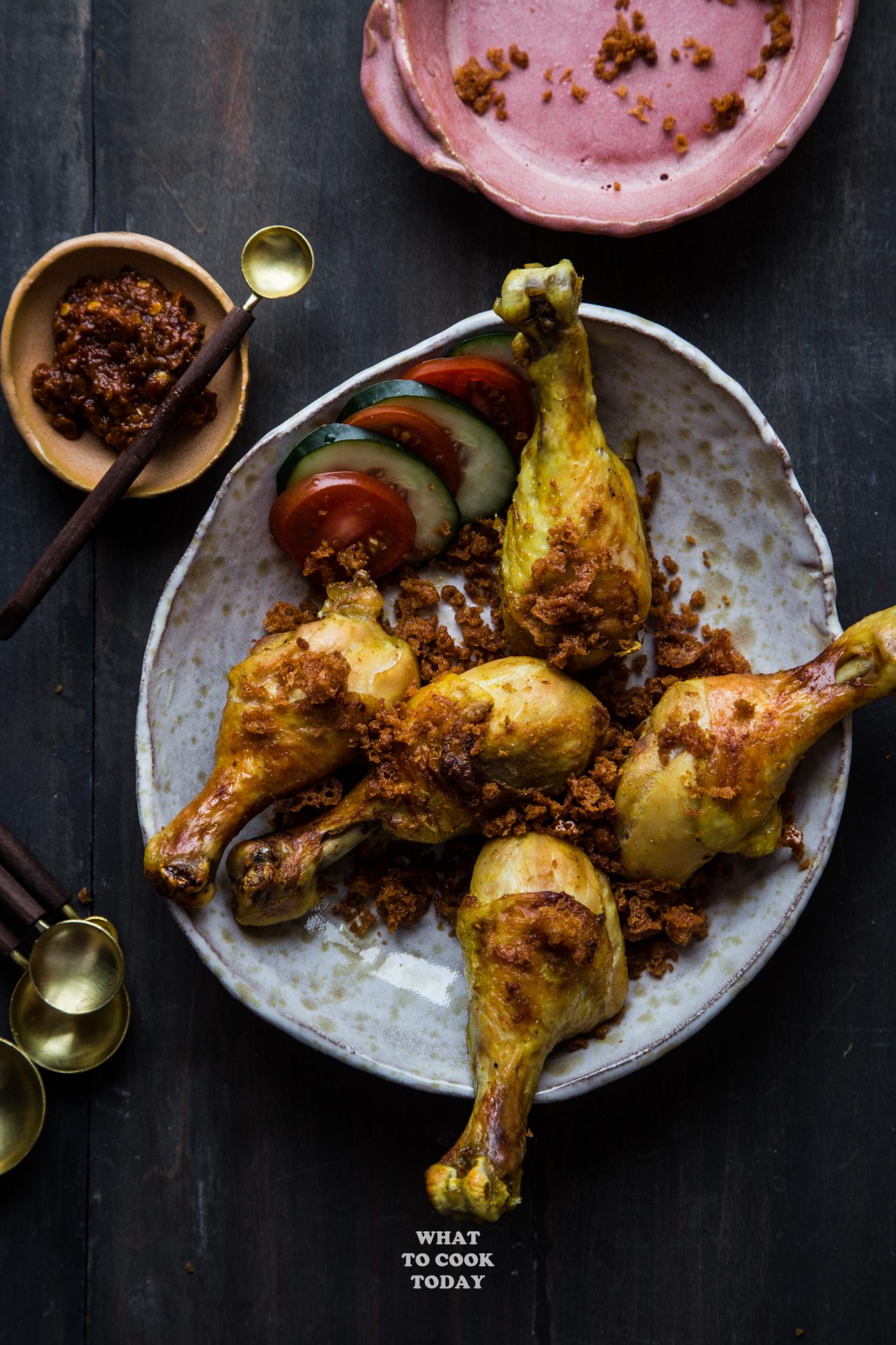 Ayam goreng means friend chicken in Indonesian. Kremes means crunch. The chicken is cooked twiced, first boiled or pressure cooked with the aromatic spices and then deep-fried. The spiced crunch is made from the chicken stock that is fused with the aromatic spices and rice flour. It was a little bit of work I have to admit. At least I have all the spices already grind up. But the whole family loved this dish. Seriously, who doesn't like fried chicken ?? My two kids couldn't have enough of the spiced crunch !!


All the beautiful plates and spoons you see here are generous gifts from a friend, Ingrid, who founded Mavencook , a cooking app that helps to connect cooks around the world to share their passion virtually through interactive cooking sessions.
My husband said "You are so lucky to know friends from this blogging world who are so kinda and generous". I couldn't agree more! I'm so lucky and I have never even met Ingrid in person but I hope one day we have a chance to meet this angel in person!
1. Recipe was first published on Sept 14,2015 and then updated with new photos and to edit recipe to include method for pressure cooking the chicken.
2. Another minor update: I added a corn starch solution to coat the chicken before frying and that add a nice extra crunch to the chicken when you fry or air-fry the chicken.
*Recipe is written for 6-quart Instant Pot. Cooking time should remain the same for 8-quart size but will take longer to pressurize. For mini duo (3-quart), I suggest to half the recipe and use the same amount of time to cook*

Ayam Goreng Kremes (Indonesian Fried Chicken with Crunchy Bits)
Ingredients
Instructions
Pat the chicken dry with an absorbent paper towel. Rub the ground spices, salt, and turmeric into the chicken pieces and let them marinade for at least 30 minutes. If you can do overnight that's the best
Preparing corn starch solution:
Put all the ingredients for corn starch solution and stir to mix. Set aside. Just remember to stir it again when ready to use. They tend to settle at the bottom
Traditional method on stove-top:
Transfer them to a large pot and pour in about 1 1/2 cups of water (this won't cover the chicken, it's okay). Add bay leaves. Bring to a boil and then lower the heat and cover the pot to let it gently simmer for about 20 minutes. Remove the chicken from the pot into a platter. Keep the chicken stock. Lightly pat the chicken dry with absorbent paper towel and rub the corn starch solution all over the chicken pieces and let them air dry for about 10 minutes before frying
Using Instant Pot or pressure cooker:
Pour 2 cups of water into the inner pot. Place the trivet and arrange the chicken pieces and bay leaves in a heat-proof container and place this on top of the trivet. Close the lid and seal the steam release handle. Press pressure cooker, high pressure and set the timer to 25 minutes for drumsticks, 15 minutes for chicken thighs

When the timer is up, wait 5 minutes and then release pressure and open the lid once the pressure valve has collapsed. Carefully remove the chicken from the liquid and save the liquid. Lightly pat the chicken dry with absorbent paper towel and rub the corn starch solution all over the chicken pieces and let them air dry for about 10 minutes before frying
Frying the chicken (stove top):
Preheat oil enough to deep fry the chicken. Deep fry until they are golden brown. Remove into an absorbent paper towel and transfer to serving platter. Repeat until you are done with the chicken. Remove the small bits in the oil and reheat the oil back up
Frying using air-fryer:
Brush a bit of oil on the skin and all over the chicken pieces and set the temperature at 400 F and air fried for about 5 minutes or until golden brown
Making the Kremes (Crunchy bits):
Preheat about 1-inch of oil in a pot. Mix rice flour, baking powder, salt and chicken stock Stir to mix. Add this mixture a bit by bit (about 1-2 Tbsp at a time) into the hot oil by circling around with a spoon instead of pouring all at one spot. Let it fry until golden brown and crunchy. Remember to stir the mixture each time before you add them to the hot oil. Sprinkle this spiced crunch on the chicken and serve immediately.
Recommended products:
Other Instant Pot Recipes you might like:
PRESSURE COOKER FISH BIRYANI (WITH BROWN BASMATI RICE)
NASI LIWET SUNDA ( INDONESIAN AROMATIC SPICED COCONUT RICE)
EASY PRESSURE COOKER LO MAI GAI (STEAMED STICKY RICE WITH CHICKEN)