Learn how to make delicious authentic Indonesian mie goreng Jawa that is perfect for any day of the week. A recipe passed down from my mom to me.
Mie goreng / mee goreng is popular food from the street all the way to restaurants. It's popular in Indonesia, Malaysia, and Singapore. I'm sharing the Indonesian version of Mie Goreng Jawa. There are many variations for mie goreng Jawa too. My mom has her own version. If you ask an Indonesian like me, a good mie goreng would be spicy, aromatic, savory with a hint of sweetness from kecap manis, slightly chewy and springy noodles and its rustic presentation.
INDONESIAN MIE GORENG INGREDIENTS
1. NOODLES
Yellow egg noodles are usually used to make mie goreng but you can certainly also used: angel hair pasta, spaghetti, dried instant noodles like Indomie or ramen noodles.
2. EGGS
Large chicken eggs are perfect for mie goreng.
3. LEEKS
My mom loves to use leeks in her version of mee goreng. It really adds nice authentic aroma to Indonesian mie goreng.
4. PROTEIN
I used shrimp in this recipe. You don't have to use shrimp if you don't want to. You can use chicken, beef, pork, or leftover cooked chicken (shredded).
5. CABBAGE
I feel like cabbage is almost a must for Indonesian mie goreng.
6. TOMATOES
You can use large tomatoes or Roma tomatoes
7. KECAP MANIS
This is definitely a must in Indonesian mie goreng. It contributes some sweetness and that beautiful darker color to the overall dish
8. SOY SAUCE (KECAP ASIN)
This is to add some savory taste to the mie goreng
9. CANDLENUTS (KEMIRI)
Mom uses candlenuts (kemiri) in her mie goreng recipe. Candlenuts are used a lot in Indonesian cooking. It adds a nice authentic aroma to the finished dish. You can definitely sub candlenuts with macadamia nuts or skip it altogether if you don't want to.
10. SHALLOTS AND GARLIC
These two are definitely aromatics in mie goreng in addition to leeks.
11. SAMBAL OELEK
Mom uses cabe rawit/ Thai green chili in her mie goreng, which I really love. But I also like to use sambal oelek to my mie goreng too
12. COOKING OIL
Use any neutral tasting cooking oil like grapeseeds oil, avocado oil, or vegetable oil.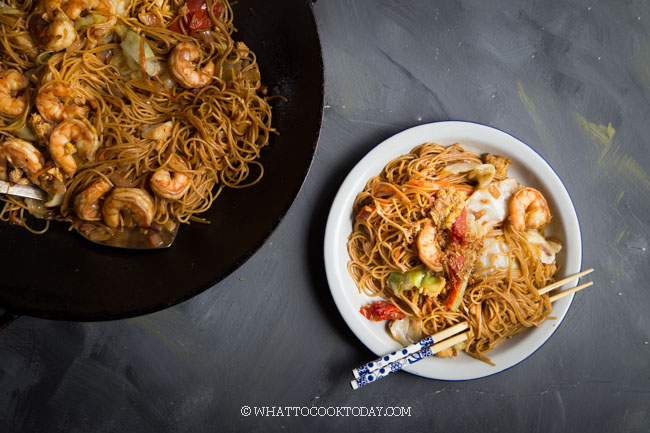 INDONESIAN MIE GORENG JAWA STEP-BY-STEP COOKING GUIDE
1. ALWAYS PREHEAT THAT WOK / PAN
A cold wok/pan is a nemesis for stir-frying. Once the wok/pan is really hot. Add cooking oil.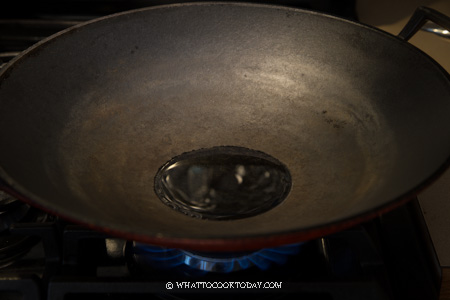 2. COOK THE SHRIMP/MEAT FIRST
Whether you are using shrimp or other meat, I suggest to stir fry them first and then dish out to avoid overcooking.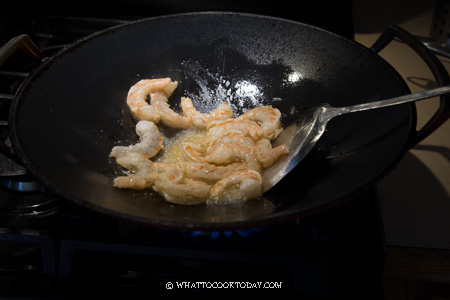 3. COOK THE EGGS NEXT
Crack in eggs into the wok/pan and let them cook for about 10 seconds undisturbed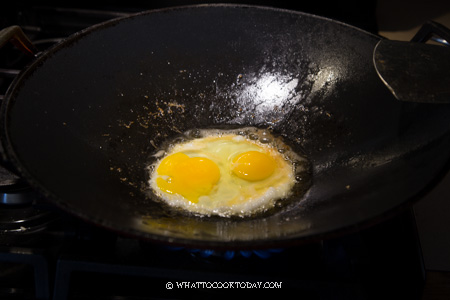 Then start to scramble the yolks


The eggs should be in large chunks. Dish them out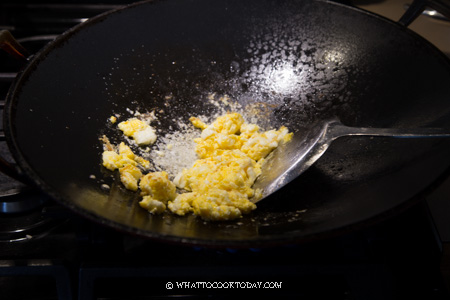 4. COOK THE AROMATICS NEXT
Add the ground/finely chopped shallots, garlic, and candlenuts and stir fry until fragrant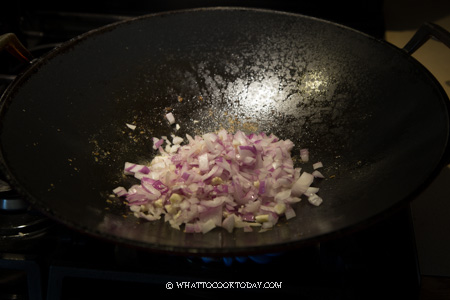 5. COOK THE VEGGIES NEXT
Add the cabbage next


Pour some water to help soften the cabbage while stir frying it and close with the lid and let it cook for about 1 minute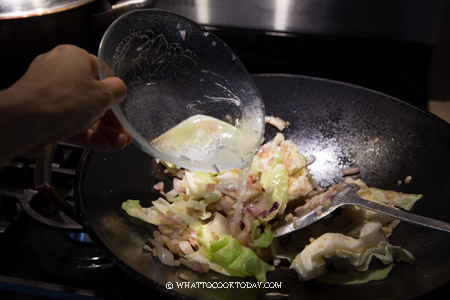 Uncover the lid and add carrots and tomatoes and stir fry for another minute. If you are using leftover cooked meat (like shredded chicken for example), add it at this stage.


6. ADD NOODLES, SHRIMP, EGGS AND SEASONINGS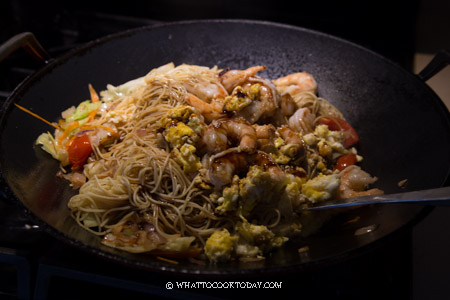 7. STIR TO MIX EVERYTHING
Make sure the seasonings are coating the noodles and everything in the wok/pan. Adjust by adding more kecap manis and soy sauce. The final taste should be savory, slightly sweet, and spicy (if using sambal oelek).


8. SERVE IMMEDIATELY
Garnish with sprinkle of bawang goreng (if you like) and serve.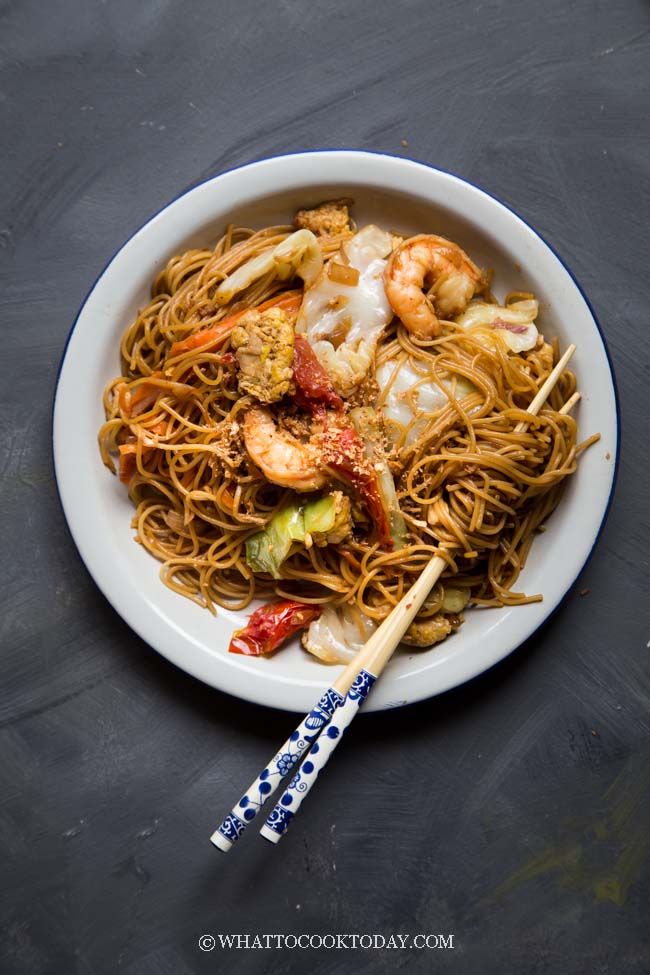 VARIATIONS FOR INDONESIAN MIE GORENG
Like many stir-fried noodles recipe, this mie goreng recipe is not written in stone. You can change it up to suit your taste or dietary needs.
NOODLES: Instant noodles like: chow mein noodle, Indomie or ramen, angel hair pasta, spaghetti
PROTEIN: chicken, beef, pork, or you can use leftover rotisserie chicken for example (simply shred the meat)
MEATLESS VERSION: You can use extra firm tofu, tofu puffs
VEGETABLES: You can add mushrooms, beansprouts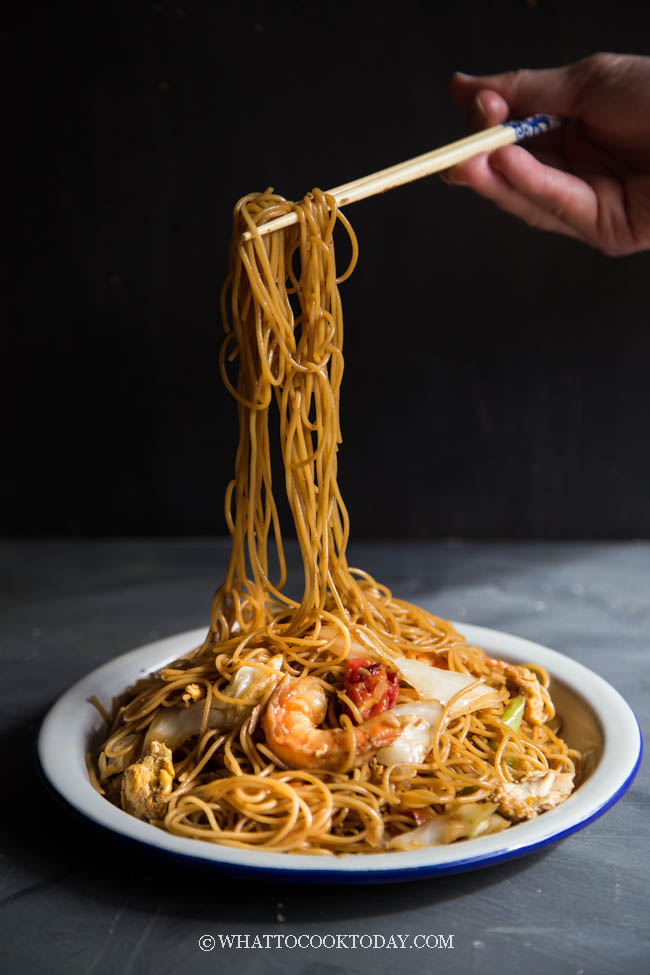 The Best Indonesian Mie Goreng (Mie Goreng Jawa)
Ingredients
500

gr

Yellow egg noodles

you can use instant noodles, ramen noodles, angel hair pasta, spaghetti pasta

3

large

eggs

3

Tbsp

cooking oil

divided

1

leek

optional, cut into 1-inch length and wash thoroughly

150

gr

large shrimp

peeled and deveined. You can use meat like chicken, pork, beef

2

cups

shredded cabbage

¼

cup

water

1

large

tomato

quartered and seeded
Aromatics to grind/chop in food processor:
4

shallots

or use 1 small onion, diced

4

cloves

garlic

finedly minced

5

candlenuts

optional (or sub with macademia nuts)
Garnish:
Fried shallots crisp

(bawang goreng)
Instructions
If using dried egg noodles, cook according to direction. I suggest to undercook it because we will be stir frying it later. Use 1/2 lbs (250 gr) dry noodles and it will give you close to 500 grams of cooked noodles

Place the shallots, garlic in food processor and finely chopped them or you can chop by hand too. If using candlenuts or macadamia nuts, processed them into a paste consistency you can use a bit of oil to get it going

Preheat a wok or a large pan. Add 1 Tbsp of oil. Add in shrimp or uncooked meat (like chicken for example) pieces and stir fry until the shrimp or meat is cooked through. Dish out and set aside

Add another 1 Tbsp of oil. Crack in 3 eggs. Let them cook for about 10 seconds and then scramble the eggs into large chunks. Dish out and set aside Add the rest of the cooking oil. Add aromatics you prepared earlier. Saute until they are brown and really fragrant, around 5 minutes. Add the leeks (if using) and saute until they are limp and soft

Add shredded cabbage and saute for about 1 minute. Add 1/4 cup of hot water to help soften the cabbage, cover with a lid and cook for about 1 minute. Add carrots and tomatoes and stir fry for another minute. If you are using leftover cooked meat (like shredded chicken for example), add it at this stage

Add the noodles, shrimp, and eggs back into the wok/pan followed by seasonings. Mix well to make sure the sauce is coating the noodles and everything else add more if needed. Adjust taste by adding more kecap manis and/or soy sauce to your taste

Garnish with bawang goreng if you want and serve immediately
Recommended products:
DID YOU MAKE THIS INDONESIAN MIE GORENG JAWA RECIPE?
I love it when you guys snap a photo and tag to show me what you've made 🙂 Simply tag me @WhatToCookToday #WhatToCookToday on Instagram and I'll be sure to stop by and take a peek for real!