Make the best soft fluffy ma lai gao Chinese steamed sponge cake with this easy and fool-proof recipe. Can be steamed with a steamer or Instant Pot Pressure Cooker.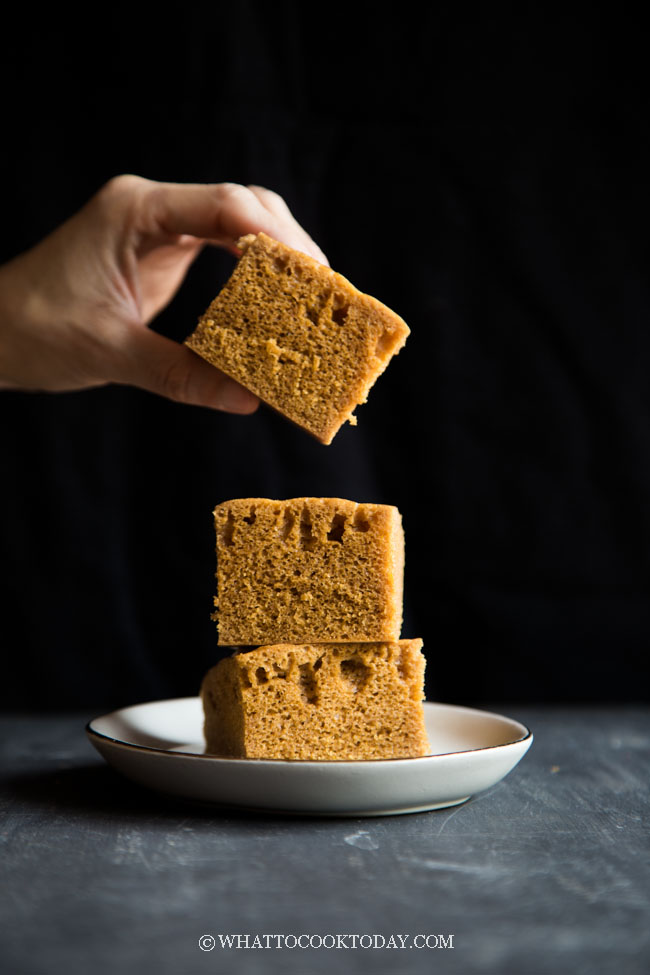 Ma Lai Go or Ma Lai Gao or Malai / Malay Cake is one of my favorite Chinese steamed cakes. I had this very often for breakfast when I lived in Singapore. I stopped by this little shop on my way to work to get them. Now that I'm so far away from home, the only way to enjoy this is, well, to go to a dim sum restaurant or to make it myself. I can certainly do the former, but making your own ma lai gao is really not that complicated and this recipe gives really good ma lai gao!
WHAT IS MA LAI GAO?
This Cantonese style ma lai go steamed sponge cake got its name from "Malay" and "gao" means cake. It is said that ma lai gao was inspired by the British version of baked cakes, but due to lack of oven in Asia back in the olden days, the cooks adapted the cake to be steamed instead and changed up some ingredients by using local Southeast Asian ingredients like coconut milk instead of cow's milk and pandan flavor. The Cantonese chef later brought this steamed version back to Hong Kong and adapted it to what it is today.
You may see some ma lai gao have a dark brown color and some are pale yellowish in color. It's all the sugar that is used in the recipe that yields the color. I like to use coconut sugar (gula merah / gula Melaka) because it gives an amazing flavor to the cake.
TRADITIONAL MA LAI GAO VS THIS EASY MA LAI GAO RECIPE
Traditional ma lai gao is made with levain (starter dough). Making levain on its own is a challenge, especially for people like me! Professional chefs swear by levain to produce soft and spongey ma lai gao. In this modern day, you don't see ma lai gao made with levain that much anymore, if at all. Levain is being replaced with baking powder and baking soda in this recipe. This ma lai gao recipe does not use levain, but I can tell you that the cake is still soft and spongey and pretty fool-proof!
WHAT MAKES MA LAI GAO SOFT WITHOUT LEVAIN
This ma lai gao recipe is a courtesy of a friend, Sandra Yap. I saw her making these ma lai gao one day and I just knew I had to try out her recipe. I was a bit skeptical at first because the recipe calls for resting the dough for at least 2 hours to let the dough ferments and my thought was what would happen to the baking powder and the baking soda if I don't steam the cake immediately? Well, it is actually the resting the batter part is the secret in producing soft, airy, and spongey ma lai gao.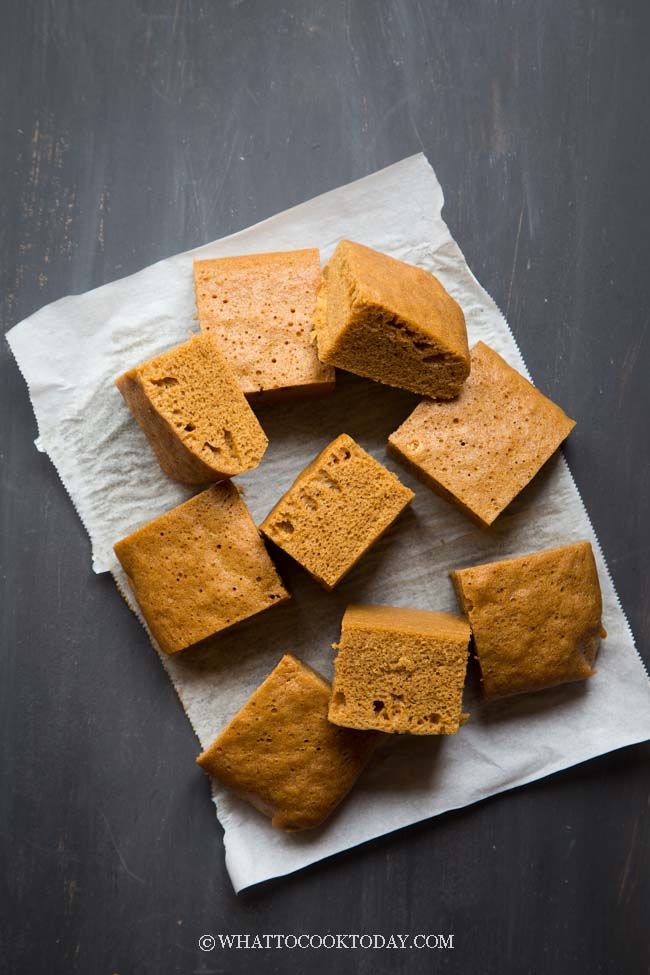 MA LAI GAO INGREDIENTS:
The best thing about making ma lai gao is that it uses common ingredients that most people have in their pantry:
Cake flour yield a softer texture cake compared to if you use all-purpose flour
This recipe used 5 large eggs
BAKING POWDER AND BAKING SODA:
These two helps to make the cake light and airy
Any neutral taste cooking oil can be used
This contributes to the dark brown color and also an amazing flavor. Using brown sugar or white sugar is totally fine too
I prefer whole milk because it has that extra fat that keeps the cake moist too. You can certainly opt for low fat milk if you want
this is an optional ingredient you can add to your ma lai gao. It contributes to a nice soft texture to the cake
a little bit of salt will certainly bring out the flavor of the cake.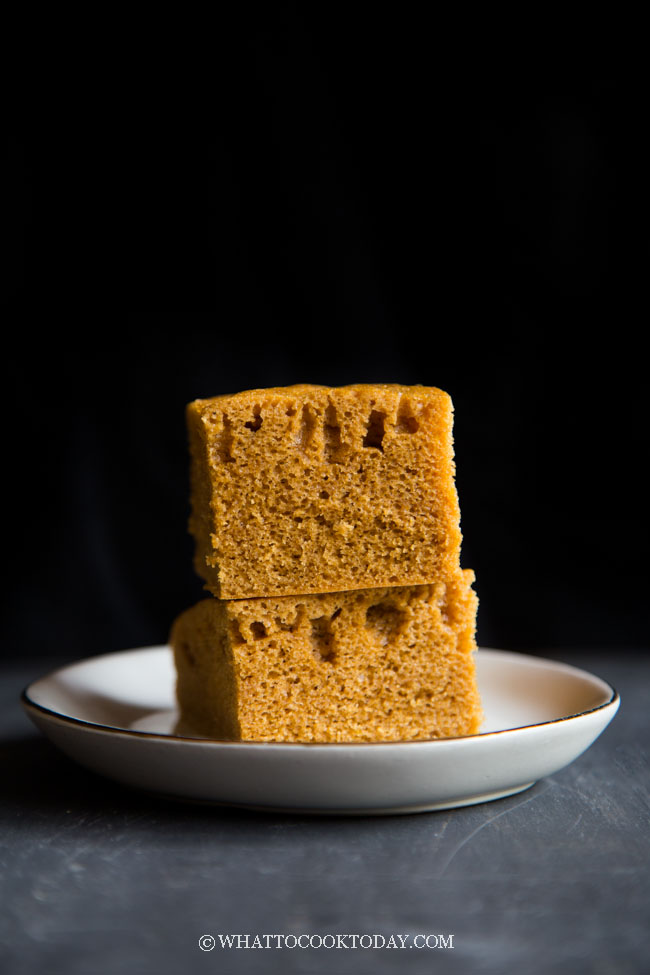 HOW TO MAKE SOFT FLUFFY MA LAI GAO (STEAMER OR INSTANT POT)
1. Combine dry ingredients. Mix the flour, baking powder, baking soda, custard powder, flour, and salt and whisk to mix


2.Beat the eggs. In a large mixing bowl, beat the eggs until they are pale and fluffy with a mixer. Add in sugar, oil and milk and continue to whisk until smooth. Turn off the mixer


3. Fold in the flour mixture into the egg mixture in batches.
4. Combine until flour is absorbed by the wet ingredients but don't overwork the batter too.


5. Cover and rest the batter. It is important to rest the batter for about 2 hours at room temperature. This fermentation part will ensure you get an airy soft fluffy cake.
6. Line the cake pan or bamboo baskets with parchment paper

7. Fill the batter to cake pan or bamboo baskets
Fill it up about 3/4 way through the pan or baskets


8. Steaming the cake.
– If using steamer: Bring water to a boil and then steam the cake over high heat for 30 minutes


– If using Instant Pot (remember to half the recipe for the cake to cook properly):
Press "Saute" on Instant Pot and bring water to a boil and then turn off


Pressure cook on high for 20 minutes and then wait for 5 minutes and release pressure


6. Enjoy. Let the ma lai gao to cool down slightly and then cut into the desired size and serve the cake warm or at room temperature
MA LAI GAO VARIATIONS
Use white sugar or brown sugar. White sugar will yield yellowish beige color cake while brown sugar will give pale brown color cake and not as dark as to when you use coconut sugar.
You can add matcha powder or use pandan extract or another flavor you like.
My kids can easily down 2-3 of these soft fluffy ma lai gao cake in one sitting!! I can absolutely relate to that!
DID YOU MAKE THIS SOFT FLUFFY MA LAI GAO SPONGE CAKE?
I love it when you guys snap a photo and tag to show me what you've made 🙂 Simply tag me @WhatToCookToday #WhatToCookToday on Instagram and I'll be sure to stop by and take a peek for real!
*Recipe is written for 6-quart Instant Pot. Cooking time should remain the same for 8-quart size but will take longer to pressurize. For mini duo (3-quart), I recommend to half the recipe and use the same amount of time to cook. Cooking time doesn't change because the time is based on the size of your pot not the quantity of the food*
Easy Soft Fluffy Ma Lai Gao (Chinese Steamed Sponge Cake)
Make a soft fluffy ma lai gao Chinese steamed sponge cake with this easy and fool-proof recipe. This popular dim sum cake is easier to make than you think.
Total Time:
2
hours
50
minutes
8
inch square or round cakes
PIN RECIPE
PRINT RECIPE
Ingredients
Instructions
Prepare the batter:
Mix the dry ingredients with a whisk and set aside

In a large mixing bowl, beat the eggs until they are pale and fluffy with a mixer on high speed for 5 minutes. Add in sugar, oil and milk and continue to whisk until smooth. Turn off the mixer

Use a rubber spatula to fold in 1/3 of the flour mixture and then combine and follow by another 1/3 until you run out of flour. Do not overwork the flour. Just stir until combined. Cover and let the batter rest for 2 hours at room temperature

Line the pan with parchment paper. You can use 7-inch square or round cake pan

If you use Instant pot, you will need about 6-inch diameter round pan
Steaming the cake on the stove:
Prepare your steamer by bringing the water to a boil. Pour the batter into the pan and let the cake steam for about 30 minutes if you are using bamboo steamer, and 35 minutes if you are using metal cake pan. If you choose to use smaller size, such as muffin cups, steam for about 10-15 minutes

Remove from the steamer. Let them cool down a little bit and can be served warm or room temperature
Steaming in instant pot:
Pour 1 cup of water inside the inner pot of instant pot. Press saute mode and bring water to a boil

Set the trivet in there. Pour the batter into the pan and loosely tent it with an aluminum foil to prevent condensation from dripping on the cake surface. Close the lid and turn the valve to "sealing". Press "pressure cooker" and let it cooks on high pressure for 20 minutes

Wait 5 minutes and then release pressure immediately. Carefully remove the cake and let it cool down a little bit before serving
Notes
The larger the diameter of the pan or basket you use, the shorter the cake will be. A taller cake will take a bit longer to cook. 6 quart Instant Pot can only fit in 7-inch round pan/basket and I recommend to half the recipe so the cake will steam properly
RECOMMENDED PRODUCTS: