Ohn No Khao Swe is Burmese noodle soup served in coconut broth slightly thickened with chickpeas (besan) flour and topped with crunchy fried egg noodle strips. So simple to make and incredibly satisfying! Don't take my words for it. Try it!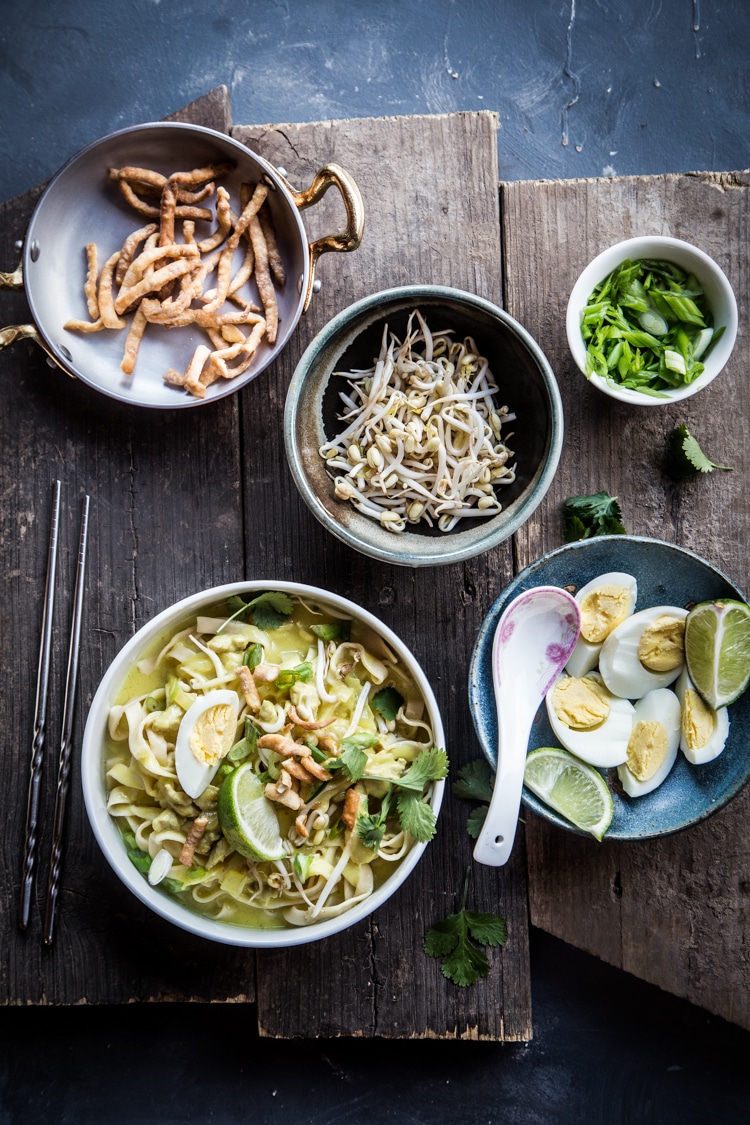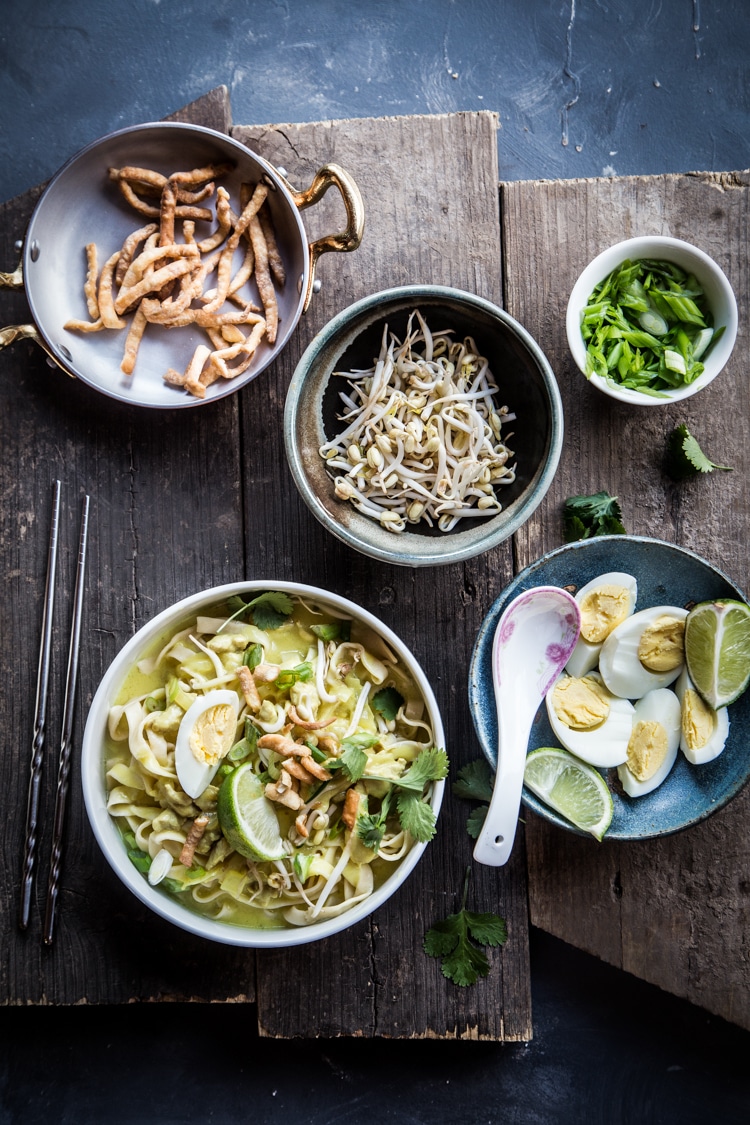 This coconut noodle soup from Myanmar or known as ohn-no khao swe is not only a perennial favorite in Myanmar, it has become our favorites as well. The soup is made of coconut milk, which made it very creamy and tasty and thickened with a chickpea flour or known as besan flour (common in Indian cooking too). Some said that the Thai version of Khao Soi is originated from Myanmar.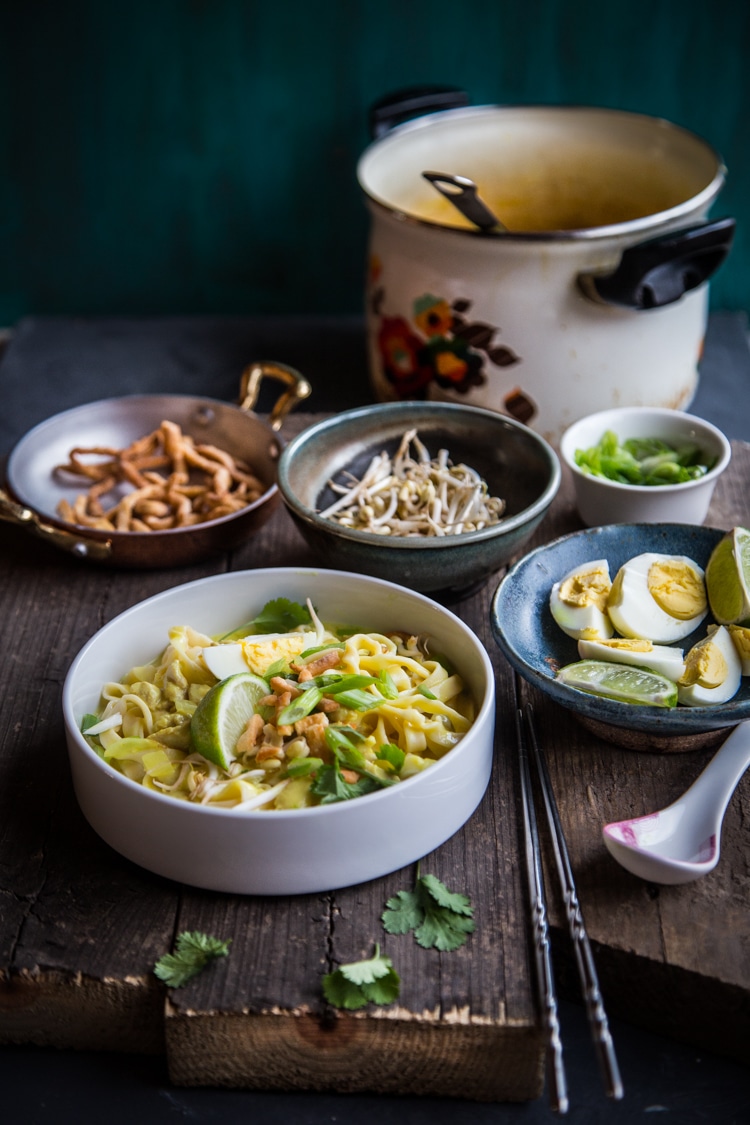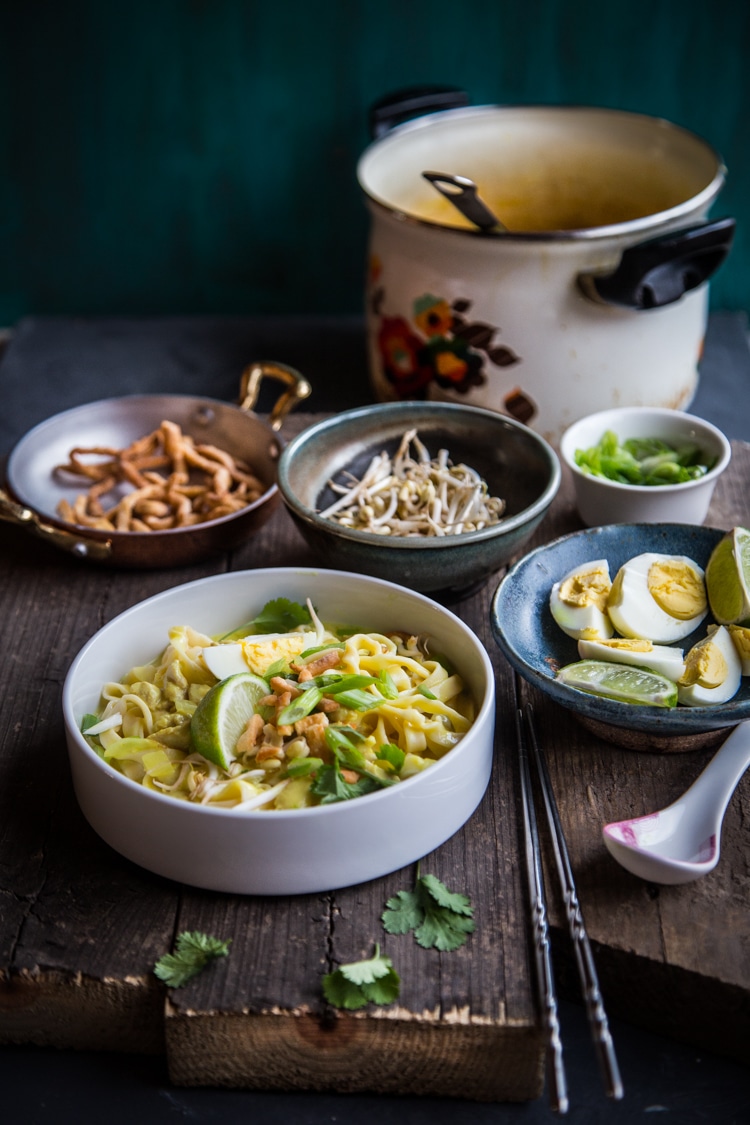 This chickpea flour gives the soup a wonderful body. The noodles are then topped with deep-fried egg noodles, which gives a wonderful contrast in texture when you eat the whole dish. Something so simple, yet very satisfying and tasty. When I was invited to a party by my Burmese friend and her mom made ohn-no khao swe, I was beyond thrilled to see that!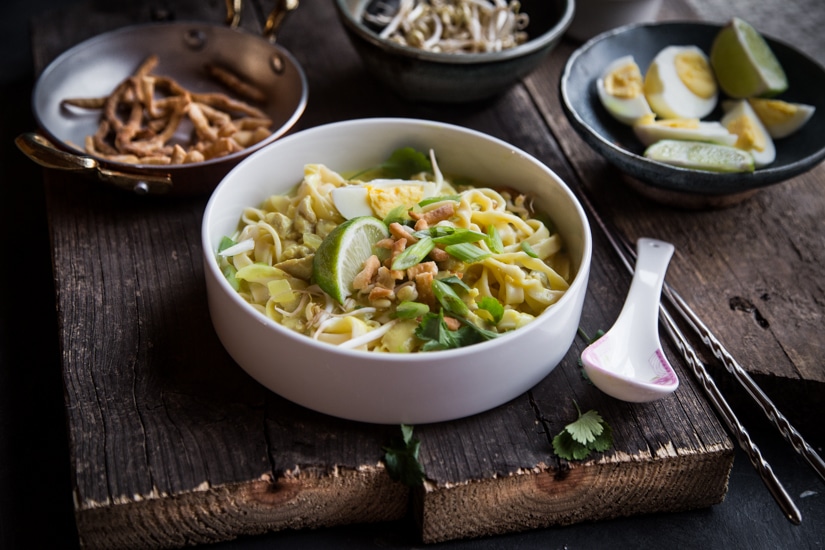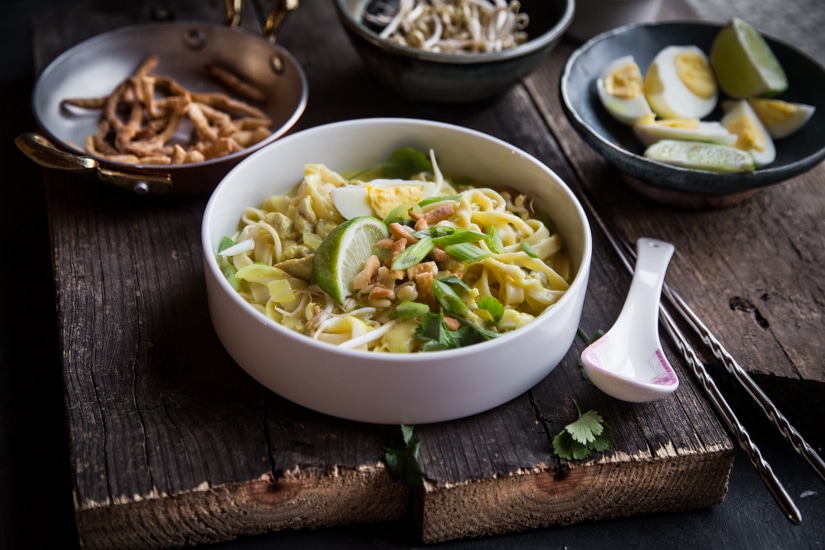 I used homemade egg noodles and mine is a wider cut (I used fetuccine cut). Recipe is adapted from Burma: Rivers of Flavor by Naomi Duguid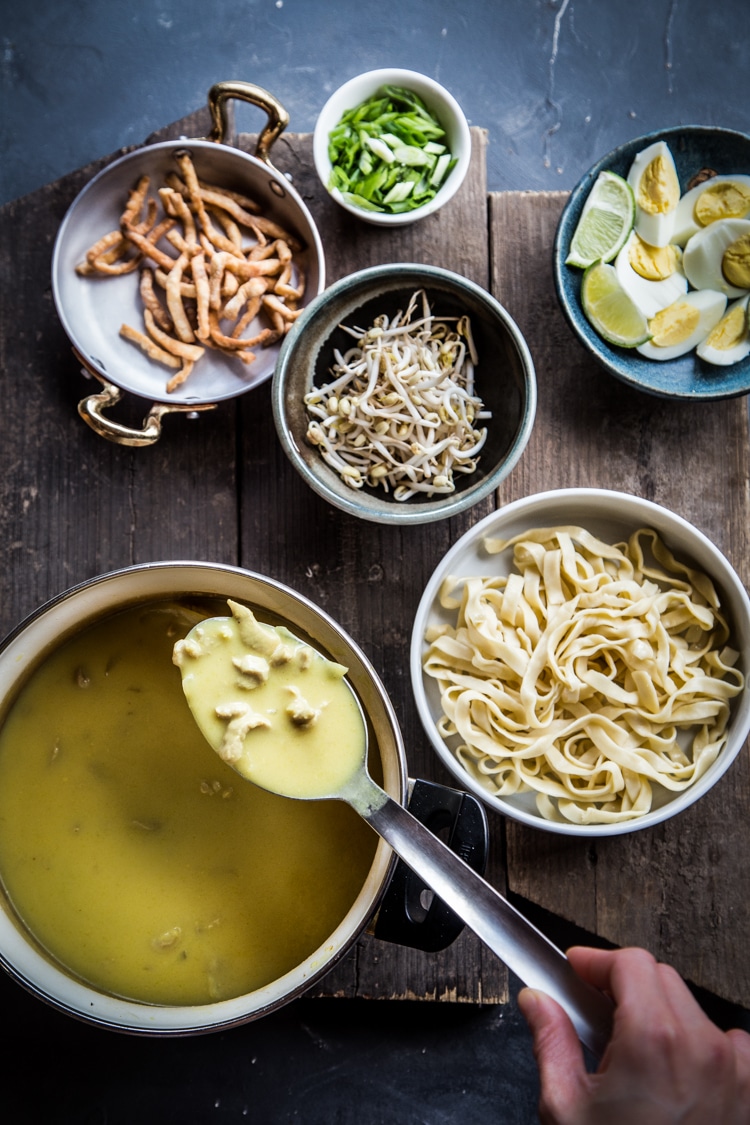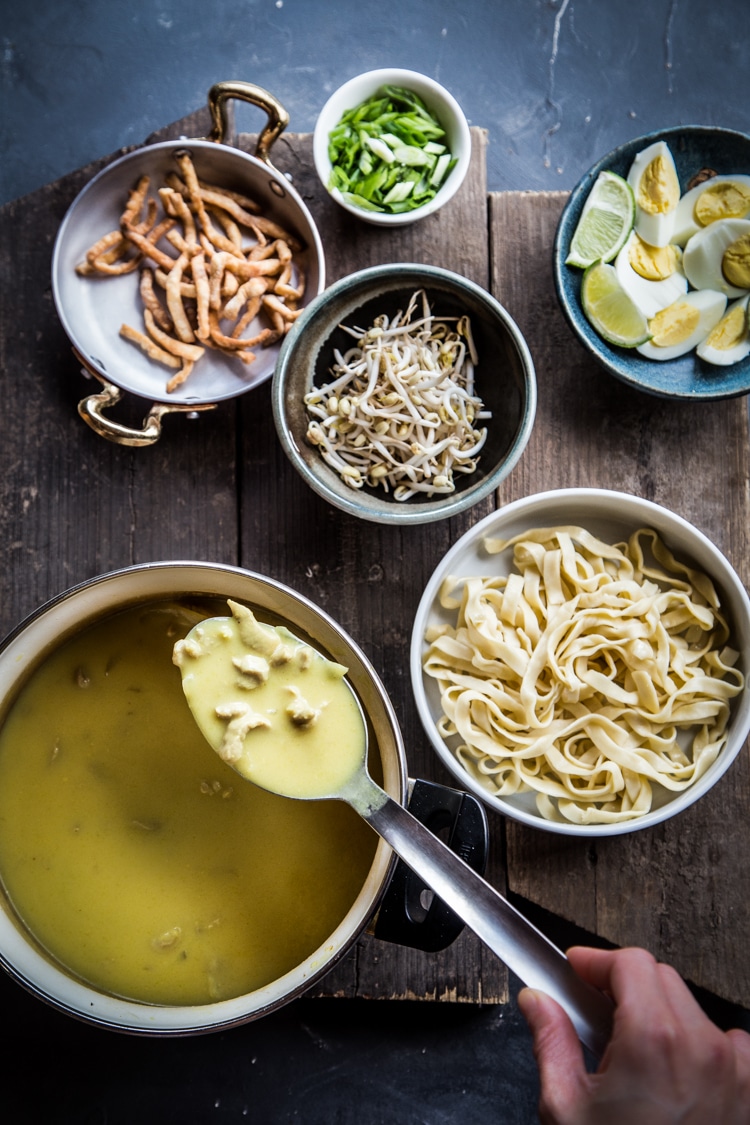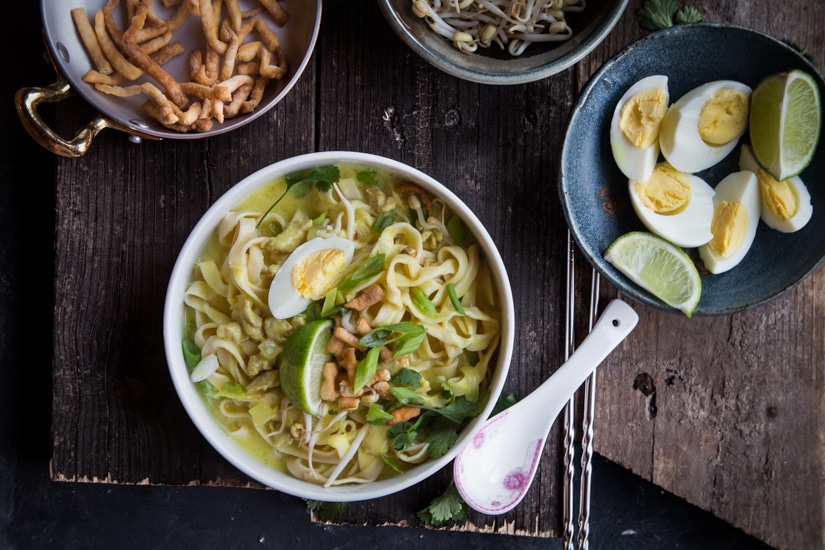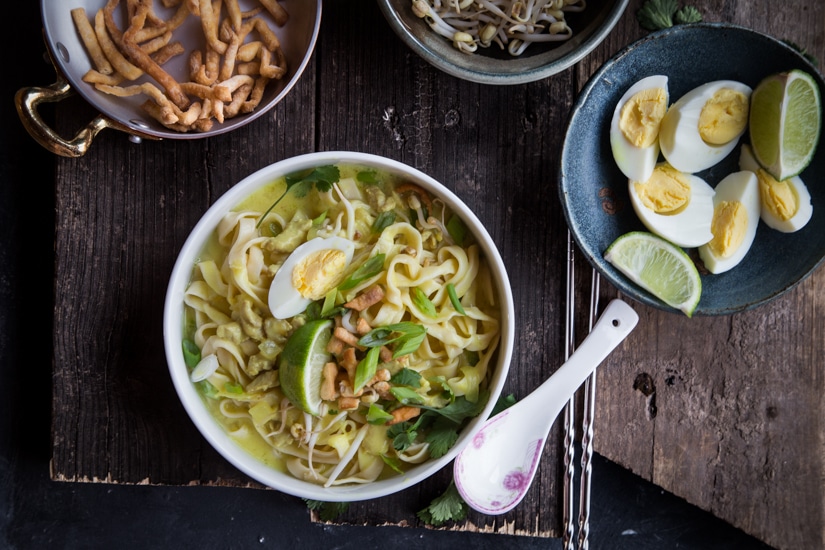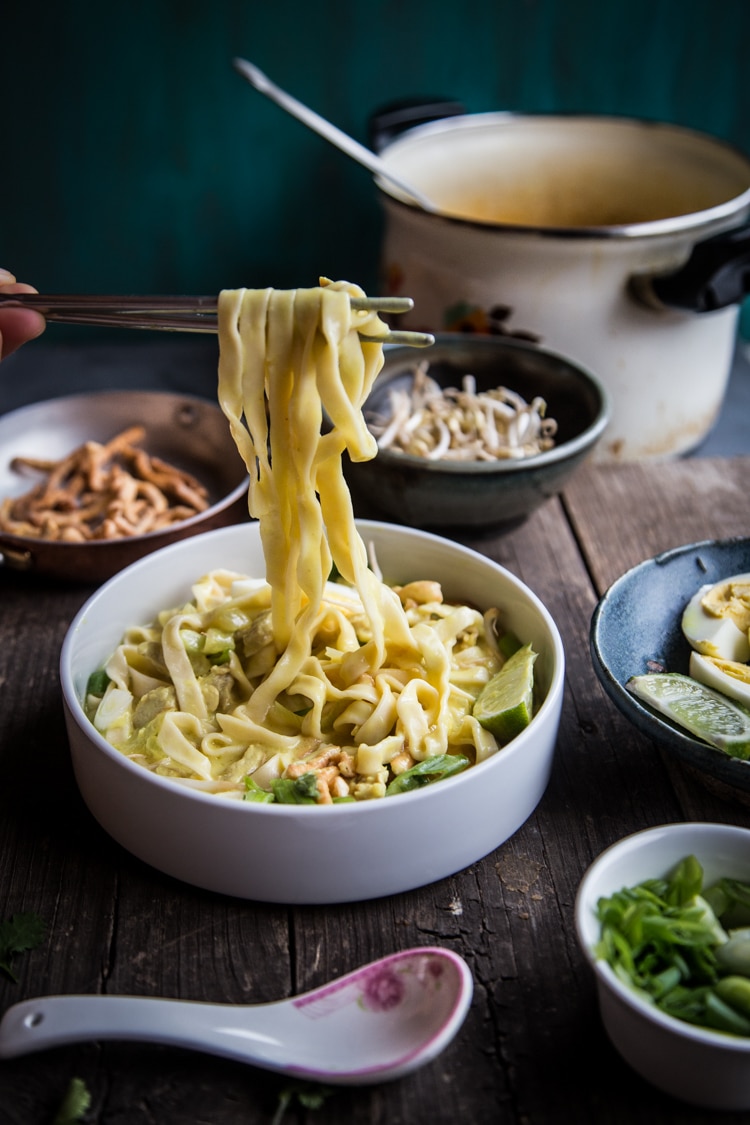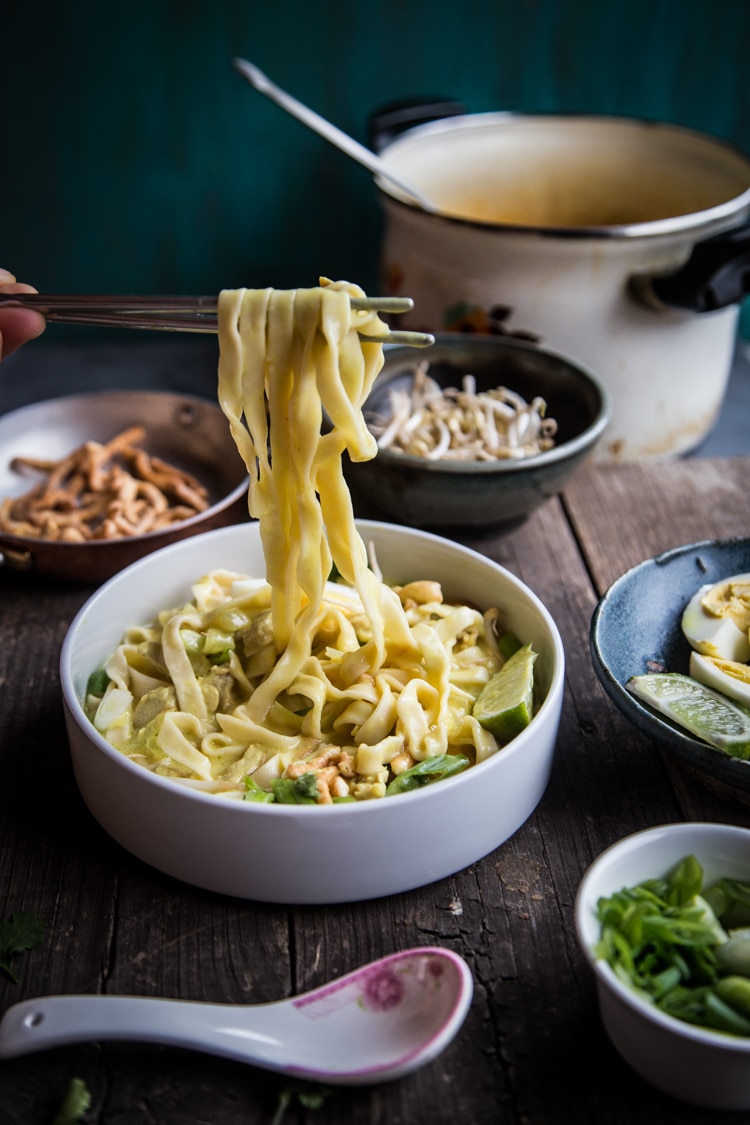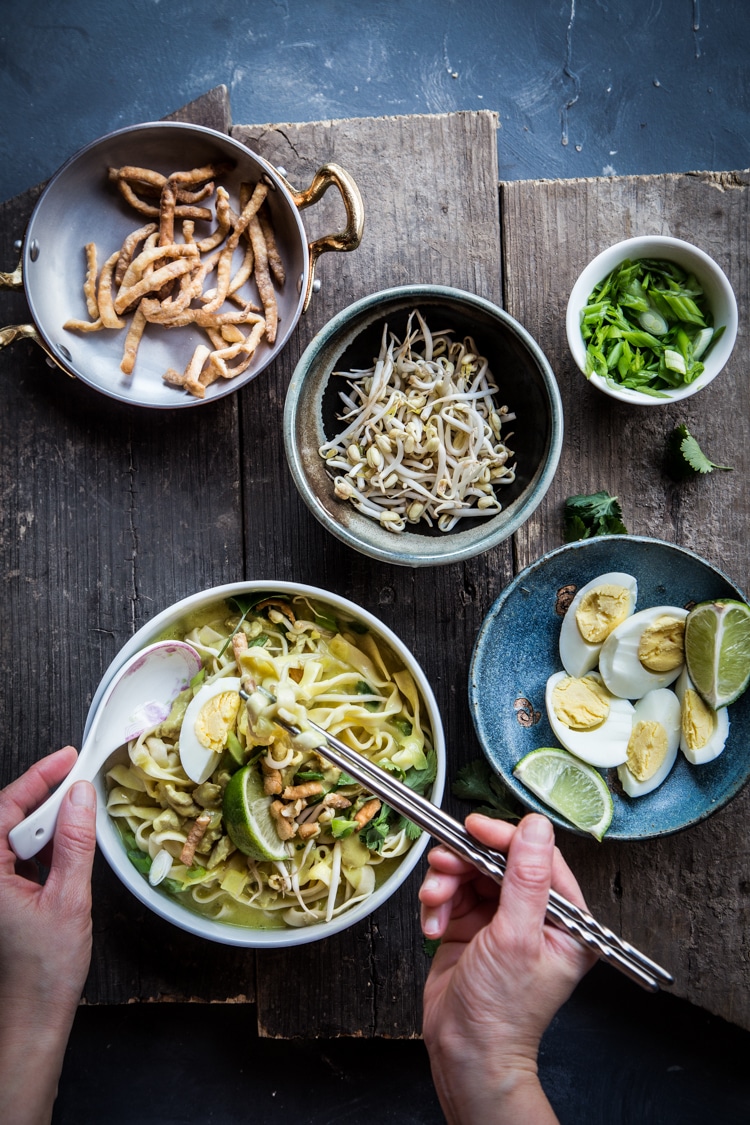 This blog post contains affiliate links. I earn a small commission when you made purchase at no extra cost to you. Learn more.
Burmese Coconut Chickpeas Noodle Soup (Ohn-No Khao Soi)
Ingredients
1

lb

of fresh egg noodles

, blanched in boiling water

2

lbs

boneless skinless chicken thighs

, cubed

6

Tbsp

fish sauce

¼

cup

oil

1

large onion

(diced)

4

cloves

garlic

(peeled and grated)

½

Tbsp

fresh ginger

(peeled and grated)

½

tsp

turmeric powder

1

Tbsp

chili flakes

½

cup

chickpea flour or besan flour or gram flour + 1/2 cup water

6

cup

chicken stock

1 ⅓

cups

coconut milk
Garnishes and condiments:
4

hard-boiled eggs

, peeled and sliced

2

green onions

(thinly sliced)

1

medium onion

, finely sliced

½

cup

chopped coriander leaves

2

limes

, quartered

½

cup

chili flakes

1

cup

fresh bean sprouts

(blanch in hot water briefly if you prefer. I like them raw)

12

oz

(350 g) fresh egg noodles, deep-fried in oil until crispy, drained on paper towel, cooled and crumbled by hand into bite-size pieces
Instructions
Marinate chicken with fish sauce for at least 15 minutes. Heat oil in large pot, saute onion, garlic, ginger and turmeric for 5 minutes. Stir in chicken and chili flakes. Cover and cook over medium-low heat for 10 minutes. Stir occasionally to prevent chicken sticking to pot. Meanwhile, add chickpea flour to water and whisk to remove lumps

Add chicken stock to the pan and bring to the boil. Reduce heat, cover and simmer for a further 10 minutes and the chicken is cooked through. Add coconut milk and continue to simmer for another 10 minutes.Stir in chickpea flour paste until the soup thickens slightly

Arrange each garnishing item on a separate plate on the table around a central bowl of chicken and coconut chickpeas soup. To serve, take a portion of fresh noodles and a generous helping of soup, add a little of each garnishing (a dash of fish sauce if desired)
Check out other Southeast Asia recipes you might be interested in.