Kwe Tiau Siram (Flat Noodles in Egg Gravy / Wat Tan Hor)- Stir-fried Flat rice noodles are smothered in savory thick egg gravy, seafood and served with pickled shallots and chili.
This time of the year (almost Chinese New Year) always makes me extremely homesick. Drooling over the food photos that my brother send us seems like a norm. Photos of food that I haven't had for the longest time! We are definitely overdue for our trip back to Indonesia. The thought of traveling with my 4-year old for 20+ hours on the plane is kinda intimidating. So, I guess we gonna wait for another year or so when he's "old" enough not to drive all of us (and the rest of the passengers) crazy on the plane!!
In the meantime, I have this sudden craving for this Kwe Tiau Siram. Kwe Tiau itself is a Hokkian dialect that means flat rice noodles. Siram is Indonesian language which means pour. So, kwe tiau siram literally means flat-rice noodles poured with hot gravy. This dish I believe has its Chinese origin and also known as Wat Tan Hor in other countries.
The rice noodles are stir-fried briefly until cooked and slightly char and then the egg gravy is cooked separately and then poured on top of the noodles.

It does seem kinda like a big blob of something on the plate. My photos probably don't do much justice here to the food. I love to eat this with pickled shallots and chili. It just adds some zing and heat to the overall dish. Kinda tie everything together. You have savory, thick gravy and the tartness just cut through it nicely!

*This post contains affiliate links, which support this site at no extra cost to you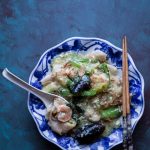 Kwe Tiau Siram (Flat Noodles in Egg Gravy / Wat Tan Hor)
Ingredients
1

lb

of fresh or dried Kwe Tiau / Flat Rice Noodles

see notes

1

Tbsp

soy sauce

2

Tbsp

Cooking oil

divided

3

cloves

of garlic

peeled, finely chopped

2

to 3 bunches of choy sum

or use broccoli, bok choy, snap peas

6

oz

large shrimp

peeled and deveined

10

oz

mussels

see notes

6

cups

chicken stock

2

large eggs

beaten

4

Tbsp

corn starch

mixed with 4 Tbsp of water
Pickled Shallots and chili:
4

Tbsp

hot water

4

Tbsp

sugar

3

Tbsp

white vinegar

4

-5 shallots

peeled and halved if it's big

6

-7 red chili

cut
Serve with:
Fried shallot crisp/bawang goreng
Instructions
Making the shallots and chili pickle (can be made few days ahead and refrigerate):
Place the hot water and sugar in a glass-jar. Stir to dissolve the sugar. Add the vinegar, chili, and shallots. Close the lid of the jar and shake it. You can pickle this in a non-reactive bowl too. Whatever works for you. Let it pickle for at least 1 hour in a refrigerator. You can store this in the refrigerator for up to 1 week
Cooking the noodles:
If using dried rice noodles, soak in warm water for 15 minutes. Drain off water. Toss the rice noodles with 1 Tbsp of soy sauce and set aside. Heat oil in a wok or skillet. When it's hot, add the rice noodles and stir fry until the noodles started to soften and turn lightly brown and you might have some "char" spot. Remove from the wok and portion into individual plate
Making the egg gravy:
Wipe the wok clean and add 1 Tbsp of oil and saute garlic until fragrant. Add in the greens and stir fry until they started to soften, about 1 minute. Add the chicken stock, oyster sauce, soy sauce, sugar and bring to a boil. Add the shrimp and mussels and cook for another 2 minutes or until the mussels open up (discard the ones that do not open)

Gradually pour in the beaten egg while one hand continue to stir. It's like making an egg drop soup. Give the cornstarch solution a stir and then pour it in and continue to stir until the gravy has really thickened

Have a taste and add more soy sauce to your taste. Laddle the pipping hot thick gravy over the noodles along with the greens, shrimp and mussels. Sprinkle with some fried onion crisps (if using) and serve with the pickled shallots and chili!
Notes
I recommend to half the rice noodles and cook them in two batches for best results
You can also use meat like chicken, or other meat of your choice if you don't want seafood. Mussels are not typical in wat tan hor, I'm using what I have and you can omit or use fish cakes, squid or other seafood of your choice
Other Flat Rice Noodles recipes you might like:
KWE TIAU RADNA (THAI STIR-FRIED FLAT RICE NOODLES WITH GRAVY)
INSTANT POT OXTAIL HO FUN NOODLE SOUP
PAD SEE EW (THAI STIR-FRIED RICE NOODLES)