Instant Pot Oxtail Ho Fun Noodle Soup- Fall-off-the-bone tender oxtail meat cooked in aromatic spices and served with wide rice noodles (ho fun) will brighten up the gloomiest of winter.
I think almost every summer I tell my husband that I like raising kids here in Minnesota until of course now it's November and it's freaking cold out there, I change my mind every winter! EVERY WINTER! you hear me? The sky is pitch black by 5 pm and that's a bad news for someone like me who depends 99.9% on natural light for photography. So now, needless to say, we spent most of the time indoor and dreaming about soup and stew A LOT!
It used to take 4-6 hours to cook oxtail on slow cooker for me. I didn't have a pressure cooker before. I used my slow cooker a lot, which now I have retired because of Instant Pot.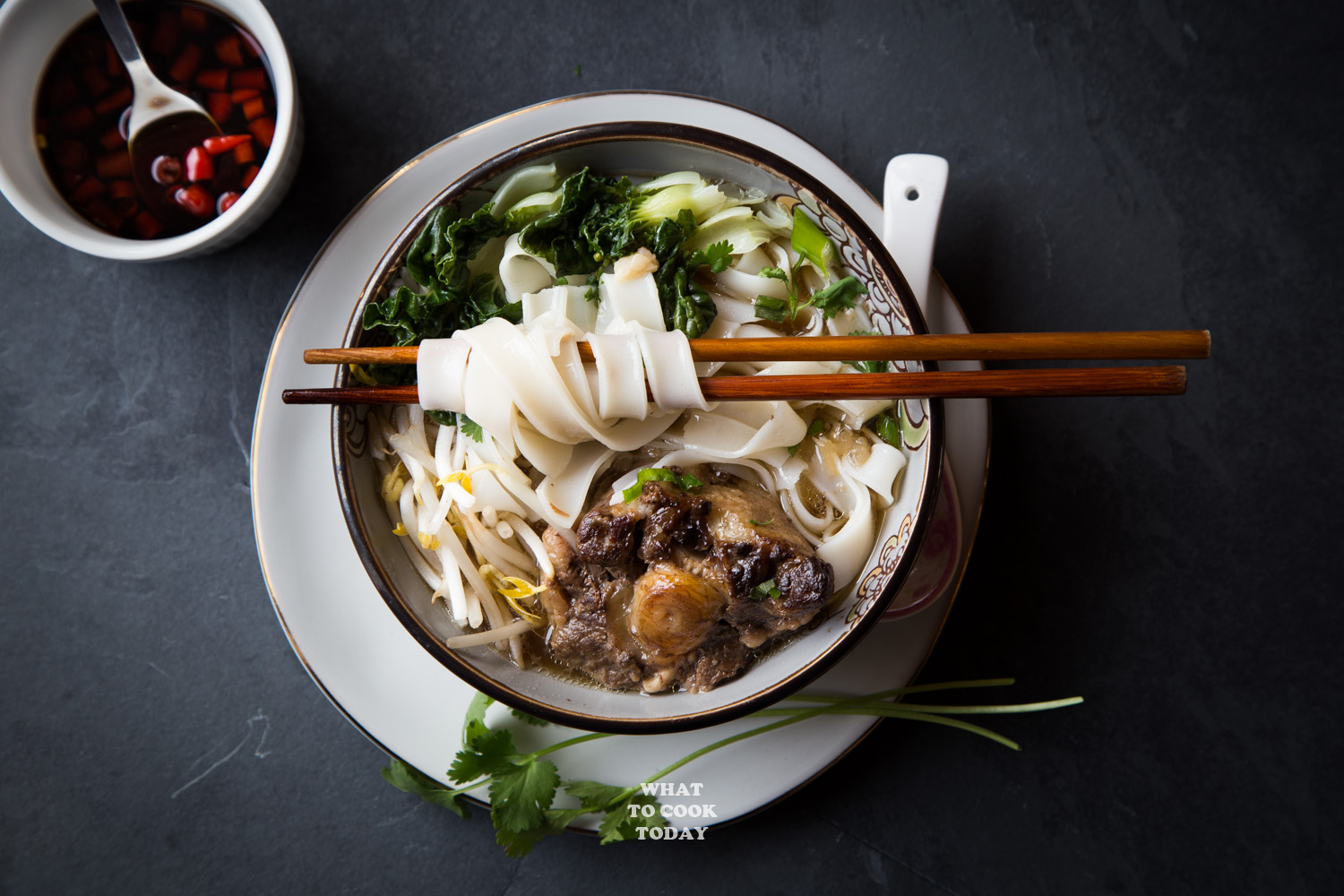 Is Instant Pot really that INSTANT?
Yes and No. It took about 15 minutes for Instant Pot to pressurize (sometimes may take longer) and then 1 hour of active cooking time and about 15-20 minutes for natural release. So if you add up the total time is between 1.5-2 hours or a bit longer maybe, from the time they go into Instant Pot. So in this case, I would say the time it takes to get a fall-off-the-bone meat is much shorter than 4-6 hours in a slow cooker. And the nice thing about it is I can use the saute mode to brown the meat there and then pressure cook it in the same pot.
You can serve this with whatever noodle you prefer, but one of my favorites is wide rice noodles or known as hor fun in Cantonese or kwe tiau in Hokkien. It's much wider than regular rice noodles. It's smooth and my daughter is obsessed with this besides somen noodles.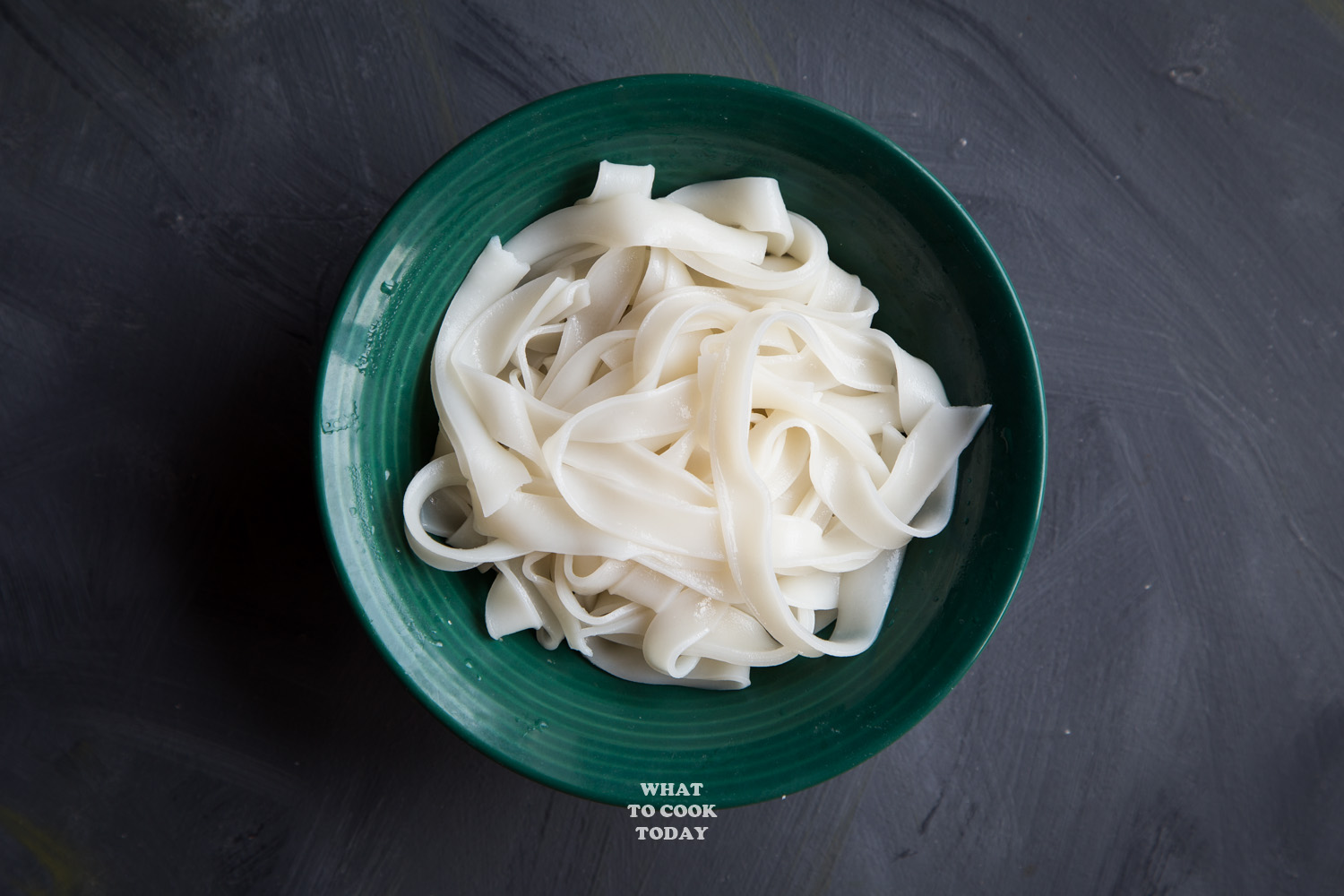 The soup is amazingly flavorful! It's a pretty clean and rich tasting broth. All I have to do is seasoned it with some salt to taste.

Pulling that meat off the bone was just that little thing in life that makes you feel extremely grateful for what you have in front of you!

*Recipe is written for 6-quart Instant Pot. Cooking time should remain the same for 8-quart size but will take longer to pressurize. For mini duo (3-quart), I recommend to half the recipe and use the same amount of time to cook*
Instant Pot Oxtail Ho Fun Noodle Soup
Ingredients
3

-4 lbs of oxtails

trim off some excess fat, but not all, you need some for flavor

1

Tbsp

cooking oil

1

large cinnamon stick

3

inch knob fresh ginger

peeled and slice into 1/4-inch thick

1

large

onion

peeled and halved

6

cups

water
Seasonings:
1

tsp

salt

or more to taste

1

tsp

sugar

2

Tbsp

fish sauce

or more to taste
Spices:
3

cloves

1

star anise

1

cinnamon stick
Serve with:
1

lb

dry ho fun / wide flat rice noodle sticks

soak in warm water for 30 minutes

2

-3 bundles of fresh bokchoy

separated and wash with water

2

cups

fresh bean sprouts

Thai chili doused in soy sauce

optional

Few fresh sprigs of cilantro
One of these cooking equipment recommended:
Instructions
Cooking on instant pot:
Press the saute mode on Instant Pot. When it says hot, add 1 Tbsp of oil. Add oxtail pieces to sear, do this in batches so they sear properly. Flip to the other side to sear, about 3 minutes each side. Once all the oxtails are done searing, remove from Instant pot. In the same pot, add the spices and ginger. Saute for about 2 minutes. Pour the water in and it will sizzle. Scrape the bottom of the pot to deglaze and to get the extra flavor from searing the oxtail earlier. Add the oxtail pieces back in along with the onion. Add seasonings and stir to mix. Turn off the saute mode and close the lid and press the pressure cooker button and set to high pressure. Set the time to 45 minutes. Make sure steam release handle is sealed

It will take about 10 minutes or so for Instant Pot to pressurize and then the timer will start after that

Once the cooking time is done, do natural release. Let the float valve comes down on its own, which may take 20 minutes or so. Once the valve is down, open the lid. Remove from Instant Pot. Scoop up any visible scums if you spot any. The soup isn't as cloudy as I thought it would be. Discard the spice packet and cinnamon stick. Scoop up any extra visible fat on top

Have a taste and add more seasoning to your taste if needed and keep warm for however long you need it to before serving. 
Preparing noodles and bok choy:
Cook the noodles in hot boiling water until it's soft. It shouldn't take long since we've soaked them, about 5 minutes or so. Drain and refresh with running water. Toss with about 1 tsp of oil to prevent sticking together, but this step is optional.
Assembling and serving:
Portion the hor fun noodles into an individual serving bowl. You can serve the oxtail whole or shred the meat. The meat is so soft anyway it just falls off the bone. Divide the oxtail into individual bowl. Top with some bean sprouts and steamed bok choy and then ladle the soup generously over the noodles. Garnish with fresh cilantro leaves and chili if using. Serve immediately

Bring a medium pot of water to a boil and then blanch the bok choy until they are soft but still have that crunch and refresh with water to preserve that bright green colors. Set aside
For non-instant pot method, using slow cooker:
Follow step 1 on the very top until searing the meat and sauteing the spices .Transfer to slow cooker. Add onion and set slow cooker on low for 4 hours, 6 hours if you can if you have large pieces of oxtail. Add seasonings at the end of cooking. Scoop up any visible scums. Proceed to assemble and serving above


You might also like these Instant Pot Recipes:
INSTANT POT THAI COCONUT MANGO STICKY RICE (KHAO NIAO MAMUANG)
INSTANT POT CHINESE STEAMED MATCHA SPONGE CAKE (JI DAN GAO)
CURRY CHICKEN (KARI AYAM)