Simple and delicious somen noodle soup accompanied by braised pork belly that is pan-fried to perfection will quickly become your favorite noodle soup
My daughter loves somen noodles since the early beginning of her life. She loves pretty much all kind of noodles, but her favorite is somen. I'm not sure why but probably that was the first type noodle (and soba) that I let her tried. We have something equivalent in Chinese that we call Mee Sua or Mien Xien in Chinese. My mom cooked us a lot of mee sua when we were kids too. Mee sua noodle soup with meatballs are my favorite.
I remember when I first moved to the U.S., I had trouble finding mee sua at Asian grocery store. Little did I know that the Japanese somen noodles were actually very similar to mee sua in terms of appearance and texture. I would probably say they are the same? (but correct me if I'm wrong!). I've been buying them in huge pack ever since. It's such a great comfort food that reminds me of my childhood and mom's cooking. Now it's my daughter's fav!
This somen noodle soup with pan-fried pork belly is one of my daughter's favorite combination. The girl loves pork belly.
Somen Noodle Soup with Pan-fried Pork Belly
Ingredients
1 ½

lbs

pork belly

water

⅓

cup

soy sauce

2

Tbsp

dark soy sauce

1

inch knob of fresh ginger

peeled and thinly sliced

1

tsp

sugar

Pinch of salt

6-8 bundles of dried somen noodles or mee sua
Broth:
6

cups

chicken stock

1

Tbsp

white miso paste

Salt to taste

Pinch of sugar
Garnishes:
Fresh cilantro leaves

1

stalk

green onion

thinly sliced at an angle

Crispy garlic
Instructions
Preparing the pork belly:
Place the pork belly in a medium-size pot. Blanch with some boiling water for about 5 minutes. Discard the water and then rinse the pot clean. Place the pork belly back into the pot followed by the rest of the ingredient until salt. The amount of water you put covers 1/2 of the pork belly

Bring the water to a boil and then lower the heat, cover and let it simmer for the next 1 hour or until the pork is tender. Turn the pork belly to the other side halfway of cooking.

Remove from the heat and let it rest while you are preparing the rest. You can cook the pork belly few days before and refrigerate with its liquid until you are ready to use
Making the simple broth:
Place the chicken broth and the rest of the ingredients in a medium size pot and bring to a gentle simmer. Have a taste and add more seasonings to your liking
Serving:
When you are ready to serve, Bring a large pot of water to a boil. Cook the somen noodles according to instruction on the package. If the water is about to boil over, add in some fresh cold water and the next time it's about to boil over again means that your noodle is done. Drain off the cooking water and rinse the somen noodles with fresh cold water. Set aside

Portion out the noodles into individual serving bowls. Preheat a small skillet. Slice the pork belly you cook earlier about 1/2-inch thick and then place on the hot skillet and let them brown on both sides. Ladle some soup over the noodles. Place about 3-4 slices of pork belly on the noodles. Garnish with fresh cilantro leaves, scallion, and crispy garlic and serve immediately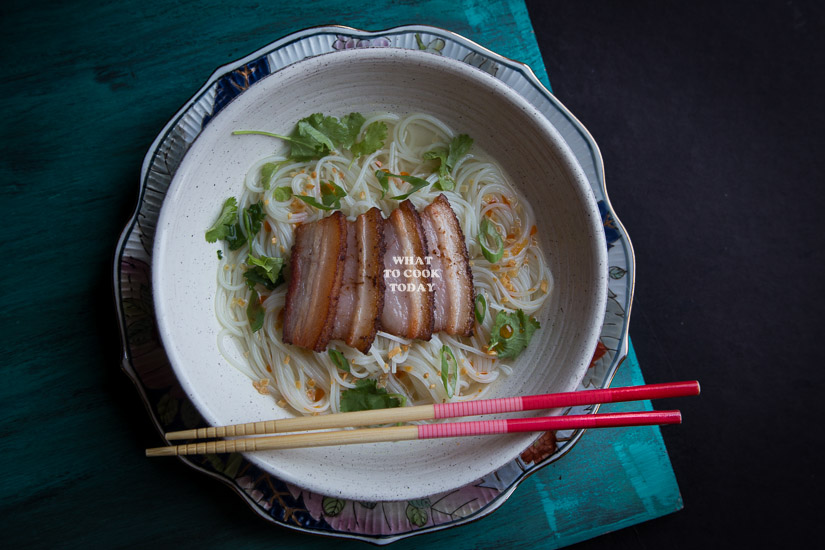 *This post contains affiliate links. You don't pay extra as a consumer if you choose to click on the link and purchase from there. What To Cook Today just receives a small commission from this. That's all. It helps to pay for some of the cost to have this blog up and running. Thank you so much for your support !