One-pot Miso Chicken Rice and Morels – This one-pot miso chicken rice and morels is packed with amazing umami flavor and it's a no-fuss recipe that delivers tons of flavor!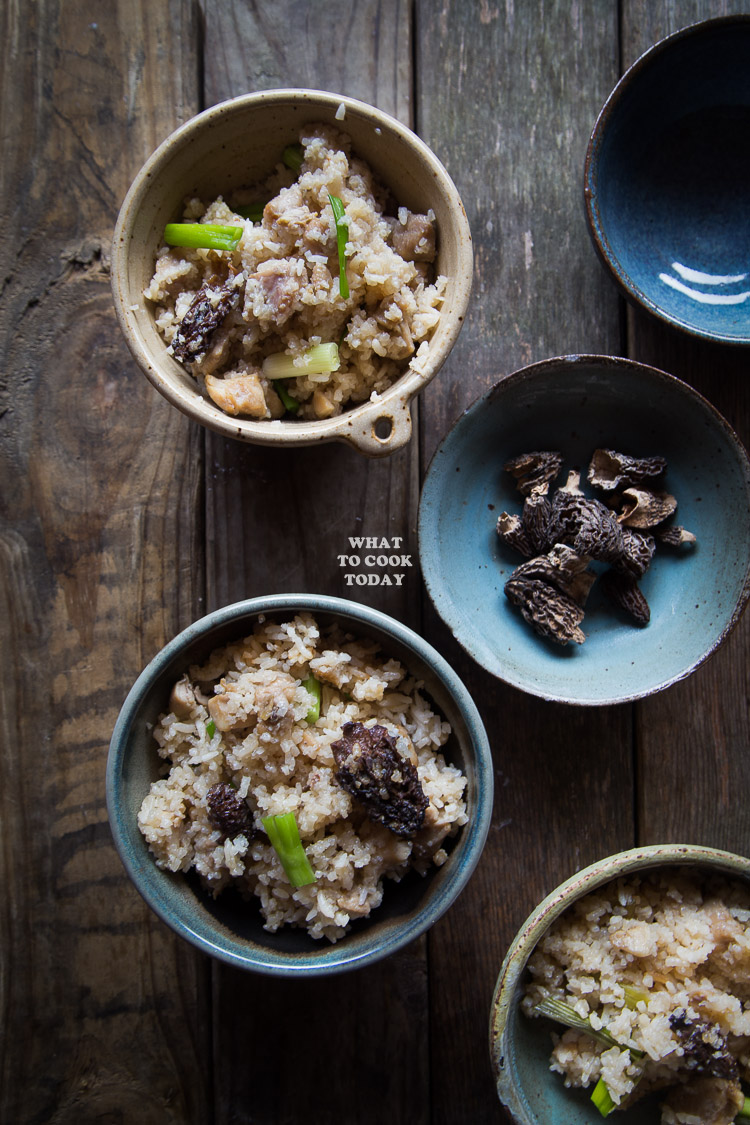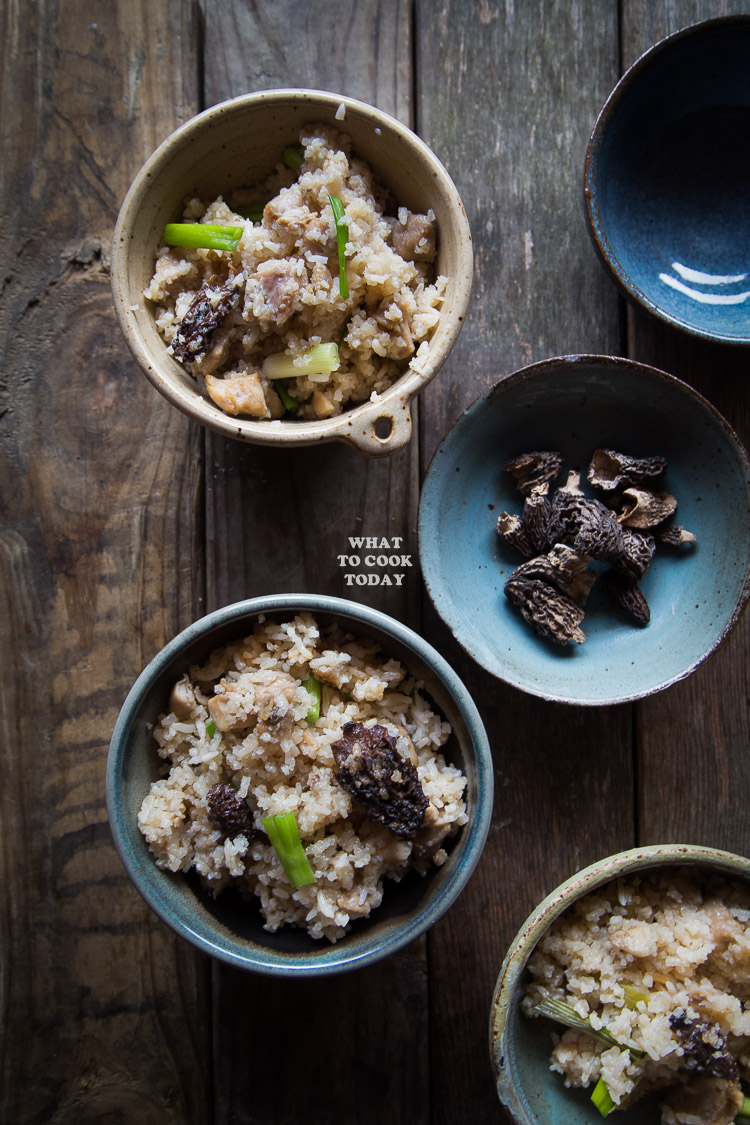 Today is the last day of school for my daughter. She's looking forward to Summer. I'm looking forward to spending some time with her too. Summer camp at home 😉 I have to admit that some days I seriously need a break from these kiddos. You may have read this cliche before, but they grow up so fast. Way too fast!
This summer will be lots of swimming, biking, outdoor play, and I probably won't be spending as much time cooking in the kitchen. If I do, it's probably going to be easy meal like this one-pot miso chicken rice and morels. This one-pot meal is soooo good! Love the umami flavor the miso and morels impart to the rice.
And I just love how everything is clinging to the rice! Something rustic and comforting about it!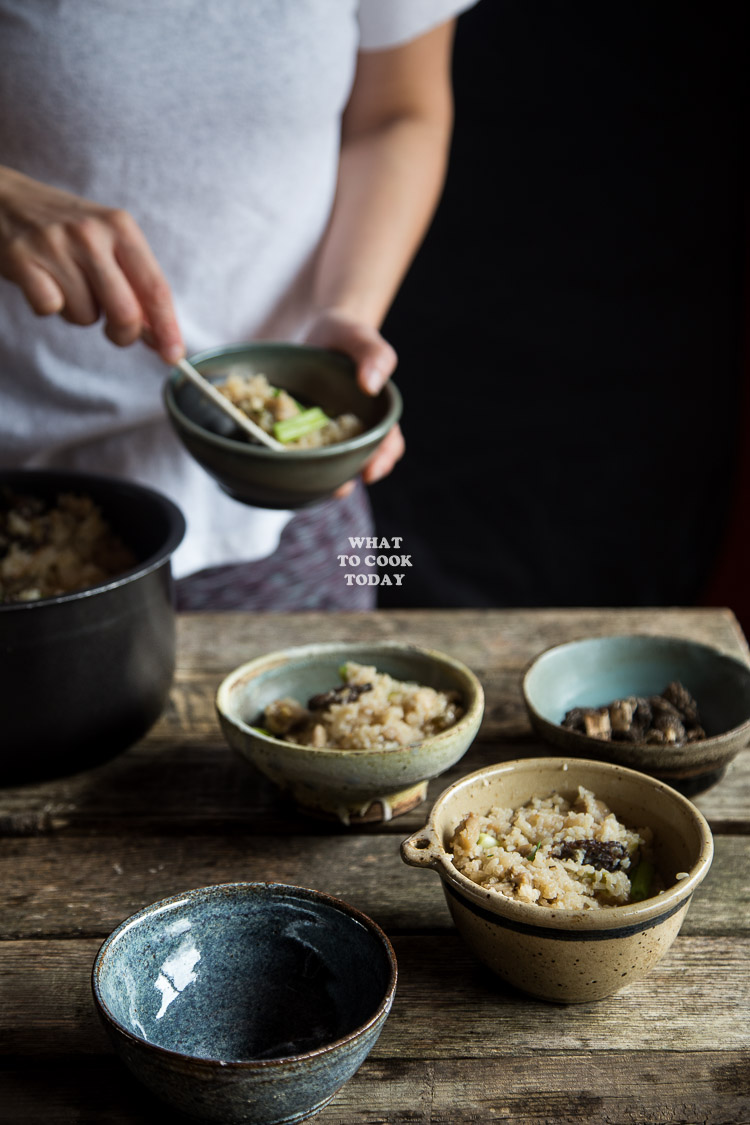 Recipe is adapted from Lucky Peach 101 Easy Asian Recipe cookbook (affiliate link)
One-pot Miso Chicken Rice and Morels
Ingredients
10-15 pieces of morels

or sub with 4-6 dried shiitake mushrooms

2

cups

short-grain white rice

1

Tbsp

sesame oil

4

Tbsp

soy sauce

1

Tbsp

shaoxing wine

3

Tbsp

white/red miso paste

2 ½

cups

chicken stock (2 if using rice cooker)

1

lb

boneless skinless chicken thighs

cut into bite-size

3

stalks

green onions

cut into 3-inch stalks
Instructions
Soak the morels in warm water until plump up. leave them whole. If you are using dried shiitake, soak until they are plump and then sliced them

Briefly wash the rice of any impurities. Drain and set aside

Whisk the oil, soy sauce, wine, and miso paste until they are mixed in a large mixing bowl. Add the chicken pieces and morels. Stir to mix everything
Using rice cooker:
Place the rice and chicken stock in the rice cooker. Pour the chicken and its marinade. Stir to mix everything. Top with stalks of green onions on top. Set the rice cooker to cook. I set mine on white rice setting and it is done cooking in 20 minutes. Check the chicken to make sure they are done. If not, reset and set for another cycle of cooking
Using a pot/dutch oven:
Add the rice and chicken stock. Pour in the chicken and its marinade and stir to mix everything. Bring it to a boil and then lower the heat. Place stalks of green onions on top. Cover with a lid and let it cook for 20-25 minutes

Uncover the lid. The rice should be fluffy at this point. Fluff it with a fork. Have a taste and season with some salt to your taste if needed. Ready to be served
*This post contains affiliate links. You don't pay extra as a consumer if you choose to click on the link and purchase from there. What To Cook Today just receives a small commission from this. That's all. It helps to pay for some of the cost to have this blog up and running. Thank you so much for your support !