Instant Pot Thai Coconut Mango Sticky Rice (Khao Niao Mamuang)-This popular Thai Coconut Mango Sticky Rice is made with Instant Pot and required no soaking of the rice. Soft and creamy as it should be! Non-instant pot method is also available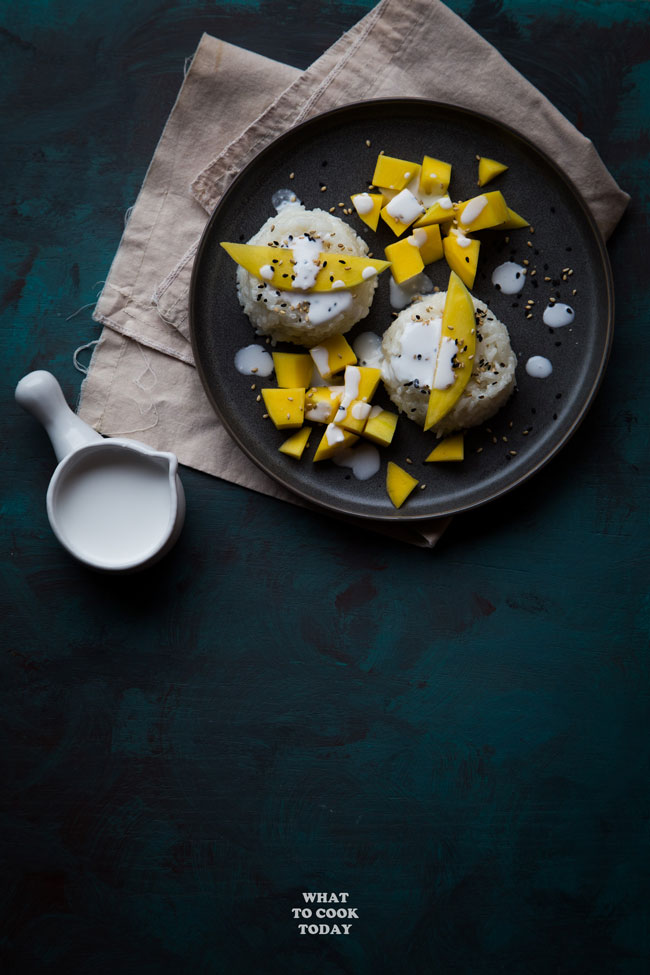 I've only owned Instant Pot for 3 days so far as I'm typing this post up and I've already cooked quite few things within these 3 days LOL! It's seriously like an obsession or something! I'm pretty impressed by it so far. I've sauteed with it, I've steamed with it, I've pressure cooked with it. In fact, I made 3 of the Instant Pot Chinese Steamed Matcha Sponge Cake in a day! Crazy!
Anyway, sticky rice is very common in Asian cooking, especially in Southeast Asia where we don't only use it for savory but also sweet dishes. They are known by many names: Sticky rice, glutinous rice, and sweet rice, but they mean the same thing! And…as you've guessed it, there's always coconut milk involves 😉
This Thai Coconut Mango Sticky Rice (Khao Niao Mamuang) is one of our favorite Southeast Asian desserts! LOVE..this stuff! I usually have to soak the sticky rice in water for at least 4 hours or overnight and then it can be steamed in 20 minutes. But with Instant Pot, I don't have to soak it and I can steam it on high pressure.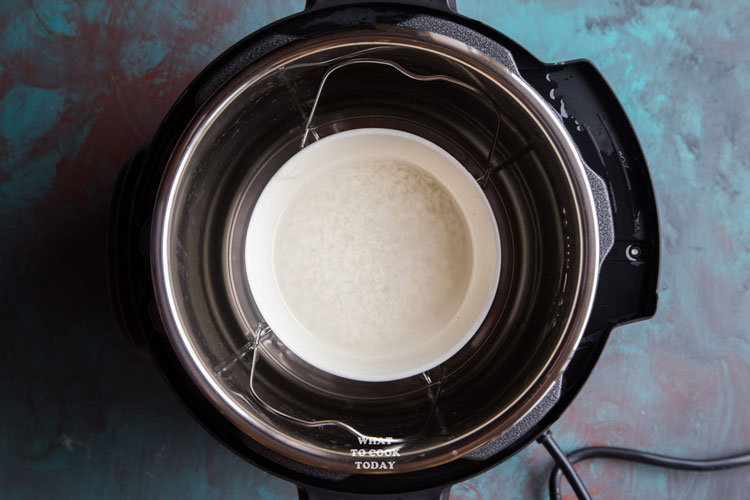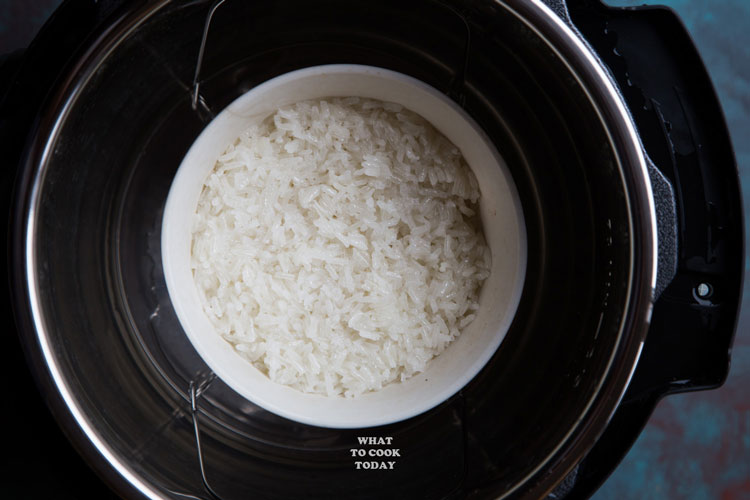 I was a bit skeptical actually, to be honest! I was just experimenting but at the end of the cooking time, I was very pleased with the result. The rice is so sticky and soft like it should to make khao niao mamuang.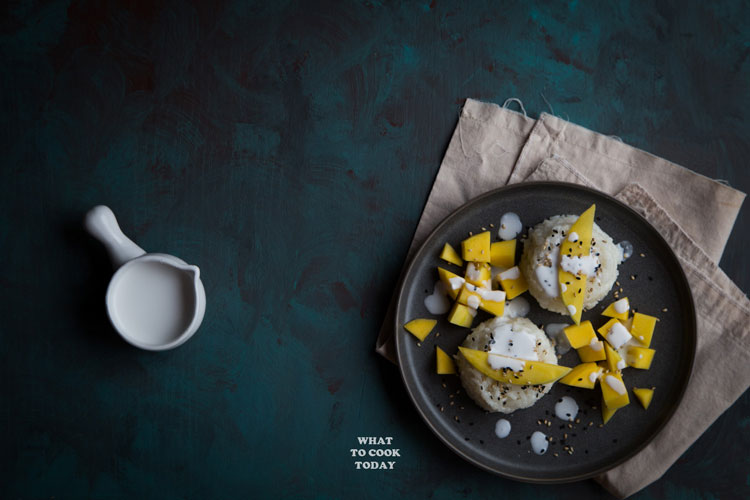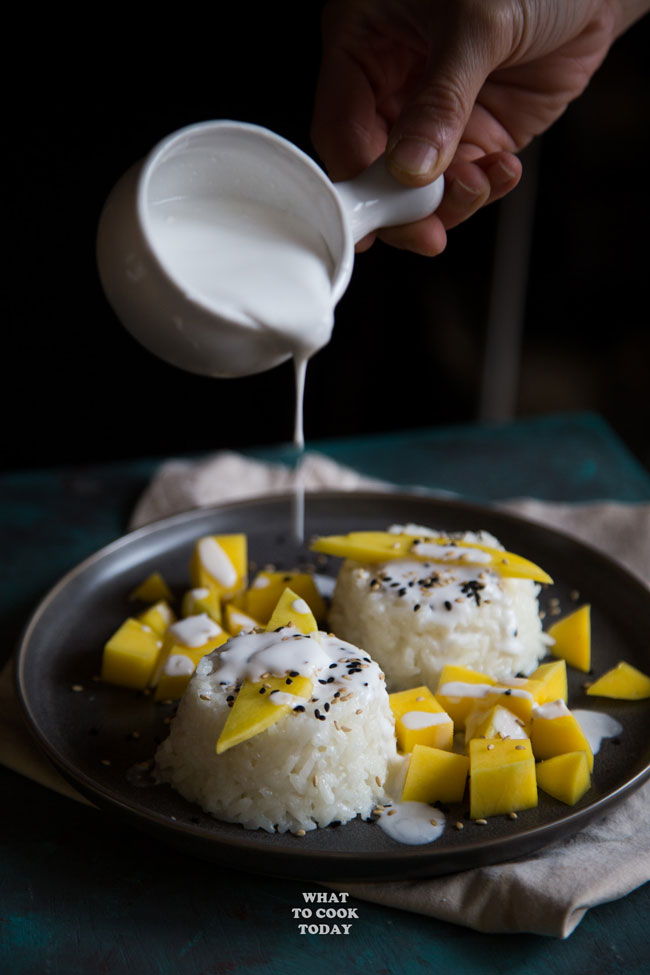 Mom thought I was out of my mind when I told her I would try to steam the sticky rice without soaking it first. Without a pressure cooker, definitely, this can't be done! Well, you can, but it will take you a long time to steam it.
WHY YOU'LL LIKE THIS RECIPE
NO SOAKING! and so I can literally make this without planning ahead.
No foggy windows and condensation dripping down the window glasses. That's the phenomenon here whenever I steam something for more than 30 minutes using a regular steamer that I set up.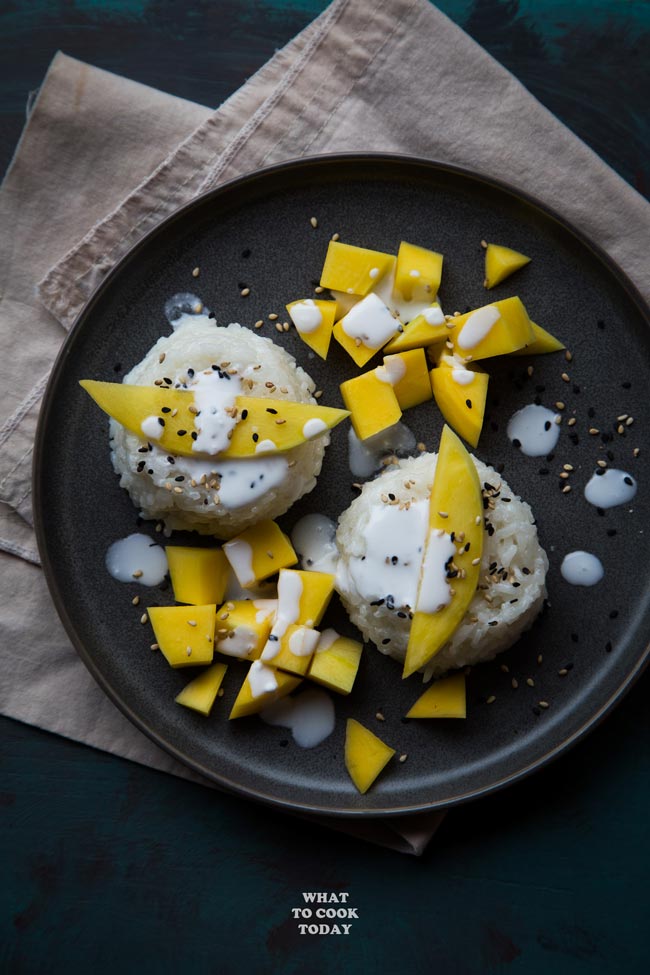 IMPORTANT TIPS
1. When the timer is up, wait for 10 minutes before releasing pressure. This lets the rice absorbs all the liquid and cooked properly
2. After stirring the coconut sauce into the rice, it's important to let it rest so it can absorb the coconut sauce so the rice will be moist and sticky but not wet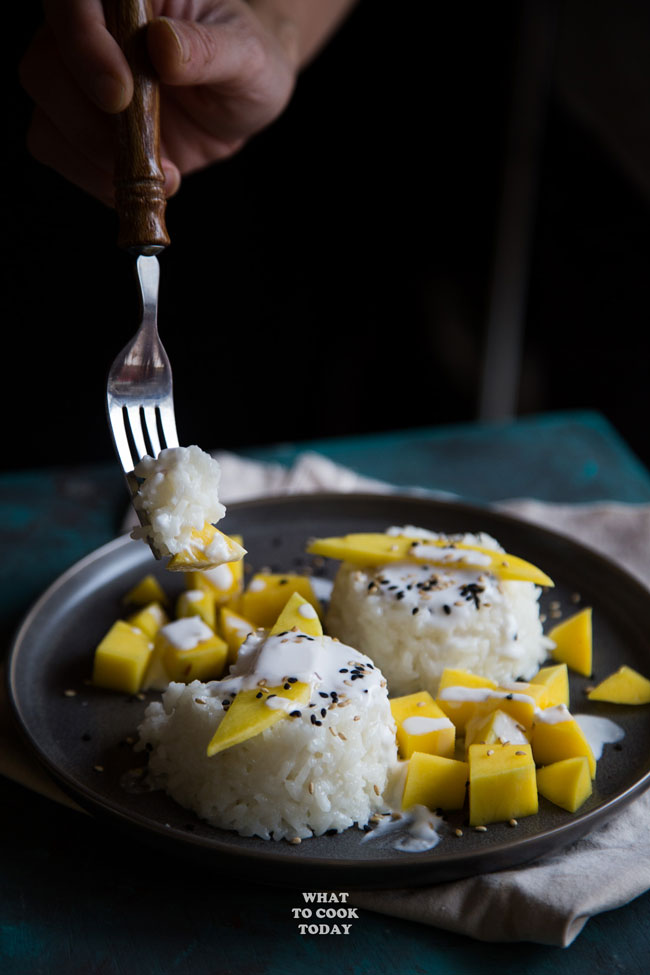 HOW TO STORE LEFTOVER
I like to keep the rice and coconut sauce in separate container in the fridge. They can be kept for up to 4 days max. The rice will harden a little bit after refrigeration. Simply reheat the rice in the microwave in one minute increment until just warm enough for your preference.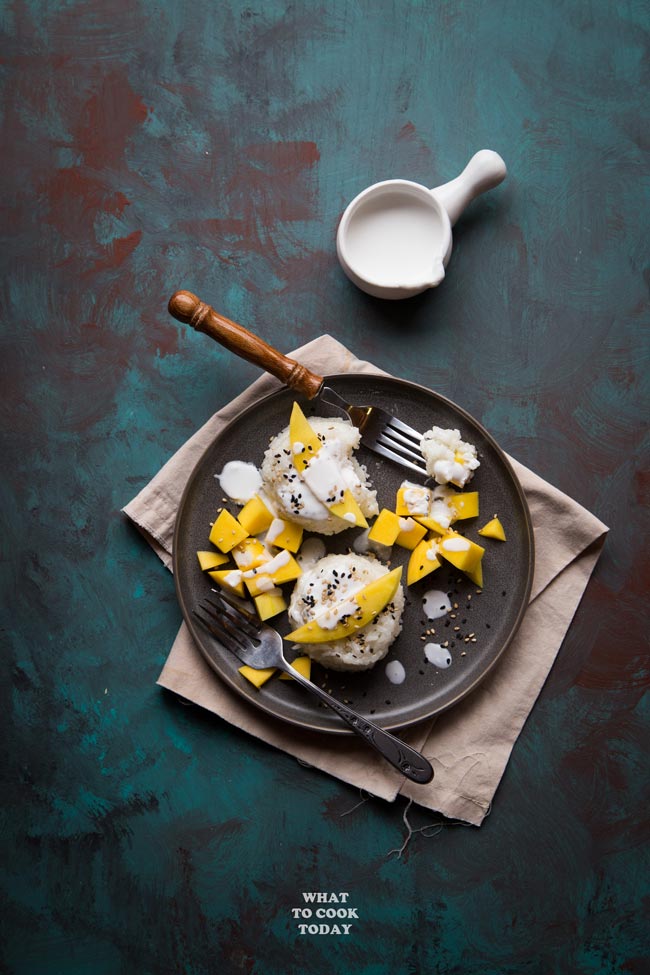 *Recipe is written for 6-quart Instant Pot. Cooking time should remain the same for 8-quart size but will take longer to pressurize. For mini duo (3-quart), I recommend to half the recipe and use the same amount of time to cook*
Instant Pot Thai Coconut Mango Sticky Rice (Khao Niao Mamuang)
Ingredients
Instructions
Cooking the sticky rice:
Add 2 cups of water in Instant Pot inner pot. Put the trivet in there. Rinse the sticky rice in water briefly. Drain off water. Place the rice in a heat-proof glass or stainless steel bowl. I recommend stainless steel or aluminum as they conduct heat better than glass. Add 1 1/4 cups water to cover the rice. Give it a quick stir and make sure all rice is submerged in water. Place this on top of the trivet. Close the lid, steam release handle to sealing. Press pressure cook and set to high pressure and use -/+ to set the time to 30 minutes
Making the coconut sauce:
While the sticky rice is cooking, pour 1 cup of the coconut milk in a saucepan, add sugar, salt, and pandan leaves in. Let it gently simmer for about 5 minutes or until the sugar dissolves. Do not boil the coconut milk, it will curdle. Remove the pandan leaves (if using) and use your spoon to squeeze out last few drops of coconut milk from the leaves if any

If you want the coconut sauce to be thicker, reserve 1/2 cup of the coconut sauce to mix with the rice later. Mix 2 tsp of cornstarch with 2 tsp to make a cornstarch slurry. Pour this into the rest of the 1/2 cup coconut sauce in a pan and keep stirring over medium-low heat until it thickens slightly. I don't do this step but you are welcome to if you want the sauce to be thicker
Pour half of the coconut sauce to cooked sticky rice:
When the sticky rice is done cooking, I waited for about 10 minutes and make sure that the float valve is down. Then turn the steam handle to venting. Once the steam is all out and stops hissing, open the lid carefully. The sticky rice should be soft and sticky. Remove from Instant Pot and pour half of the coconut sauce on the sticky rice while the rice is still warm and stir to mix. It may seem wet at this point. Cover with aluminum foil and let the rice absorbs the coconut sauce, about 15-20 minutes
Cutting the mango:
While waiting, peel the mango, find the stone and slice down on both sides of the stone. Cut into small cubes or into slices
Putting them together:
Serve with cubes or slices of mango, sprinkle with sesame seeds and drizzle with some coconut sauce and reserve some sauce for more drizzling later and serve
Recommended products:
You might want to check these out too:
INSTANT POT CHINESE STEAMED MATCHA SPONGE CAKE


PRESSURE COOKER PHO GA (VIETNAMESE CHICKEN PHO NOODLE SOUP)