Instant Pot Chinese Steamed Matcha Sponge Cake (Ji Dan Gao)-Incredibly soft and spongy steamed cake lightly flavored with matcha is steamed in Instant Pot. Cooking method for not using Instant Pot is also included.


Chinese Steamed Sponge Cake (Ji Dan Gao) is one of my childhood memories. Mom made it so often especially when there are celebrations or important events. Traditionally, you will see this cake rise oh so high and the top will split into four sections (like a flower). My mom will then use a stamp that has Chinese writing on it to stamp on the four sections of the cake. The writing could be "happiness" or anything that has good meaning. I just love tearing on this cake because it is so soft and the bouncy texture is just incredible!
WHAT MAKES THE CAKE SO LIGHT AND SPONGY?
It's the beating! Eggs and sugar are beaten vigorously for 20 minutes using a stand mixer. Mom couldn't stress enough the importance of BEATING THE HELL OUT OF THIS THING! (no..she didn't say it like that), but yes, she said 20 minutes. NO LESS! Seriously, no less! I tried to cheat before and I paid for it. I ended up with a cake as dense as a rock when it cools down! SUCKS! especially after 45 minutes of steaming (this was before I owned Instant Pot).
WHY IS THERE SODA DRINK IN THE RECIPE?
Back in the old days, that's what grandma used. I think that's to replace baking powder? But the soda drink gives the cake its light and airy texture too. But if you don't beat the cake for that long, even the soda drink can't help! Can you replace it with baking powder? You probably can, honestly, I haven't tried it with just baking powder.
CAN I MAKE THIS CHINESE STEAMED SPONGE CAKE WITHOUT INSTANT POT?
Of course! My grandma didn't have instant pot back in her days 🙂 Only steamer!
WHY YOURS DOESN'T HAVE "FLOWERING" TOP LIKE YOU DESCRIBED EARLIER?
If you want a flowering top, all you need to do is sprinkle sugar in the shape of a cross on top of the cake, right before it goes into the steamer. The cake will expand and then split into 4 sections following the path of the sugar you sprinkle on top. Pretty cool huh? You also need a very high heat for that to happen. I have yet to be able to do that with Instant Pot. Perhaps I will experiment more. If you use regular steamer, you might have a better chance for that to happen. Just make sure your steamer is tall enough to allow the top of the cake to expand because it will double in size. My regular steamer isn't "big" enough and so when the top of the cake expand, it got deflated 🙁 So I need to find either a taller pot or taller lid!!
You won't be disappointed with this matcha sponge cake. So soft and spongy!

DISCLOSURE: This post contains affiliate links, which support this site at no extra cost to you. I only recommend products that I've personally used or liked. It's also a good way to show you how the products look like and you can always purchase at your local stores or wherever the cheapest. Learn more.
*Recipe is written for 6-quart Instant Pot. Cooking time should remain the same for 8-quart size but will take longer to pressurize. For mini duo (3-quart), I recommend to half the recipe and use the same amount of time to cook*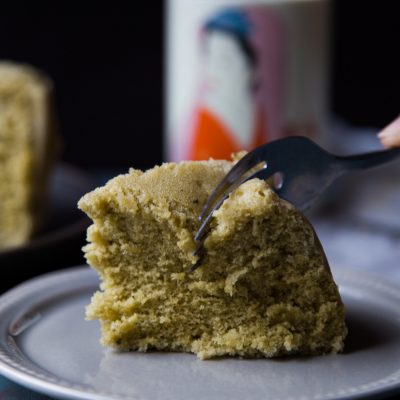 Instant Pot Chinese Matcha Steamed Sponge Cake (Ji Dan Gao)
Incredibly soft and spongy steamed cake lightly flavored with matcha is steamed in Instant Pot. Cooking method for not using Instant Pot is also included.
PRINT
INGREDIENTS:
2

large

eggs

120

gr

sugar (works well with brown sugar too, same amount)

100

ml

sprite or other soda drink

120

gr

cake flour
Cooking equipment recommended:
INSTRUCTIONS:
Place the eggs, sugar, and matcha in a mixing bowl. Use a whisk attachment and beat on medium speed for 1 minute and then increase to high speed (6 on kitchen aid) and continue to beat for 20 minutes (yes, 20 minutes, you did not read this wrong). It is crucial to beat it this long so the cake will be light like a sponge. Failure to do so will result in a dense cake (trust me I've eaten a fair share of that!)

The batter will double in volume, and turn pale (well, greenish pale in this case). Reduce the speed to low. Gradually add in flour, alternating with the soda drink. We don't want to overwork the flour, just want to mix it in and no more lumps. Stop the mixer and use a rubber spatula to give it a few stir if there

Prepare a 5-6 inch stainless steel or glass round container. Line with 2 square parchment paper overlapping each other. Pour the batter into the prepared container and gently give it a few tap to break any bubbles
Preparing the Instant Pot:
Place the trivet in the pot. Pour 3 cups of water in the pot. Be careful and gently place the container inside the pot on top of the trivet. Close the lid. Remember to place the steam release to SEALED. Press STEAM and click on pressure level and choose HIGH PRESSURE. Use +/- to set the time to 20 minutes. It will probably take about 5 minutes or less to pressurize the pot

Once the 20 minutes is up, click on CANCEL and it will turn off. Proceed to 10-minute Natural Release. Then carefully turn the steam release valve to VENTING and let the steam all come out and no more hissing. Open the lid and very carefully lift the trivet by its handle to remove the container out. Lift the 2 sides of the parchment paper to lift the cake out from the container. Let cool for 10 minutes. The cake will be very soft and spongy
If you steam the cake in regular steamer:
Make sure you have enough water in the steamer and it has comes to a rolling boil. Carefully placed the cake in there and secure the lid and let it steams on high heat for 30 minutes. If you double up the recipe and use 8-10 inch container, you need to increase the steaming time to 45 minutes or until the toothpick inserted in the middle of the cake comes out clean. It is important not to open the lid during cooking time (at least the first 30 minutes), so you need to make sure your steamer can hold enough water for at least 30 minutes. If you need to refill water, make sure to refill with hot water and continue with steaming


Check out my other INSTANT POT RECIPES (Not a whole lot yet, but it's building 😉 )
You might also like:
Pandan Chiffon Cake
Totoro Black Sesame Chiffon Cake