Nutty roasted black sesame seeds are infused all over this spongy, light and fluffy chiffon cake that resembles the adorable troll in popular Japanese anime character known as Totoro.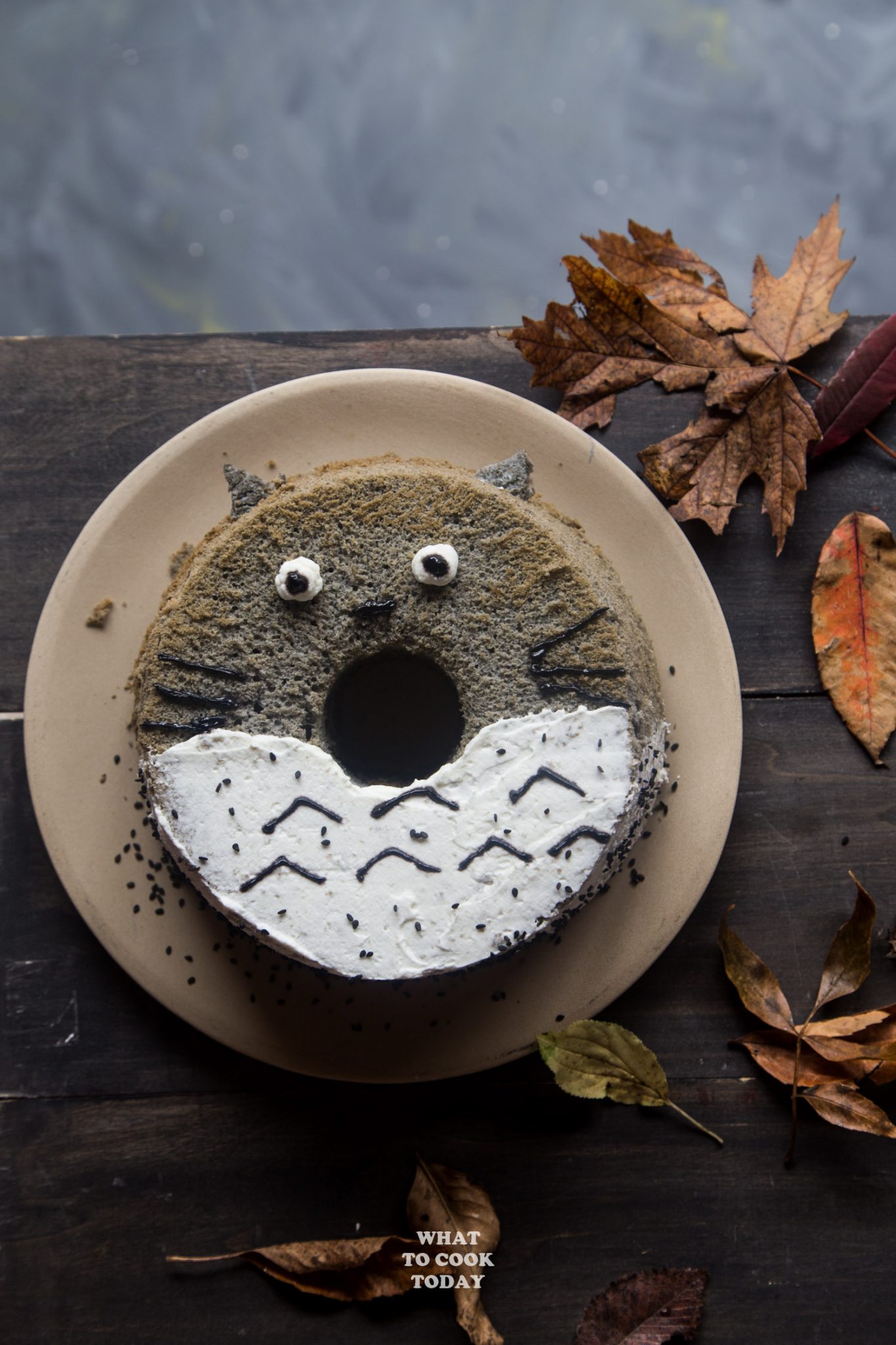 I remember how much I love Japanese cartoon animes when I was a kid. I was a loyal watcher of Doraemon, Crayon Sinchan, Dragon Ball and there was one more about cooking that for the life of me, just couldn't remember what the title was. I read the books too. I didn't know Totoro until I was much older, probably a teenager. I can't say that I'm obsessed with Totoro, but this creature sure is adorable I think 😉 Whether you are celebrating kid's birthday or want a cute Halloween treat, this will definitely win the kids (or adult like myself) over 🙂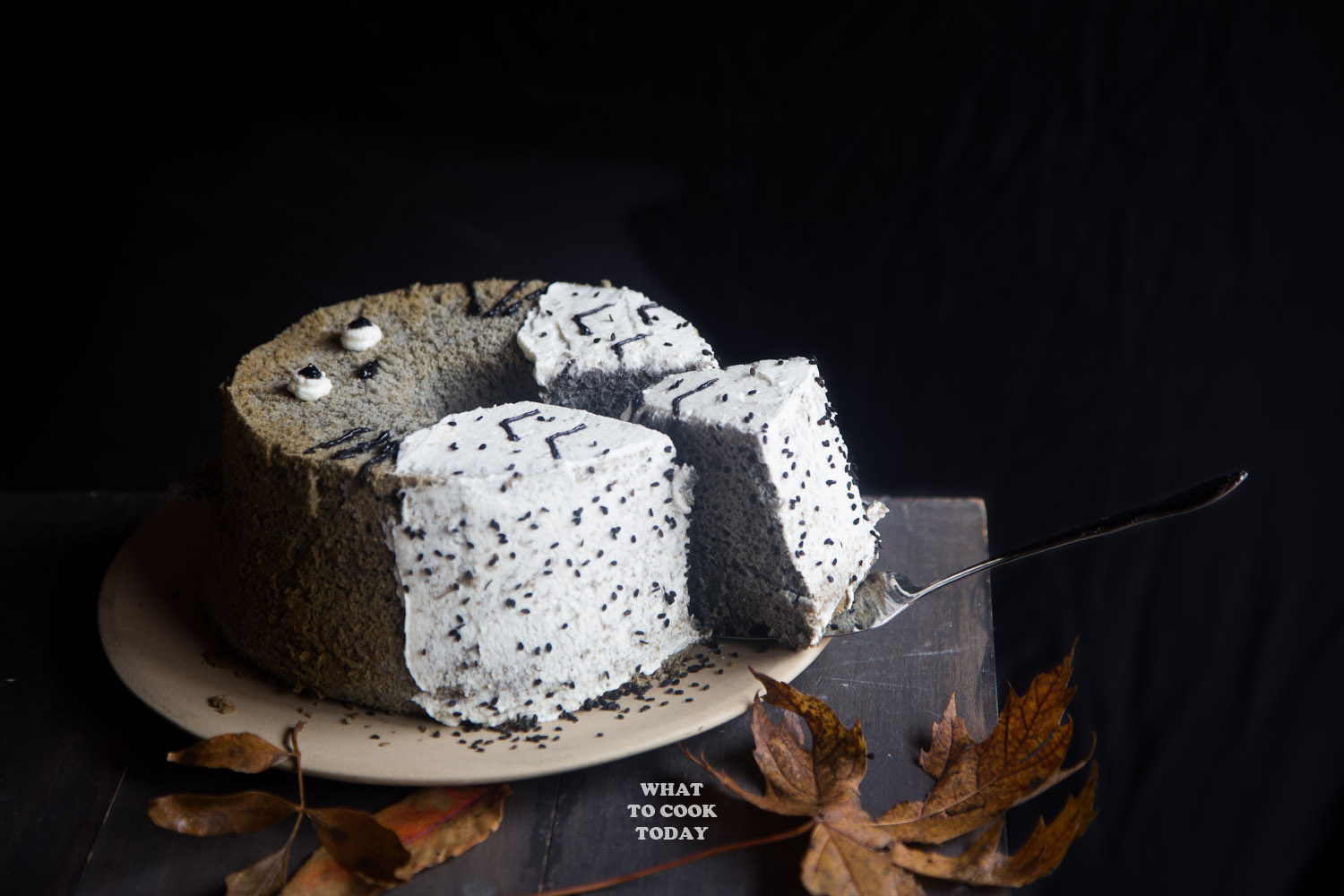 I've been wanting to make this Totoro chiffon cake for a while now. Alisa from Contemplating Sweets was kind enough to invite me to join her Black Sesame Party and I immediately knew I gotta make Totoro happened with black sesame seeds that I grind up into fine powder. It gives a nice gray hue to the cake. Mine is much darker because I added a bit of activated charcoal. You don't have to.
You might be familiar with white sesame seeds. The black sesame seeds pretty much taste the same with the white ones if you ask me. The black sesame seeds have their hulls intact and hence the color. When you roast it slightly, it gives you that amazing nutty flavor that I really like.
My kids were all over this Totoro chiffon cake! I'm using the same chiffon cake recipe I've been using for Pandan Chiffon cake. We love how soft and airy this chiffon cake is. Perfect for snacks or dessert. It can even be a cute Halloween treat 🙂
WATCH HOW I DECORATE TOTORO CHIFFON CAKE
This Totoro Black Sesame Chiffon Cake was gone in 1 1/2 days after I made it!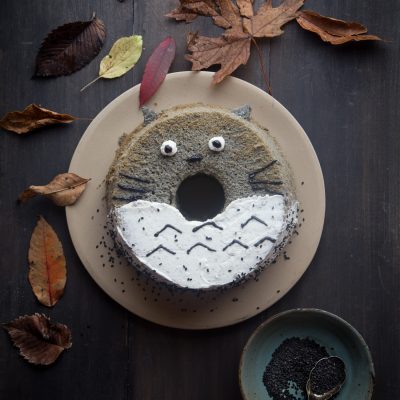 Nutty roasted black sesame seeds are infused all over this spongy, light and fluffy chiffon cake that resembles the adorable troll in popular Japanese anime character known as Totoro
For baking/ kueh making: I highly encourage to weigh ingredients with a digital kitchen scale instead of using measuring cups as they are not very accurate especially when it comes to recipe that requires precision.
GRAMS TO CUPS CONVERSION (UNSIFTED)
INGREDIENTS
Meringue:
5

egg whites from large eggs room temperature

1/2

tsp

cream of tartar

60

gr

sugar
Homemade whipped cream:
1

cup

heavy whipping cream

30

gr

confectioner's sugar
To decorate the cake into totoro:
Melted chocolate or black icing
INSTRUCTIONS
Making whipped cream (can be done one day ahead):
Place the whipping cream and sugar in a mixer bowl and whip on high speed until the cream is stiff. Cover and store in refrigerator until ready to be used
Mixing the thick batter:
I suggest separating the yolks and whites a bit earlier (about 30 mins or so)so that the egg whites have time to come to room temperature. It whips better at room temperature

In a mixing bowl, add the flour, baking powder, sugar, and, salt. Stir to mix. In a separate mixing bowl, mix the beaten eggs with black sesame paste, oil and coconut milk. Whisk until combined. Gradually add in the flour mixture into the egg mixture and stir until combined. The batter will be somewhat thick and gray or dark gray in color
Whipping the meringue:
Preheat your oven to 330 F (165 C)

Place the egg whites in a clean bowl. You will have trouble whipping your meringue if there's trace of grease in your utensils or bowls. Beat the egg whites on medium speed, add in the cream of tartar and gradually add in the sugar as you beat. I beat them for around 8-10 minutes to get to the firm peak. You will know you get to the firm peak when you hold your mixer up and your meringue will not drip anymore

Gently fold in 1/4 of the meringue into the thick batter and then fold to mix and then continue on with second batch and fold again to mix. Continue to do this until you are done with the meringue and the batter and meringue are nicely mixed

DO NOT grease your chiffon pan. The cake needs to cling to the pan to rise. Give the pan a strong tap on the side for a few times before pouring in the batter to remove any air bubbles. Smooth the batter with rubber spatula. Pop into the oven and let it bake at 330 F for 30 minutes at the middle rack and then turn the oven down to 300 F and bake for another 30 minutes . DO NOT open your oven door at least for the first 30 minutes or you will deflate the cake

Don't be alarm if you cake has some cracks on top. What you are looking at will become the bottom of your cake. I find that baking at this temperature in my oven prevents the cake from cracking

Once out of the oven, carefully invert the pan upside down. Your chiffon pan may have the little stands for you to invert, but I find it not high enough. I use a glass jar and set the inverted pan on top of the jar and let it cool down completely. Please don't be tempted to remove from the pan if it's still warm. It takes about one hour to cool down completely

Once it's cool down completely, use a spatula knife to run through the edge of the cake to help release the cake. Gently push the base of the pan down. Use the knife again to run through the top of the cake to help release it from the base of the pan. There you have it !!!
Decorating the cake:
I cut out two small triangles for Totoro ears from the bottom of the cake. Place the cake on a cake stand or wherever you want to. Use a sharp knife to make a small slit where the ears suppose to go. Dab a little bit of whipped cream on the base of the ears and then gently push the ears into the slit

Use a medium size offset spatula to spread the whipped cream over the lower half of the chiffon cake, both on top and the sides. The crumbs of the cake will show. This is the crumb layer. If you don't want any crumb to show, pop the cake in the refrigerator for about 30 minutes. Clean your offset spatula to make sure there's no crumb. Spread more whipped cream on that crumb layer and it will cover the crumbs now. You don't have to do this though. You can use a piping bag to draw the eyes and then use the melted chocolate or black icing writer to draw the black eyeballs and the details on the body. Sprinkle some black sesame seeds over the white part if you like. Simple as that 🙂
Notes
If you are using black icing writer, draw the black details only when you are ready to serve them, otherwise, the black icing will "bleed". You can frost the cake with whipped cream one day ahead though.
RECOMMENDED PRODUCTS:
What have you made with black sesame? You might also like Pandan Chiffon Cake and Other Asian Baking and Non-Bake Dessert