In this recipe tutorial, I'm sharing how to make xiao long bao the easy way at home but doesn't compromise the taste and the experience of eating xiao long bao.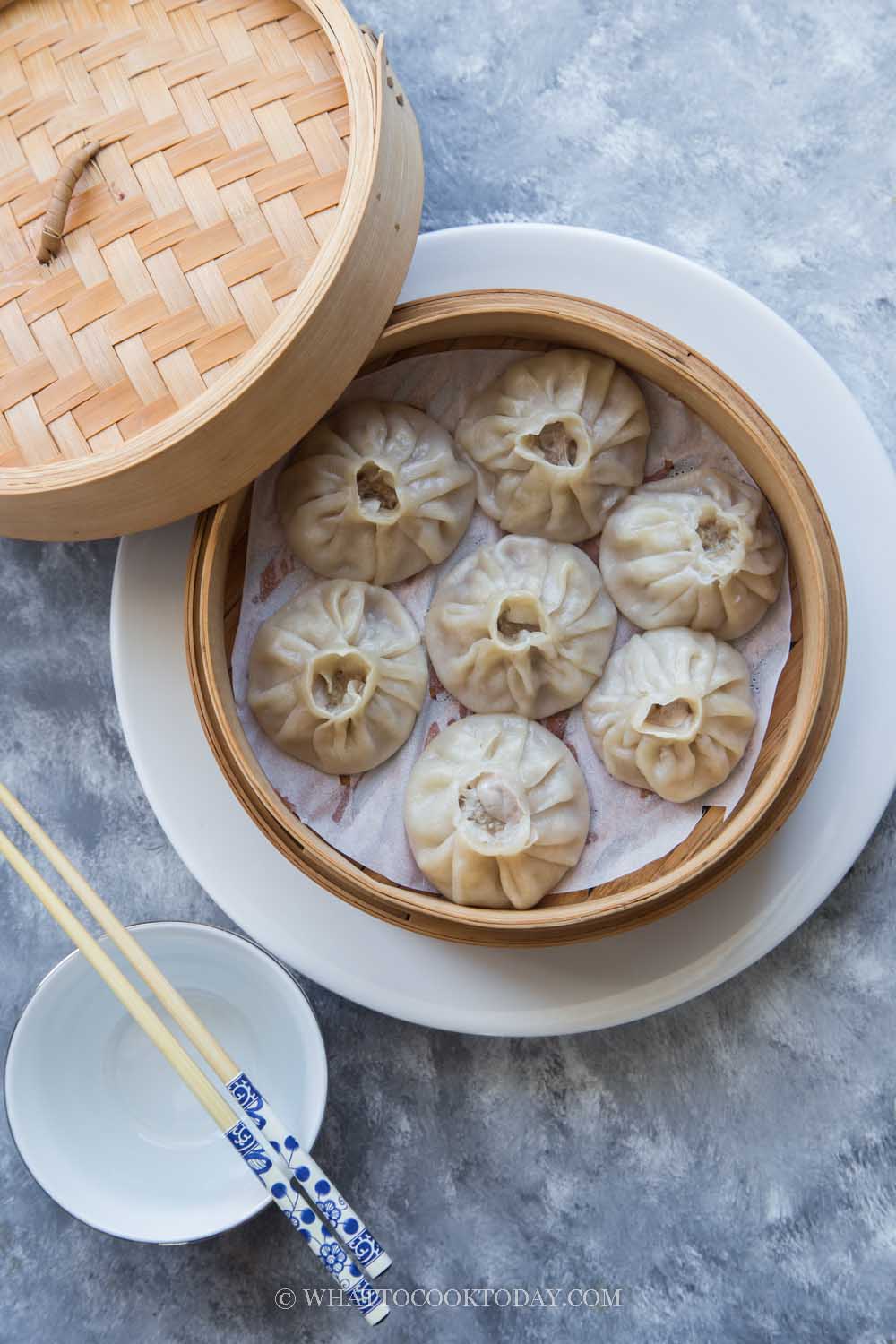 When I lived in Singapore for a few years, one of the things that I looked forward to every weekend was having xiao long bao with my sister at Din Tai Fung. We never missed ordering xiao long bao 🙂 It's hard to believe that I actually made my own xiao long bao now. I can't say they can rival Din Tai Fung's, but this easier version of xiao long bao makes it possible for anyone who wants to try their hands on making xiao long bao from scratch more doable!
What is xiao long bao?
Xiao long bao direct translation is "small basket buns". It is more dumpling than a bun if you ask me. Xiao Long Bao is a steamed dumpling with meat filling and umami savory soup enclosed inside homemade thin wrappers. Take that first tiny bite and slurp in the soup before engulfing the entire dumpling.
Why is this an easy xiao long bao recipe?
The soup inside xiao long bao is usually made by making the stock from scratch and then chilled to gelatinize the soup. The stock is usually made with chicken feet and pork skin as these two have a high amount of collagen and will gelatinize nicely when chilled. This recipe doesn't require you to make the soup from scratch. We will use high-quality bone broth/stock and gelatinize it with gelatin. The result? The family really enjoyed the soup dumplings. If you doubt that this shortcut will compromise the result, I encourage you to try it out. Just make sure you get high-quality bone broth/stock.
Is it difficult to make xiao long bao's wraps/skin?
The wrap is made with only 3 ingredients: all-purpose flour, salt, and water. The dough is easy to work with. The challenge is practicing how to wrap and fold the pleats. If you own a pasta maker/roller, it's even easier to roll the dough sheet into thin sheet. I own one but I decided to do it "manually" so I can share with you how feasible this actually is.
How to make xiao long bao from scratch the easy way
1. Preparing the gelatinized soup (preferably the day before). Put 1 teaspoon of gelatin in a bowl. Add 2 Tbsp of the stock and let it sit for 5 minutes and it will swell, absorbing all the liquid


2. Heat up about 1/2 cup of the stock and let it come to warm before adding this to the gelatin. You don't want it hot, just warm. Add this to the gelatin and stir. The gelatin will melt and turn into a translucent liquid. Add the rest of the stock and stir to combine. Cover and keep this chilled in the fridge for at least 3-4 hours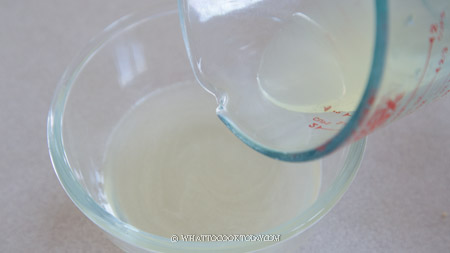 3. Prepare the dough for the wrap. Place the flour and salt in a large mixing bowl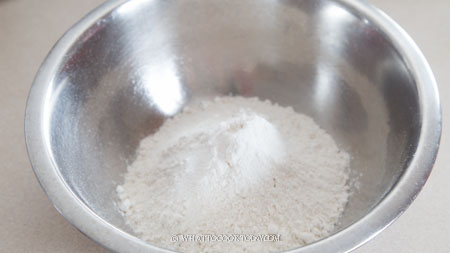 4. Gradually add in the hot boiling water and stir with a spoon into a crumbly dough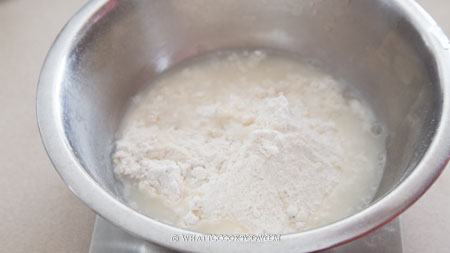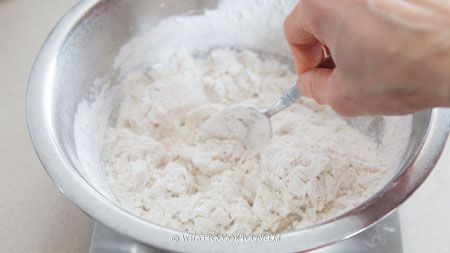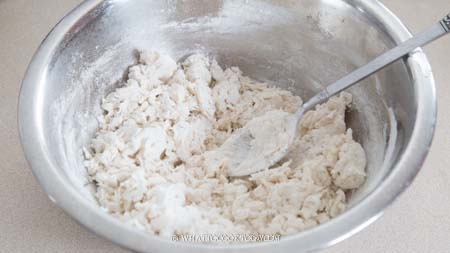 5. Use your clean hand to knead the dough into a rough dough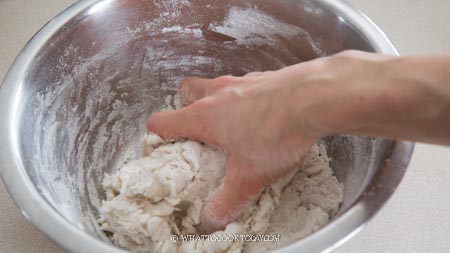 6. Cover with cling wrap and rest for 20 minutes. Prepare the filling while waiting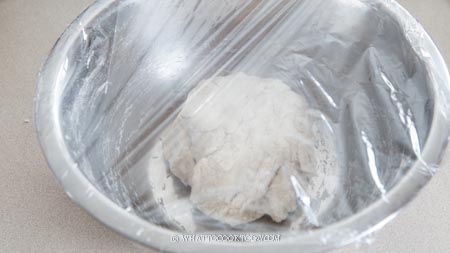 7. Preparing the filling. The gelatinized soup should have set by now, having a consistency like a jello, soft and bouncy. Chop into small pieces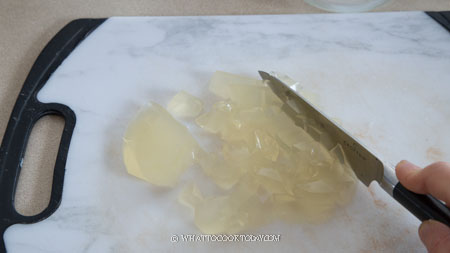 8. Place all ingredients in a large mixing bowl and stir in one direction to combine. Have a taste by boiling a tiny amount in a water. Adjust the taste to your preference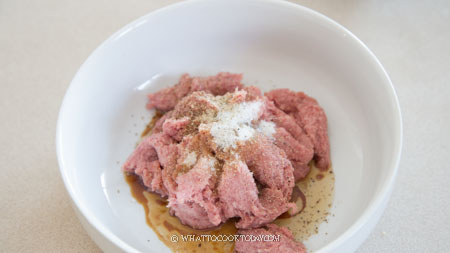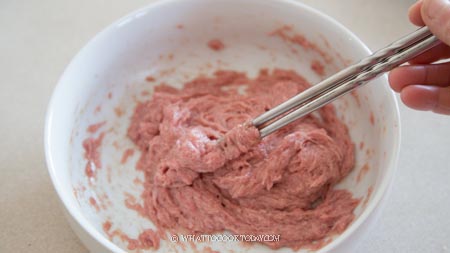 9. Add the chopped gelatinized soup into the meat mixture and stir to combine. Cover and keep this in the fridge while preparing other things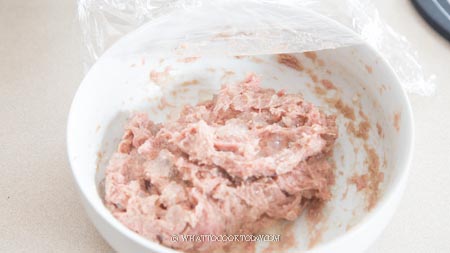 10. Back to the dough. Give the dough a few kneading and you will be surprised by how soft the dough is now. Give the dough some kneading until it is smooth, about 1-2 minutes. Divide the dough into 2 or 3. It's easier to work with a smaller amount of dough as we want to roll it as thin as we can, but not paper thin. Keep one covered to prevent it from drying out and work with the other one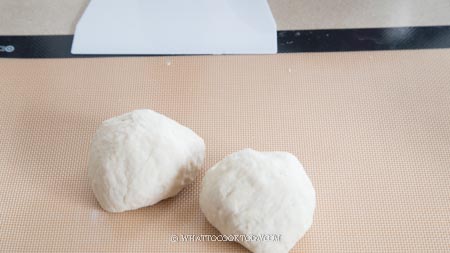 11. Lightly dust your work surface with some flour. Roll the dough out into about 1 mm thickness. It's pretty thin.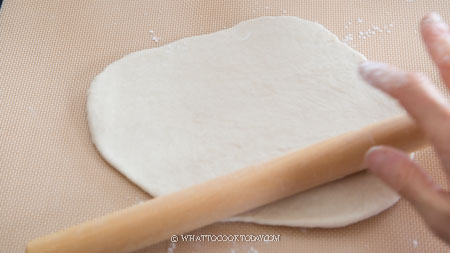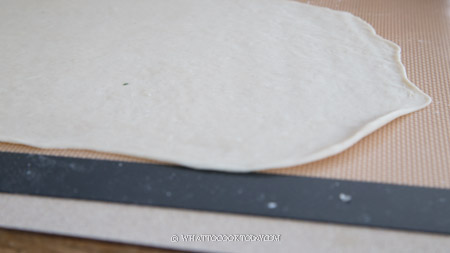 12. Then use a 4-inch cutter or round jar or whatever you have to cut the dough out, cut as close as possible. Repeat the same step with the second (and third dough if you divide into 3). Keep all the cut-out dough covered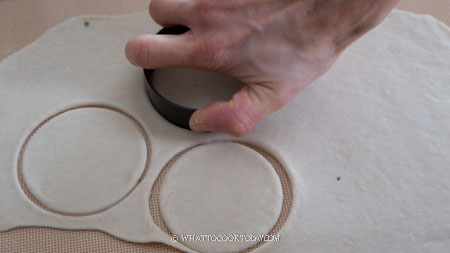 13. Filling and wrapping. Place one wrapper on a work surface and put about one tablespoon of filling on the center. It's easier to create pleats when you let the wrapper sit on the work surface. While one hand is holding the wrapper, the other just fold the wrapper over and pinch slightly as you fold and continue to create pleats all around and then pinch to seal, leaving the top open. This actually helps to prevent the dumpling from "exploding" during steaming and I like how it looks too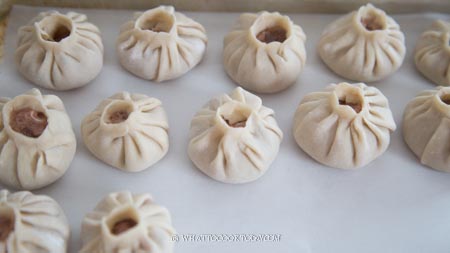 14. Steaming. Bring the water in a steamer to a boil. Line a bamboo basket or a steaming rack with parchment paper. Arrange the dumplings on top, giving them a bit of space as they will puff up a bit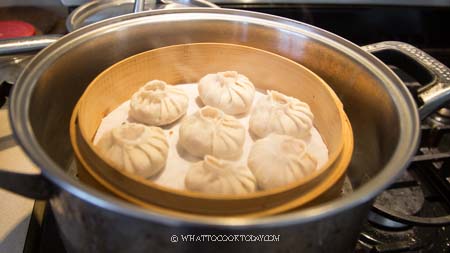 15. Steam over medium heat for 6-8 minutes or until cooked through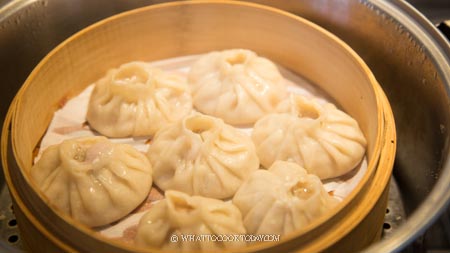 16. Serve the soup dumplings immediately while they are still warm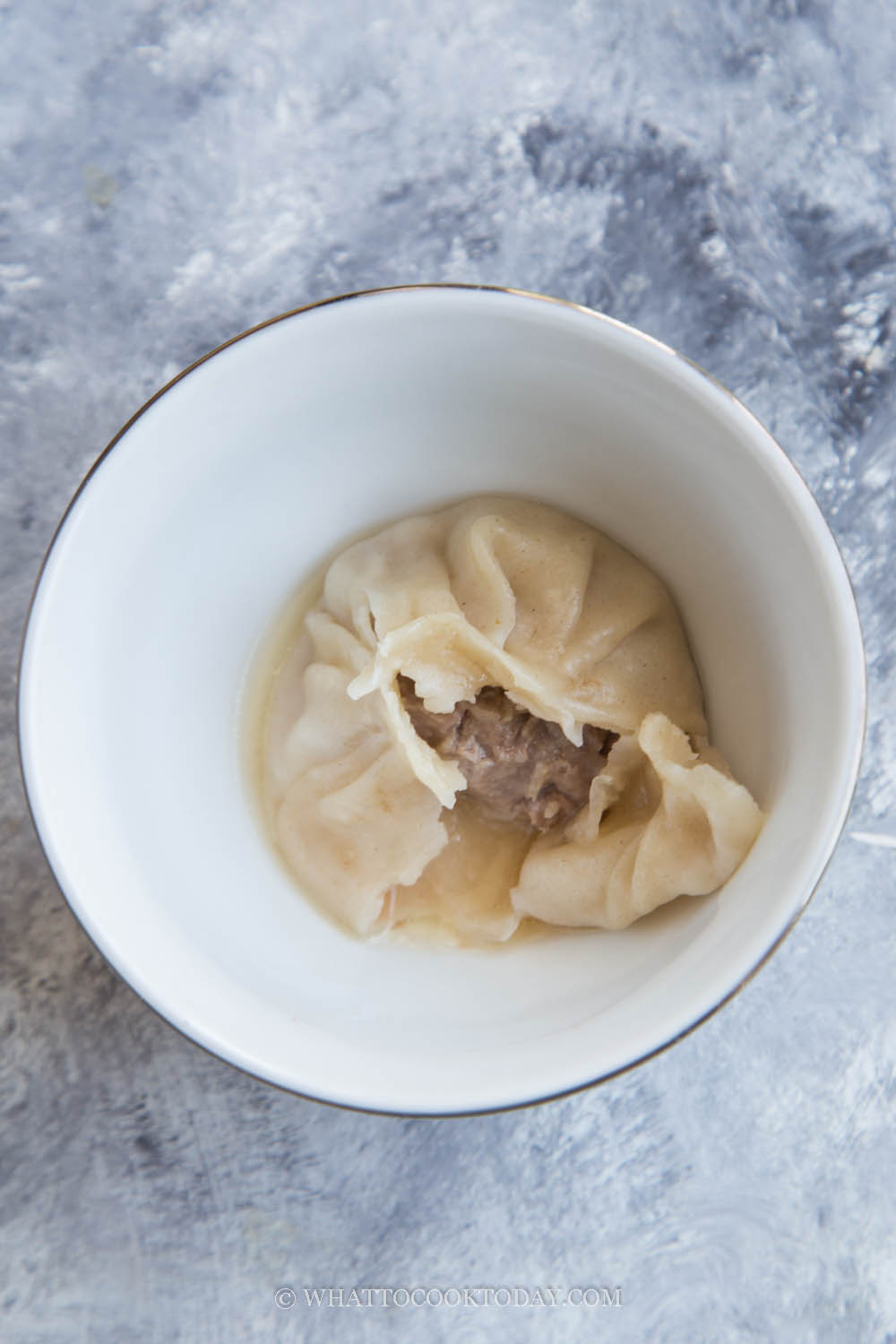 How to make ahead
Prepare according to the recipe up to filling and wrapping. Place the dumplings on a baking sheet lined with parchment paper, not touching each other. Put the baking sheet in a freezer and freeze for about 1 hour. They won't be completely frozen yet, you can transfer them to a freezer-friendly container or freezer bag, push all the air out and seal the bag. They won't stick to each other anymore. Keep them frozen for up to one month for the best result. When ready to serve, do not thaw. They can go to the steamer and add about 3-4 minutes to the steaming time.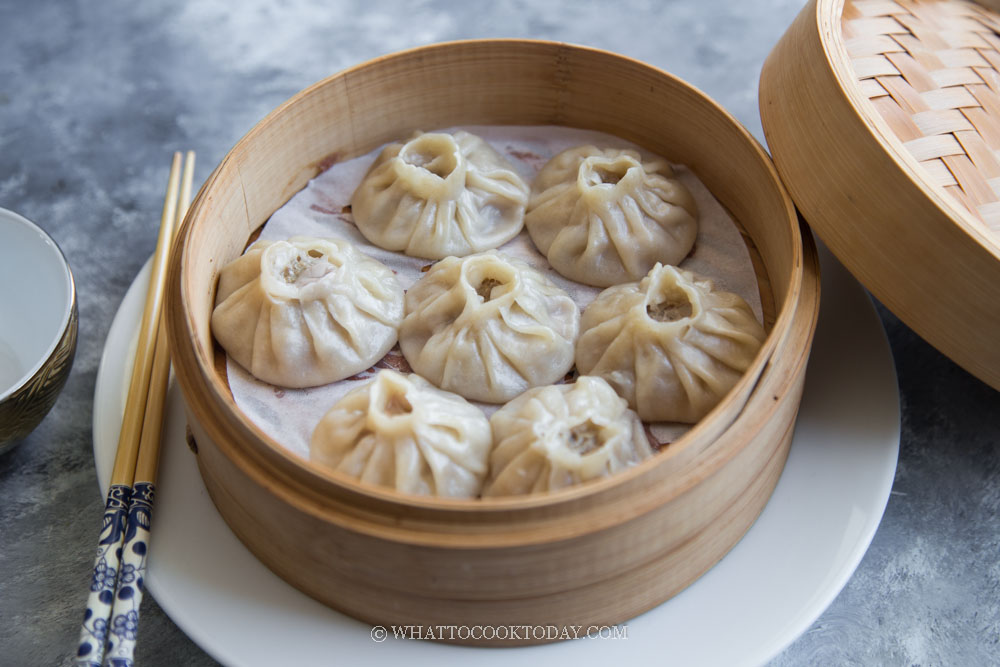 Did you make this xiao long bao recipe?
I love it when you guys snap a photo and tag to show me what you've made 🙂 Simply tag me @WhatToCookToday #WhatToCookToday on Instagram and I'll be sure to stop by and take a peek for real!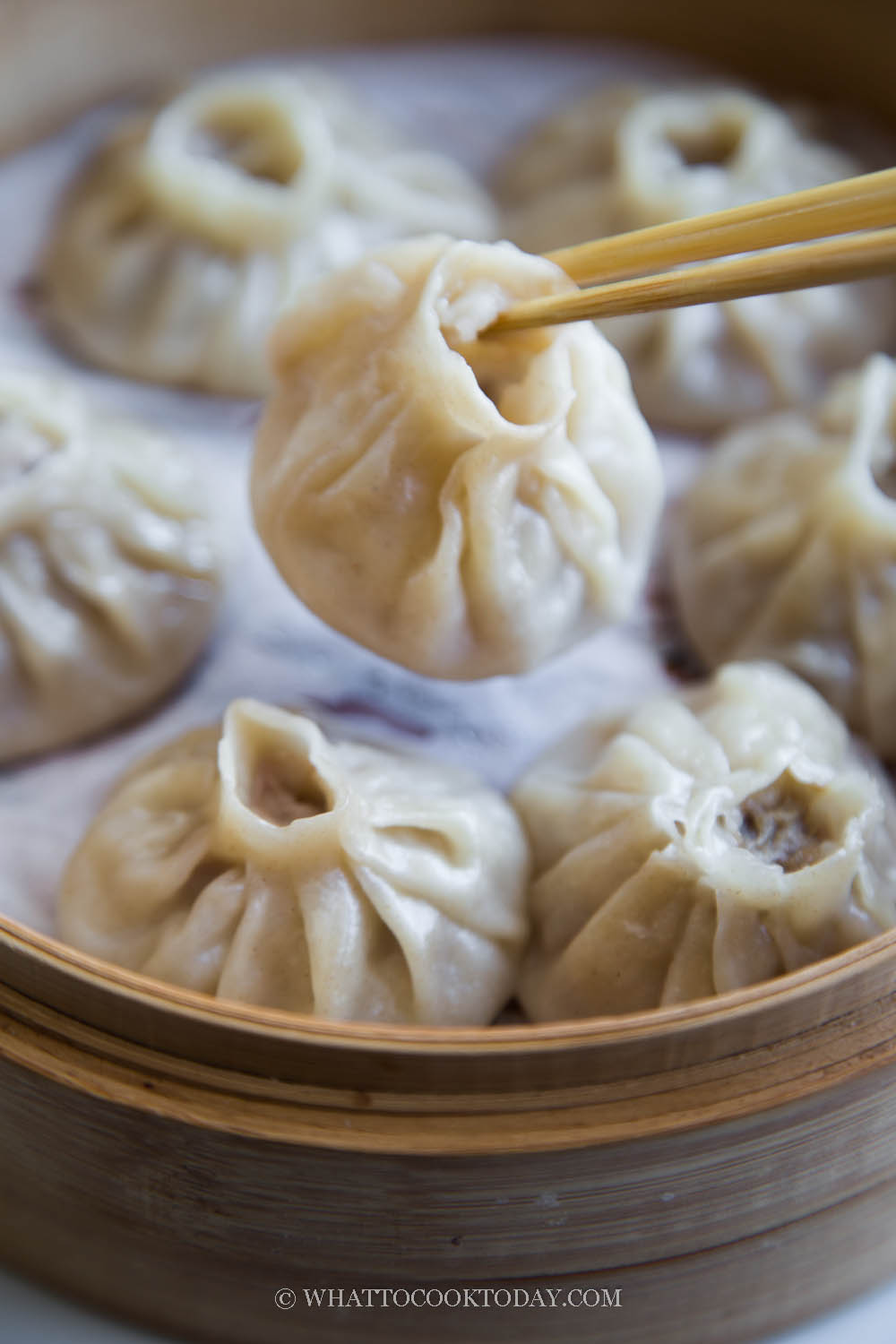 This recipe was last published in 2017 and it has been improved with better and easier techniques and photos on March 30, 2022. The recipe is adapted from here.
How To Make Xiao Long Bao / Soup Dumplings (The Easy Way)
Ingredients
Instructions
Preparing the gelatinized soup (preferably the day before):
Put 1 teaspoon of gelatin in a bowl. Add 2 Tbsp of the stock and let it sit for 5 minutes and it will swell, absorbing all the liquid. Heat up about 1/2 cup of the stock and let it come to warm before adding this to the gelatin. You don't want it hot, just warm. Add this to the gelatin and stir. The gelatin will melt and turn into translucent liquid. Add the rest of the stock and stir to combine. Cover and keep this chilled in the fridge for at least 3-4 hours
Prepare the dough for the wrap:
Place the flour and salt in a large mixing bowl. Gradually add in the hot boiling water and stir with a spoon into a crumbly dough. Use your clean hand to knead the dough into a rough dough. Cover with cling wrap and rest for 20 minutes. Prepare the filling while waiting
Preparing the filling:
The gelatinized soup should have set by now, having a consistency like a jello, soft and bouncy. Chop into small pieces

Place all ingredients in a large mixing bowl and stir in one direction to combine. Have a taste by boiling a tiny amount in a water. Adjust the taste to your preference. Add the chopped gelatinized soup into the meat mixture and stir to combine. Cover and keep this in the fridge while preparing other things
Back to the dough:
Give the dough a few knead and you will be surprised by how soft the dough is now. Give the dough some kneading until it is smooth, about 1-2 minutes

Divide the dough into 2 or 3. It's easier to work with smaller amount of dough as we want to roll it as thin as we can, but not paper thin, just . Keep one covered to prevent it from drying out and work with the other one

Lightly dust your work surface with some flour. Roll the dough out into about 1 mm thickness. It's pretty thin. Then use a 4-inch cutter or round jar or whatever you have to cut the dough out, cut as close as possible

You can always use a rolling pin to roll the dough that you cut out thinner if you didn't manage to roll it as thin before. Dust each wrapper with a bit of flour to prevent sticking to another wrapper. Gather the scrap and roll it out again. If it's getting harder to roll it out, wrap it with a cling wrap and let it rest for 15 minutes and you won't have problem rolling it out again later

Repeat the same step with the second (and third dough if you divide into 3). Keep all the cut-out dough covered
Filling and wrapping:
Place one wrapper on a work surface and put about one tablespoon of filling on the center. It's easier to create pleats when you let the wrapper sit on the work surface. While one hand is holding the wrapper, the other just folds the wrapper over and pinch slightly as you fold and continue to create pleats all around and then pinch to seal, leaving the top open. This actually helps to prevent the dumpling from "exploding" during steaming and I like how it looks too
Steaming:
Bring the water in a steamer to a boil. Line a bamboo basket or a steaming rack with parchment paper. Arrange the dumplings on top, giving them a bit of space as they will puff up a bit. Steam over medium heat for 6-8 minutes or until cooked through
Serving;
Serve the soup dumplings immediately while they are still warm
Recommended products:
Nutrition
Serving:
1
dumpling
|
Calories:
109
kcal
|
Carbohydrates:
8
g
|
Protein:
6
g
|
Fat:
6
g
|
Saturated Fat:
2
g
|
Polyunsaturated Fat:
1
g
|
Monounsaturated Fat:
2
g
|
Cholesterol:
16
mg
|
Sodium:
246
mg
|
Potassium:
78
mg
|
Fiber:
1
g
|
Sugar:
1
g
|
Vitamin A:
2
IU
|
Vitamin C:
1
mg
|
Calcium:
5
mg
|
Iron:
1
mg