Mini flaky tart base is filled with creamy and decadent Nutella in cookie size. These are popular cookies in Southeast Asia , especially for Lebaran, Chinese New Year, or any festive celebrations. The recipe is also eggless.

What is Nutella tart cookie?
Nutella tart cookie is made with a shortcrust pastry base and then filled with Nutella on top. The shortcrust pastry is flaky and buttery and then you have that decadent Nutella on top, what not to love about that! Nutella tart cookies is very popular in Indonesia, Malaysia, and Singapore, especially for Hari Raya (Lebaran) and Chinese New Year celebrations.
How to make eggless Nutella tart cookies
1. Preheat the oven to 320 F (160 C) for a conventional oven. For a convection oven, lower the temperature by 20 degrees
Combine the softened butter and icing sugar. You don't need a mixer. I just use a spatula to combine them.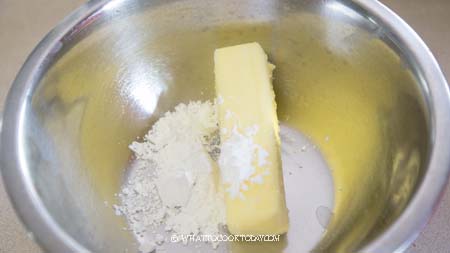 2. Add all-purpose flour, cornstarch, milk powder, and salt and combine until you get a soft dough. If it's really hot where you are and the dough feels sticky, you can flatten the dough and wrap it with a cling wrap and chill in the fridge for 30 minutes. I don't have to chill the dough and work with it right away

4. Lightly flour your work surface and rolling pin. Roll the dough out with a rolling pin to about 1/2 cm (5mm). You can cover with a cling wrap to prevent sticking, though it's not so much an issue for me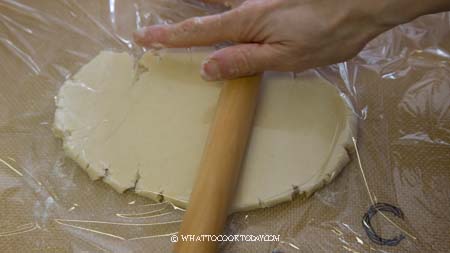 5. Dip your cookie cutter in some cake flour. Then press onto the dough to cut out the shape. Cut as close as possible so you don't have to gather the dough scrape and roll it out again too many times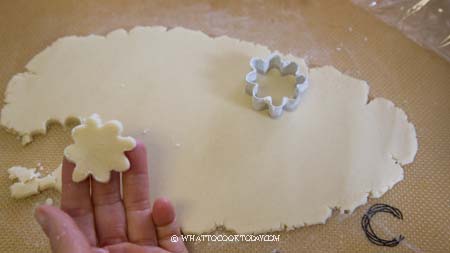 7. Put the shaped dough on a baking sheet lined with parchment paper. Since I don't have a special cookie cutter, I just use whatever cookie cutter I have and then use the handle of a wooden spatula to make an indentation in the middle


8. Put the baking sheet on the middle rack and bake for 10 minutes. The tart cookies are only half-baked at this point. Remove from the oven. Let the cookies cool down completely on the baking sheet. It is very important to let them cool down completely before you pipe the Nutella on top. The Nutella will melt and become messy if the cookies are still warm


9. Once the cookies have cooled down completely, get the piping bag from the fridge and pipe the Nutella on top. The amount is up to you. Don't overdo it though


10. Lower the temperature to 300 F (150 C) for a conventional oven and 20 degrees lower for a convection oven. Put the baking sheet inside the oven again and bake for another 15 minutes or until the Nutella is "set" and dry to touch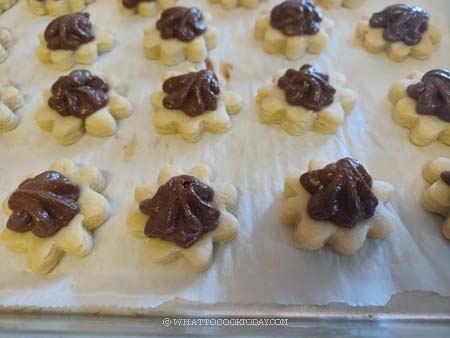 11. Let them cool down on a baking sheet for 5 minutes and then transfer to a cooling rack to let them cool down completely. Once the cookies have cooled down completely, transfer them to an air-tight cookie jar or container. They can be kept at room temperature for a few weeks

Important tips
1. It helps to chill the Nutella in the fridge so it won't be too soft when you try to pipe it on top of the tart base
2. The second round of baking is at a lower temperature to prevent overbaking the tart base while trying to bake the Nutella until it is set and dry to touch
3. The oven temperature is only for reference. You may have to adjust the temperature and timing according to your oven
Did you make this Nutella tart cookie recipe?
I love it when you guys snap a photo and tag to show me what you've made 🙂 Simply tag me @WhatToCookToday #WhatToCookToday on Instagram and I'll be sure to stop by and take a peek for real!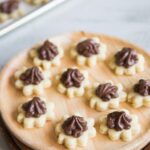 Eggless Nutella Tart Cookies
Ingredients
For the filling:
200

gr

Nutella

or more as needed
Instructions
Put Nutella in piping bag fitted with a nozzle of your choice. I use Wilton open star tip. Chill it in the fridge while you prepare the cookie dough

Preheat oven at 320 F (160 C) for a conventional oven. For a convection oven, lower the temperature by 20 degrees
Prepare the dough:
Combine the softened butter and icing sugar. You don't need a mixer. I just use a spatula to combine them. Add all-purpose flour, cornstarch, milk powder, and salt and combine until you get a soft dough

If it's really hot where you are and the dough feels sticky, you can flatten the dough and wrap with a cling wrap and chill in the fridge for 30 minutes

I don't have to chill the dough and work with it right away
If shape the dough using a cookie press:
I don't have the special cookie press, but if you do, you can pinch off about 10 grams of dough and roll into a smooth ball. Keep them covered

Lightly dust the cookie press with some cake flour to prevent sticking. Take one dough ball and use a cookie press to shape the cookies. Put the shaped dough on a baking sheet lined with parchment paper. Continue with the rest of the dough. Use a toothpick to poke few holes in the middle to help release some steam during baking
If shape the dough using a cookie cutter:
Lightly flour your work surface and rolling pin. Roll the dough out with a rolling pin to about 1/2 cm (5mm). Dip your cookie cutter in some cake flour and then press onto the dough to cut out the shape. Cut as close as possible so you don't have to gather the dough scrape and roll it out again too many times

Since I don't have the special cookie cutter, I just use whatever cookie cutter I have and then use the handle of a wooden spatula to make an indentation in the middle

Put the shaped dough on a baking sheet lined with parchment paper. Continue with the rest of the dough. Use a toothpick to poke a few holes in the middle to help release some steam during baking
1st round baking:
Put the baking sheet on the middle rack and bake for 10 minutes. The tart cookies are only half-baked at this point. Remove from the oven

Let the cookies cool down completely on the baking sheet. It is very important to let them cool down completely before you pipe the Nutella on top. The Nutella will melt and become messy if the cookies are still warm
Pipe the Nutella:
Once the cookies have cooled down completely, get the piping bag from the fridge and pipe the Nutella on top. The amount is up to you. Don't overdo it though
2nd round baking:
Lower the temperature to 300 F (150 C) for conventional oven and 20 degrees lower for convection oven. Put the baking sheet inside the oven again and bake for another 15 minutes or until the Nutella is "set" and dry to touch
Cooling:
Let them cool down on baking sheet for 5 minutes and then transfer to a cooling rack to let them cool down completely
Storing:
Once the cookies have cooled down completely, transfer to an air-tight cookie jar or container. They can be kept at room temperature for few weeks
Nutrition
Serving:
1
cookie
|
Calories:
73
kcal
|
Carbohydrates:
8
g
|
Protein:
1
g
|
Fat:
4
g
|
Saturated Fat:
3
g
|
Polyunsaturated Fat:
1
g
|
Monounsaturated Fat:
1
g
|
Trans Fat:
1
g
|
Cholesterol:
6
mg
|
Sodium:
31
mg
|
Potassium:
34
mg
|
Fiber:
1
g
|
Sugar:
4
g
|
Vitamin A:
69
IU
|
Vitamin C:
1
mg
|
Calcium:
11
mg
|
Iron:
1
mg