Learn how to make Teochew vegetarian bean curd rolls or known as guang jiang/kuang chiang. This popular Teochew snack is often eaten during the Chinese New Year celebration.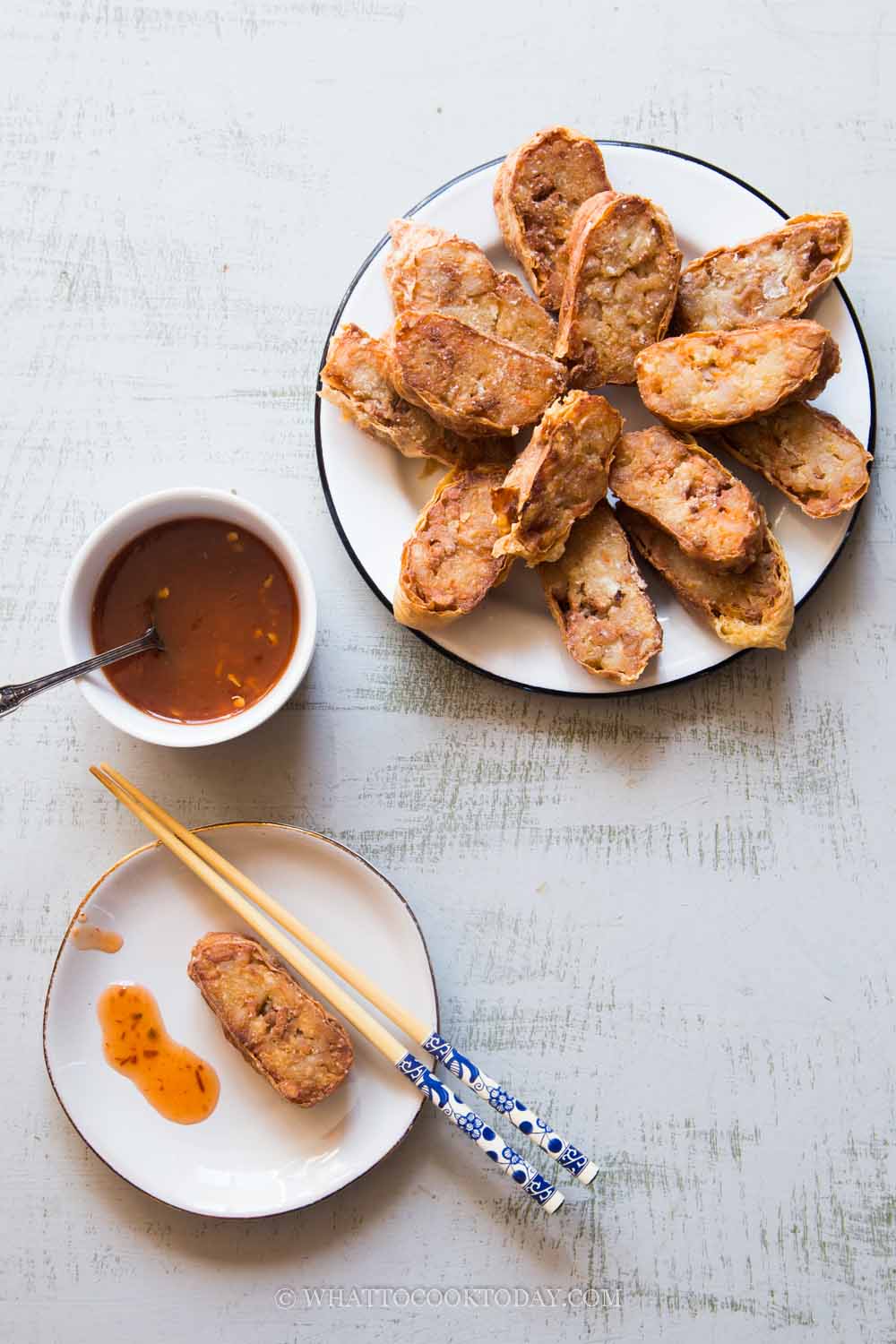 What is guan jiang/guang jiang/kuang chiang?
Guang jiang is Teochew-style vegetarian bean curd rolls. They are usually eaten on the first day of Chinese New Year. My mom is a Teochew and she shared with me that Teochew people observe a vegetarian diet on the first day of Chinese New Year and guang jiang is one of the popular vegetarian snacks they like to eat.
Guang jiang is usually made with root vegetables such as taro, jicama, and radish. Peanuts are also added to guang jiang. The vegetable filling is then wrapped in bean curd sheets and then steamed and deep-fried. It is very similar in concept to ngoh hiang and hae zhor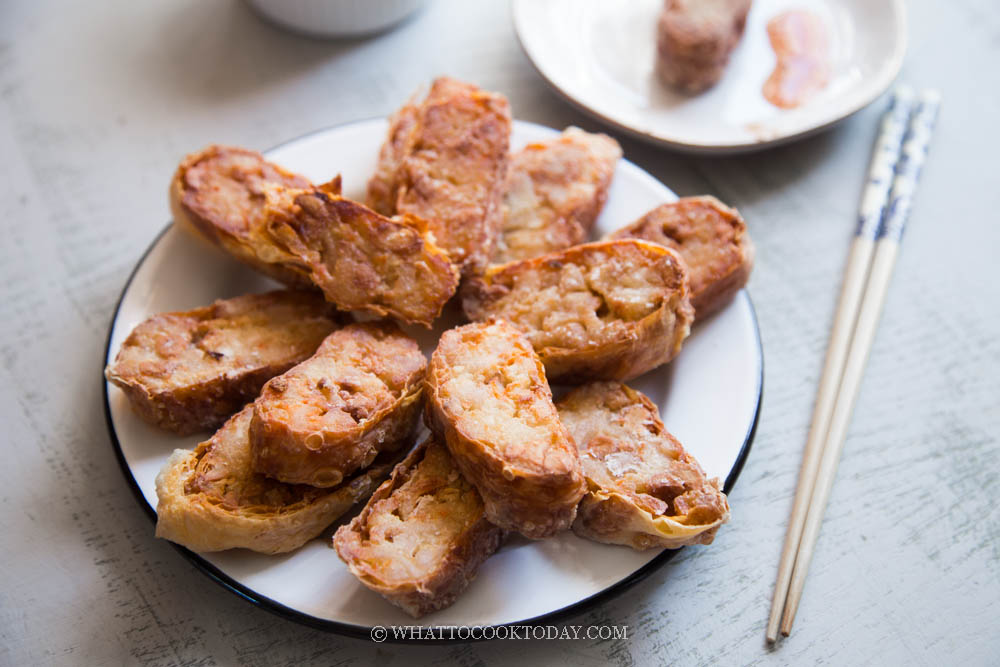 How to make Teochew guang jiang
1. Boil the peanuts. If cooking on the stove, put the shelled peanuts with 3 cups of water and pinch of salt. Bring to a boil and then lower the heat and let it simmer until the peanuts are soft, this may take 2 hours or longer. If using a pressure cooker, put the shelled peanuts with 3 cups of water and pinch of salt. Cover the lid and turn the pressure release valve to sealing. Set the timer to 60 minutes and on high pressure and then natural release.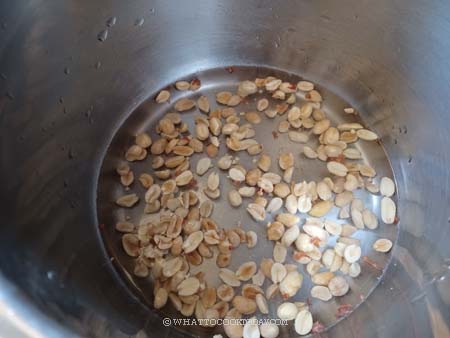 2. You should get the unsalted beancurd sheet, which is suitable for making guang jiang without being so salty. If it is salted, wipe it with a clean damp towel to get rid of excess salt. The one that I got has 0 mg sodium. It is unsalted.
3. Combine rice flour and tapioca flour and set aside. Put the shredded taro, jicama,carrots, and boiled peanuts in a large mixing bowl. Add the seasonings and use your clean hands to start mixing to make sure the vegetables are mixed well with the seasonings


4. Add the tapioca and rice flour mixture. They may seem dry at first, but just keep mixing and some of the liquid from the root veggies will start to moisten the mixture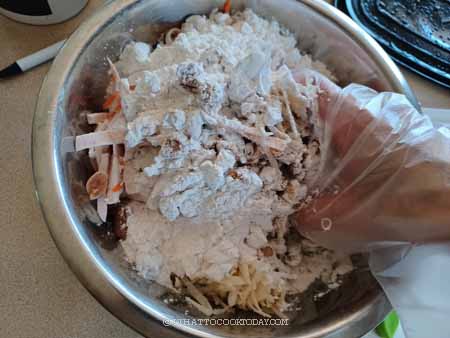 5. If you press the mixture with your palm and it doesn't fall apart, you are done mixing and you can start wrapping. We can't taste the raw filling here. You can microwave a tiny amount to have a taste or steam a tiny portion for you to taste the filling. Adjust seasoning to your taste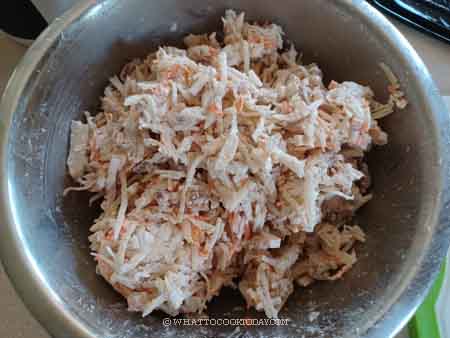 6. Bring the water in a steamer to a boil and then lower the heat to let it simmer while you are going to wrap the meat rolls. The bean curd sheet usually comes in a very large size. Use kitchen shears to cut into about 30 x 40 cm in size. It's up to you how big or small you want to make the rolls. Spread the filling on the lower half of the wrapper. If you have your own way of wrapping, please go ahead. There's no right or wrong here. Fold both sides. Fold the bottom over and roll all the way up and make sure to wrap tightly. Repeat with the rest of the filling and bean curd sheets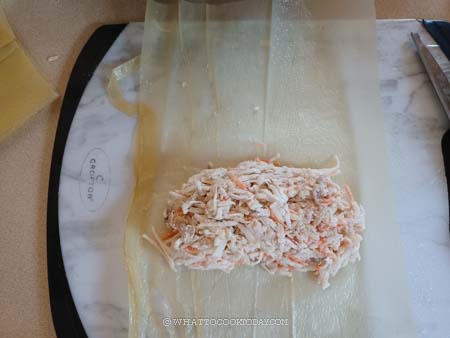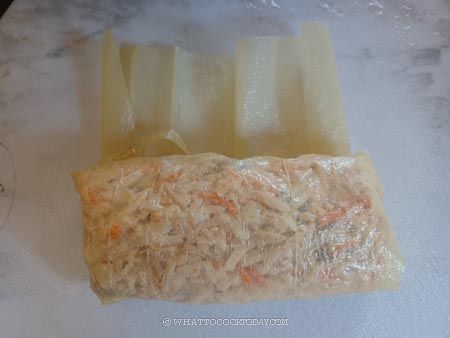 I don't feel like it's necessary to seal the roll since we will be steaming them and the rolls won't open up after steaming


7. Once you have all the meat rolls ready for steaming, Lightly oil the steaming dish. Place them on a steaming dish, seam sides down and not touching each other so they won't stick after steaming. Steam for 30 minutes on medium heat or until the veggies inside are cooked through.


8. Let them cool completely on a cooling rack before deep-frying. It is important to let them cool down before deep frying or air frying. You can prepare ahead up to this point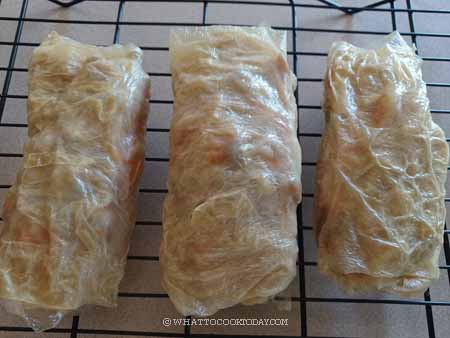 9. Preheat about 2 inches of oil. When you dip a skewer or chopstick in the oil, it bubbles around it, the oil is ready. Slice the cooled-down guang jiang into thick slices, about 1.5-2 cm thick


10. Dip each slice in cornstarch and shake off any excess starch. We just want a thin layer here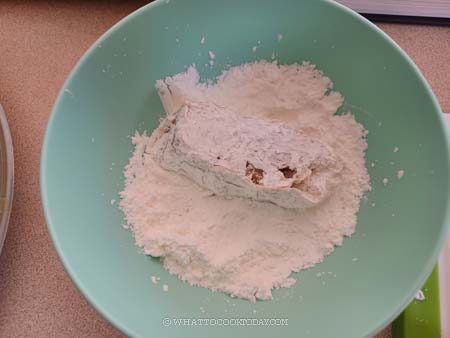 11. Preheat about 2 inches of oil. When you dip a skewer or chopstick in the oil, it bubbles around it, the oil is ready
Gently and carefully place each slice into the oil and deep-fry until golden brown, about 2 minutes or so until golden brown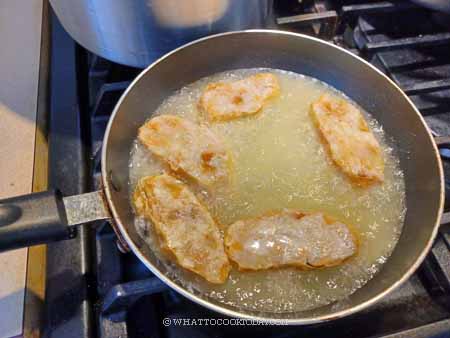 12. Use tongs to remove them from the oil and place them on a paper towel to let the towel absorbs some of the excess oil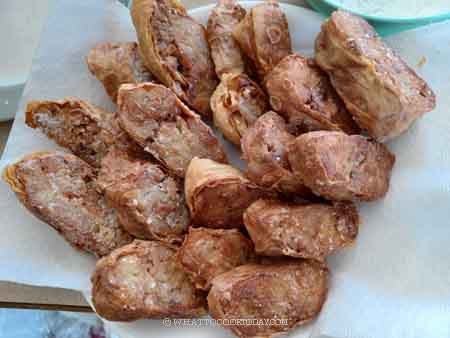 To make ahead
1. You can prepare until the steaming step and let guang jiang cool down completely
2. When ready to use them, thaw at room temperature or overnight in the fridge and then slice into thick slices and proceed according to the recipe

Did you make this Teochew guang jiang recipe?
I love it when you guys snap a photo and tag to show me what you've made 🙂 Simply tag me @WhatToCookToday #WhatToCookToday on Instagram and I'll be sure to stop by and take a peek for real!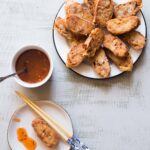 Teochew Guang Jiang (Vegetarian Bean Curd Rolls)
Ingredients
Filling:
150

gr

peanuts

You can also use canned boiled peanuts

350

gr

shredded taro

500

gr

shredded jicama

30

gr

shredded carrots

100

gr

rice flour

30

gr

tapioca flour
For wrapping:
Bean curd sheets (unsalted if possible)
For frying:
Instructions
Boil the peanuts:
If cooking on the stove, put the shelled peanuts with 3 cups of water and pinch of salt. Bring to a boil and then lower the heat and let it simmer until the peanuts are soft, this may take 2 hours or longer

If using a pressure cooker, put the shelled peanuts with 3 cups of water and pinch of salt. Cover the lid and turn the pressure release valve to sealing. Set the timer to 60 minutes and on high pressure and then natural release
Prepare the filling:
You should get the unsalted beancurd sheet, which is suitable for making guang jiang without being so salty. If it is salted, wipe it with a clean damp towel to get rid of excess salt.

The bean curd sheet usually comes in a very large size. Use kitchen shears to cut into about 30 x 40 cm in size. It's up to you how big or small you want to make the rolls

Combine rice flour and tapioca flour and set aside. Put the shredded taro, jicama, ,carrots, and boiled peanuts in a large mixing bowl. Add the seasonings and use your clean hands to start mixing to make sure the vegetables are mixed well with the seasonings. Add the tapioca and rice flour mixture . They may seem dry at first, but just keep mixing and some of the liquid from the root veggies will start to moisten the mixture. If you press the mixture with your palm and it doesn't fall apart, you are done mixing and you can start wrapping
Taste the filling:
We can't taste the raw filling here. You can microwave a tiny amount to have a taste or steam a tiny portion for you to taste the filling. Adjust seasoning to your taste
Wrapping:
Bring the water in a steamer to a boil and then lower the heat to let it simmer while you are going to wrap the meat rolls

Spread the filling on the lower half of the wrapper. If you have your own way of wrapping, please go ahead. There's no right or wrong here. Fold both sides. Fold the bottom over and roll all the way up and make sure to wrap tightly. Repeat with the rest of the filling and bean curd sheets

I don't feel like it's necessary to seal the roll since we will be steaming them and the rolls won't open up after steaming
Steaming:
Once you have all the meat rolls ready for steaming, Lightly oil the steaming dish. Place them on a steaming dish, seam sides down and not touching each other so they won't stick after steaming. Steam for 30 minutes on medium heat or until the veggies inside are cooked through. Let them cool completely on a cooling rack before deep-frying. It is important to let them cool down before deep frying or air frying. You can prepare ahead up to this point

Do not slice them when they are still hot or warm. They need to cool down completely
Frying:
Preheat about 2 inches of oil. When you dip a skewer or chopstick in the oil, it bubbles around it, the oil is ready

Slice the cooled-down guang chiang into thick slices, about 1.5-2 cm thick. Dip each slice in cornstarch and shake off any excess starch. We just want a thin layer here

Preheat about 2 inches of oil. When you dip a skewer or chopstick in the oil, it bubbles around it, the oil is ready

Gently and carefully place each slice into the oil and deep-fry until golden brown, about 2 minutes or so until golden brown. Use tongs to remove from the oil and place on a paper towel to let the towel absorbs some of the excess oil
Air-frying:
If you want to air fry, brush each slice with a bit of oil, but don't coat with corn starch as they don't cook properly with the starch. Place on the air fryer basket and air fry at 350 F (180 C) for 10-15 minutes. The time is just for a reference. Check in between cooking and flip them over as needed and cook until crispy and golden brown
Nutrition
Serving:
1
roll
|
Calories:
648
kcal
|
Carbohydrates:
78
g
|
Protein:
14
g
|
Fat:
34
g
|
Saturated Fat:
4
g
|
Polyunsaturated Fat:
11
g
|
Monounsaturated Fat:
18
g
|
Trans Fat:
1
g
|
Cholesterol:
1
mg
|
Sodium:
949
mg
|
Potassium:
1080
mg
|
Fiber:
15
g
|
Sugar:
9
g
|
Vitamin A:
1347
IU
|
Vitamin C:
29
mg
|
Calcium:
105
mg
|
Iron:
3
mg