Seasoned ground shrimp, meat, and other ingredients are wrapped in beancurd sheets and then steamed and deep-fried or air-fried. Such a treat to eat.


These popular Teochew prawn rolls are called hei zho/hae zhor in Singapore and Malaysia. In Indonesia, we call this he kian in Hokkian (he means prawns and kian means rolls) and hekeng udang in Bahasa.
My mom is a Teochew and I grew up with the version of hei zho that is not wrapped in beancurd sheets. The filling is simply rolled into round balls and then deep-fried. So they are prawn balls instead of prawn rolls
The difference between Hei Zho and Ngor Hiang
They are very similar if you ask me. Ngor hiang (bak kien in Indonesia) has a stronger five-spice powder aroma, mainly filled with minced meat along with other ingredients. Hei zho has a higher proportion of prawns than meat and the five-spice powder is there but not the dominant flavor here.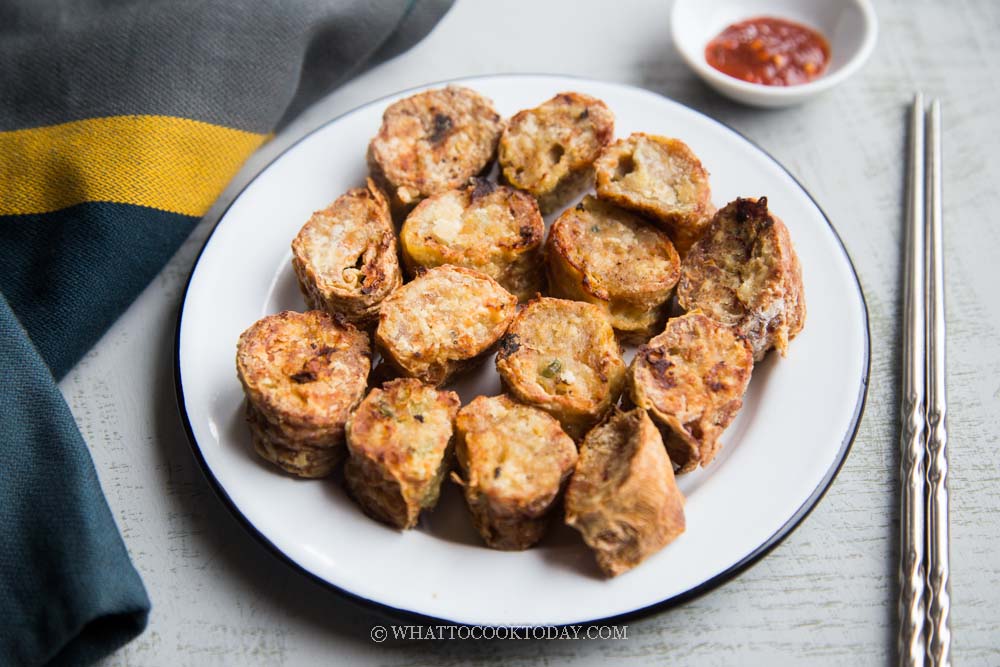 How to make hei zho from scratch
1. Mix all ingredients for the filling with the seasonings. Stir in one direction into a sticky paste consistency. We can't taste the raw filling here. You can microwave a tiny amount to have a taste or boil a tiny portion for you to taste. Adjust seasoning to your taste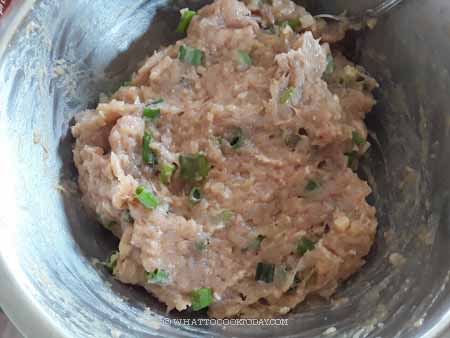 2. Rub the beancurd sheets with a damp cloth to get rid of excess salt. Cut the dried beancurd sheets into about 15 x 15 cm (smaller or bigger is up to you what size you want) or big enough to wrap the filling
Spread the filling on the lower half of the wrapper.


3. Fold both sides in and then fold the bottom over and roll all the way up or fold the bottom up and then fold both sides in and roll up. There's no right or wrong here. Seal with a bit of egg white towards the end. This is necessary if you deep fry the roll so they won't open up during frying. For air frying, you don't need to seal. Repeat with the rest of the filling and bean curd sheets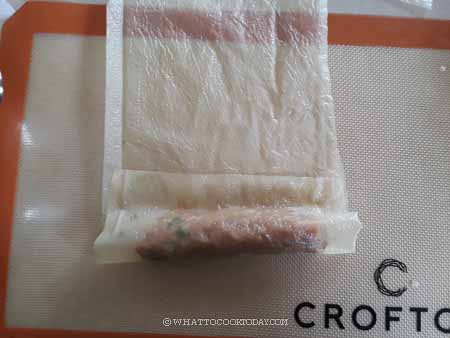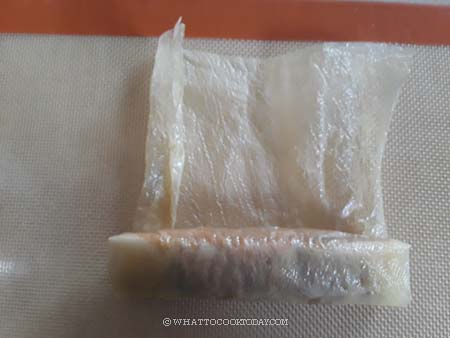 4. Once you have all the prawn rolls ready for steaming, lightly oil the steaming dish. Place them on a steaming dish, seam sides down and not touching each other so they won't stick after steaming. Steam for 10 minutes on medium heat or until the filling is cooked through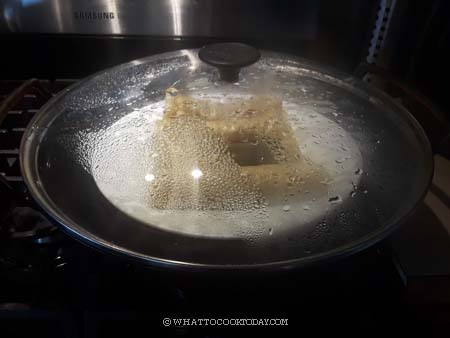 5. Let them cool completely on a cooling rack before deep-frying. It is important to let them cool down before deep frying or air frying. You can prepare ahead up to this point and fry them whenever you want to serve them. Cut each roll into about 1-inch slices


6. I air fried mine instead of deep frying. Mix 1 Tbsp of rice flour with 2 Tbsp of oil to form a slightly runny paste. Simply brush this on both sides of the rolls. Place on the air fryer basket and air fry at 350 F (180 C) for 10-15 minutes. The time is just for a reference. Check in between cooking and flip them over as needed and cook until crispy and golden brown

Air Frying vs Deep Frying
The deep-fried version has nice even golden brown color. The air-fried version of hei zho is not as even in color compared to the deep-fried version, but they are both equally crispy
Did you make this Teochew hei zho recipe?
I love it when you guys snap a photo and tag to show me what you've made 🙂 Simply tag me @WhatToCookToday #WhatToCookToday on Instagram and I'll be sure to stop by and take a peek for real!

Hei Zho / Hae Zhor / Hekeng Udang (Teochew Crispy Prawn Rolls)
Ingredients
For filling:
600

gr

shrimp

300

gr

ground pork

about 80% lean

200

gr

shallots

3

cloves

garlic

200

gr

water chestnuts

finely chopped

1

stalk

green onion

finely chopped

1

large

egg

about 58-60 grams with a shell

1

Tbsp

cornstarch
For wrapping:
50

gr

dried beancurd sheets

or more as needed

1

egg white
Instructions
Prepare the filling:
Mix all ingredients for the filling with the seasonings. Stir in one direction into a sticky paste consistency

We can't taste the raw filling here. You can microwave a tiny amount to have a taste or boil a tiny portion for you to taste. Adjust seasoning to your taste
Wrapping:
Bring the water in a steamer to a boil and then lower the heat to let it simmer while you are wrapping the hei zhor

Rub the beancurd sheets with a damp cloth to get rid of excess salt. Cut the dried beancurd sheets into about 15 x 15 cm (smaller or bigger is up to you what size you want) or big enough to wrap the filling

Spread the filling on the lower half of the wrapper. Fold both sides in and then fold the bottom over and roll all the way up. Seal with a bit of egg white towards the end. This is necessary if you deep fry the roll so they won't open up during frying. For air frying, you don't need to seal. Repeat with the rest of the filling and bean curd sheets
Steaming:
Once you have all the prawn rolls ready for steaming, lightly oil the steaming dish. Place them on a steaming dish, seam sides down and not touching each other so they won't stick after steaming. Steam for 10 minutes on medium heat or until the filling is cooked through

Let them cool completely on a cooling rack before deep-frying. It is important to let them cool down before deep frying or air frying. You can prepare ahead up to this point and fry them whenever you want to serve them
If you choose to deep fry:
Cut each roll into about 1-inch slices and lightly coat them with some rice flour and then shake off any excess flour

Preheat about 2 inches of oil. When you dip a skewer or chopstick in the oil, it bubbles around it, the oil is ready

Carefully lower the prawn roll pieces into the oil and fry over medium heat until they are crispy and golden brown. Place on absorbent paper towel to drain off excess oil
If you choose to air fry:
Mix 1 Tbsp of rice flour with 2 Tbsp of oil to form a slightly runny paste. Simply brush this on both sides of the rolls. Place on the air fryer basket and air fry at 350 F (180 C) for 10-15 minutes. The time is just for a reference. Check in between cooking and flip them over as needed and cook until crispy and golden brown
Recommended products:
Nutrition
Calories:
222
kcal
|
Carbohydrates:
12
g
|
Protein:
20
g
|
Fat:
11
g
|
Saturated Fat:
3
g
|
Trans Fat:
1
g
|
Cholesterol:
173
mg
|
Sodium:
1016
mg
|
Potassium:
253
mg
|
Fiber:
2
g
|
Sugar:
3
g
|
Vitamin A:
16
IU
|
Vitamin C:
6
mg
|
Calcium:
116
mg
|
Iron:
2
mg