Soft, chewy, and stretchy mochi bread infused with mashed purple sweet potato is easy to make and is naturally gluten-free and eggless. The recipe works great with regular sweet potatoes too. A video tutorial is available too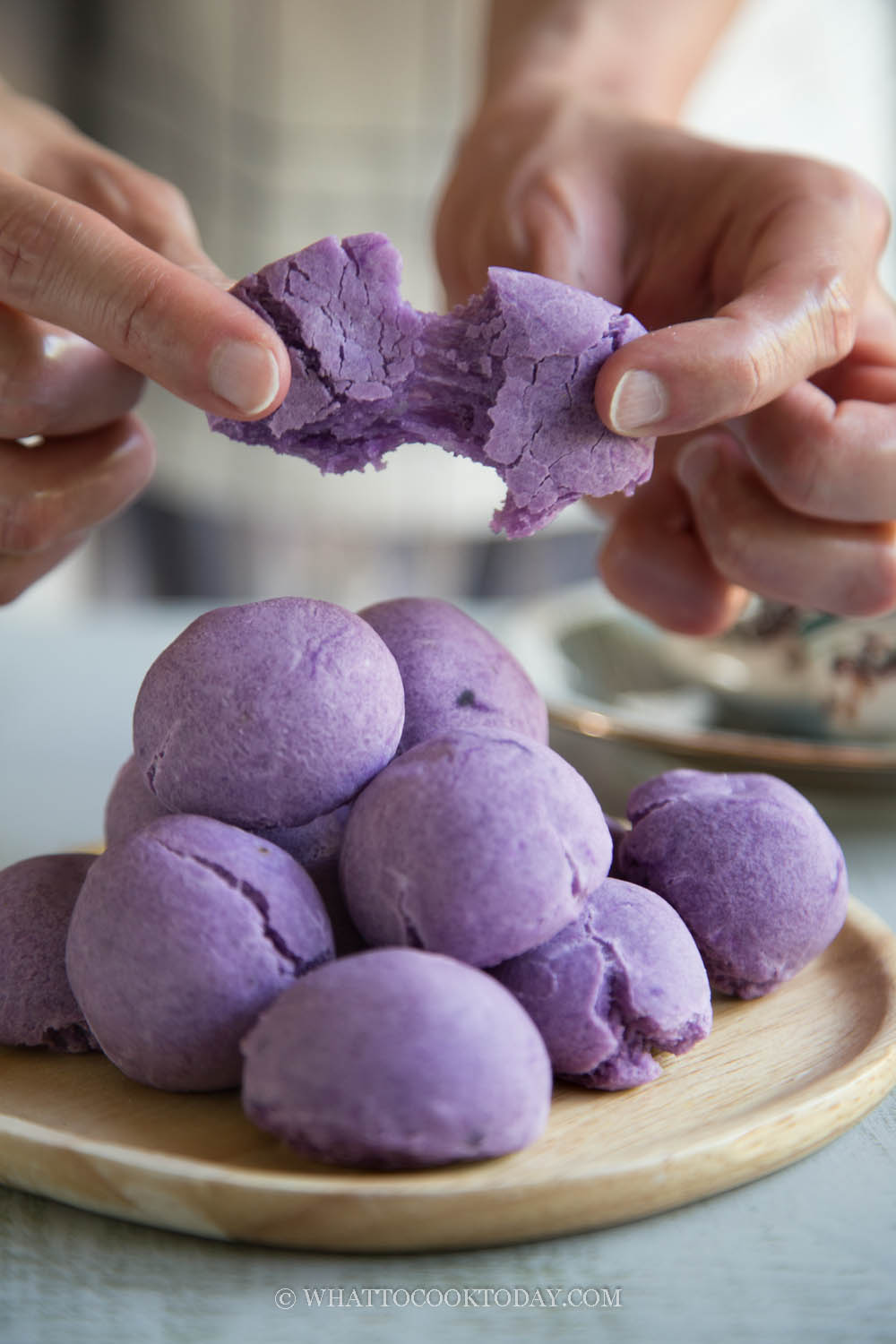 At this point in life, I think it's pretty safe to say that I'm pretty hooked with mini cheese mochi bread. It's all started with that recipe and since then I've made this purple sweet potato version and also the chocolate mochi bread loaf. With the shortages of yeast and also wheat flour (if you are still experiencing that problem), it's great to use alternative flour like glutinous rice flour and tapioca starch/flour, which also happen to be gluten-free.
TYPE OF SWEET POTATOES TO USE
I have used Stokes purple sweet potatoes and also ube (Filipino yam). You can also regular orange color sweet potatoes .
HOW TO MAKE NO-YEAST EGGLESS PURPLE SWEET POTATO MOCHI BREAD
1. COOK THE SWEET POTATO
You will need about 1 medium-large sweet potato. Peel the skin and cut into smaller pieces. If you have a pressure cooker like Instant Pot, place the sweet potato in a steamer basket. Pour 1 cup of water into a pot and put the steamer basket on top of a trivet. Pressure cook on high for 2 minutes. Release pressure immediately and mash the sweet potatoes while they are warm. You can also use a steamer and steam on the stove on high heat for 10 minutes or until they are fork-tender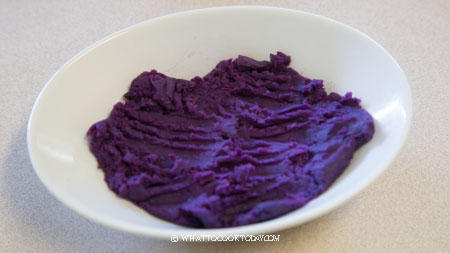 2. PREPARE THE DOUGH
Put the milk and butter in a saucepan. Simmer until the butter melts and then bring to a point of boiling and then turn off immediately
Immediately sift in tapioca flour, glutinous rice flour, baking powder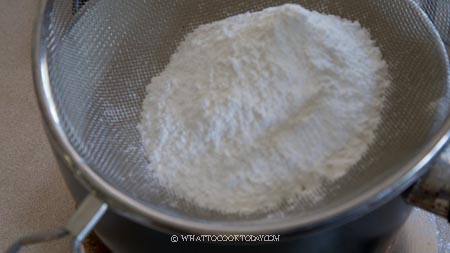 Then add mashed purple sweet potatoes, sugar, and ube extract (if using). Use a spatula to stir and combine into a rough dough and then use your hands to knead into a dough. It should be slightly sticky dough. Please watch the video for how the dough supposed to be. This is important to achieve that soft, chewy, and stretchy texture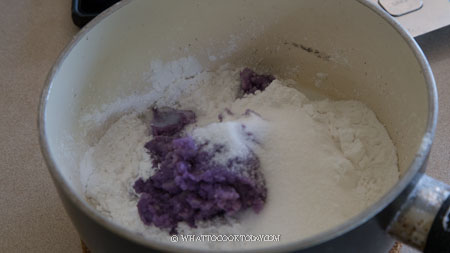 3. SHAPING
Preheat oven to 350 F and line baking sheet with parchment paper or silicon mat. Divide the dough into 16 equal pieces for mini size or 12-14 for slightly larger size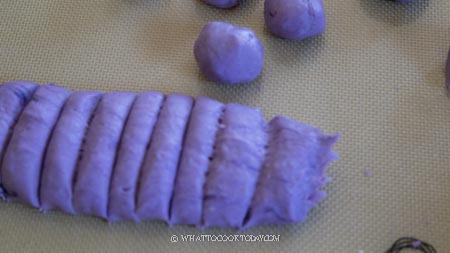 Roll them into round balls. Place on the baking sheet about at least 1-inch apart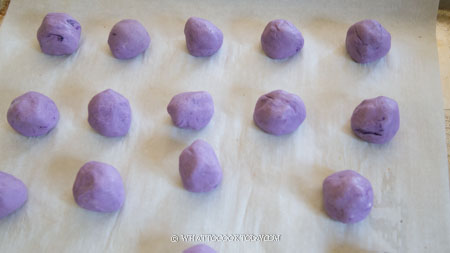 4. BAKING
Place baking sheet in the middle rack and bake for about 20 minutes until the bottom is slightly golden brown. Some of the bread may crack a little as it rises, that's normal. If too many cracks, it means the dough is too dry, and next round you need to add a bit more liquid to the dough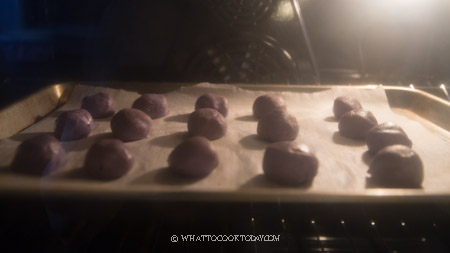 Remove from the oven and let stand for about 5 minutes and then transfer to cooling rack to let them cool down completely. They are best eaten when fresh. Once cooled down, the inside remains moist and stretchy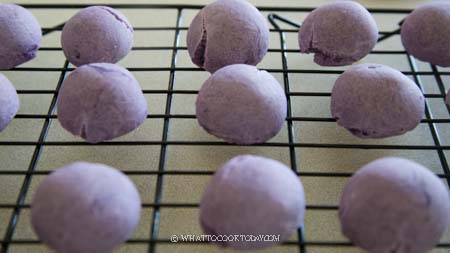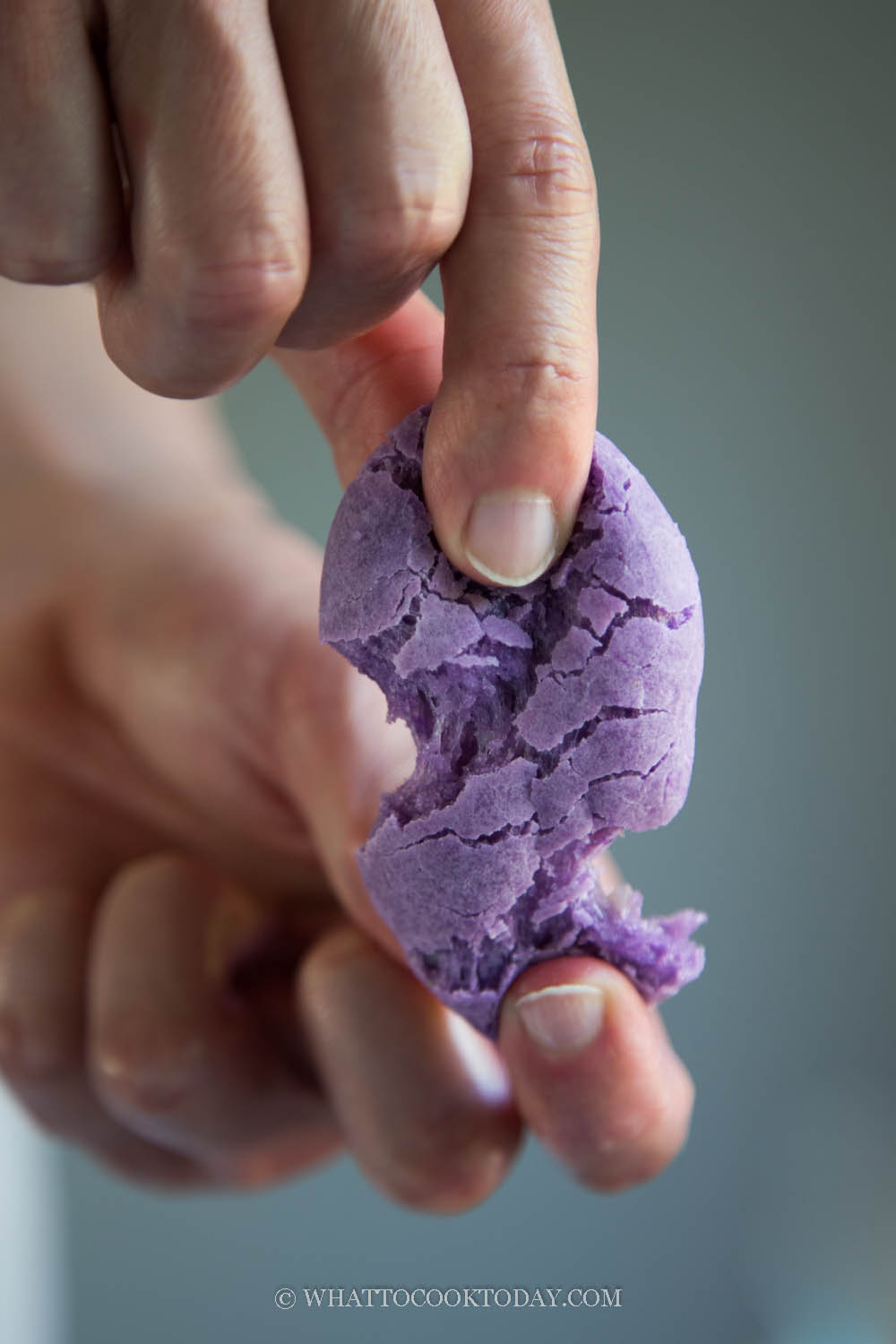 TIPS YOU NEED TO KNOW
1. If you get a nice dough ball without sticking to your fingers, your mochi bread will not turn out stretchy and it will be dry and starchy tasting. If this is the case, you want to add a bit more milk, teaspoon by teaspoon until you get a dough that is slightly wet but not too bad to the point that it sticks to your fingers all over. If the dough is overly wet, you can add a bit more glutinous rice flour, teaspoon by teaspoon until it's not too wet and workable
3. The wet sticky dough will ensure your end product won't be dry and hard
4. I recommend adding ube extract (purple in color), or purple sweet potato powder if you have any. Some purple sweet potatoes may change color because of acid/base balance. So by adding food coloring/extract, the color changes won't show in the end product
WILL MOCHI BREAD STAYS SOFT FOR DAYS?
No, they won't. They taste the best the same day you make them. They will stretch the most when they are warm. The next day, they would harden, typical of gluten-free bread. You can warm them up in a preheated oven/toaster oven or air-fryer at 350 F for 5-8 minutes and they will back to that slightly crisp outside, soft and stretchy texture again on the inside.

DID YOU MAKE THIS EASY NO-YEAST PURPLE SWEET POTATO MOCHI BREAD RECIPE?
I love it when you guys snap a photo and tag to show me what you've made 🙂 Simply tag me @WhatToCookToday #WhatToCookToday on Instagram and I'll be sure to stop by and take a peek for real!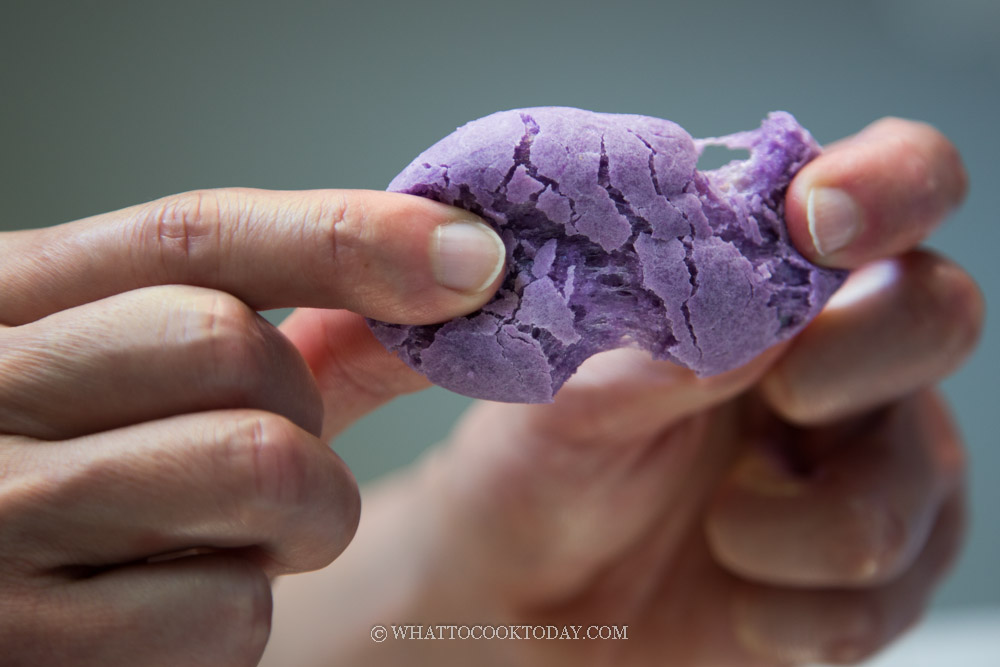 OTHER MOCHI BREAD RECIPES YOU MIGHT LIKE:
*Latest update June 2, 2020: I have worked on this recipe for months trying to improve the texture and to make it really stretchy. I decided to replace the older version with this improved one, which is WAYYY better, like seriously better! The dough is way stickier but that's your assurance right there that the mochi bread will be ultra-soft and stretchy! Not to mention I managed to make it eggless too LOL! I'm happy*
Recipe is adapted from here with some modifications.

Easy No-Yeast Purple Sweet Potato Mochi Bread (Eggless)
Ingredients
Food coloring (use one of the following):
¼

tsp

ube extract

5

gr

purple yam powder

Few

drops

purple food coloring
Instructions
Cook the sweet potato:
You will need about 1 medium-large sweet potato. Peel the skin and cut into smaller pieces. If you have a pressure cooker like Instant Pot, place the sweet potato in a steamer basket. Pour 1 cup of water into a pot and put the steamer basket on top of a trivet. Pressure cook on high for 2 minutes. Release pressure immediately and mash the sweet potatoes while they are warm. You can also use a steamer and steam on the stove on high heat for 10 minutes or until they are fork-tender
Prepare the dough:
Put the milk and butter in a saucepan. Simmer until the butter melts and then bring to a point of boiling and then turn off immediately

Immediately sift in tapioca flour, glutinous rice flour, baking powder. Then add mashed purple sweet potatoes, sugar, and ube extract/food coloring (if using). Use a spatula to stir and combine into a rough dough and then use your hands to knead into a dough. It should be slightly sticky dough. Please watch the video for how the dough supposed to be. This is important to achieve that soft, chewy, and stretchy texture

If you get a nice dough ball without sticking to your fingers, your mochi bread will not turn out stretchy and it will be dry and starchy tasting. If this is the case, you want to add a bit more milk, teaspoon by teaspoon until you get a dough that is slightly wet but not too bad to the point that it sticks to your fingers all over. If the dough is overly wet, you can add a bit more glutinous rice flour, teaspoon by teaspoon until it's not too wet and workable
Shaping:
Preheat oven to 350 F and line baking sheet with parchment paper or silicon mat. Divide the dough into 16 equal pieces for mini size or 12-14 for slightly larger size and roll them into round balls.  Place on the baking sheet about at least 1-inch apart
Baking:
Place baking sheet in the middle rack and bake for about 20 minutes until the bottom is slightly golden brown. Some of the breads may crack a little as it rises, that's normal. If too many cracks, it means the dough is too dry and next round you need to add a bit more liquid to the dough

Remove from the oven and let stand for about 5 minutes and then transfer to cooling rack to let them cool down completely. They are best eaten when fresh and stretchy when they are freshly baked. Once cooled down, they will start to harden but if you warm it up again, it will be soft again
Storage and reheating:
Store them in an air-tight container at room temperature for up to 2-3 days (they don't last that long at our house). Wrap them in plastic wrap and then freeze if you want to store them longer. Thaw in the refrigerator before reheating

To reheat in oven or toaster oven, spray with some mist of water and then wrap them in aluminum foil and then bake at 350 for 5 minutes. To reheat in microwave, cover the bread with some moist clean kitchen towel or paper towel and heat for about 1 minute or less
Notes
You can also use regular sweet potatoes. I used fresh purple sweet potatoes and regular sweet potatoes, but you can also use canned sweet potatoes if they are available. Drain the liquid but save about 3-4 Tbsp in case you need it when you make the dough
Recommended products: