Super Easy No-Yeast Mini Cheddar Mochi Bread – Learn how to make one of the easiest gluten-free, crusty on the outside, soft and chewy on the inside mochi bread. This is truly fuss-free recipe and a big hit in our house.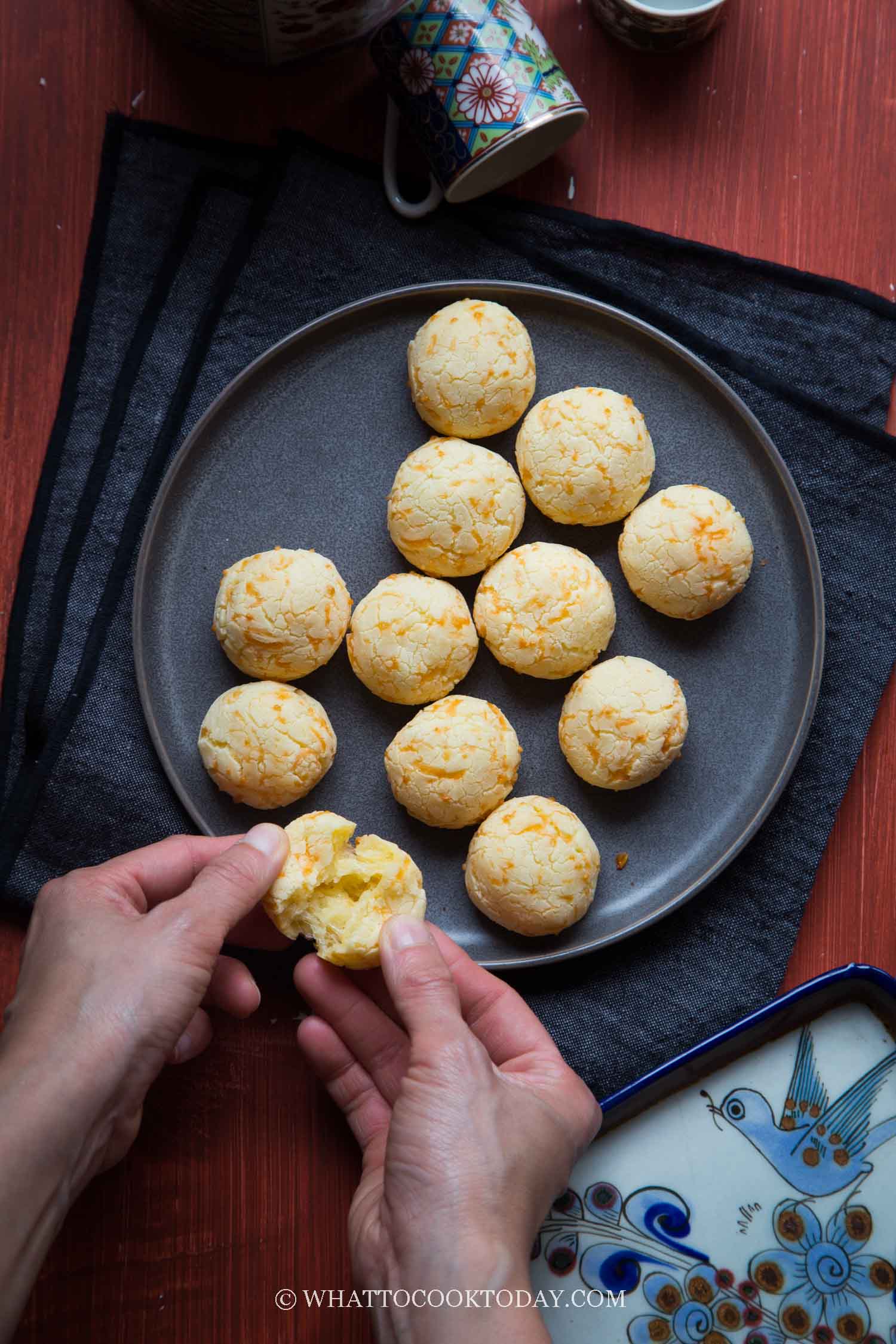 Okay people..let's talk mochi bread! This mini cheese mochi bread is our new favorite. It's funny that I've been using glutinous rice flour (sticky rice flour), or the equivalent of mochiko flour in Japan, pretty much for the past 8 years of my cooking/baking journey, but I had never known about this mochi bread until recently. But they say better late than never! The kids popping these cute mini cheddar mochi bread inside their mouths like no others' business. One batch of this recipe wasn't enough!
WHAT IS MOCHI BREAD?
You probably heard of the Japanese mochi, made of mochiko flour or what we call glutinous rice flour. It is sticky, chewy, and elastic in nature when cooked. Mochi bread is made with the same type of flour, which contributes to its chewy texture. It is completely gluten-free for this recipe because I did not use any wheat flour. There is a little bit of tapioca flour, which also contributes to the overall soft and chewy texture. They are also similar bread calls Pão de Queijo (Brazilian Cheese Bread). Brazilian cheese bread is mainly made with tapioca/cassava flour which results in pretty similar texture and look.

WHAT IS GLUTINOUS RICE FLOUR?
Glutinous rice flour is basically made of sticky rice/sweet rice/glutinous rice. Once heated, it will turn sticky and elastic. It is naturally gluten-free. This is the glutinous rice flour I usually use for all the recipes that call for glutinous rice flour, unless otherwise stated. You can also use the Japanese mochiko flour for this recipe.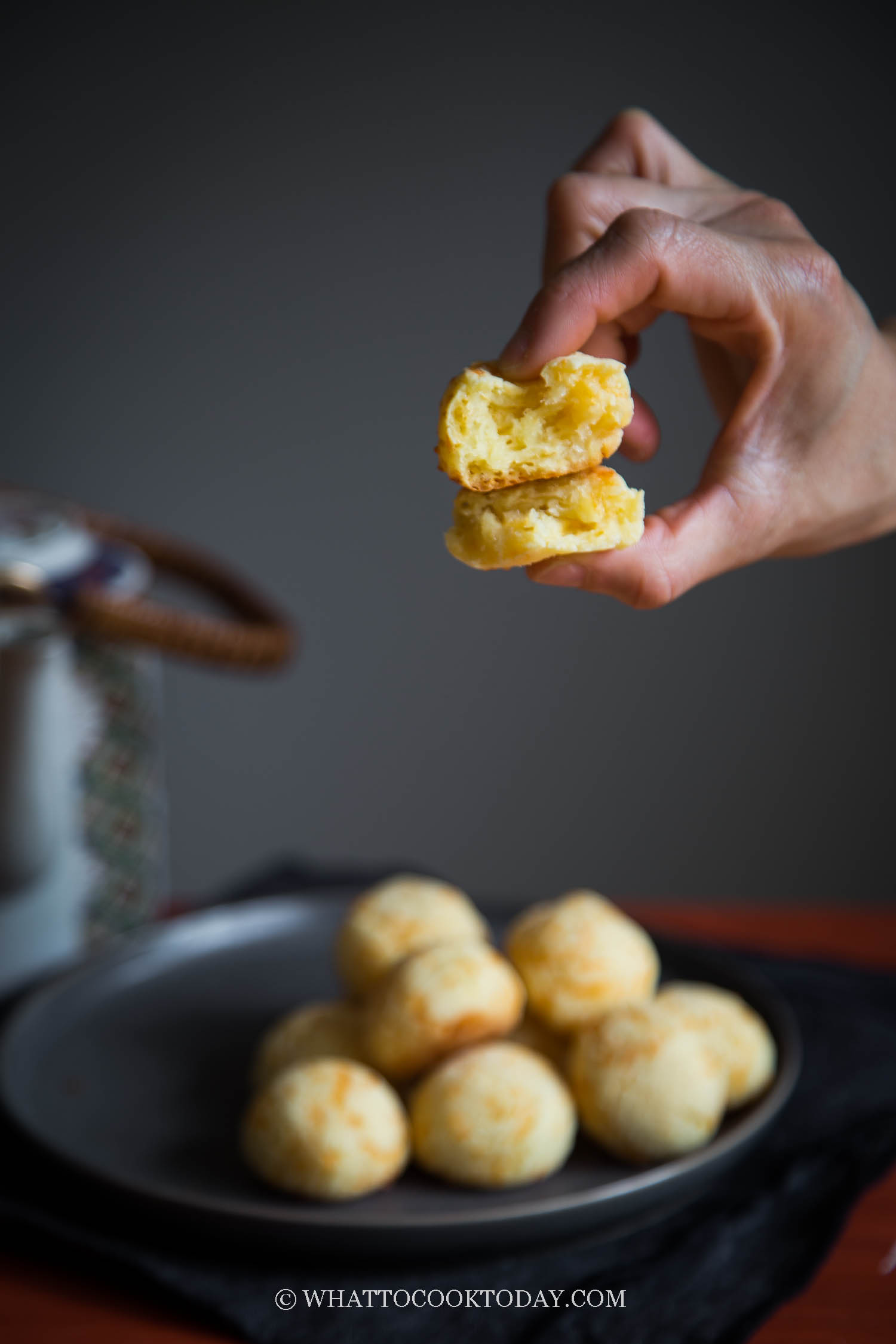 HOW TO STORE AND REHEAT MOCHI BREAD
Like other breads, mochi bread tastes best when it's fresh. If you make a big batch and try not to eat all of them at once, here's how:
STORING – After the cool down completely, store them in an air-tight container at room temperature for up to 2-3 days (they don't last that long at our house). Wrap them in plastic wrap and then freeze if you want to store them longer. Thaw in the refrigerator before reheating
REHEATING – To reheat in oven or toaster oven, spray with some mist of water and then wrap them in aluminum foil and then bake at 350 for 5 minutes. To reheat in the microwave, cover the bread with some moist clean kitchen towel or paper towel and heat for about 1 minute or less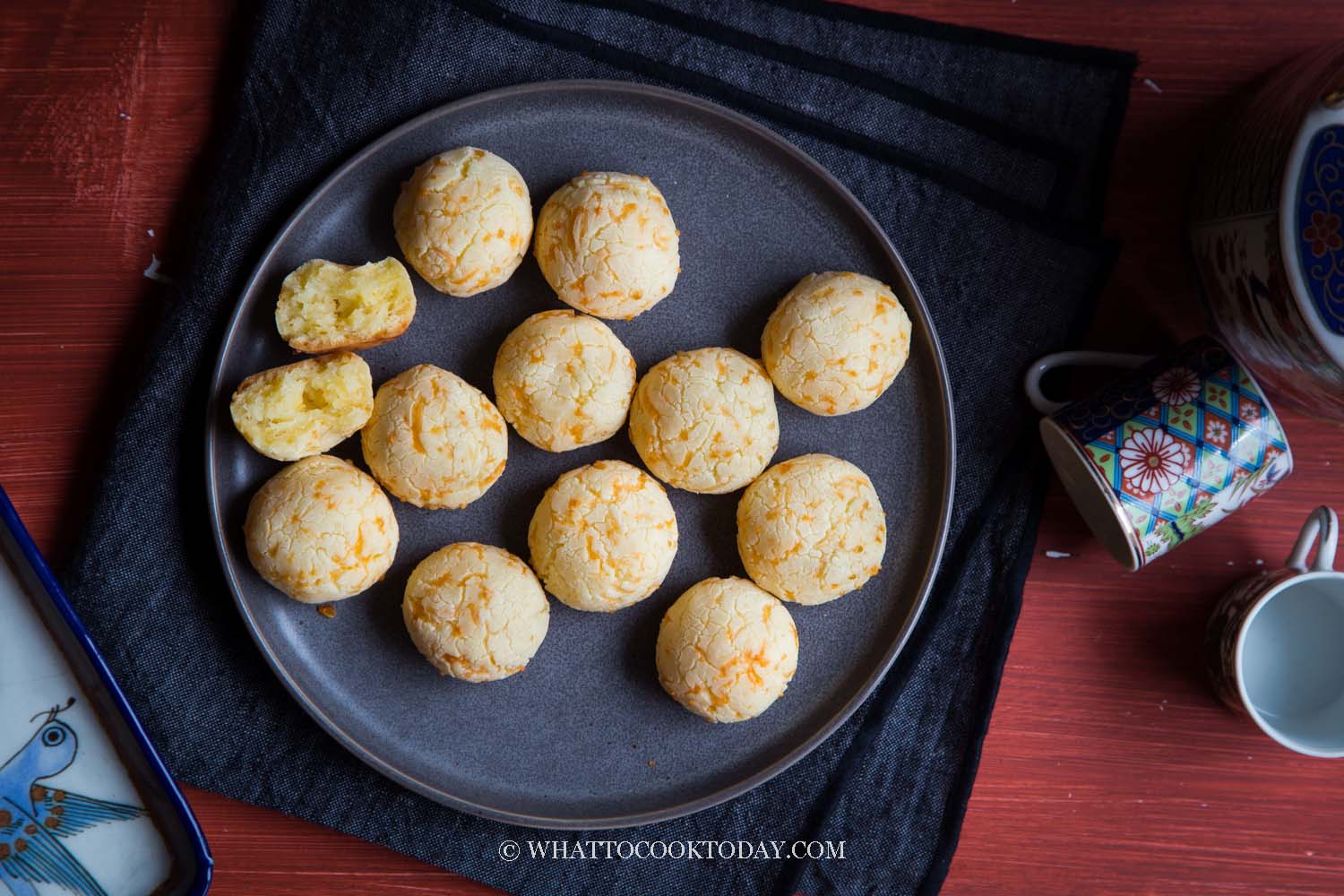 This super easy mini cheddar mochi bread is seriously super easy to make. No kneading, no waiting time, no rising, and no yeast! They are perfect as snacks or appetizers.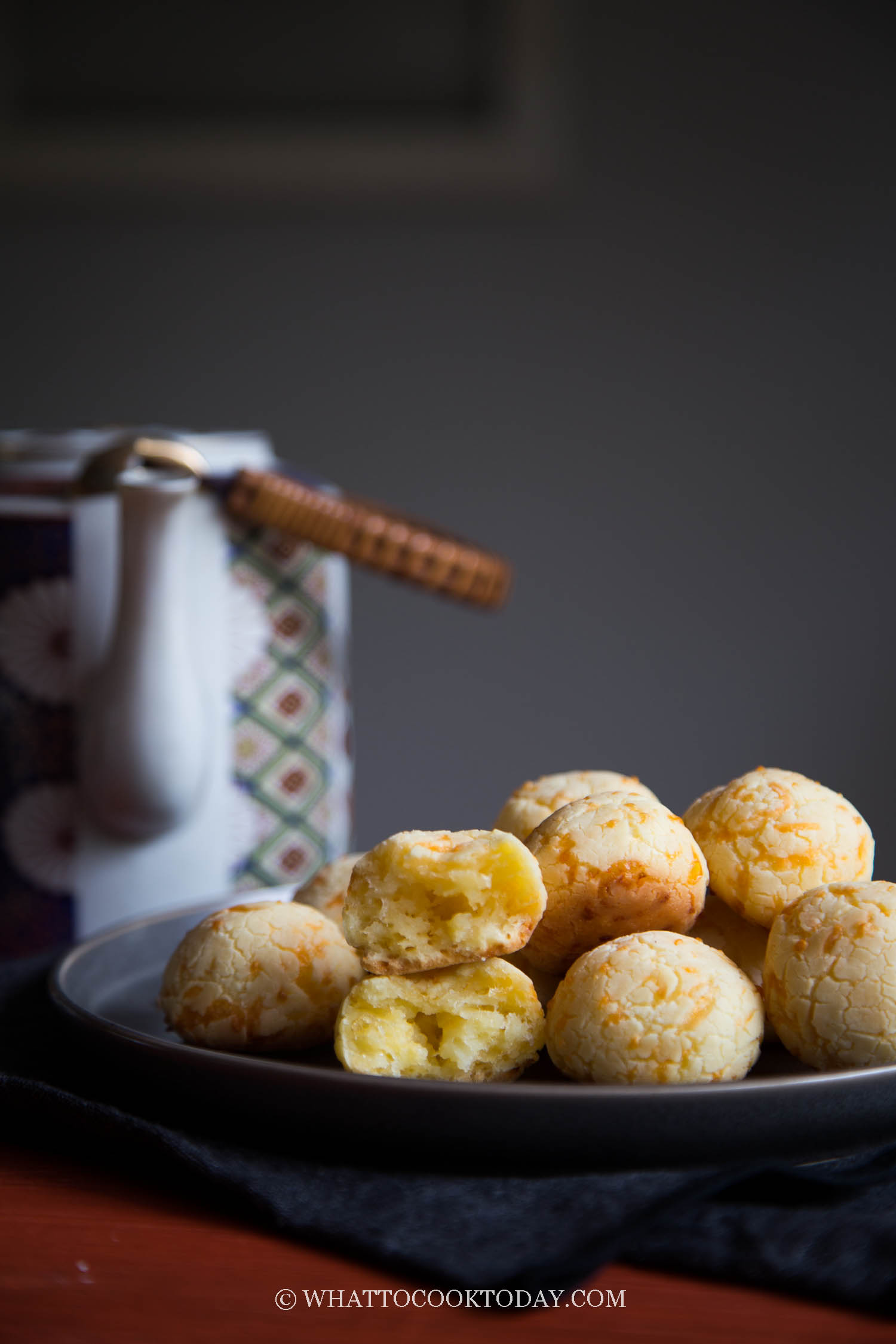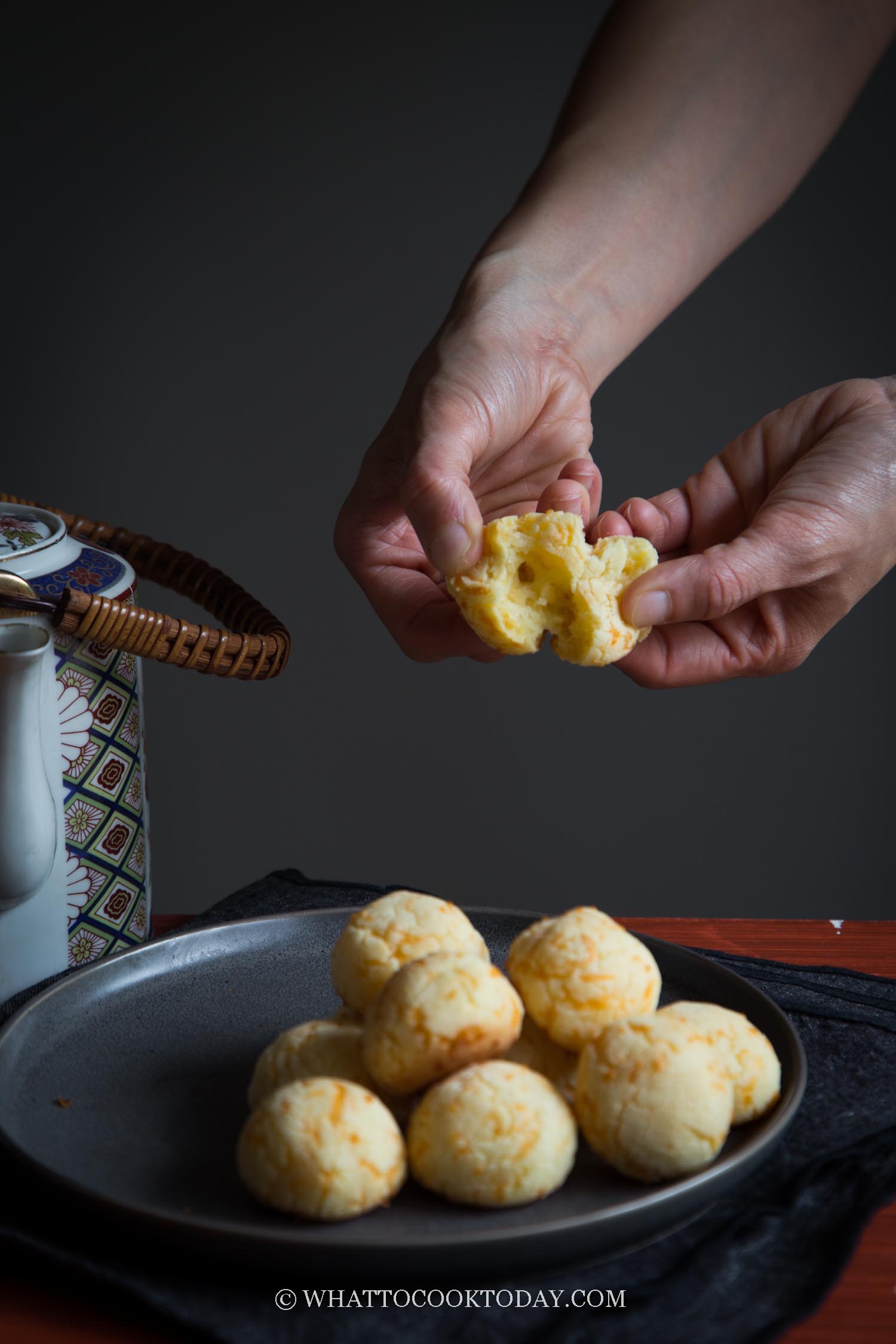 Recipe is adapted from here
Super Easy No-Yeast Mini Cheddar Mochi Bread
Ingredients
Wet ingredients:
1

large

egg

beaten

35

gr

melted butter / melted coconut oil

1/4 cup

60

ml

whole milk

4 Tbsp
Instructions
Prepare the dough:
Whisk all the dry ingredients together in a mixing bowl. In another mixing bowl, whisk together the wet ingredients. Gradually fold in the dry ingredients until you can form a dough. It will be slightly sticky to touch but you should be able to form a dough
Shaping:
Preheat oven to 350 F and line baking sheet with parchment paper or silicon mat. Divide the dough into 12 equal pieces and roll into roughly about 1.5 inch size smooth ball. Place on the baking sheet about at least 1-inch apart
Baking:
Spray some mist of water on top of the ball and place in the oven, 3rd rack from the top and bake for about 25 minutes (about 30 minutes in my oven) until the bread is crusty on the outside, but soft and no longer wet inside. If you make a larger piece, you may need to bake it for 40 minutes or until tooth pick inserted in the middle comes out clean

Remove from the oven and let stand for about 5 minutes and then transfer to cooling rack to let them cool down completely. They are best eaten when fresh. Once cooled down, the inside remains moist and the crust is a bit harder, but still taste great
Storage and reheating:
Store them in an air-tight container at room temperature for up to 2-3 days (they don't last that long at our house). Wrap them in plastic wrap and then freeze if you want to store them longer. Thaw in the refrigerator before reheating

To reheat in oven or toaster oven, spray with some mist of water and then wrap them in aluminum foil and then bake at 350 for 5 minutes. To reheat in microwave, cover the bread with some moist clean kitchen towel or paper towel and heat for about 1 minute or less
YOU MAY ALSO LIKE THESE
EASY NO-YEAST GLUTEN-FREE ARTISAN MOCHI BREAD


EASY SWEET RED BEAN MOCHI WAFFLES