Asian-Style Spiralized Sweet Potato Noodle Stir-fry – Healthy and nutritious spiralized sweet potato noodle are stir-fried with veggies, shrimp, and Asian sauce. They taste AWESOME!
A Spiralizer has really changed my life! I'm a HUGE noodle freak exists on this planet earth. When it comes to noodle stir-fry, let's face it, you can't just eat 2-3 bites! (At least I can't!). Some days I do go all out and nobody's counting the carb! But there are days that I'm a bit more carb-conscious and trying to cut down on them. Here's where spiralizer comes in!

WHAT IS IT ABOUT SPIRALIZER AND WHY I LIKE IT
The spiralizer can pretty much spiralize many things, just to name several of them like zucchini, carrots, sweet potatoes, beets, apple, cucumber, potato, and many other root vegetables. No, they don't make the dish tastes like noodles. But you know, the visual of it. It makes eating veggies so much more fun. It makes eating low carb "noodles" pretty "realistic". It fills me up with quarter of the guilt compares to eating carb-loaded regular noodles made of wheat, rice, or tapioca flour.
WHAT IF I DON'T OWN A SPIRALIZER
Lately, many companies have launched their spiralized veggies. They are good ones too without preservatives or any additives. They are frozen and cooked easily too. So, no excuse really LOL!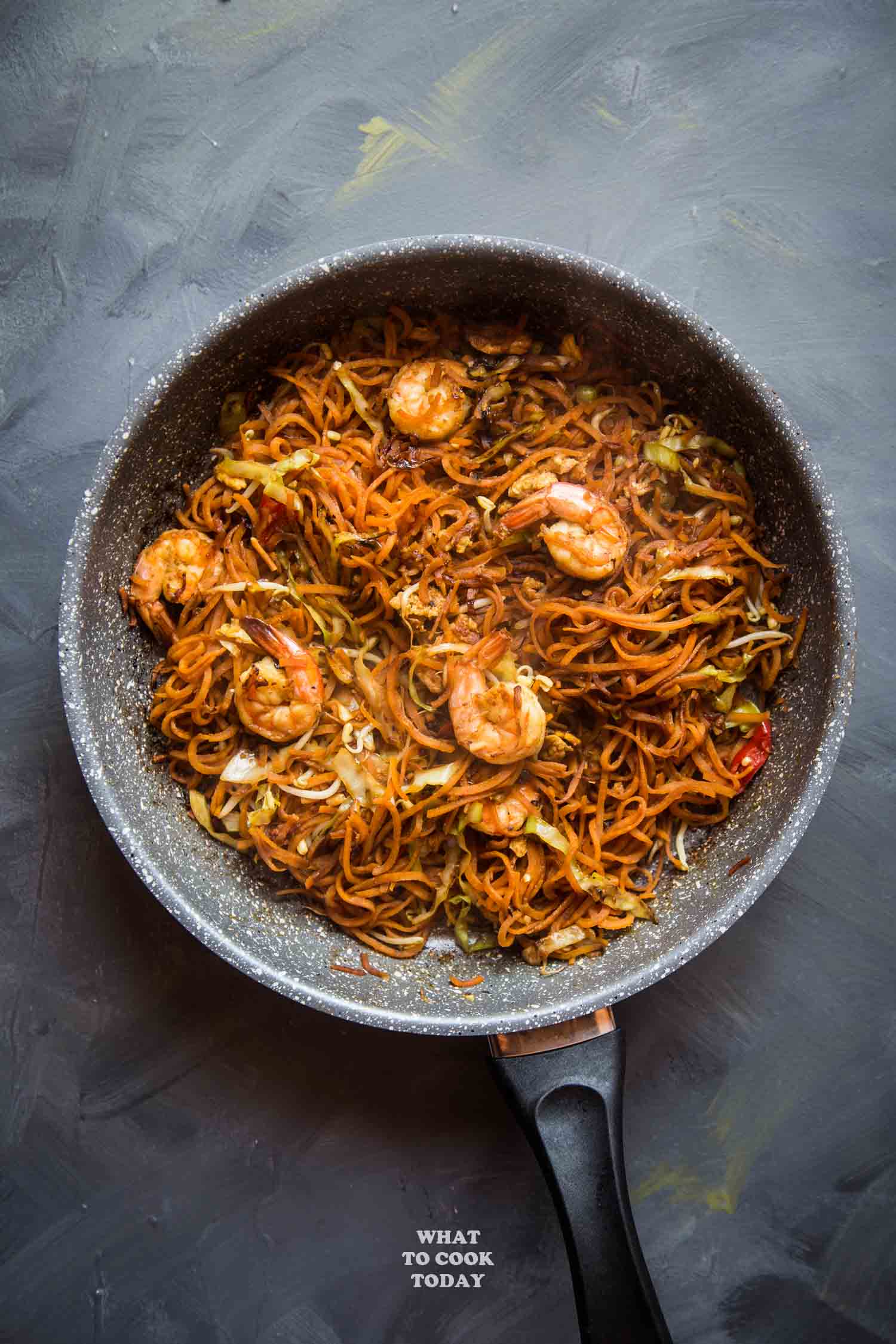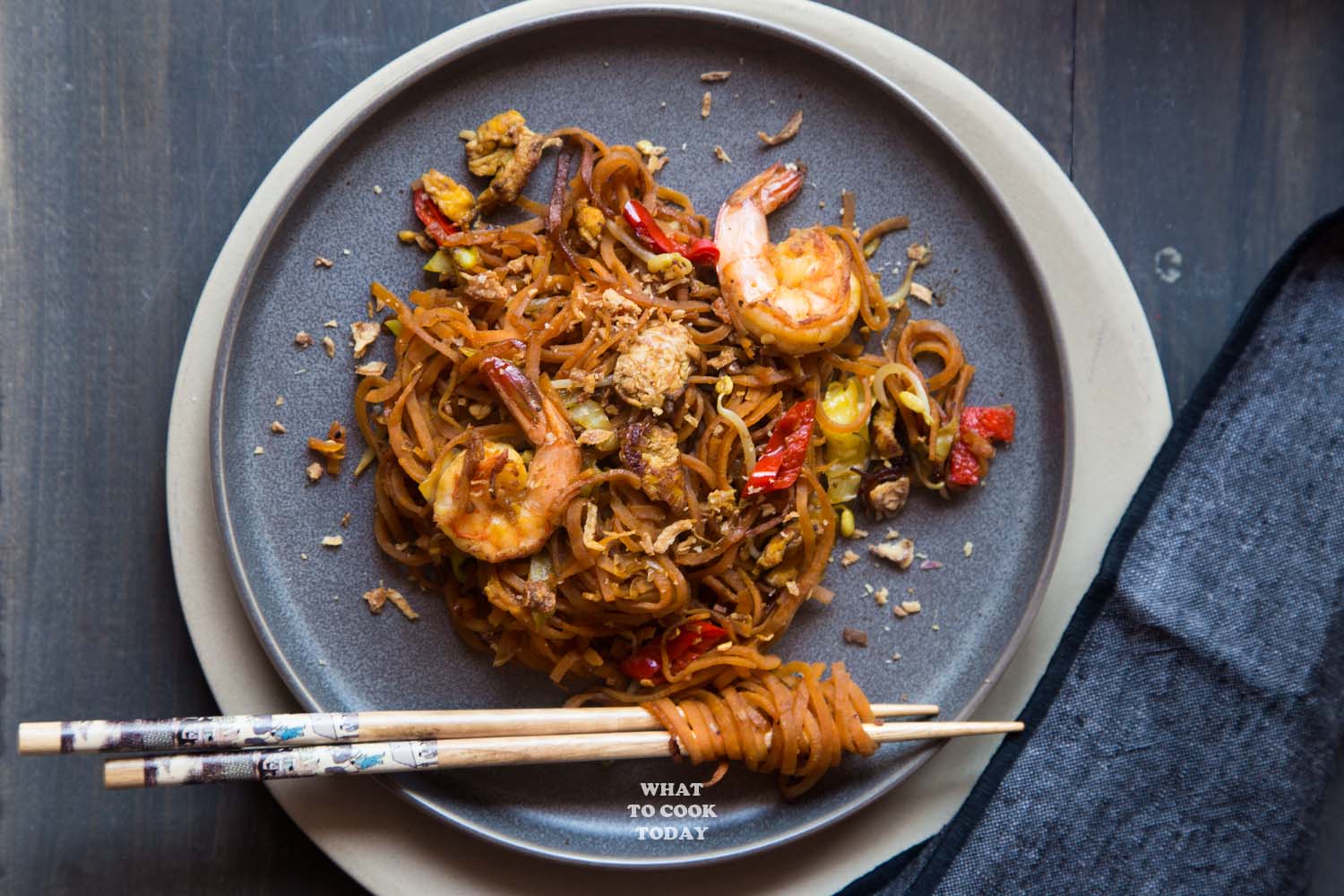 TIPS ON HOW TO MAKE GOOD ASIAN-STYLE SPIRALIZED SWEET POTATO NOODLE STIR-FRY
1. Prepare ahead
You can cut the chicken, shell the shrimp, chop the garlic, shred the cabbage, and spiralize the sweet potatoes (if not using store-bought) one day ahead.
2. Do not overcook the protein
If you look at the recipe, I like to cook the protein first and then dish out. Everything still cooks in one skillet/wok, but by doing this, I won't be overcooking or undercooking the chicken and shrimp, because both do not cook at the same time.
3. Enough of heat
Never do a stir-fry on a cold skillet/wok. Your stir-fry will be absorbing too much oil and flavor will not develop much. It's going to look and taste SAD!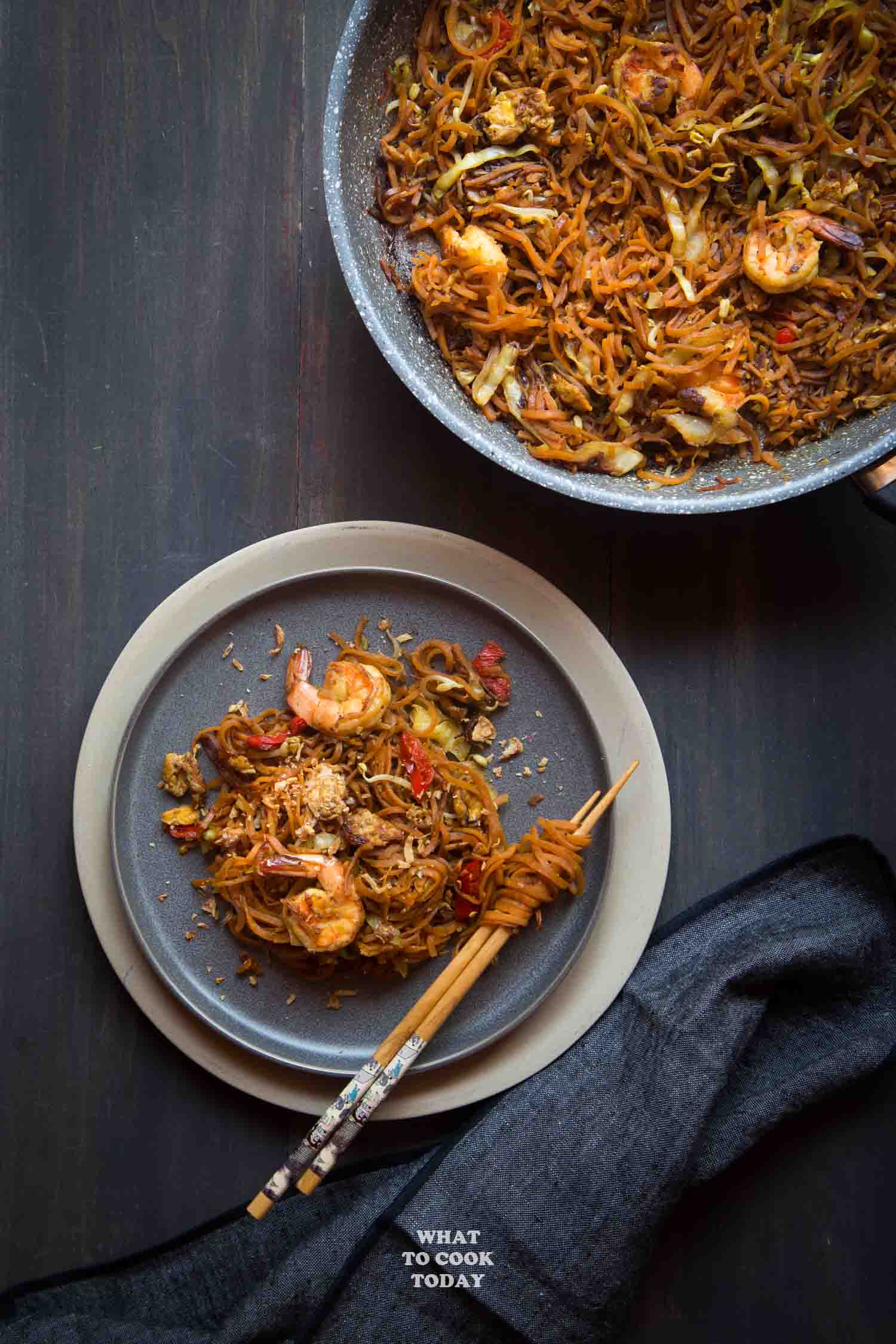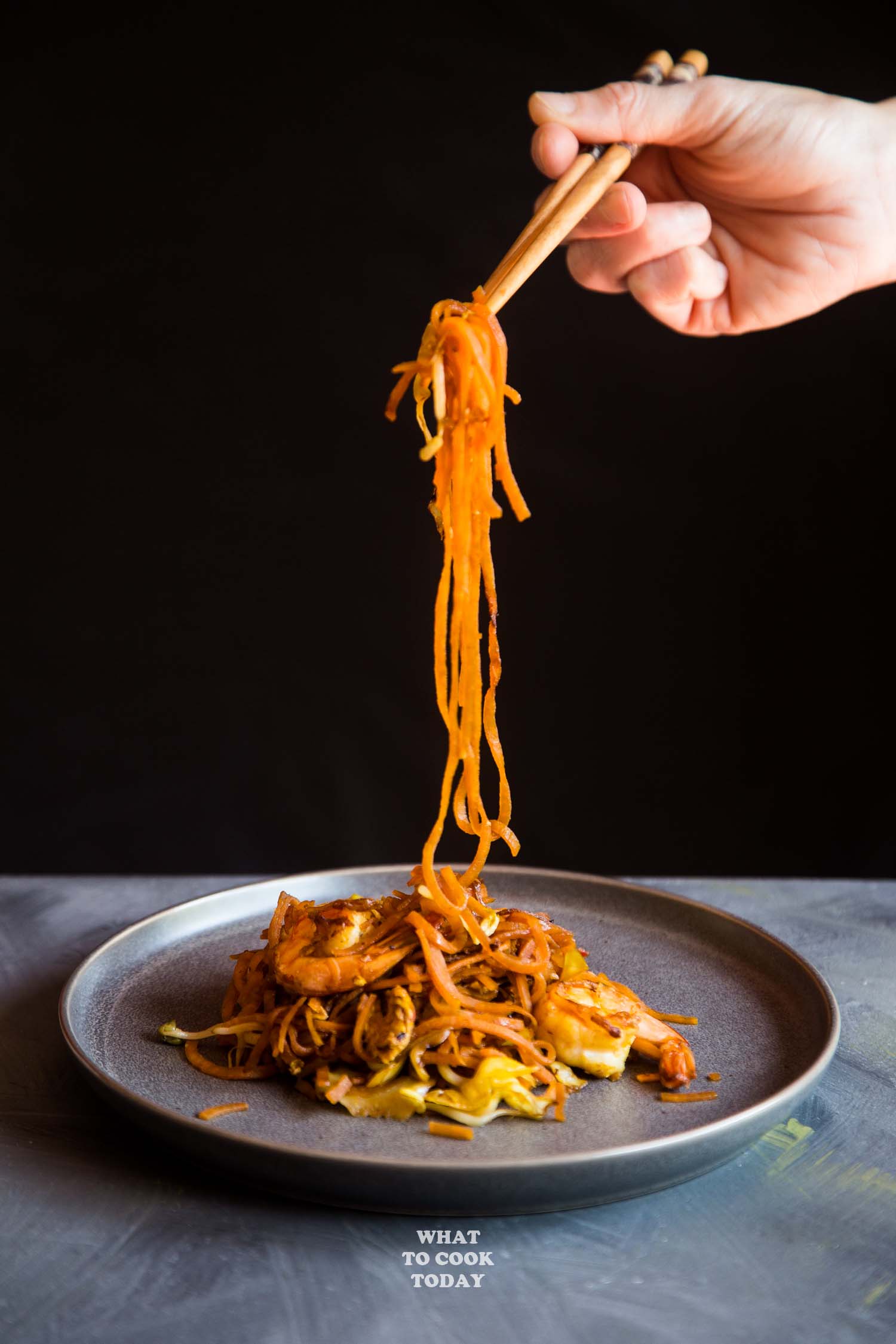 Asian-Style Spiralized Sweet Potato Noodle Stir-fry
Ingredients
24

-30 oz spiralized sweet potatoes

2 ½

Tbsp

cooking oil

divided
Protein:
1

boneless skinless chicken thigh

or breast if you prefer, cut into thin strips

6

oz

large shrimp

peeled and deveined

2

large

eggs
Aromatics:
2

cloves

garlic

peeled and finely chopped
Veggies:
2

cups

shredded cabbage

2

cups

fresh mung bean sprouts

1

fresno

pepper

seeded and slice into rings, optional
Recommended tool:
Instructions
Preheat a large skillet or wok. Add 1 Tbsp cooking oil. Add chicken pieces and stir fry until they turn opaque and cooked through. Dish out to a serving platter along with its juice, if any. In a same skillet/wok, wipe it clean and bring it back up to heat, add 1/2 Tbsp of oil. Add shrimp and stir fry until the shrimp turn pink and cooked through. Dish out to the same platter where the chicken is

Wipe the skillet/wok clean again if necessary. Bring it back up to heat. Add the remaining cooking oil. Add garlic and stir fry for 10 seconds. Add shredded cabbage and stir fry until the cabbage is soft but still have a bit crunch. Push them to the side. Crack in eggs in the middle and let it cook for about 15 seconds undisturbed and then scrambled lightly with spatula. Add spiralized sweet potato, , Fresno peppers (if using), and bean sprouts. Cook for about 30 seconds. Add the chicken the shrimp back in along with seasonings. Stir fry to mix everything and cook for another 1 minute. The sweet potato noodles will be soft but not mushy

Serve immediately while warm
OTHER SPIRALIZED VEGGIES RECIPE YOU MIGHT LIKE: