This post was sponsored by Green Giant® as part of an Influencer Activation for Influence Central and all opinions expressed in my post are my own.
Pork Meatballs Veggie Spirals Salad – A lighter take on the classic Vietnamese Pork Meatballs Noodle Salad by swapping the noodles out with zucchini and carrots veggie spirals from Green Giant®. A delicious lower calories alternative to regular noodles.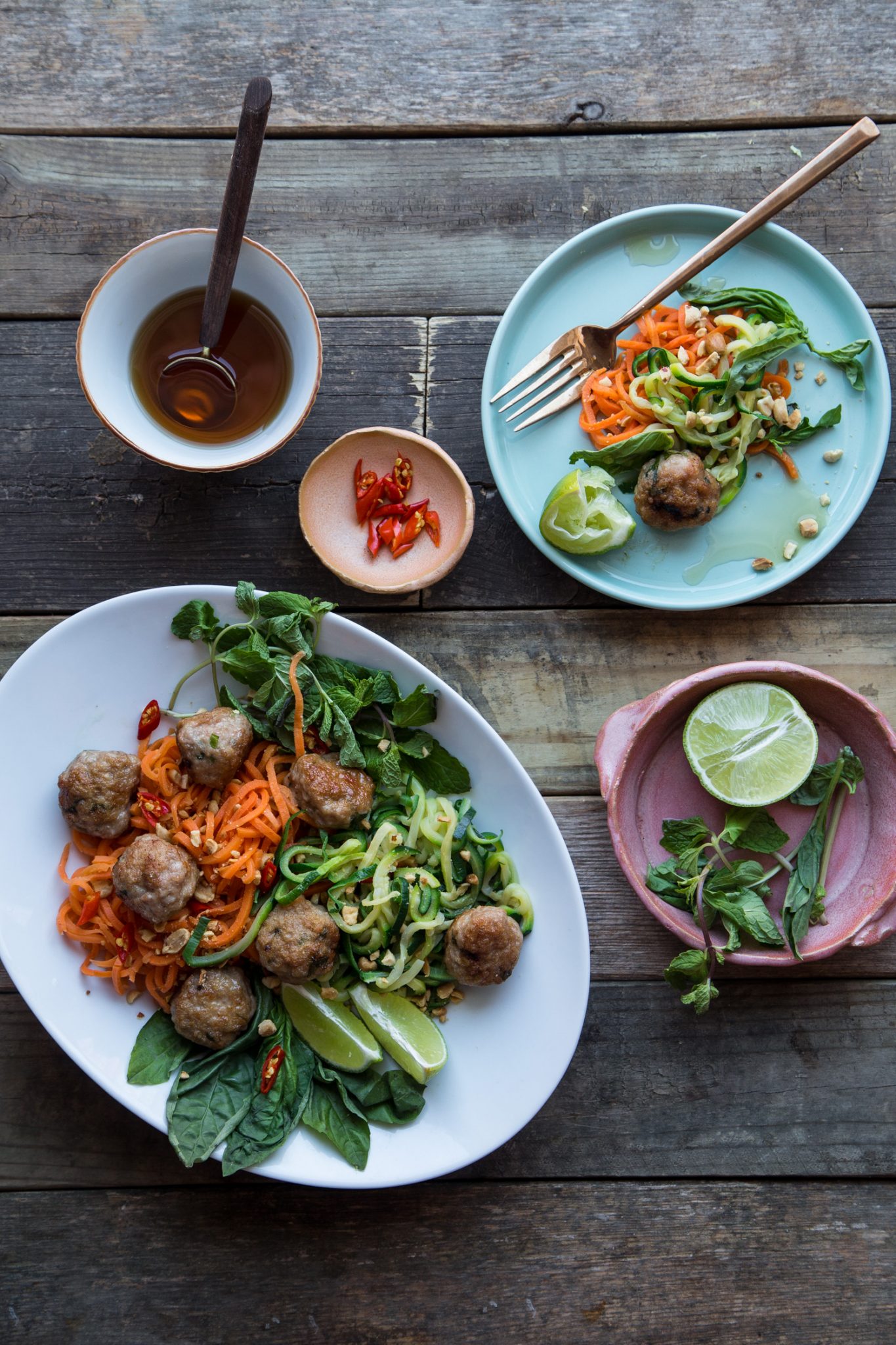 There's no secret how much I love noodles. I grew up in an Asian family where rice and noodles are staples in every meal, including breakfast. I know how it's like when I eat noodles. It can't be just one or two bites! I'm usually eating more than I should! I am on a mission this year trying to cut down on my carb intake and to include more greens and colorful vegetables into my diet.
I'm excited to learn about Green Giant® Veggie Spirals you guys! Have you guys heard? Anyway, they look like noodles!! and made with 100% vegetables.
These Green Giant® Veggie Spirals are seriously perfect swap-in for noodles and traditional pasta. The good news is, Green Giant® Veggie Spirals have up to 90% fewer calories than pasta and they are gluten-free! Yep…it's like a dream comes true to me 🙂 So, with all these excitement in the air, I want to share with you guys this Pork Meatballs Veggie Spirals Salad recipe I made the other day! This recipe is a lighter take on the traditional Vietnamese Pork Meatballs served with rice noodles. I used Green Giant® Carrot and Zucchini Veggie Spirals to swap-in for the noodles!
I can tell you that you won't miss the noodles much here! This Pork Meatballs Veggie Spirals Salad is loaded with amazing flavor from fresh herbs and dressing that has that sweet, sour, and salty profile! This is a meal of its own with much lesser calories if you were to prepare it with regular noodles.
The veggie spirals are easy to prepare. They include a two-step cooking process. You can either microwave, saute, or boil them before incorporating them into your recipes! Simple as that! I just briefly boil the veggie spirals in boiling water because I like to still have a little bit of crunch. You can do what suit you!
I love the vibrant colors of this Pork Meatballs Veggie Spirals Salad! I can't be happier that I feel satisfied with the meal but with fewer calories! What not to love about that!

Pork Meatballs Veggie Spirals Salad
Ingredients
12

oz

Green Giant® Carrot Veggie Spirals

12

oz

Green Giant® Zucchini Veggie Spirals

3

red chili

optional, stemmed and finely chopped
Pork meatballs:
1 ½ lbs

ground pork/beef

1

tsp

grated fresh ginger

1

Tbsp

fish sauce

¼

tsp

salt

1

tsp

sugar

1

Tbsp

cornstarch
Serve with:
1

cup

dry roasted peanuts

unsalted

Fresh mint leaves

Fresh basil leaves

1

lime
Instructions
Making the dressing:
Place all ingredients for dressing in a small saucepan, bring to a boil and then simmer until the sugar dissolves. Add in the rest of the ingredients. Let it cool and then store in a jar container in the refrigerator. It will keep for about a week
Preparing and cooking the meatballs:
Preheat your oven to 350 F. Line baking sheet with parchment paper. Place all ingredients for meatballs in a large mixing bowl. Use your clean hands to mix everything into one large mixture. Wet both palm of your hands to prevent the meat mixture sticking to your hands, and roll the meat mixture into meatballs about 1 1/2-inch in diameter and place on the baking sheet about 1 inch apart and bake for about 25 minutes or until the meatballs cook through
Preparing the veggie spirals:
Bring a medium pot of water to a boil. Boil the zucchini veggie spirals for 1 minute and then remove with tongs to a serving platter. Next, boil the carrot veggie spirals for 1 to 2 minutes to your desired texture. Drain off all water and transfer to serving platter
Putting it together:
Place some fresh herbs leaves on top of the veggie spirals. Sprinkle with chopped peanuts, red chili (if using). Arrange the meatballs on top of the salad. Squeeze some lime juice over it. toss. You can either pour the dressing on top or serve the dressing on the side. Give it a toss before serving
Green Giant® Veggie Spirals are available for purchase at Walmart at the frozen veggie aisle. Definitely check out Green Giant® for more recipe ideas and information on the veggie spirals. I can't wait to try the Butternut Squash and Beets Veggie Spirals soon. Which one would you try and what's your favorite recipe to make with it?