This post was sponsored by Alaska Seafood as part of an Influencer Activation for Influence Central and all opinions expressed in my post are my own.
Brown Butter Macadamia Nut Crusted Alaska halibut – Wild-caught high-quality Alaska halibut is crusted with a mixture of ground macadamia nuts and brown butter, baked to perfection, and served with creamy Macadamia Miso sauce. A delicious and easy seafood recipe the whole family can enjoy.
My husband and I consider ourselves adventurous when it comes to food. We try to incorporate as many varieties as possible in our meals especially now that we have two young kids on board. We want them to expand their horizons beyond just chicken when it comes to the source of protein. We love seafood and usually incorporate fishes into our meals twice a week. I'm grateful that the kids do enjoy eating fishes too.
I'm pretty picky though when it comes to buying fishes. I want to make sure that I get good-quality wild-caught sustainable fishes. I do buy frozen sometimes, but I prefer fresh when it's available. This wild-caught Alaska halibut you see here is one of our family favorites.
I asked the fishmonger if the halibut came from Alaska and he confirmed with me that it was. You might ask, why Alaska? Alaska's cold pristine waters produce high-quality seafood and it contributes to nearly 60% of all seafood harvested in the U.S.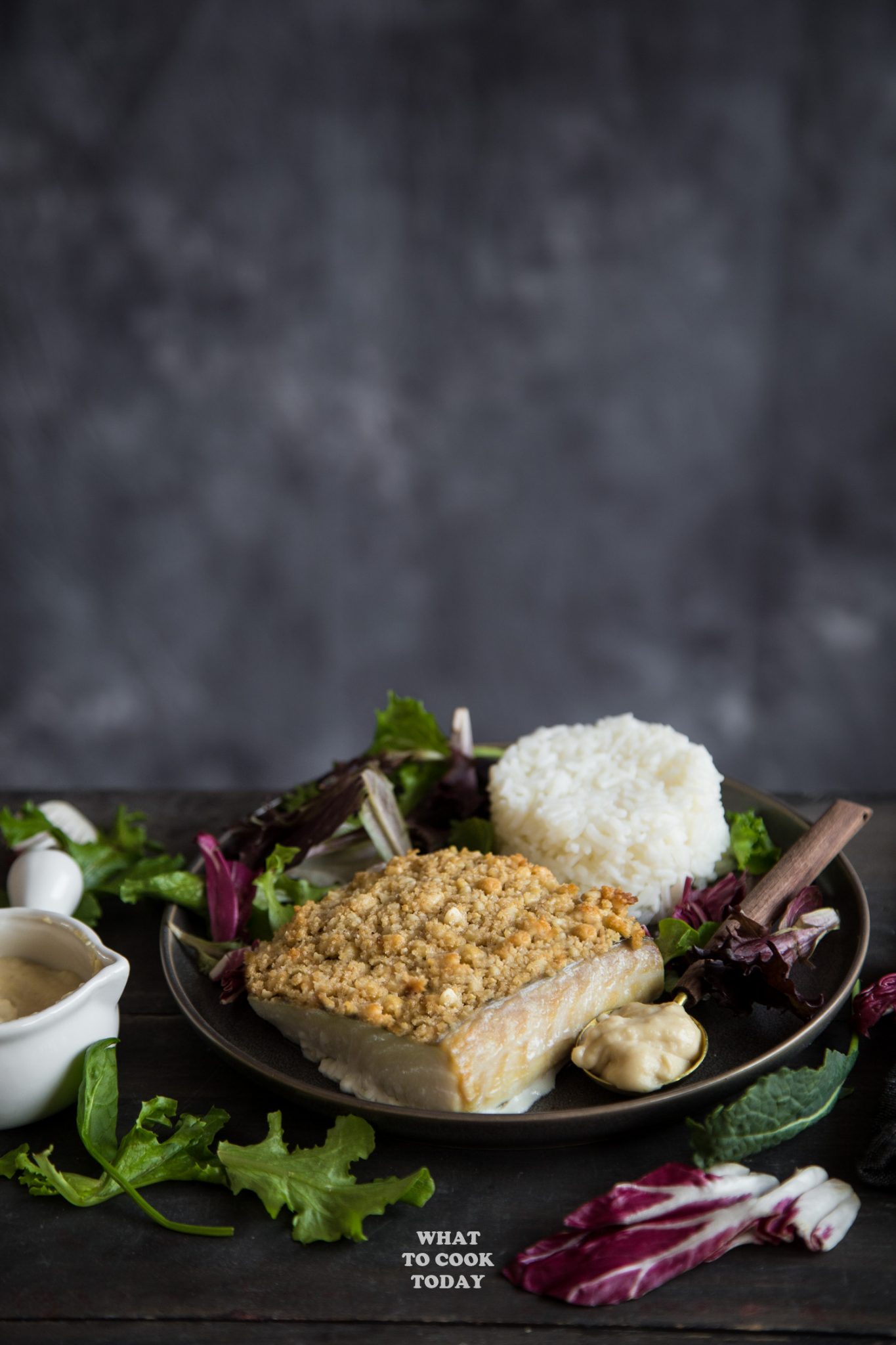 Majority of kids do not like to eat fish or any seafood unless they are fried or make into nuggets. Halibut is one of their favorites because it is mild in taste. This baked Brown Butter Macadamia Nut Crusted Alaska halibut is one of our kids' favorites. They are soooo delicious with that crispy and nutty crust that kids will love. It's so much healthier to prepare and my kids know that they are actually eating fish and not just something fried.
The brown butter and macadamia nuts add that extra nuttiness to the crust and you would wish to put this crust on pretty much anything if you can 🙂
The creamy Macadamia Miso sauce pairs perfectly with the Brown Butter Macadamia Nut Crusted Alaska halibut. I thought I made too much of the sauce, but apparently, I didn't make enough. The family loved it! Make more…note to self!
If you are looking into getting your kids to eat more fish or seafood, try this Brown Butter Macadamia Nut Crusted Alaska halibut! You might find them enjoying it! It's perfect for weeknight dinner or fancy meal to celebrate your special occasions.
You can easily find Alaska whitefish varieties at the stores and they are sold fresh and frozen all year long. You can also find hundreds of Alaska seafood recipes, helpful techniques and tips here
While you are there, don't forget to learn why it is important to #AskForAlaska at the seafood counter and when you eat out.
Brown Butter Macadamia Nut Crusted Alaska Halibut
Ingredients
4

pieces

of about 4 oz boneless skinless Alaska halibut fillet
Macadamia miso sauce:
½

cup

of dry roasted macadamia nuts

1

cup

of heavy cream

2

Tbsp

of brown butter

1

Tbsp

of lemon juice

½

tsp

of red or white miso paste

¼

tsp

of sugar
Brown butter macadamia nuts crust:
6

Tbsp

of butter

see instruction for making brown butter

1

cup

of dry roasted macadamia nuts

½

cup

of panko bread crumbs

2

Tbsp

of all-purpose flour

¼

tsp

of salt
Instructions
Making brown butter:
Preheat oven to 425 F. Melt the butter in a small saucepan over medium heat and continue to cook until the melted butter turns dark golden brown, about 5 minutes or longer. There will be dark brownish milk solids appearing from browning the butter. You may increase the heat but watch out because they turn dark pretty fast when you do that. Remove from the heat into a heat-proof container, save about 2 Tbsp for the sauce
Making macadamia miso sauce:
Place all the ingredients for the sauce in a food processor and process into a smooth mixture, don't worry if it's not entirely smooth. Pour this thick but pourable mixture into a saucepan and cook until slightly thickened and creamy. You can add a bit more heavy cream if you find it too thick. Remove from the heat.
Cooking the fishes:
Line a baking sheet with aluminum foil and set aside. Pat the Alaska halibut pieces dry with paper towel to make sure you get rid of excess water. Place these on the baking sheet and put in the oven, 3rd rack from the top and bake for 5 minutes

Place the macadamia nuts in a food processor and coarsely ground it. In a large mixing bowl, combine all the ingredients for the macadamia crust. The mixture will be wet. Set aside

Remove the fish from the oven after 5 minutes and top the fish with the macadamia crust. Gently use your fingers to press the mixture onto the fishes to make sure they stay. Return to the oven and bake for another 10 minutes or until cooked through and the crust is golden brown
Serving:
Serve the brown butter macadamia nut crusted Alaska halibut with rice (white, brown, or other grains you prefer), salad and the Macadamia Miso sauce on the side and serve immediately
What is your favorite Alaska whitefish? Do you have any amazing recipe to share? Please fill me in!!!