Foochow Red Wine Chicken Noodle Soup – Chicken pieces are cooked in Foochow red wine, ginger, red yeast rice and then served with mee sua noodles.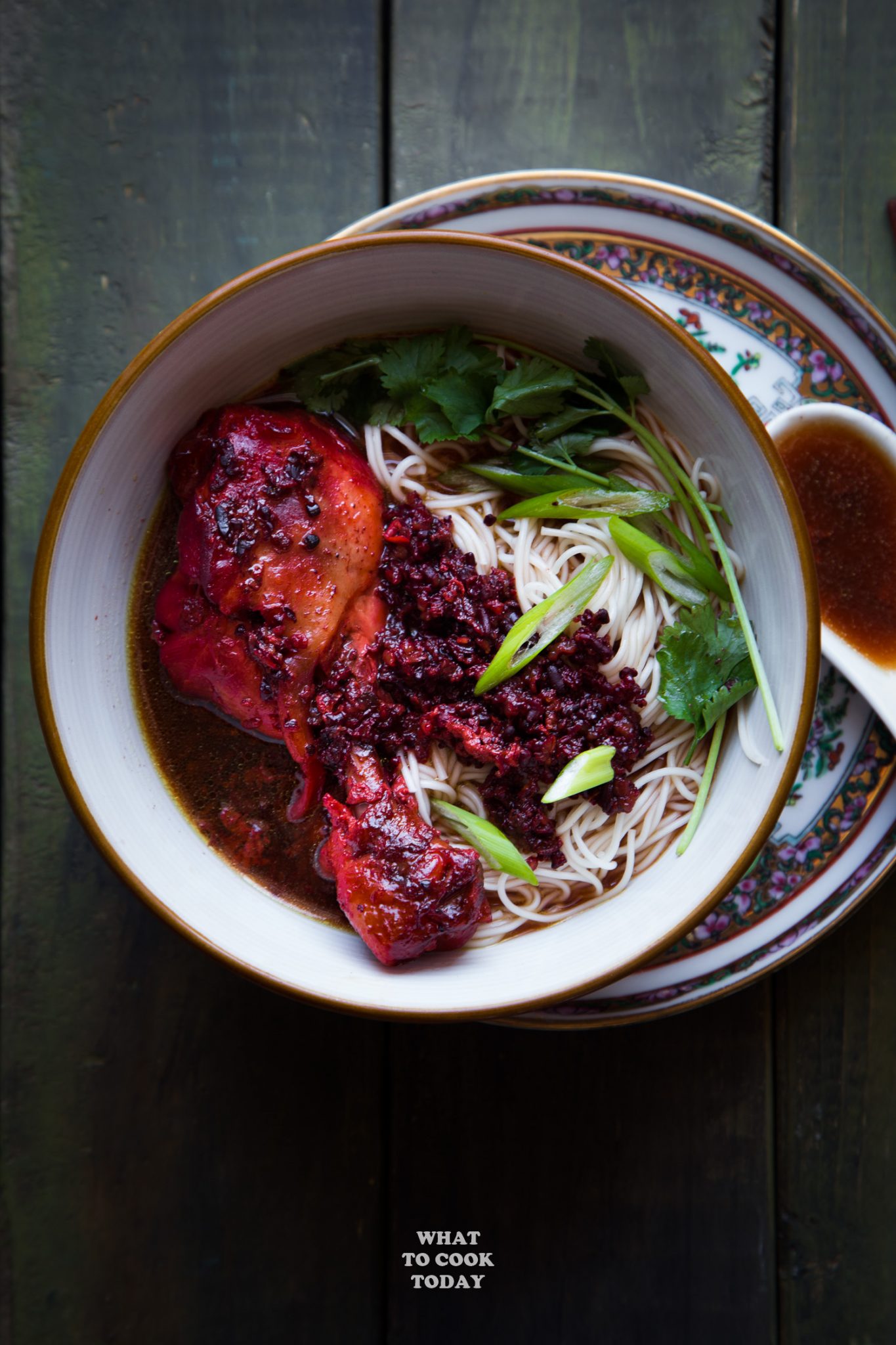 I came to learn about this Foochow red wine mee sua when I first pregnant with our first baby. This was one of the food that my mom made me after childbirth.
WHAT IS FOOCHOW RED WINE?
Foochow red wine is made by fermenting cooked white glutinous rice that has been mixed with Chinese wine yeast, and red yeast rice for 30 days. The result is a red-looking wine (because of the red yeast rice). This practice is very common back in my mom, my grandma and her grandma's days! Not so much in my generation anymore though 🙂 I probably should learn how to make this or my mom will be the last generation in our family to know this! It is one of the popular ingredients to use in confinement diet.
WHAT IS RED YEAST RICE?
Red yeast rice 紅麴米 is made by culturing the grain with special yeast that gives the rice its bright red purplish color. Red yeast rice has been around for centuries in China. It is used in food as coloring, additives and preservatives. It is also used as traditional medicine. The red yeast rice of course has gained popularity in the Western medicine to help lower cholesterol. You can see red yeast rice extract being sold as a supplement as well.
To be honest with you, I'm not sure what was the purpose of it in traditional Chinese medicine. I'm more familiar of its usage in food application to color food and to make this Foochow red wine 🙂 The red yeast rice itself is edible and can be included in the dish if you like.
WHERE CAN I GET RED YEAST RICE?
You probably won't be able to get red yeast rice here in the U.S., because it is controlled as a "drug" by the FDA. Red yeast rice is available in most Chinese medicine hall. My mom got them in Singapore. Be sure to get it from a reputable source that you know sell only high-quality Traditional Chinese Medicine. Some red yeast rice is only dyed with Sudan Red without going through the real fermentation process. Sudan Red is poisonous!! So be very careful! I won't just buy it from the internet!!!
I DON'T HAVE RED YEAST RICE AND FOOCHOW RED WINE. NOW WHAT?
Then you basically just have yourself a drunken chicken mee sua 🙂 Which is totally fine too! It's not going to break the deal or fail your confinement diet if you are on one!
My husband enjoys this Foochow red wine mee sua too. He told me his mom used to prepare this for him when he was a kid. So, this is definitely not only for confinement diet, but has been enjoyed by many Chinese and in fact, a comfort food to many!

*These recipe and photos have been updated and improved from the previous version.
Foochow Red Wine Chicken Mee Sua
Ingredients
2

lbs

chicken drumsticks

3

cups

Foo Chow Red Wine

see notes

1

Tbsp

sesame oil

1

inch

fresh ginger

peeled and thinly sliced

1

Tbsp

Red Yeast Rice

8

bundles

mee sua noodles

or use somen noodles (adjust amount)

Salt

to taste

Small pinch of sugar

optional, see notes
Garnishes:
Fresh cilantro leaves

Chopped green onions
Instructions
In a separate pot, bring a water to boil and cook the mee sua or somen noodles according to direction. Drain off water and refresh noodle with fresh cold water. Set aside

Preheat a large pot. Add sesame oil, swirl the pot to cover the base. Add ginger and stir-fry over medium heat until fragrant. Add the red yeast rice and chicken pieces. Add the Foo Chow Red Wine. Bring to a boil and then cover the lid and lower the heat and let it simmer for the next 45 minutes to 1 hour or until the chicken is really tender. The cooking time is less if you use smaller pieces of chicken. Season with salt and small pinch of sugar to taste
Serving:
Portion out the noodles into an individual serving bowl. Portion out chicken pieces. Generously ladle with some hot soup and with some of the red yeast rice if preferred. Garnish with some chopped green onions and cilantro leaves
Notes
Foo Chow Red Wine can be substitute with regular rice wine, Hua Diao Jiu, or Shao Xing Jiu if you can't find any, but you still need the red yeast rice to give you the similar taste
Foochow red wine is naturally sweet, but if you have to substitute with other wine, then you may need to add a bit of sugar to your taste. You may not need it either. It really depends on the wine you use and your taste buds
*This post contains affiliate links, which support this site at no extra cost to you
You might also like these chicken recipes:
PRESSURE COOKER PHO GA (VIETNAMESE CHICKEN PHO NOODLE SOUP)
AYAM GORENG KREMES (INDONESIAN FRIED CHICKEN WITH CRUNCHY BITS)
OPOR AYAM (JAVANESE CHICKEN IN COCONUT MILK)