Pressure Cooker Pho Ga (Vietnamese Chicken Pho Noodle Soup) – A comforting rice noodle soup served in chicken broth infused with aromatic spices and slices of chicken along with flavorful condiments. Both Instant Pot and stove-top recipes included
When I told my mom that the windchill here has been around -30 Celcius, she thought it's really time that we moved out from this giant freezer! Sadly, even our house freezer is not that cold! The other day when I overheard a friend said that she would pick up fresh mint leaves from outside, I was thinking…the only time I'm stepping outside to pick up any food at this time of the year, is to our garage. Not to drive a car! Mind you! To fetch some chicken and other ingredients that need to be refrigerated but because our refrigerator is bursting at the seams! Don't think that I'm trying to be funny. This is our real lives in winter! Our non-heated garage all of the sudden has its dual function besides for storing cars! So..mom..yes, we do have a plan to move out from this…thisss…PLACE! We have this love-hate relationship with Minnesota. Love you in the summer and hate you in the winter!

Of course, I made some noodle soup! What else can I do in the winter! I have chicken. I have Instant Pot. Put the two together and you have this Pressure Cooker Pho Ga to boot! A while ago I made Pho bo or often called Vietnamese Pho Noodle soup. Pho bo is usually served with beef. Just like preparing Pho bo, the main work is pretty much on the broth itself, which is actually not that much of the work either. I got this recipe from Hot, Sour, Salty, Sweet cookbook by Jeffrey Alford and Naomi Duguid with some modification.
WHY DO YOU PRESSURE COOK THE CHICKEN FIRST?
If you look at the instant pot recipe, I pressure cook the chicken first. I find this easier especially when you use a whole chicken. The chicken is already taking up quite a bit of space and if you add more water for the soup base, it's going to be too full in the pot. This is also to ensure that we don't overcook the chicken, yet we get a flavorful broth by continuing cooking the soup base with the carcass from the chicken.
Just imagine you are watching the snow falling outside and slurping in the noodles like no others' business. Even if you are not in a four-season country, noodle soup is just good as comfort food. It's my kind of lunch when I lived in Southeast Asia. It never stopped me from eating noodle soup while wiping away sweat that was dripping!

*Recipe is written for 6-quart Instant Pot. Cooking time should remain the same for 8-quart size but will take longer to pressurize. For mini duo (3-quart), I suggest to half the recipe and use the same amount of time to cook*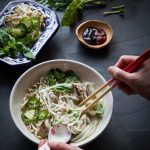 Pressure Cooker Pho Ga (Vietnamese Chicken Pho Noodle Soup)
Ingredients
Instructions
Scorch the ginger and the onion pieces, either over a glass flame, using tongs to hold the pieces in the flame until they scorch, or together in a dry heavy skillet over high heat. Turn the pieces until they are blackened on all sides, set aside

Bring a large pot of water to a vigorous boil, drop in the rice noodles, and cook just until softened but not mushy, 30 seconds to 1 minutes. Drain, rinse with cold water, and set aside

Peel and thinly sliced the yellow onion and soak them in ice cold water so that they are crispy. Set aside
Using Instant Pot:
Place the whole chicken on the trivet. Pour in 2 cups of water. Close the lid and turn steam release handle to seal. Press pressure cooker, high pressure and set the timer to 20 minutes. Once the timer is up, carefully release the pressure immediately and wait until the pressure valve collapses entirely and then unlock the lid. Very carefully, lift the chicken out from instant pot to a large plate. Let it cool down a little bit

When cool enough to handle, cut the meat off from the breast, thighs, and remove drumsticks. Don't cut into smaller pieces just yet. Return the carcass and the wings back to the instant pot. There will be drippings from cooking the chicken earlier too. Keep those! Add another 4 cups of water. Add the spices ingredients, charred onion and ginger. Close the lid and press on pressure cooker, high pressure and set timer to 15 minutes. When the time is up, wait 10 minutes and then release pressure. Proceed to "before serving" step
Cooking on Stove-top:
If using a whole chicken, rinse the chicken, including the heart, neck, and giblets, thoroughly with cold water (reserve the liver for another use). Place in a large pot and add the water and spices ingredients . If using leg quarters/thighs, rinse chicken and place in a large pot and add the water. Bring to a boil over high heat

Once the water comes to a boil, skim off the foam, lower the heat, and let simmer, partially covered, until the chicken is cooked, about 30 minutes, skimming off the foam occasionally. If the chicken is not completely covered with water, turn it several times during cooking. Carefully remove the chicken from the broth and rinse with cold water to stop the cooking. Remove the meat from the bones in big chunks but don't cut into pieces yet. Add the remaining bones and wings back into the soup base. Continue to cook the soup base on gentle simmer for the next 2 hours. Proceed to "before serving" step
Before serving:
Line a colander with a double layer of cheesecloth or use a stock strainer and strain the broth into a bowl. Let cool, then refrigerate, covered, for at least 3 hours. When the broth has chilled completely, skim off the layer of fat on the surface with a large spoon and reserve it for use in the soup or for another purpose
When ready to serve:
About 30 minutes before you wish to serve the soup, remove the broth and shredded chicken from the refrigerator. Place the soup in a pot, add the fish sauce, sugar and pinch of salt and bring to a boil, then lower the heat and let simmer until ready to serve. Taste for seasoning and add fish sauce or salt to taste if necessary

To serve, divide the noodles among six large soup bowls. Place about 1/4 cup bean sprouts in each, then top with the chicken. Ladle the hot broth over. Sprinkle in some coriander, basil leaves, onion slices. Squeeze some lime juice over. Squirt in some sriracha chili sauce and hoisin sauce if you wish. Serve at once, with small plates of the remaining bean sprouts, herbs, peppers
Recommended products: