Pho Bo is Vietnamese thin rice noodle soup served in broth that is cooked for hours from bones and aromatic spices and served with slices of beef and fresh herbs at the side. It's hard not to love a good bowl of Pho Bo!
One of my favorite Vietnamese dishes is Pho Noodles. Pho is a Vietnamese noodle soup, usually served with beef (pho bo) or chicken (pho ga).The soup includes noodles made from rice and is often served with basil, lime, bean sprouts, and peppers that are added to the soup by the consumer. The key ingredient to a good bowl of Pho noodle soup is on the broth.
The broth of Pho Bo is generally made by simmering beef bones, oxtails, charred onion, charred ginger, and spices for hours. It took me about 3 hours to make the broth but it is so worth it. The Pho noodle itself can be brought fresh from the Asian store in their refrigerated section or in dried form. I got this Pho Bo (Vietnamese Beef Noodle soup) recipe from Into the Vietnamese Kitchen by Andrea Nguyen with slight modification. The key ingredient to making a good Pho Noodles is on the soup and this recipe does it for me.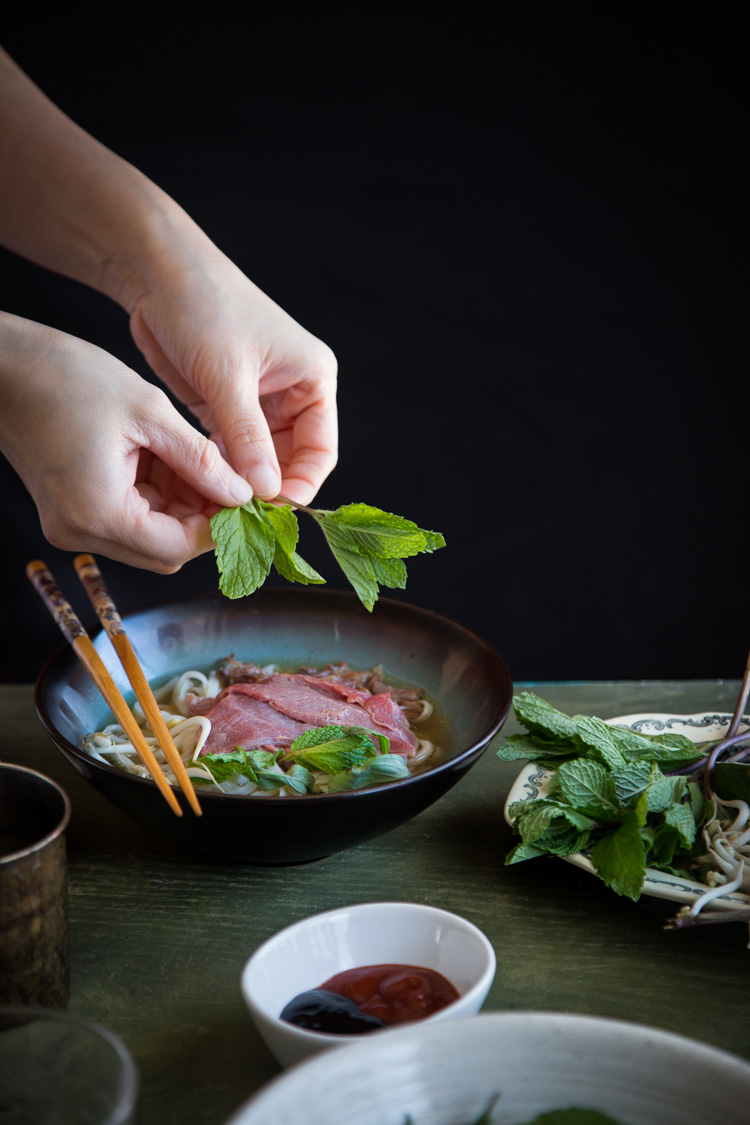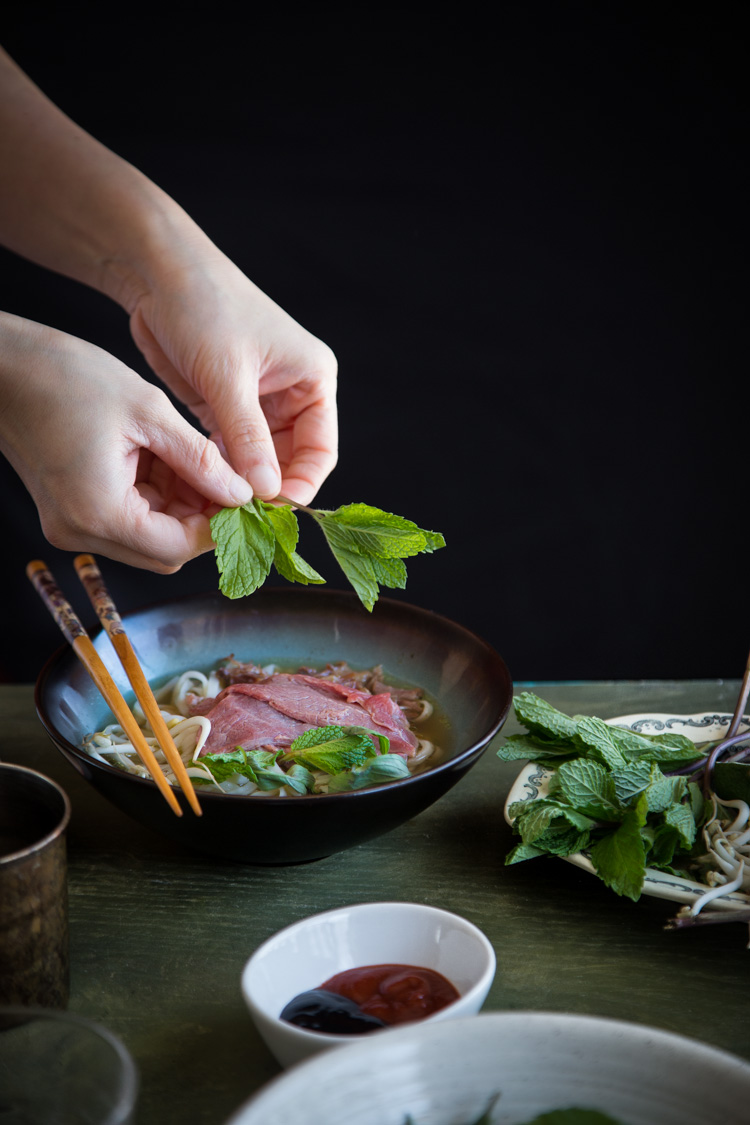 Pho Bo (Vietnamese Beef Pho Noodle Soup)
Ingredients
1

lb

pho noodles

dried or fresh - If use dried, soak for 20 minutes. If use fresh, you can boil them right away

¼

lb

beef tenderloin

or beef sirloin/flank

1

lime

Fresh bean sprouts

Handful of basil

sawtooth leaves
Beef Broth:
1

onion

halved

2-

inch

ginger

halved

3

lbs

of beef bones marrow or bones leg/knuckles

1

lb

oxtail

1

Tbsp

of salt

1

Tbsp

of sugar

Spices packet in mesh bag

tied up: 1 cinnamon stick, 1 Tbsp coriander seeds, 1 Tbsp fennel seeds, 5 star anise, 1 cardamon, 6 cloves)

¼

cup

fish sauce
Instructions
Making the broth:
Place ginger and onions on a lightly oiled baking sheet. Brush some oil on the onion and ginger as well. Turn broiler on high and broil for 15 minutes. This will char them a bit and that's okay

Fill a big pot with water, enough to cover the bones, and boil the beef bones and oxtails for 15 minutes. Drain off the water and rinse the bones with cool running water. Refill the pot with bones and new fresh water to cover the bones and oxtails completely. Bring the water back to boil and skim off the scums as they appear. Add the charred ginger, onion, spice packet, sugar, fish sauce, salt and simmer uncovered for 4 hours

Strain the broth after 4 hours and discard all the stuff in there. I set aside the oxtails and pick the meat off the bones to serve with the pho later. Taste the broth and adjust with more salt, sugar or fish sauce if needed. At this point the broth is ready.
Cooking the noodles:
If using dried pho noodles, boil them for 3-5 minutes until they are cooked but still a bit chewy. If you are using fresh rice noodles, then it takes only 1-2 minutes to cook. Do not overcook them
Serving:
Freeze the beef in the fridge for 15 minutes and this will help you to be able to slice them very thinly

Portion noodles and thinly sliced beef into individual serving bowl. Laddle the hot soup over and this will help to cook the beef. If you want it medium to fully cooked, you can submerge the beef slices into the soup briefly for few seconds until they turned brown. I like mine rare to medium rare 🙂

Serve with fresh bean sprouts, basil, saw tooth leaves, lime and peppers at a side. You can also eat it with Hoisin sauce and Sriracha chili sauce.