Learn how to easily and effectively clean beef honeycomb tripe with these step-by-step photos tutorials and it is ready to be used in any recipe.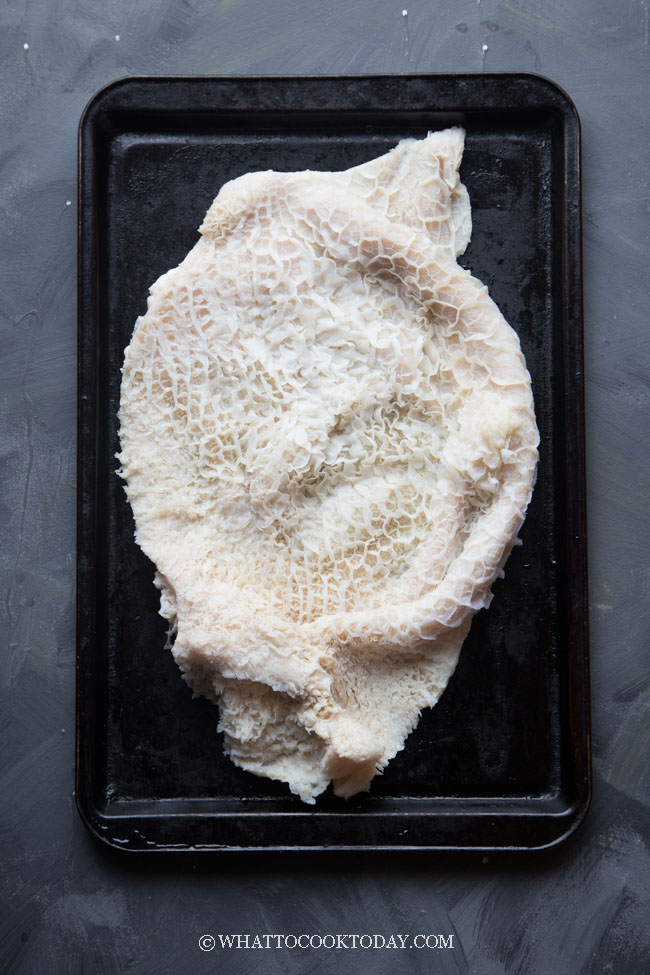 As gross as beef tripe or any offal meat sounds to the majority of people out there, it is actually being enjoyed a lot in Asia and I believe other countries like Mexico and Europe. I once went to a Mexican restaurant that serves authentic Mexican food and spotted a Menudo on the menu (Mexican tripe soup) and immediately that's what I ordered 🙂 I grew up with offal meats and so of course if you ask me, I'm not going to say they are gross 🙂 Honeycomb tripe is one of my favorites and in this post, I'm sharing how you can easily clean this honeycomb tripe. It's not as complicated as the honeycomb looks 😉
WHAT IS BEEF HONEYCOMB TRIPE?
Beef tripe is the lining of the cow's stomach. There are 4 different tripes (different lining) on each of the chamber of the stomach. Honeycomb tripe is one of the linings that is seen used often, especially in Asia.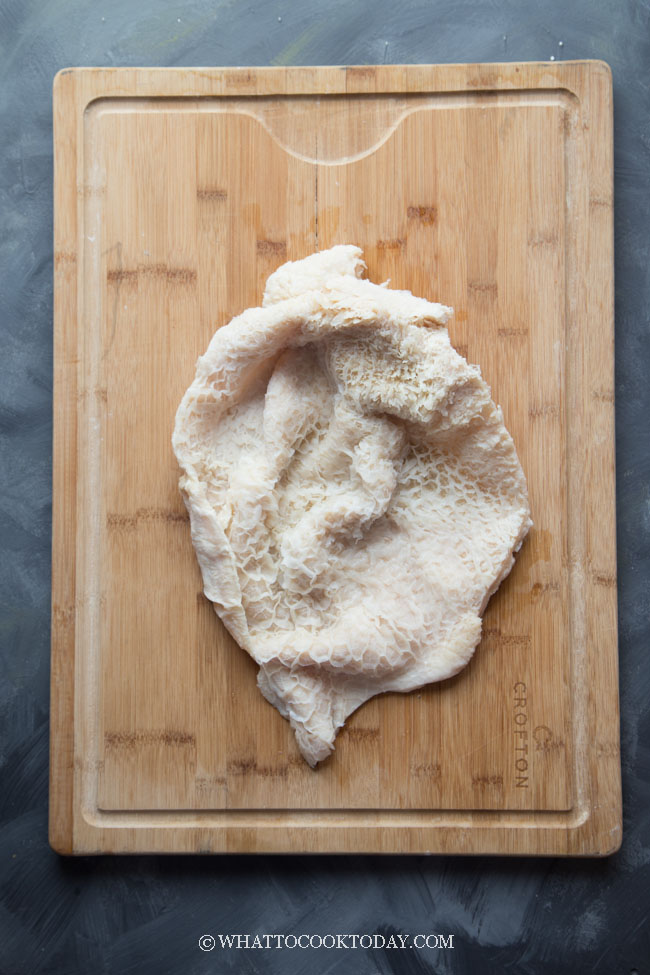 WHY BEEF TRIPE IS YELLOW IN COLOR
The yellow beef tripe means the tripe has not been bleached with chlorine. They are pretty much as is.
WHY BEEF TRIPE IS WHITE IN COLOR
The white pale color tripe has been bleached with chlorine. Most of the time they have been partially cleaned too. The Asian store I got this beef tripe from, only sells bleached beef tripe.
HOW TO CLEAN BEEF HONEYCOMB TRIPE (AND TO GET RID OF THE SMELL OF TRIPE)
Whether the beef tripe you get is white or yellow in color, I would still follow this step to clean it properly and thoroughly. The yellow beef trip may need a bit extra cleaning compared to the white one, but it's not hard.
1. Rub the tripe with rock salt (both front and back)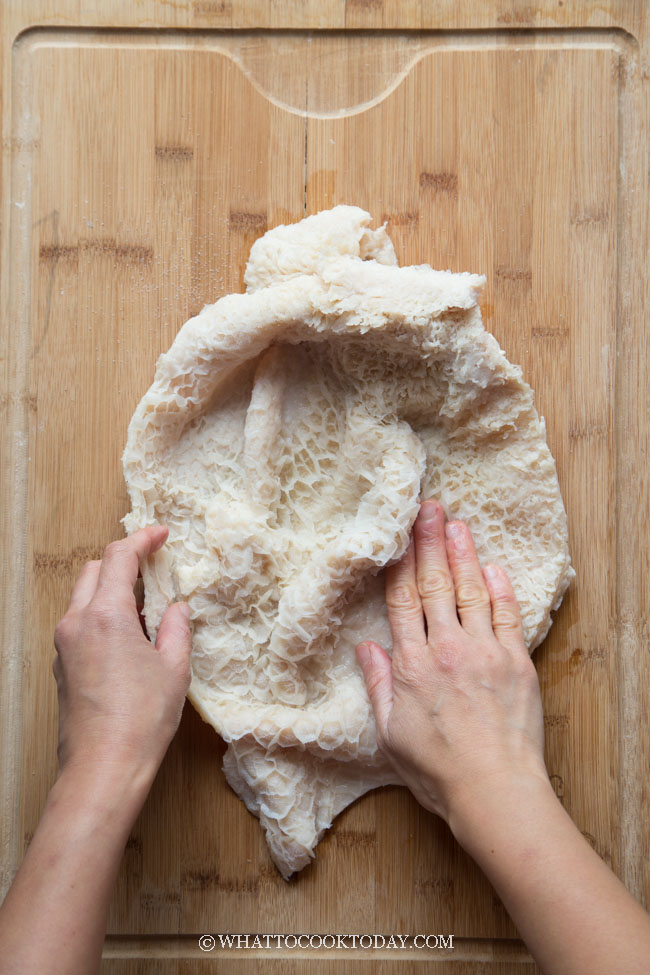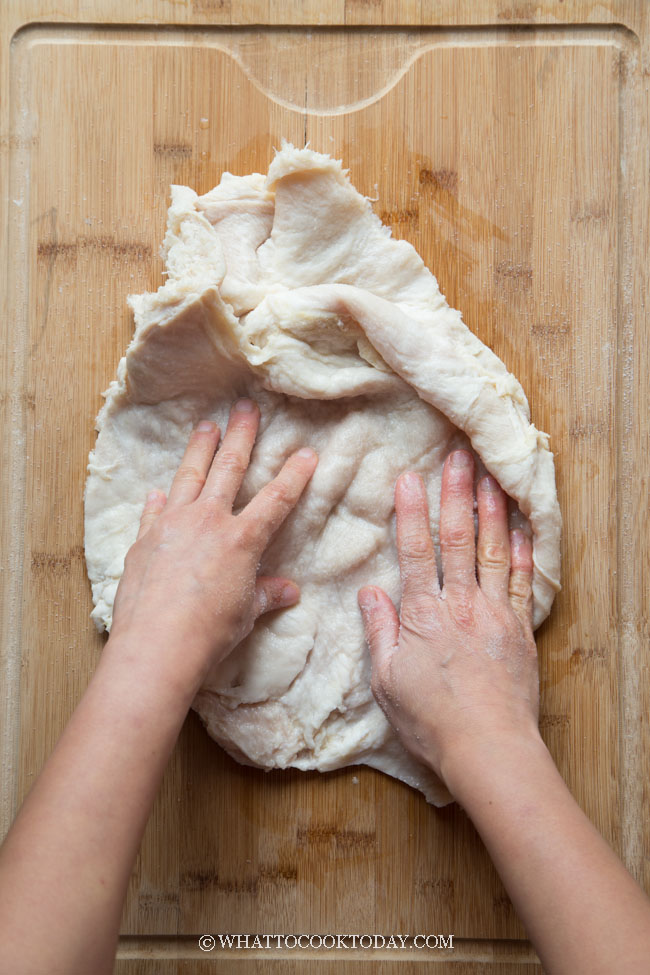 2. Use a sharp knife to scrape the tripe all over (front and back) to get rid of any impurities. The back of the tripe is the membrane that you want to scrape off because they turn tough when you cook them. You may need a little brush (like toothbrush) to brush through the honeycomb tripe (especially if you have the yellow tripe)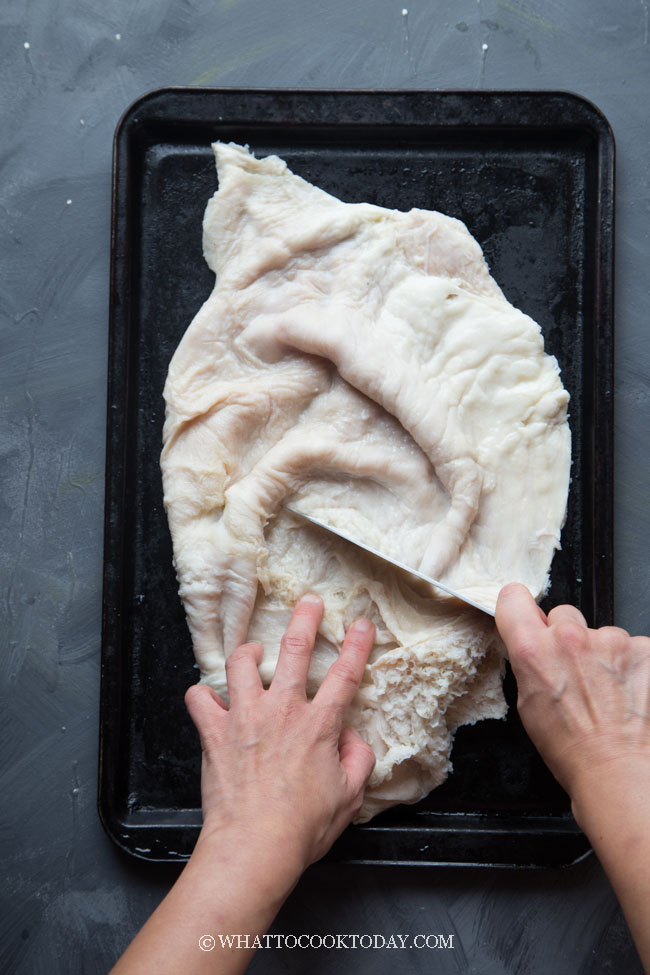 3. Use white vinegar to rinse off the salt or any impurities
Vinegar can also help to disinfect, though not as tough as chlorine bleach, but it's pretty effective.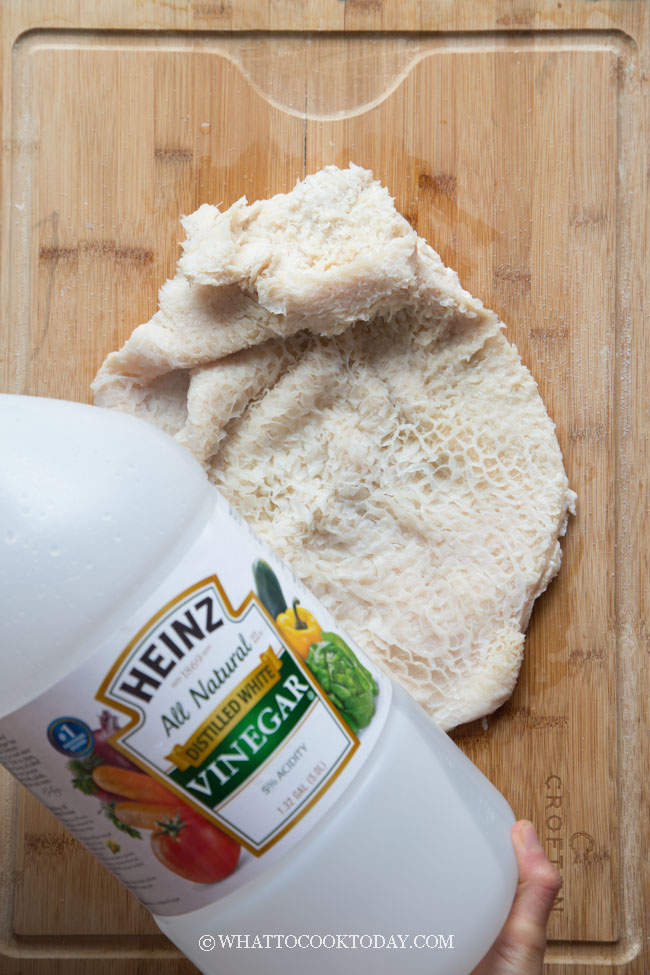 4. Bring a large pot of water to a boil. Add about 1 tsp of salt. Add the tripe and boil it for 15 minutes
Discard the water after that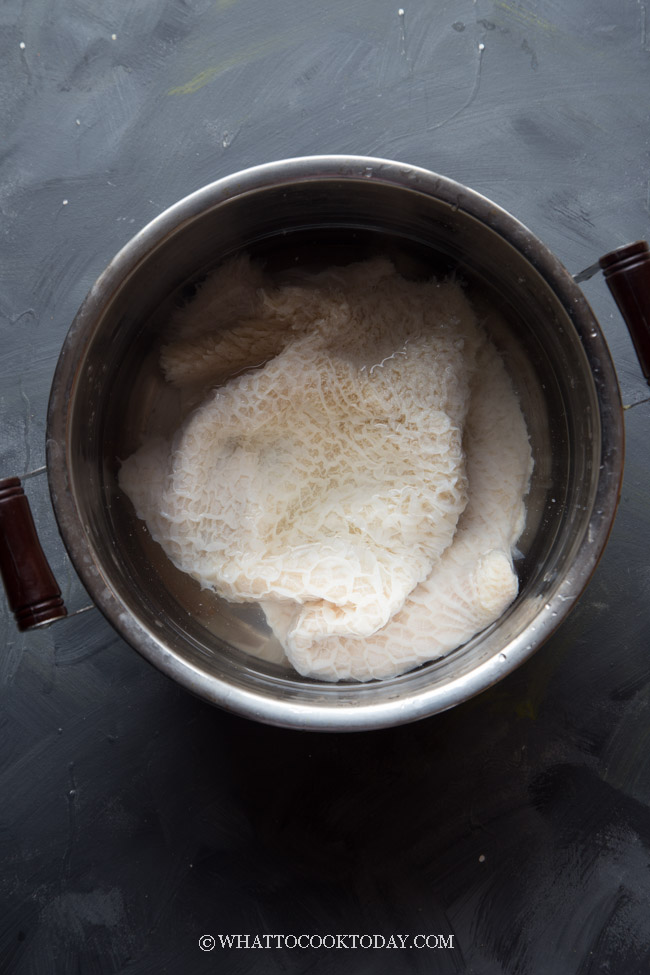 5. The honeycomb tripe is now ready to be used in any recipe that calls for it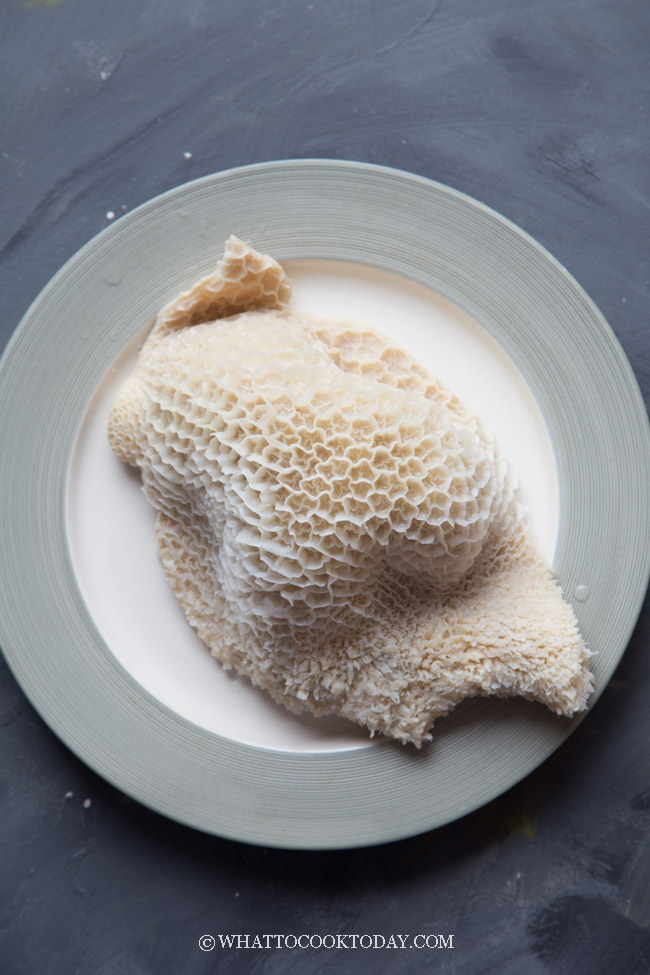 6. Cut the tripe into desired shape or size if you like or leave it whole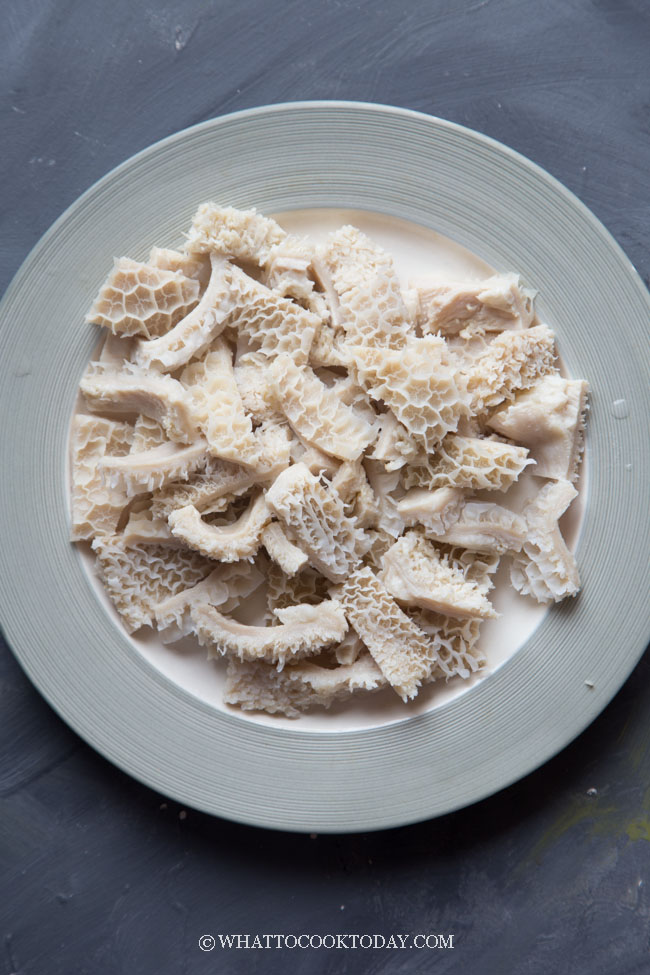 HOW TO STORE BEEF HONEYCOMB TRIPE
Both raw or precooked tripes can be kept frozen in the freezer for up to 3 months. Simply store them whole or cut into smaller pieces in a freezer bag.
TASTE AND TEXTURE OF BEEF TRIPE
No, it doesn't taste like chicken! (not in this case!). Beef tripe has no taste on its own and the texture is chewy, though this will soften after you cook them
WHAT TO COOK WITH BEEF HONEYCOMB TRIPE
Honeycomb tripe is very commonly used in stews, salads, soups, and stir-fries in Asian cooking.
The Vietnamese Beef Pho (pho bo) may have honeycomb tripe added to it.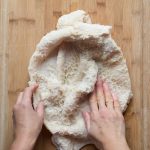 How to Clean Beef Honeycomb Tripe (step-by-step)
Ingredients
Honeycomb tripe

Salt

Distilled White vinegar
Instructions
Rub the tripe with rock salt at the front

and the back of the tripe too

Use a sharp knife to scrape the tripe all over (front and back) to get rid of any impurities. The back of the tripe is the membrane that you want to scrape off because they turn tough when you cook them. You may need a little brush (like toothbrush) to brush through the honeycomb tripe (especially if you have the yellow tripe). You may need a little brush (like a toothbrush) to brush through the honeycomb tripe (especially if you have the yellow tripe)

Rinse generously with white vinegar

Bring a large pot of water to a boil. Add about 1 tsp of salt. Add the tripe and boil it for 15 minutes.

Discard the water after that

The honeycomb tripe is now ready to be used in any recipe that calls for it

Cut the tripe into desired shape or size if you like. They can be kept frozen in the freezer for up to 3 months