Salted Egg Yolk Cookies – Soft buttery cookies are infused with the salty umami salted egg yolks to give you sweet, salty, and crumbly cookies. One of the popular cookies for Chinese New Year celebration.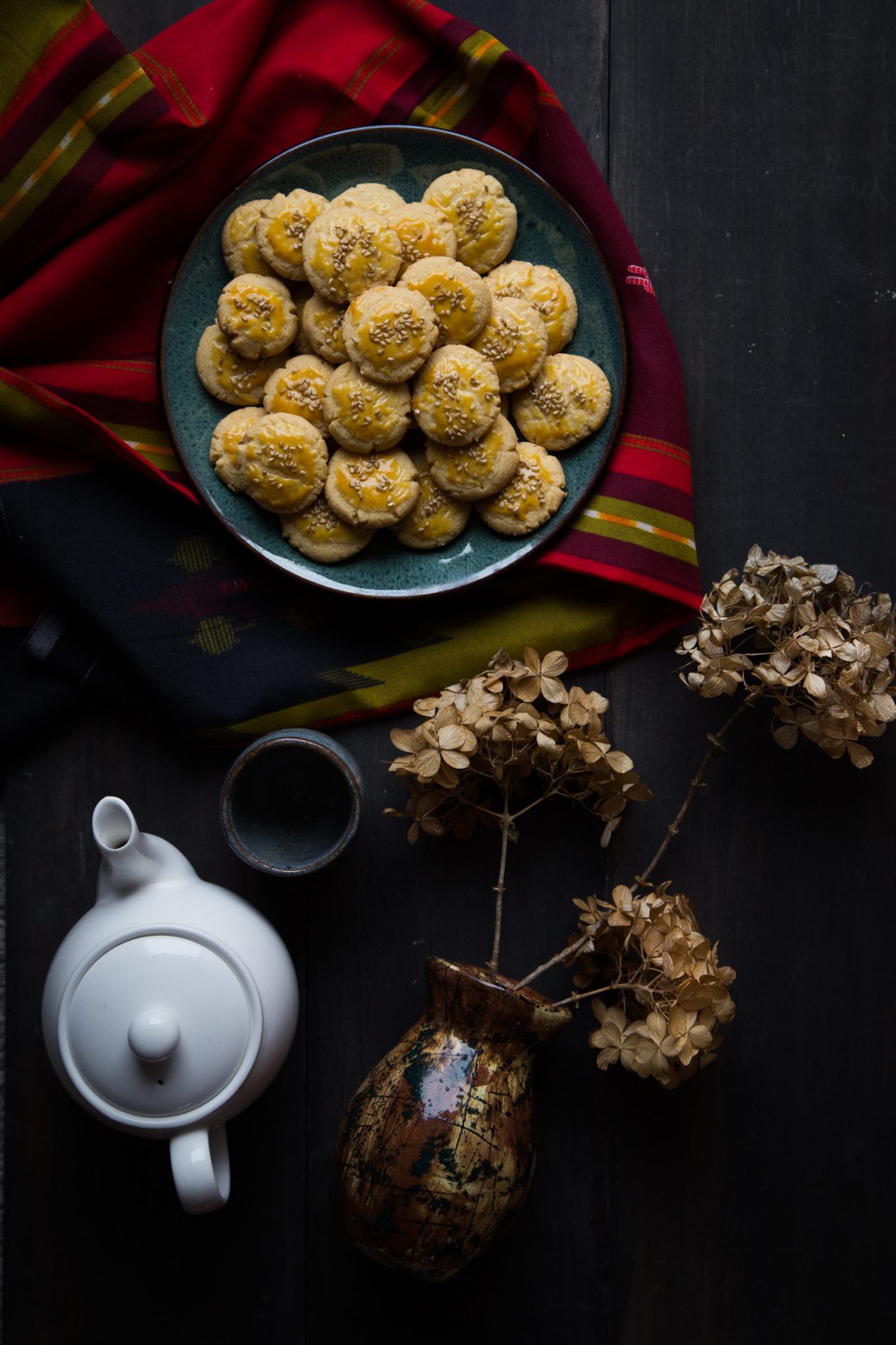 I remember mom told me that Singapore has salted egg yolking pretty much everything edible these days 🙂 I thought it was funny when she said that. But she admitted that she liked it! Salted egg yolk chicken, salted egg yolk prawn, salted egg yolk steamed buns and I believe many more.
Salted egg yolk is very well loved in Asia. Usually duck eggs are cured with salt and the yolks turn bright orange red in the end resulting in very salty whites and salty and slightly sweet yolks. Usually the whites are not used much in cookie making. The whites are extremely salty and so it's suitable to pair with a bowl of homemade rice porridge/congee. A while ago I learned how to cure chicken eggs so I can use the egg yolks. The yolks of chicken eggs won't be as vibrant, however, it gives pretty similar results. Fresh duck eggs are super difficult to find here! Sadly! They have them once in a while at the Farmer's market, but not always!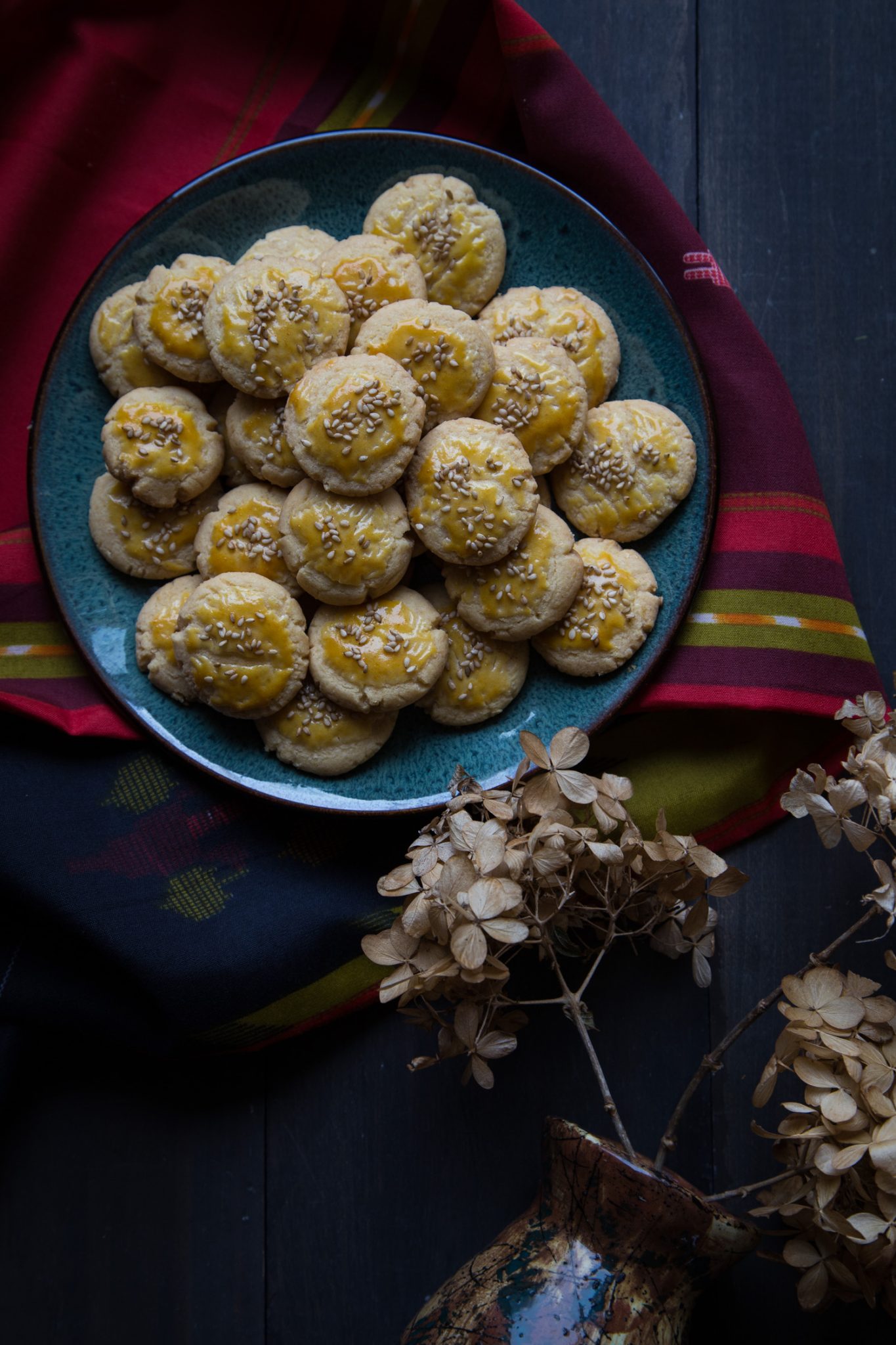 These salted egg yolk cookies though…YOU MUST TRY! especially if you like savory and sweet on cookies and dessert! I love the savory and sweet combo! These cookies are crumbly and savory and sweet…mmmm….you get the picture! (or you don't! ha..ha..!). I understand it might be a little hard to understand how something like salted egg yolks in cookies can be tasty, especially if you have never tasted salted egg yolks on its own! Crazy people in Asia can't stay away from this thing!!! (including me!).
These cookies were gone first among the others that I've made on the same week! The Kue Nastar (Pineapple tarts) came second 🙂

Aww…I love this little hands!!! my 4-year old little hands!!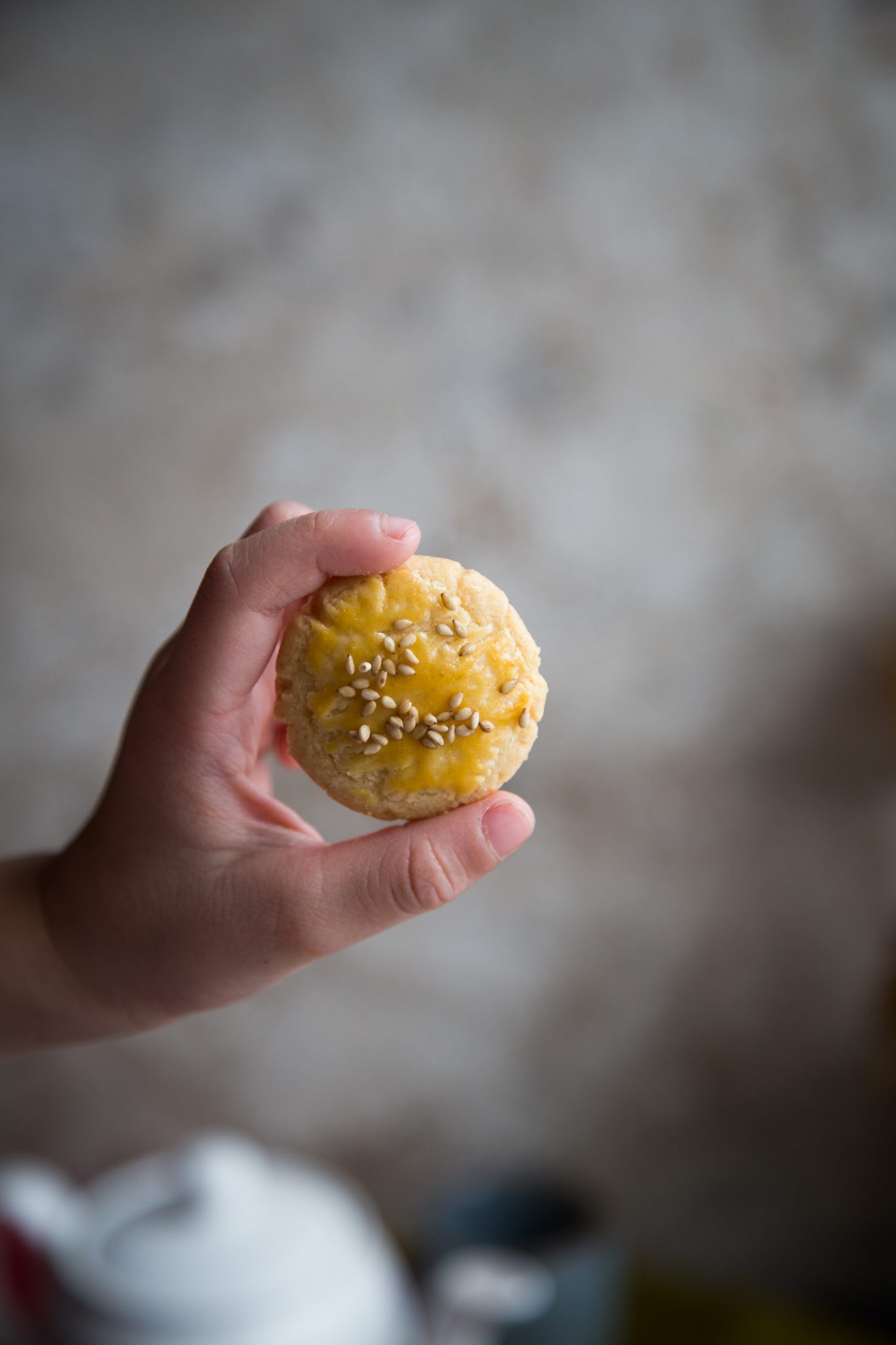 Recipe is adapted from Messy Witchen's
Salted Egg Yolk Cookies
Ingredients
Wet ingredients:
85

gr

butter

unsalted, softened

40

gr

fine sugar

55

gr

fresh salted egg yolks

about 3 salted egg yolks. See notes
Egg wash:
1

egg yolk

beaten

½

tsp

water
Instructions
Steam the salted egg yolks for 10 minutes and mash with a fork and set aside. Let butter comes to room temperature, about 30 minutes or so. I cut into smaller pieces and they get soft faster that way

Mix the dry ingredients in a large mixing bowl. Set aside. You should be able to easily mash the butter with a spatula or a spoon. Add sugar and stir until combine. Add the mashed salted egg yolks and gradually add in the dry ingredients and mix until it forms a soft slightly sticky dough. Flatten the dough into a round disc and wrap with a plastic wrapper and refrigerate for 30 minutes 

Preheat oven to 340 F. Place the rack 3rd from the top. Line a baking sheet with parchment paper. Roll the dough out to about 1/2-inch thickness. You can use a cookie cutter to cut the dough out. Or you can just pinch small pieces of dough and roll them into round balls and slightly flatten with your palm. Or you can roll the dough into a log and cut into pieces (like I did in the video)

Place the cookies about 1-inch apart, they may spread a little, but not too much. Brush each cookie with egg wash and sprinkle with white sesame seeds. Bake in the oven for 20 minutes They should be golden brown

Let them cool on the baking sheet for 5 minutes. The cookies are more fragile when they are warm. Carefully transfer to cooling rack to let them cool down completely. Store in an air-tight container and they can last for weeks (they won't last that long, trust me!)
Notes
If you can't find fresh salted egg yolks, you can use the already frozen salted egg yolks, you will need about 36 grams
Recommended products:
You also need to check out this quick method for making salted eggs. I like to use this method because I can use the egg whites for other things and the salted egg yolks for this recipe any many other recipes calling for salted egg yolks.

Other recipes with salted egg yolks you might like:
PANDAN LIU SHA BAO (SALTED EGG YOLKS CUSTARD PANDAN STEAMED BUNS)
SALTED EGG YOLK CHICKEN
SALTED EGG YOLK CORNFLAKES (2 WAYS)
SALTED EGG YOLK ZUCCHINI