Zucchini slices are stir-fried in umami-rich salted egg yolks. Something so simple yet a very delicious side dish. The recipe works with other vegetables too.
Salted duck egg is a very popular ingredient in Asian cooking and baking. Recently the term umami is on the rise. While umami itself isn't a new term anymore, in fact this umami term has been used for a long long time when the Japanese first discovered this umami taste. I've read from a magazine that umami is now our 5th taste. It's hard to explain what umami tastes is like. Soy sauce, shiitake mushrooms, salted duck egg yolks and several other ingredients are said to give that umami taste.
SALTED DUCK EGGS
The egg white of the salted duck eggs are very salty and usually eaten with porridge dishes in our family. The egg yolks though have a very rich taste, and slightly salty, and that's what has been referred to as umami. The egg yolks have kind of a "sandy" texture, and sometimes they are called golden sand in Chinese culinary.
SUBSTITUTE FOR SALTED DUCK EGG YOLKS
If you can't find cooked salted duck eggs, you can try make your own salted eggs by using chicken eggs. The result is pretty similar. Salted eggs made with chicken eggs are smaller in size.
HOW TO MAKE STIR-FRIED ZUCCHINI WITH SALTED EGG YOLKS
1. Trim the zucchini and cut them into even slices about 1/4 inch thick. Halve and then cut into quarter slices. Mash the cooked egg yolks with a fork. If you use homemade salted egg yolks, steam them for 10 minutes until cooked through


2. Heat a wok over a medium flame with about 1 tsp of oil. Add the zucchini in one layer if possible


3. Dry-fry for several minutes, until they have lost some of their water content and lightly charred on both sides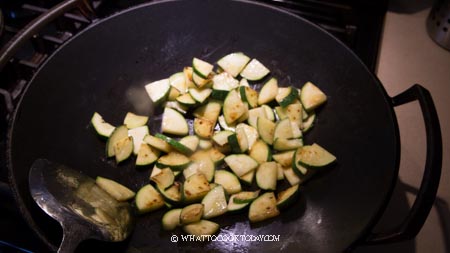 4. Return the wok to a high heat , then add the remaining oil and swirl around. Add garlic, and stir fry for 10 seconds


5. Add salted egg yolks and stir-fry until they turn frothy/foamy


6. Return the zucchini to the wok and stir-fry until all pieces are coated with salted egg yolks, adding sugar to taste if necessary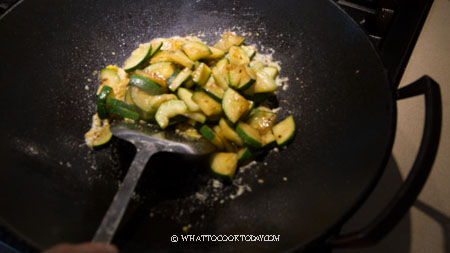 7. Garnish with white sesame seeds if you like. Serve immediately with rice as part of multi-course meal

VARIETIES YOU CAN DO WITH VEGETABLES AND SALTED EGG YOLKS
Stir-fried Zucchini with Salted Egg Yolks is just one of many dishes out there in Asia that uses salted egg yolks. Other vegetables you can use are string beans/snake beans, green beans, cucumber, eggplant, asparagus, and pumpkin. The possibilities can be limitless if you are willing to be adventurous.

DID YOU MAKE THIS STIR-FRIED ZUCCHINI WITH SALTED EGG YOLK RECIPE?
I love it when you guys snap a photo and tag to show me what you've made 🙂 Simply tag me @WhatToCookToday #WhatToCookToday on Instagram and I'll be sure to stop by and take a peek for real!

Stir-fried Zucchini with Salted Egg Yolks (黃 沙 炒小南瓜)
Ingredients
1

large

zucchini

about 350 grams (12 oz)

3

Tbsp

cooking oil

divided

2

cloves

garlic

minced

3

cooked salted duck egg yolks

use 4 if you use salted chicken egg yolks

Salt to taste
Instructions
Trim the zucchini and cut them into even slices about 1/4 inch thick. Halve and then cut into quarter slices. Mash the cooked egg yolks with a fork. If you use homemade salted egg yolks, steam them for 10 minutes until cooked through

Heat a wok over a medium flame with about 1 tsp of oil. Add the zucchini in one layer if possible and dry-fry for several minutes, until they have lost some of their water content and lightly charred on both sides

Return the wok to a high flame until smoke rises, then add the remaining oil and swirl around. Add garlic, and stir fry for 10 seconds, add salted egg yolks and stir-fry until they turn frothy/foamy. Return the zucchini to the wok and stir-fry until all pieces are coated with salted egg yolks, adding sugar to taste if necessary. Garnish with white sesame seeds if you like. Serve immediately with rice as part of multi-course meal
Notes
If you get some uncooked salted duck eggs, you can break the eggs, and separate the eggs and the white and place the egg yolks in a heatproof bowl, cover and put into a steamer for 10-20 minutes over a high heat until cooked through
Recommended products: