Dong'an is one of the counties in the Hunan province and the Dong'an chicken is one of Hunan's most famous dishes. The chicken is a delicate concoction of chicken flavored with chili and clear rice vinegar that is said to have originated in Dong'an county. It's precise history remains unclear, and some sources said that it is based on a dish called "vinegar chicken" (cu ji) that was eaten in Dong'an county during the Tang dynasty back in the eight century.
The are two different versions of stories shared by Fuschia Dunlop on the tale of how "vinegar chicken" eventually became known as Dong'an chicken. The first version is the Qing dynasy military commander named Xi Baotian loved this dish and often served it to his guests at banquets. Xi Baotian was from Dong'an and people started calling it Dong'an chicken.
Another version is that after the success of the Northern Expedition in 1972, a Nationalist army commander, Tang Shangzhi, served "vinegar chicken" at a banquet in Nanjing. His dinner guests were profuse in their praise, and asked what the dish was called. Tang felt that the original name was a bit blunt and inelegant, so he told them it was called Dong'an chicken, and the name stuck until today.
This recipe was from one of the great Hunanese chefs who used to cook for Chairman Mao Zedong. Try it and you will find it delicious!!
This recipe and part of the story are adopted from Revolutionary Chinese Cookbook by Fuchsia Dunlop, published by Norton (US)/Ebury Press (UK). www.fuchsiadunlop.com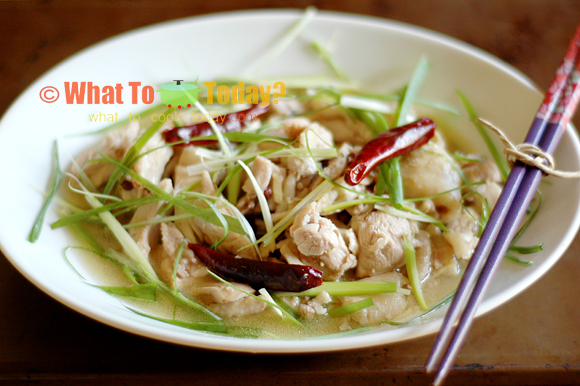 DONG'AN CHICKEN/ 東安子雞
Ingredients
About 4 quarts chicken stock

About 2 3/4 lbs free-range chicken

1 3/4-

inch

piece fresh ginger

, unpeeled

3

scallions

1

fresh red chili

3

dried red chilis

2

tsp

Shaoxing wine

2

Tbsp

clear rice vinegar

½

tsp

whole Sichuan peppercorns

Salt to taste

¾

tsp

corn starch mixed with 2 tsp cold water

1

tsp

sesame oil

4

Tbsp

lard or peanut oil for cooking
Instructions
Bring the stock to the boil in a large saucepan over a high flame. Add the chicken and return the liquid to the boil, skimming the surface, as necessary. Crush half the ginger and one scallion with the flat side of a cleaver or a heavy object, then add to the pan with the chicken. Reduce the heat and poach the chicken for 10 minutes. Remove the chicken from the cooking liquid and allow it to cool; reserve the cooking liquid. The chicken should be about three-quarters cooked. There will still be some blood, don't worry.

when the chicken is cool enough to handle, remove the flesh from the carcass and cut as far as possible into bite-size strips, along the grain of the meat. I never discard the skin. (the bones and scrappy pieces of meat can be returned to the cooking liquid and make into stock)

Cut the fresh chili in half lengthwise and discard the seeds and pithy part, then cut into very fine slivers about 1 1/2 inches long. Peel the remaining ginger and cut into slices and then slivers similar to the chili. Cut the green parts of the remaining 2 scallions into slivers of a similar length; set aside

Heat the wok over a high flame until smoke rises, then add the lard or peanut oil and swirl around. When the oil is warming up but before it is smoking hot, add the fresh chiles, and ginger, along with the dried chiles and Sichuan pepper and stir-fry until fragrant, taking care that the seasonings do not take color or burn

Add the chicken and continue to stir-fry. Splash the Shaoxing wine around the edges of the chicken. Add the vinegar and salt to taste. Add up to 1/2 cup of the chicken poaching liquid, bring to a boil and then turn the heat down a little and simmer briefly to allow the flavors to penetrate the chicken, spooning the liquid over

Add the corn starch mixture to the liquid and stir as the sauce thickens. Throw in the scallion greens and stir a few times. Remove from the heat and stir in the sesame oil. Serve