Crispy cornflakes cereal is coated with buttery salted egg yolks sauce and has an amazingly sweet, savory, and umami profile. You can make them in 2 different presentations with this super easy simple recipe. You will enjoy munching on this. They are perfect as edible gifts for Chinese New Year or any holiday celebrations.

If you enjoy salted egg yolks in pretty much many things, well, let's add this to the list if you haven't already! These salted egg yolks cornflakes are all the rave in Singapore and Malaysia. They are also sold in the stores as a snack.
The recipe rundown
Taste: Savory, sweet, umami, spicy (if you add chili) with the amazing aroma from butter and curry leaves
Texture: Very crunchy
Level: Easy
Pros: Very easy to put together
Cons: You will get so addicted to eating these salted egg yolk cornflakes that you can't stop! LOL!
Ingredients
1. Cornflakes
You can use any brand of cornflakes you like
2. Salted egg yolks
I can only get pre-cooked salted egg yolks. If yours are raw, simply steam them
3. Butter
I use salted butter. You can use unsalted butter and just add salt according to the recipe
4. Curry leaves
This is available at Asian grocery store sometimes. If you can't find any, you can skip this it won't ruin the whole deal
5. Chili
I like it with finely chopped red bird's eye chili, but I didn't use it this time because of my kids. You can also use chili flakes
6. Sugar
I use granulated sugar. Caster sugar works too
7. Honey
Honey is only added if you plan to make the cup version. For the snack version, don't add honey as it will be sticky (which is perfect for the cups/cluster version)

How to make salted egg yolk cornflakes- 2 ways
1. Preheat oven at 340 F (170 C). Steam the salted egg yolks for 10 minutes over high heat. Mash while they are warm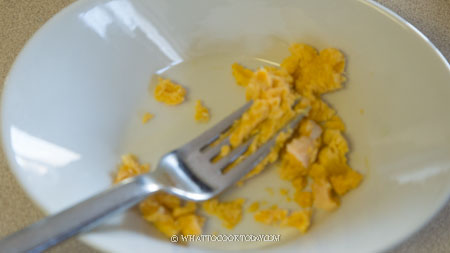 2. In a large skillet, melt butter and then add curry leaves and sugar (add honey if you plan to make the cups version). Stir fry for about 2 minutes over medium heat.


3. Add mashed salted egg yolk


4. The mixture will turn frothy. Stir to mix everything


5. Stir in cornflakes


6. mix to make sure the sauce coats the cornflakes


7. If you are making a snack version (not the cups or clusters), spread this on a baking sheet lined with parchment paper and bake for 10 minutes


8. They will appear not crispy yet when they are warm, but will crisp up once they cool down. Baking them make them extra crispy and stay crispy the whole time


9. If you are making mini cups, spoon the cornflakes mixture into mini muffin cups. Try to stick them close together as much as you can. Put this on top of a baking sheet and bake for 10-13 minutes. They won't appear sticking together when you just pull them out from the oven. They will crisp up and harden once they cool down completely

How to store
1. It is important to let them cool down completely before storing
2. Transfer to any jar or container with a tight-fitting lid. They will stay crispy for weeks at room temperature

Did you make this recipe?
I love it when you guys snap a photo and tag to show me what you've made 🙂 Simply tag me @WhatToCookToday #WhatToCookToday on Instagram and I'll be sure to stop by and take a peek for real!

My husband and the kiddos couldn't stay away from this ha..ha..I had to actually hid this from them.
You may also like these other recipes using cornflakes
Easy Salted Egg Yolk Cornflakes (2 ways)
Ingredients
Add this to make salted egg yolk cornflakes cups :
Instructions
Preheat oven at 340 F (170 C). Steam the salted egg yolks for 10 minutes over high heat. Mash while they are warm

If you plan to make salted egg yolk cornflakes cups, I suggest lightly crush the cornflakes into smaller pieces, but carefully not to turn them into powder. They stick together when in smaller pieces

In a large skillet, melt butter and then add curry leaves and sugar (add honey if you are making the cup/cluster version). Stir fry for about 2 minutes over medium heat. Add mashed salted egg yolk and the mixture will turn frothy

Stir in cornflakes and mix to make sure the sauce coats the cornflakes. If you are making snack (not the cups or clusters), spread this on a baking sheet lined with parchment paper and bake for 10 minutes. They will appear not crispy yet when they are warm, but will crisp up once they cool down. Baking them make them extra crispy and stay crispy the whole time

If you are making mini cups, spoon the cornflakes mixture into mini muffin cups. Try to stick them close together as much as you can. Put this on top of a baking sheet and bake for 10-13 minutes. They won't appear sticking together when you just pull them out from the oven. They will crisp up and harden once they cool down completely
Storage:
Let them cool down completely on the baking tray and then store in an air-tight container and they will stay crispy for weeks