Easy sweet honey almond cornflakes clusters or cups are made with only 6 ingredients and they are perfect for Chinese New Year celebrations or any holiday sweet treats.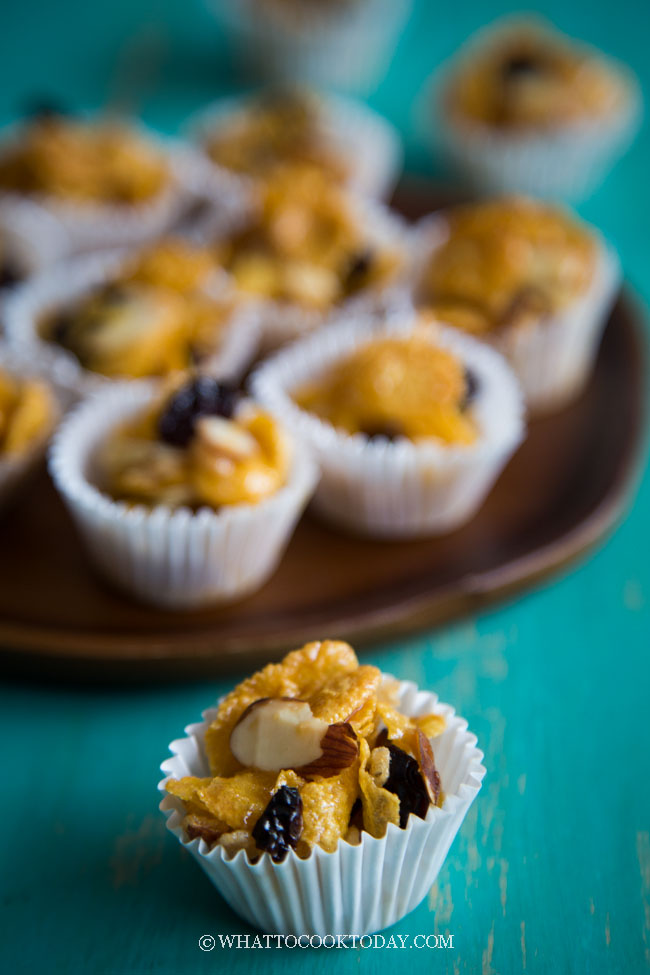 Another easy and one of my favorite Chinese New Year treats I like to make besides this easy no-bake chocolate cornflakes clusters is this honey almond cornflakes. Both of these are highly addicting and it's hard to stop eating them. They are gone pretty quickly at our house.
The recipe rundown
Taste: Buttery with the right amount of sweetness
Texture: Crunchy
Level: Easy
Pros: Can I say it again, easy?
Ingredients
1. Cornflakes
I use regular plain unsweetened cornflakes
2. Butter
I use unsalted butter. You can also use ghee or coconut oil
3. Honey
I use raw honey. You can substitute with agave nectar
4. Granulated sugar
Granulated sugar is common in the U.S. You can also use castor sugar
5. Sliced almonds
I use store-bought thinly sliced almonds
6. Raisins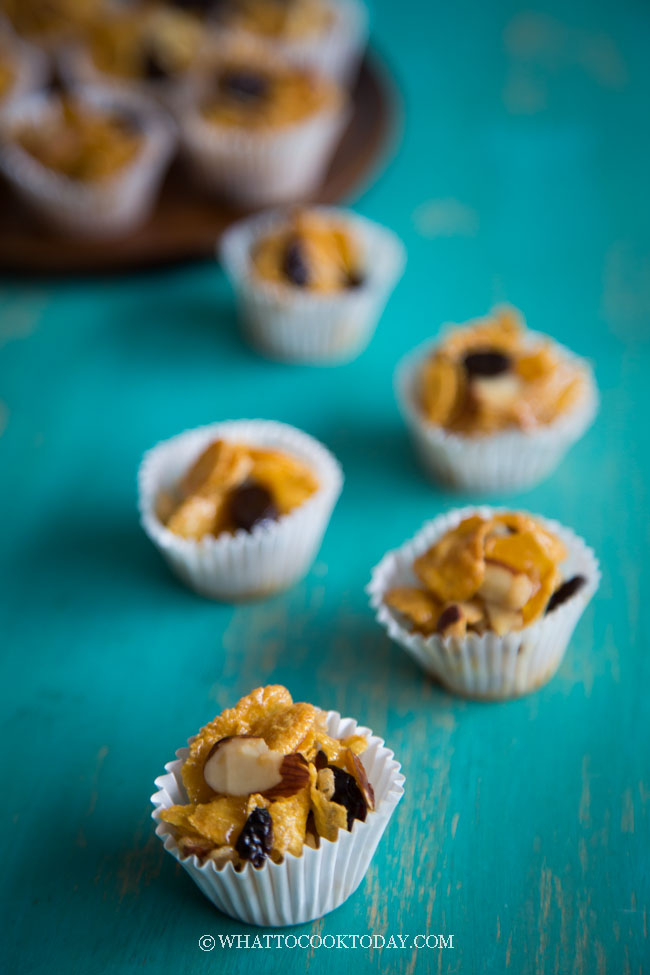 How to easily make honey almond cornflakes cups
1. Preheat oven to 350 F (180 C). Melt butter in a large pan or skillet over medium heat


2. Add sugar and honey and stir until it melts. Turn off the hea


3. Stir in cornflakes, sliced almonds, and raisins


4. Combine until they are coated with the butter mixture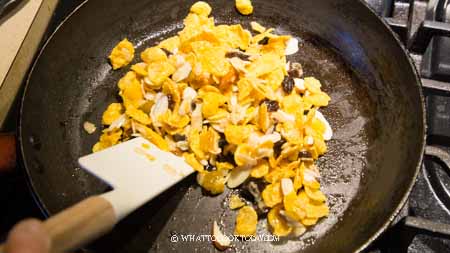 5. Scoop the mixture into mini muffin cups.


6. Place on a baking sheet and bake for 10 minutes or until golden brown.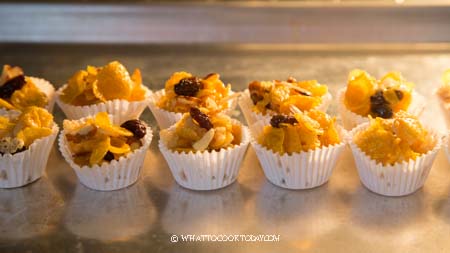 7. They will appear soft and not sticking together yet but once they cool down completely, they will harden and stick together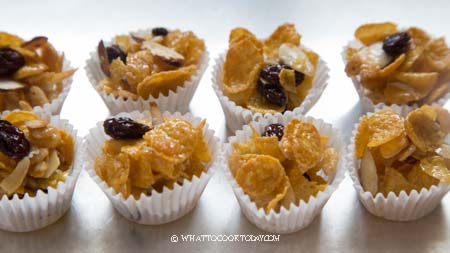 These babies stay crispy for weeks if you keep them in an air-tight container. It never lasts for more than 3 days in our house though!

A good honey almond cornflakes cups or clusters should not fall apart when you take off the paper to eat it. It may stick a bit to the bottom of the paper because of the caramelized sugar and honey, but it should stay in one cluster.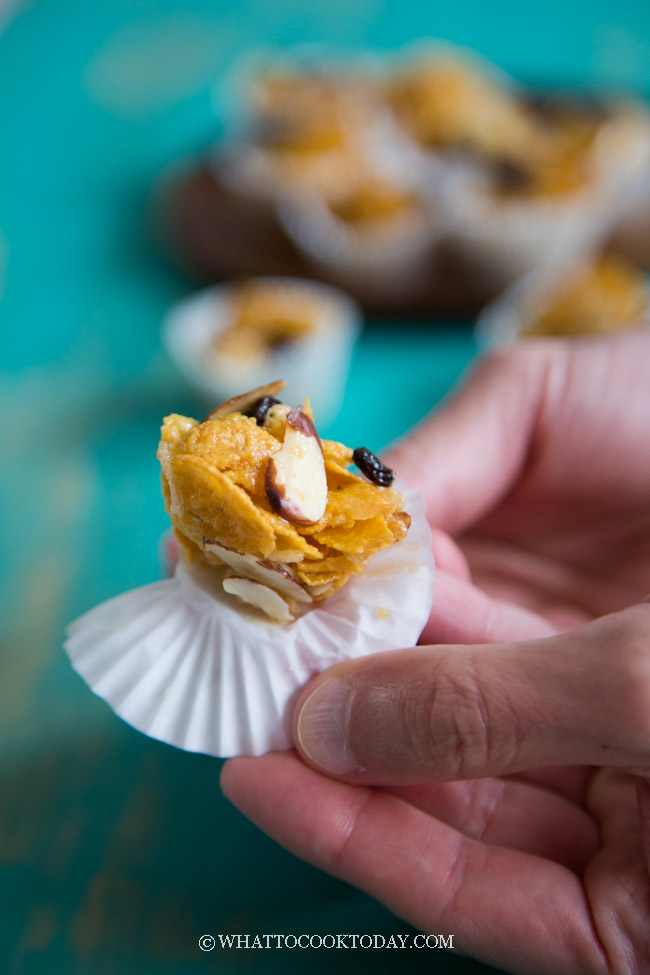 Variations
There are so many things you can add to this recipe
1. Vegan: replace butter with coconut oil or vegan butter. Use agave nectar instead of honey
2. You can also add unsweetened coconut chips (lightly crush them into smaller pieces), use a mixture of regular raisins and golden raisins, toasted sesame seeds, dried cranberries, etc.
How to store honey almond cornflakes clusters
1. Let them cool down completely
2. Transfer to an air-tight large jar or container and they can stay crispy for weeks
Did you make this honey almond cornflakes cups/clusters recipe?
I love it when you guys snap a photo and tag to show me what you've made 🙂 Simply tag me @WhatToCookToday #WhatToCookToday on Instagram and I'll be sure to stop by and take a peek for real!

Easy Honey Almond Cornflakes Cups/Clusters
Instructions
Lightly crush the cornflakes into smaller pieces so they can stick into cluster much better. Preheat oven to 350 F (180 C). Melt butter in a large pan or skillet over medium heat. Add sugar and honey and stir until it melts. Turn off the heat. Stir in cornflakes, sliced almonds, and raisins until they are coated with the butter mixture

Scoop the mixture into mini muffin cups. Place on a baking sheet and bake for 10 minutes or until golden brown. They will appear soft and not sticking together yet but once they cool down completely, they will harden and stick together
Recommended products: