These crunchy on the outside and soft inside cornflakes butter cookies/biscuits only need 6 ingredients and are easy to make and they are a nice addition to your Chinese new year cookie collection.

Cornflakes are popular ingredients used to make Chinese new year goodies. This no-bake chocolate cornflakes clusters and honey almond cornflakes cups/clusters are so good and easy to make and the star ingredient is cornflakes!
These cornflakes butter cookies are made with buttery cookie dough and instead of stirring the cornflakes into the dough to mix, the dough is coated with cornflakes instead.
The recipe rundown
Taste: Sweet with a hint of saltiness and nice buttery aroma
Texture: Crunchy on the outside and soft inside
Ease: Easy
Pros: Recipe can be done without a gadget like a handmixer. I love the presentation
Cons: I can't think of any other than try not to eat too much 🙂
Ingredients
1. Salted butter
You can use unsalted butter and just add 1/4 tsp of salt
2. Icing sugar
Icing sugar gives a softer cookies
3. All-purpose flour
I use regular unbleached all-purpose flour. You can also use cake flour to substitute for all-purpose flour and omit the cornstarch and substitute the amount with cake flour
4. Cornstarch
Cornstarch contributes to the soft texture
5. Raisins
You can use regular raisins and/or golden raisins, craisins
6. Cornflakes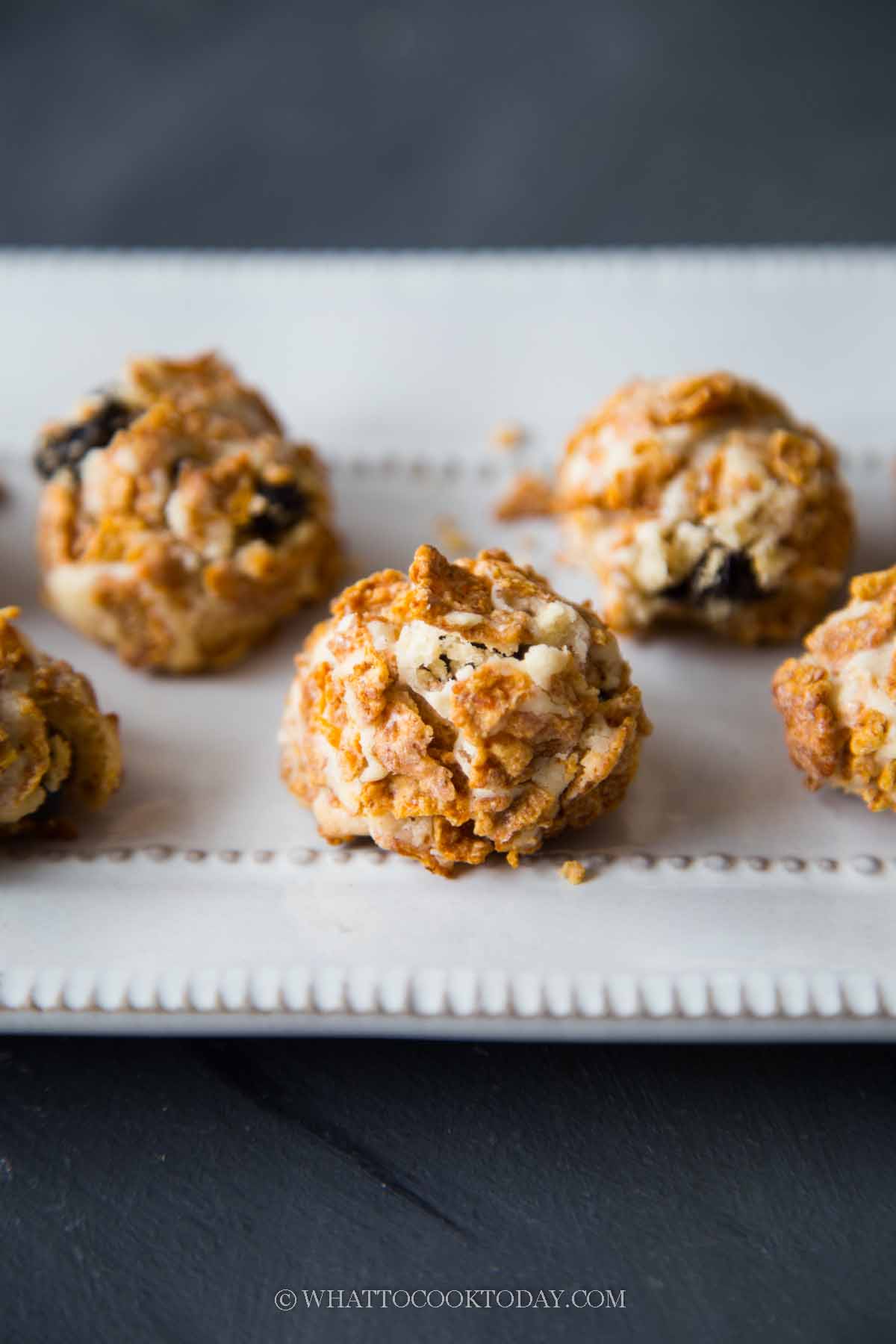 How to make easy eggless cornflakes butter cookies
1. Let the butter softens at room temperature for about 30 minutes or until you can easily mash with a spatula. Add icing sugar and mash together until creamy


2. Add all-purpose flour, cornstarch and raisins


3. Use your clean hand to mix into a sticky dough is easier, or you can also use a spatula to mix


4. Scoop about 10-15 grams or 1 Tbsp of the dough or use a cookie scoop and drop it on the cornflakes.


5. Coat the dough with the cornflakes all over. Use your hand to gently press to make sure the cornflake pieces stick on the dough


6. Place on a baking sheet. This cookie doesn't spread much. You can give about 1/2-inch of space in between cookies


7. Bake at 350 F for 15 minutes or until the bottom of the cookies are golden brown. Let them cool on the rack for 5 minutes and then transfer to a cooling rack to let them cool down completely. Transfer to an air-tight container

As soon as the cookies came out from the oven, hubby and kids couldn't wait to attack them LOL! They love these cookies. Crunchy with a nice buttery aroma. Not overly sweet with hint of saltiness. Perfect with that cuppa for sure!
Variations
1. You can use coconut oil (not melted) instead of butter
2. Instead of raisins, you can also use other seeds or your favorite small pieces of nuts, dried fruit, or seeds
3. You canalso use different cereal like toasted rice puff cereal, nestum cereal. Just some ideas!
How to store
1. Let the baked cookies cool down completely on a cooling rack
2. Transfer to an air-tight container. They can be kept this way for weeks

Did you make this easy eggless cornflakes butter cookies recipe?
I love it when you guys snap a photo and tag to show me what you've made 🙂 Simply tag me @WhatToCookToday #WhatToCookToday on Instagram and I'll be sure to stop by and take a peek for real!

Easy Cornflakes Butter Cookies/Biscuits (Eggless)
Instructions
Prepare the cookie dough:
Preheat oven to 350 F (180 C). Line a large baking sheet with parchment paper. Lightly crush the cornflakes into smaller pieces in a bowl. Don't crush them too much though. I prefer to be able to still see the small pieces and not powder. Set aside

Let the butter softens at room temperature for about 30 minutes or until you can easily mash with a spatula. Add icing sugar and mash together until creamy

Add all-purpose flour, cornstarch and raisins. Use your clean hand to mix into a sticky dough
Coat the cookie with cornflake pieces:
Scoop about 10-15 grams or 1 Tbsp of the dough or use a cookie scoop and drop it on the cornflakes. Coat the dough with the cornflakes all over. Place on a baking sheet. This cookie doesn't spread much. You can give about 1/2-inch of space in between cookies

Bake at 350 F for 15 minutes or until the bottom of the cookies are golden brown. Let them cool on the rack for 5 minutes and then transfer to a cooling rack to let them cool down completely. Transfer to an air-tight container