These crunchy on the outside and soft and melt-in-your-mouth green pea cookies made with green pea flour/powder, are so easy to make and they are made without any butter.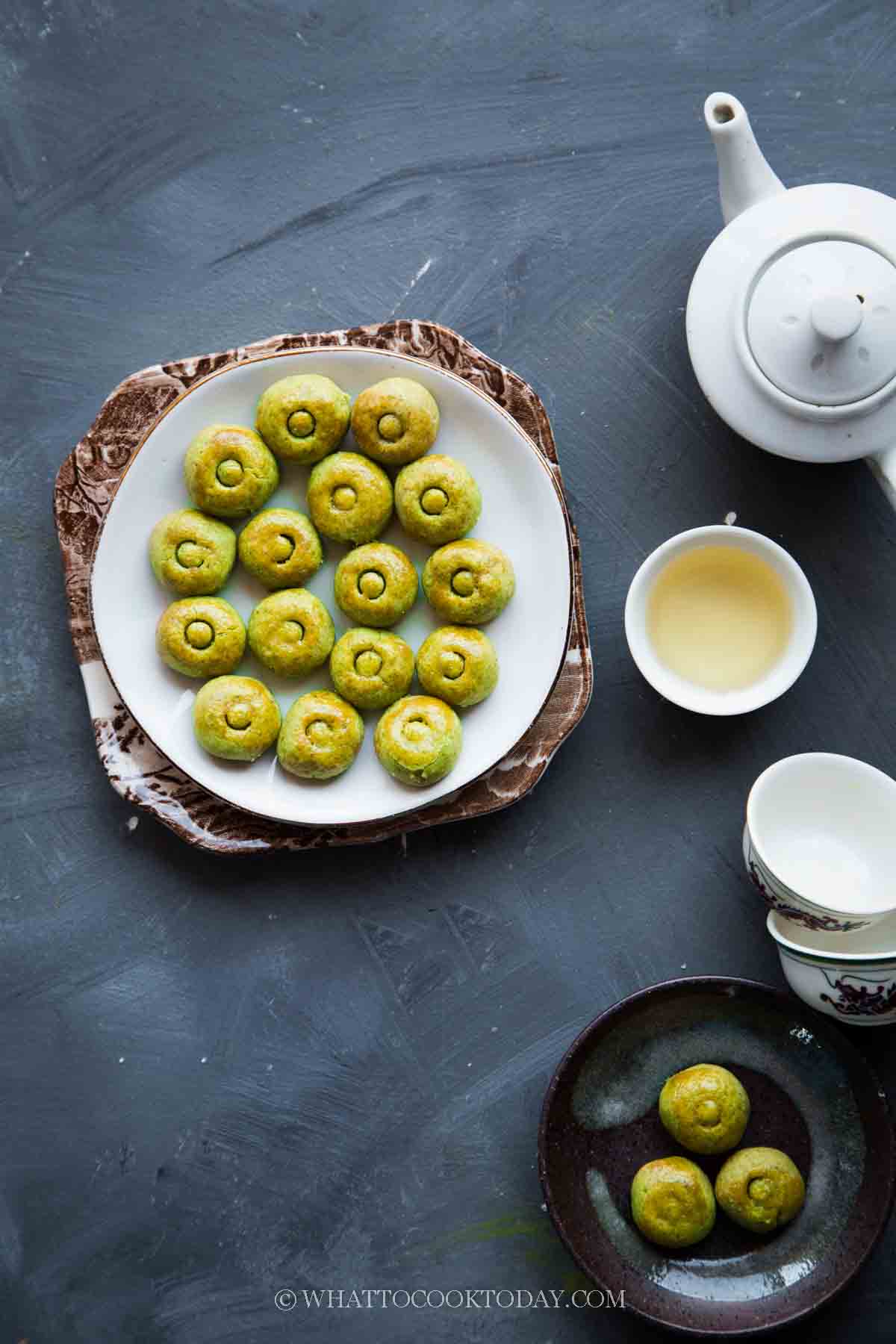 Green pea cookies is another popular Chinese New Year cookies. This is a great alternative for those with nuts allergy and who want to enjoy the same delicious melt-in-your-mouth Chinese peanut cookies. The cookies are shaped like ancient Chinese coins and symbolize wealth and prosperity.
What is green pea flour/powder?
Green pea flour/powder is made with green peas. Don't be mistaken with the green mung beans. The color of the flour or powder is bright pastel green. Green pea flour/powder is not easy to find here. In Southeast Asia, they are made with fried green peas that are being ground into a very fine powder/flour consistency.
The recipe rundown
1. Taste: Sweet with a hint of salt. A mild fragrant aroma of green peas
2. Texture: Melt-in-your-mouth texture
3. Level: Easy
4. Pros: This recipe is very fail-proof. It's hard to mess up
5. Cons: Green pea flour/powder is not easy to find in the U.S. I can only get green pea flour/powder from an online store
Ingredients
1. Green pea flour/powder
If you live in Asia, especially Singapore and Malaysia, you will have no problem finding this.
Where to get green pea flour in the U.S?
These two green pea flour/powders are much healthier compared to the one made with fried green peas. They are made with only green peas and don't have any other things mixed in. They have a very fine texture too (not sponsored by these brands. Just affiliate links, which means I get a tiny compensation if you purchase from any of these links without additional cost to you). You can use any green pea flour/powder you like as long as there are no other ingredients mixed in there:
Sprouted green pea flour
Organic Pea Protein Powder
If you want to make your own green pea flour/powder, I suggest getting these fried green peas and ground them into a very fine powder
2. All-purpose flour
3. Icing sugar
Icing sugar gives that melt-in-your-mouth texture
4. Salt
A little bit goes a long way to bring out the flavor
5. Oil
The oil also contributes to the soft texture, so I don't recommend cutting down on the amount
6. Baking powder
The baking powder gives the cookies the light texture
7. Egg yolk
Egg yolk wash is to add that lightly golden brown look on top. You can skip this for a vegan version
How to make green pea cookies
1. Mix the green pea powder, all-purpose flour, icing sugar, salt, and baking powder in a bowl. Whisk to mix everything.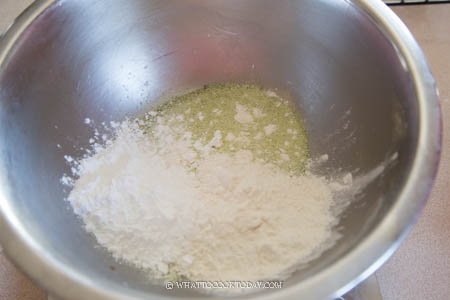 2. Gradually add oil


3. Knead into a smooth dough. If it's too dry, you can add a bit of oil, teaspoon by teaspoon until you get a smooth, non-sticky, moist dough


4. Scoop about 1 tablespoon of the dough and roll it into a ball.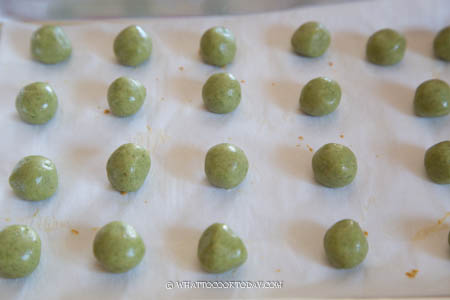 5. Use a straw or anything that is round to make a circle imprint on top of the cookies. I used my round piping nozzle


6. Place on a baking sheet, just about 1/4-inch apart. These cookies will not spread much at all. Brush with some egg yolk wash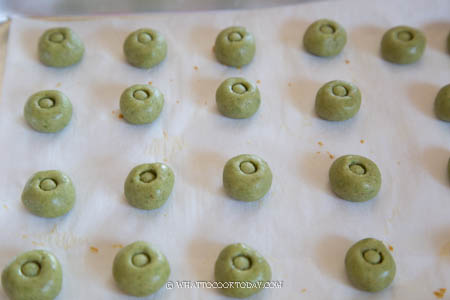 7. Place the baking sheet at the middle rack and bake for 20 minutes or until the bottom is just lightly golden brown. Remove from the oven. Let them cool down on the tray for 5 minutes and then transfer to a cooling rack to let them cool down completely before storing

Did you make this easy green pea cookies recipe?
I love it when you guys snap a photo and tag to show me what you've made 🙂 Simply tag me @WhatToCookToday #WhatToCookToday on Instagram and I'll be sure to stop by and take a peek for real!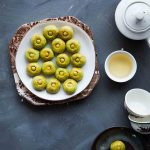 Easy Green Pea Cookies (Chinese New Year)
Instructions
Preheat oven at 320 F (160 C) for a conventional oven. If you use a convection oven, lower the temperature by 20 degrees. Line a large baking sheet with parchment paper

Mix the green pea powder, all-purpose flour, icing sugar, salt, and baking powder (I forgot to type the "baking powder" in the video recipe) in a bowl. Whisk to mix everything. Gradually add oil and knead into a smooth dough. If it's too dry, you can add a bit of oil, teaspoon by teaspoon until you get a smooth, non-sticky, moist dough

Pinch of about 10-12 gram of the dough and roll it into a ball. Use a straw or anything that is round to make a circle imprint on top of the cookies. I used my round piping nozzle

Place on a baking sheet, just about 1/4-inch apart. These cookies will not spread much at all. Brush with some thin egg yolk wash. Don't brush too thick as we want to still show the green color from the green pea flour. Place the baking sheet at the middle rack and bake for 20 minutes or until the bottom is just lightly golden brown. Remove from the oven. Let them cool down on the tray for 5 minutes and then transfer to a cooling rack to let them cool down completely before storing

Store in air-tight container and they can last for weeks at room temperature