Learn how to make these traditional peanut cookies that melt in your mouth with only 5 ingredients. The recipe can be made with peanut butter for convenience.
Few weeks before the CNY, my mom usually started to stock up on Chinese new year cookies. My aunts usually made them and I would go over to her house to help out. She literally made tons and tons of different kinds to distribute out to relatives. Lots of eggs, butter, sugar, and flour involved for sure. It was my favorite thing to do!! So, here is another one of my favorite Chinese new year cookies, peanut cookies or we call it kue kacang(peanut) skippy in Indonesia. These cookies are also popular Hari Raya Cookies. They are also known as Mazola Peanut Cookies because they are made with Mazola brand corn oil, which is popular in Malaysia.
TO USE PEANUT BUTTER OR GROUND ROASTED PEANUTS?
Traditionally, Chinese peanut cookies are made with ground peanuts, but in Indonesia, they are made with peanut butter, skippy brand to be exact, but you don't have to use skippy brand. The result is equally delicious. If you are lazy (I won't tell!) definitely use peanut butter 😉 You definitely don't have to roast your own peanuts too, there are lots of store-bought roasted unsalted peanuts you can purchase to save time and that's what I did.
HOMEMADE CHINESE PEANUT COOKIES MADE EASY
The step-by-step instruction is applicable to both using ground peanuts and peanut butter.
1. If using roasted peanuts, grind them into fine texture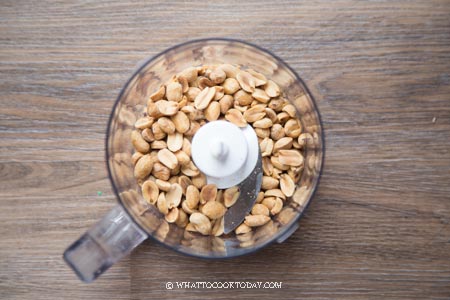 2. Mix peanut/peanut butter, flour, sugar, and salt in a mixing bowl and stir to mix, it will be more sticky if you use peanut butter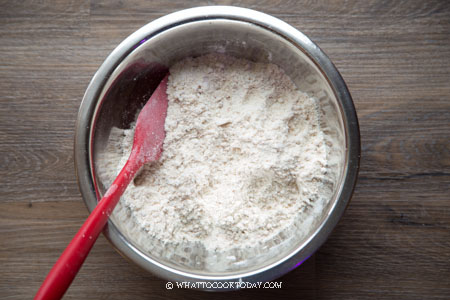 3. Gradually add in peanut oil until you can form a dough ball without falling apart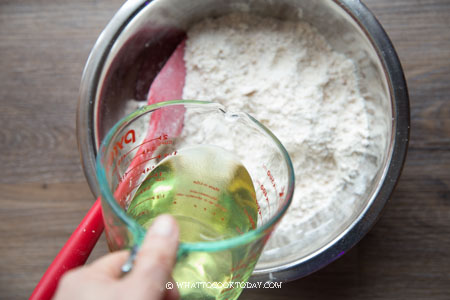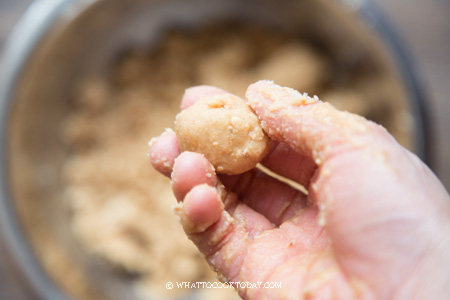 4. Use a straw to make an indentation on top of the cookie or simply insert half of the peanut on top of the cookies
or you can use a small fork to gently press down on the cookies to make the crisscross pattern. This was the pattern my aunt used to make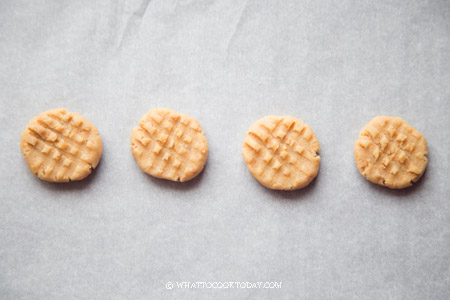 5. Brush with egg wash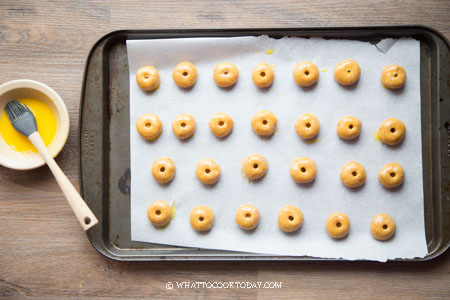 6. Bake in a preheated oven at 350 F for 15-20 minutes or until the cookies are golden brown

TOP TIPS YOU NEED TO KNOW
These cookies are really easy to make and pretty straightforward, but knowing few tips or so won't hurt either
1. Make sure you give the peanut butter a stir before using it in a recipe. This is especially important if you use the natural peanut butter where the oil tends to separate and float to the top
2. Gradually add in that oil.
The amount of oil in the recipe is just an estimate. Definitely pour it in a bit by a bit until you can form a dough. You may not need all of them or you may need more
My sister-in-law shared this kue skippy recipe with me and I really loved how they turn out. Melt-in-the-mouth and 5 minutes after they were out of the oven, my husband swallowed 6 of them !! and here I thought I made too many!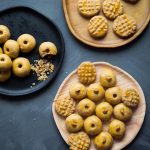 Easy Melt-in-the-mouth Peanut Cookies (Mazola Peanut Cookies)
Ingredients
If using peanut butter:
100

gr

peanut butter

see notes 1
Instructions
Preheat oven to 350 F (180 C) for a conventional oven (bottom heat only). If using a convection oven (top and bottom heat), lower the temperature by 20 degrees. Prepare egg wash by lightly beating the egg yolk with 1 tsp water. Set aside
If using natural peanut butter or any nut butter:
If you use natural peanut butter or other nut butter, make sure you give it a really good stir until the oil and the nuts are well combined before adding it into the recipe as the oil tends to separate and this can affect the recipe
If using roasted peanuts:
Place the roasted peanuts in a food processor and grind until fine in texture
Prepare the cookie dough:
Place ground peanut or peanut butter, sugar, flour, baking powder and salt in a large mixing bowl. Stir to mix with a wooden spoon. Then gradually add in the cooking oil (don't pour in all at once), you may not need all of them. Stir until the dough come together to a point where you can press together into a dough. If it's too dry, add a bit more oil until you get to the consistency where the dough will not fall apart. The peanut butter dough is more at the sticky side, but you can dust your fingers with a bit flour to help you roll the dough into balls
Shaping the dough:
Shape the dough into balls (it's up to you how big or small you want them to be). Mine is about 10 gr each. Place them on a cookie sheet lined with parchment paper about 1/2 inch apart, they don't expand much. Continue with the rest.

I made three different styles. You can use a straw to make a small indentation in the middle (mine are a bit too deep). You can also use a fork to gently press the dough ball down while making the crisscross pattern, or you can simply insert a half piece of peanut on top of the cookie dough
Bake the cookies:
Brush the cookies with egg wash and bake for about 15-17 minutes or until golden brown. If you want a crispier texture, add another 5 minutes or so. Remove from the oven and let them cool for about 10 minutes before removing them to cooling rack to cool down completely. They are very soft when they are warm. Store in the air-tight container at room temperature for up to 1 month
Notes
You can use creamy or chunky peanut butter, other nut butter like almond butter, cashew butter. Biscoff will be a nice one too. If you use natural nut butter (with oil floating on top), make sure you stir really well to combine before using it in the recipe
Nutrition
Serving:
1
10-gram cookie
Calories:
44
kcal
Carbohydrates:
4
g
Protein:
1
g
Fat:
3
g
Saturated Fat:
1
g
Polyunsaturated Fat:
1
g
Monounsaturated Fat:
1
g
Trans Fat:
1
g
Cholesterol:
3
mg
Sodium:
46
mg
Potassium:
25
mg
Fiber:
1
g
Sugar:
2
g
Vitamin A:
4
IU
Calcium:
6
mg
Iron:
1
mg