A compilation of Chinese New Year goodies like cookies, pastry, and snack recipes from traditional to new ideas you can make at home. Hopefully, this list will inspire you to make your own.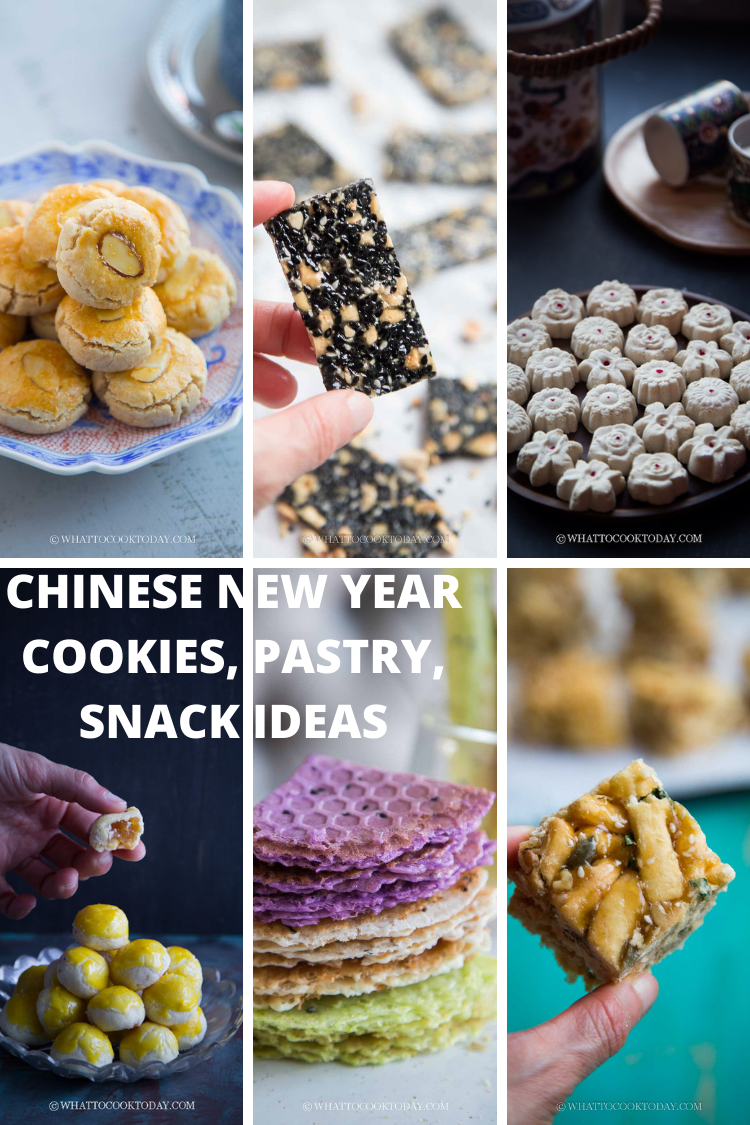 Preparing Chinese New Year goodies like cookies, pastry, and snack is part of welcoming and celebrating Chinese New Year. There are so many different kinds you can make to welcome the new year, from traditional to modern, and anything in between. Why make your own CNY goodies when you can easily buy them out there? Well, my mom usually stocked not only 2-3 kinds of CNY treats, but at least 10 different kinds for guests who came to visit during CNY. They are not cheap. They all add up I must say! Besides, making your own, you have control over the ingredients and quality.
TRADITIONAL CHINESE NEW YEAR COOKIES AND PASTRY
When I say traditional, it means these cookies and pastry have been around for a long time and very popular during Chinese New Year.


Melt-in-the-mouth Chinese Peanut Cookies (Kue Kacang Skippy)
Easy Chinese Almond Cookies (for Chinese New Year)
Hup Toh Soh (Old-fashioned Chinese Walnut Biscuits)
Easy Green Pea Cookies (Chinese New Year)
Chinese Sesame Smiling Cookie Balls / Laughing Balls (笑口枣)
Crispy Sesame Ribbon Biscuits (Sesame Ribbon Cookies)
Kuih Kapit/Kue Semprong (Love Letter Biscuit/Crispy Coconut Rolls)
The Best Kue Bangkit Santan (the only recipe you ever need!)
CHINESE NEW YEAR BUTTER COOKIES

Salted Egg Yolk Cookies
Eggless Melt-in-Your-Mouth Buttery Laksa Cookies
Easy Cornflakes Butter Cookies (Eggless)
German Potato Cookies (Melting Moments Butter Cookies)
Kue Lidah Kucing (Cat's Tongue Cookies / Katte Tong)
Kue Kastengel (Dutch-Indonesian Cheese Tarts)
Kue Semprit Susu (Indonesian Butter Cookies)
Kue Putri Salju (Snow White Cookies)
Easy Flourless Almond and Seeds Florentines (Chinese New Year)
Jan Hagel Koekjes (Cinnamon Almond Dutch Cookies)
CHINESE NEW YEAR PASTRIES

Open-Faced Pineapple Tarts (for Chinese New Year)
Melt-in-the-mouth Enclosed Pineapple Tarts (Kue Nastar)
Mini Kok Chai (Chinese Crispy Peanut Puffs) – Baked or Fried
Tau Sar Piah / Tambun Biscuits / Mung Bean Pastry (Sweet Savory Version)
CHINESE NEW YEAR CEREAL COOKIES

Easy Salted Egg Yolk Cornflakes (2 Ways)
Easy Cornflakes Butter Cookies (Eggless)
Easy Honey Almond Cornflakes Cups/Clusters
Chinese New Year Chocolate Cornflakes Clusters (No Bake)
CHINESE NEW YEAR SNACKS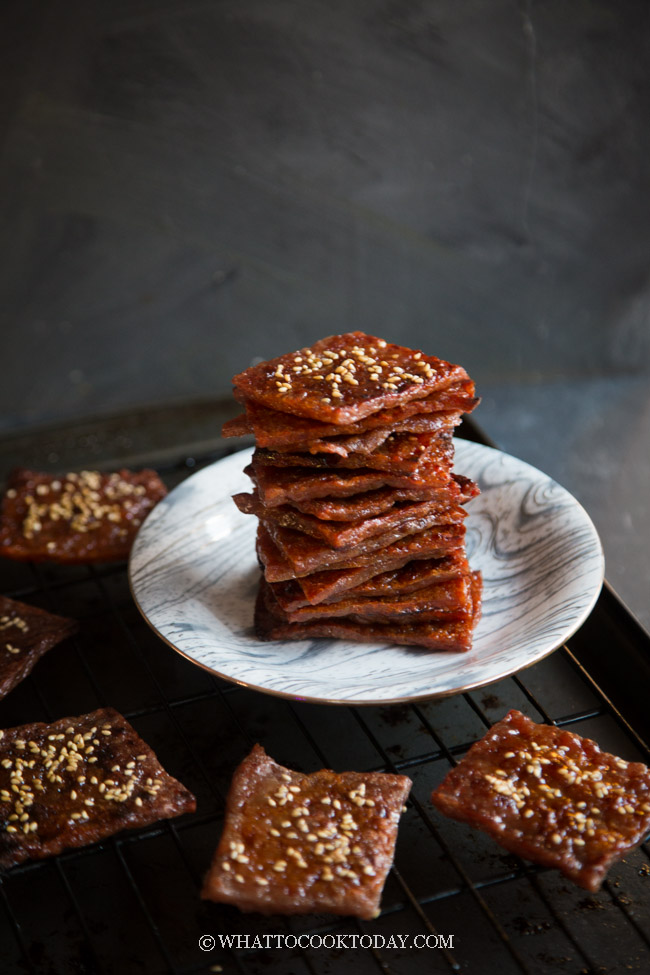 Easy Homemade Bak Kwa Chinese Pork Jerky (In the Oven)
Easy Crispy Mini Pork Floss Rolls (Baked or Fried)
Easy Sesame Peanut Brittle (Teng Teng Kacang)
Easy Black Sesame Peanut Candy (Soft and Chewy)
Kue Kembang Goyang – Kuih Loyang (Honeycomb Cookies)
Easy Sachima (Shaqima / Chinese Soft Flour Cake)
Chinese Crispy Sesame Balls (Jian Dui/ Zi Ma Qiu)
What are some of your must-have Chinese New Year goodies? Please feel free to share as I'm sure there is something out there I haven't tried 🙂
Did you make any of these Chinese New Year recipes?
I love it when you guys snap a photo and tag to show me what you've made 🙂 Simply tag me @WhatToCookToday #WhatToCookToday on Instagram and I'll be sure to stop by and take a peek for real!
You may be interested in Chinese New Year Food Recipes (Menu Planning)
A compilation of iconic Chinese new year food to help you plan your Chinese new year menu you can cook at home, from appetizers, main course, sides, and desserts.