Soft melt-in-the-mouth cookies coated in icing sugar are popular Indonesian cookies for Chinese New year or Lebaran celebrations.

I've always been a big fan of this kue putri salju or direct translation is princess snow or snow-white cookies. Putri salju is said to be an adaptation of the Austrian's shortbread cookie calls Vanillekipferl (Austrian Vanilla Crescent Cookies). Vanillekipferl is pleasantly infused with the aroma of vanilla. Kue putri salju has powdered milk added and only a hint of vanilla. There are also similar cookies to putri salju, such as the Mexican wedding cookies, or the Russian Tea Cakes. The ingredients are very similar and both are also coated with lots of icing sugar. In America, we call it snowball cookies. Kue putri salju usually has a shape of a crescent, similar to the Mexican wedding cookies.
HOW TO MAKE SOFT MELT-IN-THE-MOUTH PUTRI SALJU COOKIES
1. PREPARE COOKIE DOUGH
Cream butter and icing sugar at medium speed using a paddle attachment until creamy. Alternatively, you can also use a handmixer


Add egg yolk, one by one until all incorporated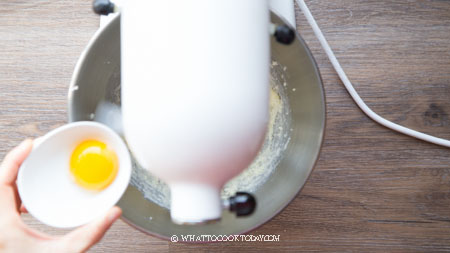 Next add finely chopped nuts. I used almond meal. You can use whatever nuts you like


Add cornstarch


Add milk powder


Add all-purpose flour in 3 batches and mix until just combine. Do not overwork the dough. You may still see some flour, that's okay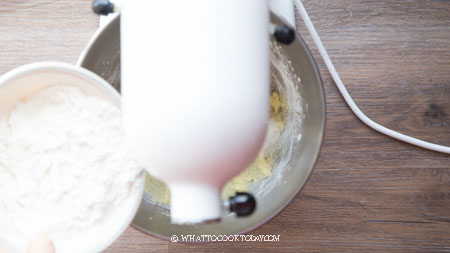 Use your hands to gently mix it into a soft non-sticky dough. Divide the dough into two. Wrap them with a plastic wrap and chill in the fridge for 30 minutes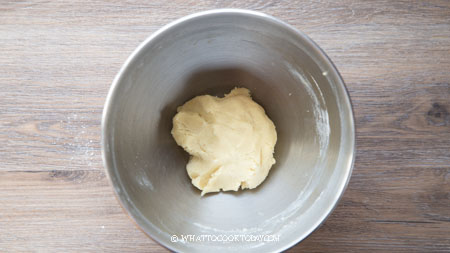 2. SHAPE COOKIES
Preheat your oven at 300 F while you are shaping the cookies
WITH COOKIE CUTTER: If you have a crescent shape cookie cutter, dust your work surface lightly with some flour and roll out the dough into about 1/2 inch thickness and cut the crescent shape out and gather the leftover dough and roll it out again and repeat
SHAPE WITH HANDS: simply divide the dough into 30-40 balls (depending on how big you want the cookies).


Slightly flatten and then shape the dough into a crescent shape using your fingers


3. BAKE
Place the baking sheet, 3rd rack from the top and bake for 25-30 minutes or until they have a pale golden on top and slightly brown on the bottom

4. COOL DOWN
Let the cookies cool down for about 3 minutes on a cooling rack


5. COAT WITH ICING SUGAR
Dip cookies into the icing sugar while they are still warm and then let them cool down completely before storing in an air-tight container

IMPORTANT TIPS YOU WANT TO READ
1. Use good quality butter
The aroma of the butter will shine through in your cookies
2. Use icing sugar in cookie dough
I use icing sugar instead of regular white sugar in the cookie dough as it gives that melt-in-the-mouth texture
3. Use room temperature egg yolks
This will prevent the butter from curdling when you beat in the eggs
4. Coat the cookies with icing sugar when they are still warm
The icing sugar will "stick" to the cookies better when they are warm
HOW TO STORE PUTRI SALJU COOKIES
1. COOL DOWN COMPLETELY
Once you coat them with icing sugar, make sure to let them cool down completely on a cooling rack. You can leave them out on the counter until the next day. This will prevent the cookies from "sweating"
2. TRANSFER TO AN AIR-TIGHT CONTAINER
Transfer the cookies to an air-tight container and they can be stored at room temperature for about 1 week

DID YOU MAKE THIS KUE PUTRI SALJU RECIPE?
I love it when you guys snap a photo and tag to show me what you've made 🙂 Simply tag me @WhatToCookToday #WhatToCookToday on Instagram and I'll be sure to stop by and take a peek for real!
Kue Putri Salju (Snow White Cookies)
Ingredients
170

gr

butter

about 3/4 cup, softened

60

gr

icing sugar

about 1/2 cup

2

egg yolks

room temperature

100

gr

almond meal

about 1 cup, or finely chopped pecans or walnuts

50

gr

cornstarch

about 6 Tbsp

20

gr

milk powder

about 4 tsp

200

gr

all-purpose flour

about 1 + 2/3 cups
To coat cookies:
Instructions
Cream butter and icing sugar at low speed. Add egg yolks one by one. Add chopped nuts, cornstarch, and milk powder and beat for another minute. Gradually add in the all-purpose flour in 3 batches until barely combined. Use your clean hands to continue mixing to form a non-sticky dough. Divide the dough into 2. Wrap each in a plastic wrap and then chill the dough in the fridge for 30 minutes or up to 24 hours

Preheat your oven to 300F. Line a baking sheet with a parchment paper or use butter to grease the baking sheet. Dust your hands and work surface with a bit of flour. Remove one dough from the fridge. If you have a crescent shape cookie cutter, roll the dough out into about 1 cm in thickness and use the cookie cutter to cut out the shape. If you don't have the cookie cutter, simply divide the dough into 30-40 balls (depending on how big you want the cookies). Slightly flatten and then shape the dough into a crescent shape using your fingers. Continue with the next dough when the first tray is baking

Bake one tray of cookie at a time for the best result. Place the baking sheet, 3rd rack from the top and bake for 25-30 minutes or until they have a pale golden on top and slighty brown on the bottom. Let them rest for about 3 minutes and then dip them into the icing sugar while they are still warm and then let them cool down completely before storing in an air-tight container
CHECK OUT OVER 50+ CHINESE NEW RECIPE COLLECTION