Make these traditional Cantonese mini peanut puffs kok chai / yao kok that are usually seen during Chinese New Year. They can be baked and fried and tastes so amazing.

YAO KOK (FRIED DUMPLINGS)
These mini peanut puffs are also known as yao kok or deep-fried dumplings or crispy dumplings. Like many other Chinese New Year food, this kok chai also has its auspicious meaning. It is made to resemble the ancient Chinese gold ingot, which represents prosperity. Kok chai is usually filled with peanuts and sugar. Traditionally, kok chai is deep fried in oil until puffy, but the baked version is equally good and better for your waistline 😉

INGREDIENTS FOR KOK CHAI
1. FILLING
– Peanut: buy the peeled, roasted, and unsalted peanuts. This way you don't have to peel the skin and roast the peanuts yourself
– Sugar: any regular white sugar will work
– Oil: you can use peanut oil or other neutral-tasting oil
2. DOUGH
– All-purpose flour
– Butter : use unsalted butter
– Eggs : white or brown eggs will work
HOW TO MAKE MINI KOK CHAI
1. PREPARE THE PEANUT FILLING
Place peanuts, sugar, sesame seeds, and salt in a food processor. Grind into fine pieces.


Add the oil and mix everything. Set aside.


2. PREPARE THE DOUGH
Combine flour, salt, and butter. Rub the butter into the flour to get a coarse crumbly dough.


Add egg yolk and 1 Tbsp of water at a time and continue to knead into a smooth non-sticky dough and add water as needed. Cover the dough and rest for 30 minutes (DO NOT skip the rest)


3. WRAPPING AND SHAPING
Preheat oven to 350 F if you choose to bake. Roll the dough into a thin sheet, about 3 mm in thickness.


Use a small round cookie or biscuit cutter, about 3-inch in diameter, or simply use the lip of the round glass jar about that size to cut out round shapes.


Place about 1 teaspoon of the filling into the middle.


Then fold over to form a half-circle.


Start folding and pinching the edge to seal. Make sure you seal them good or the filling will spill out when you fry or bake them.

4. IF YOU BAKE THEM
Place the kok chai on a baking sheet lined with a parchment paper.


Brush with egg wash.


Bake in a preheated oven for about 20 minutes and then rotate the baking sheet and bake for another 10-15 minutes until nicely golden brown.
5. IF YOU FRY THEM
Preheat about 2-inches of oil in medium-size pot over high heat. When the oil is hot, lower the heat to medium and carefully put the wrapped kok chai into the oil, in batches, and fry until golden brown and puffy on both sides. Remove into an absorbent paper towel and continue with the rest.
I think the most time-consuming activity is probably wrapping them. I've seen people using special kok chai mould to wrap and that will definitely speed things up. I like to wrap and pleat dumplings, so I find this activity quite relaxing 🙂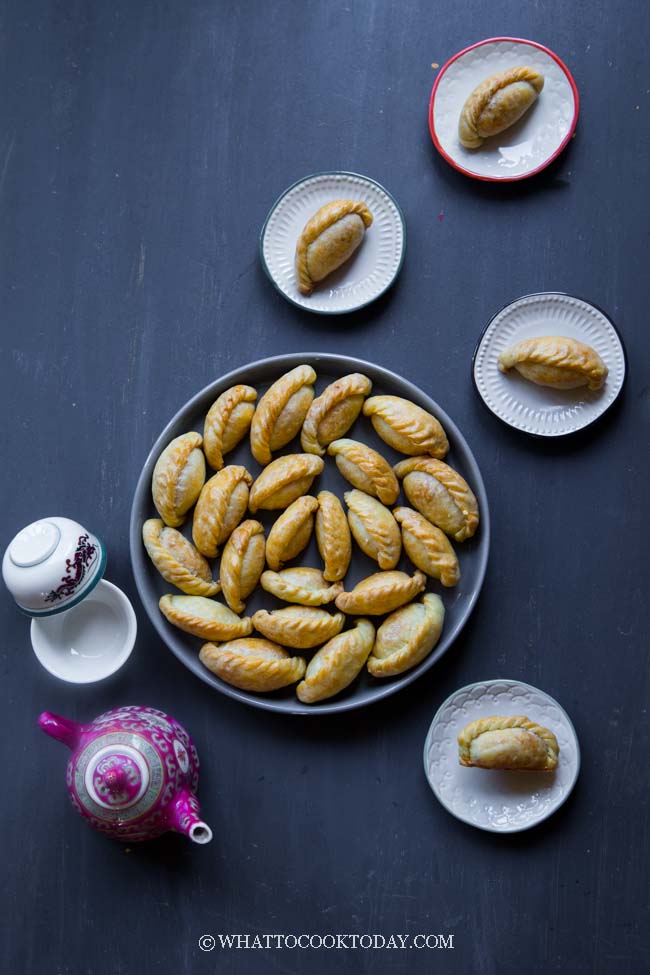 IMPORTANT TIPS TO MAKE KOK CHAI SUCCESSFULLY
1. DO NOT OVERFILL
This is such a mini treat and it's important not to overfill the pastry with peanut filling. It will be difficult for you to wrap.
2. SEAL THE DUMPLINGS REAL GOOD
It is important to really pinch and seal the dumplings after you fold it over. Otherwise, the dumplings will open up when you bake or deep fry them
HOW TO STORE KOK CHAI
Let them cool down completely and then store in an air-tight container at room temperature for up to 1-2 weeks.
DID YOU MAKE THIS MINI KOK CHAI RECIPE?
I love it when you guys snap a photo and tag to show me what you've made 🙂 Simply tag me @WhatToCookToday #WhatToCookToday on Instagram and I'll be sure to stop by and take a peek for real!

Mini Kok Chai (Chinese Crispy Peanut Puffs) - Baked or Fried
Ingredients
Pastry dough:
150

gr

all-purpose flour

⅛

tsp

salt

50

gr

butter

cold and dice into little pieces

3

Tbsp

water

1

egg yolk
Cooking (if you choose to deep fry):
Egg wash (if you bake them):
Instructions
Prepare the peanut filling:
Place peanuts, sugar, sesame seeds, and salt in a food processor. Chop into smaller pieces, taking care not to grind into a powder. We still want to be able to bite into small pieces of nuts. Add the oil and mix everything. Set aside
Prepare the dough:
Combine flour, salt, and butter. Rub the butter into the flour to get a coarse crumbly dough

Add egg yolk and 1 Tbsp of water at a time and continue to knead into a smooth non-sticky dough and add water as needed. Cover the dough and rest for 30 minutes (DO NOT skip the rest)
Wrapping and Shaping:
Preheat oven to 350 F if you choose to bake. Roll the dough into a thin sheet, about 3 mm in thickness. Use a small round cookie or biscuit cutter, about 3-inch in diameter, or simply use the lip of the round glass jar about that size to cut out round shapes

Gather the extra dough left from after cutting out the dough to form a ball. Rest it a bit and then roll it out into thin sheet again and cut out more round shapes if possible

Place about 1 teaspoon of the filling into the middle and then fold over to form a half-circle. Start folding and pinching the edge to seal. Make sure you seal them good or the filling will spill out when you fry or bake them
If you choose to bake:
Place the kok chai on a baking sheet lined with a parchment paper. Brush with egg wash. Bake in a preheated oven for about 20 minutes and then rotate the baking sheet and bake for another 10-15 minutes until nicely golden brown
If you choose to deep fry:
Preheat about 2-inches of oil in medium-size pot over high heat. When the oil is hot, lower the heat to medium and carefully put the wrapped kok chai into the oil, in batches, and fry until golden brown and puffy on both sides. Remove into absorbent paper towel and continue with the rest
Storing:
Let them cool down completely and then store in an air-tight container at room temperature for up to 1-2 weeks
Recommended products: