Learn how to make tender and flavorful Chinese pork jerky bak kwa at home with only 4 ingredients using an oven. All natural ingredients with no preservatives. Perfect as a snack or for Chinese New Year gifting.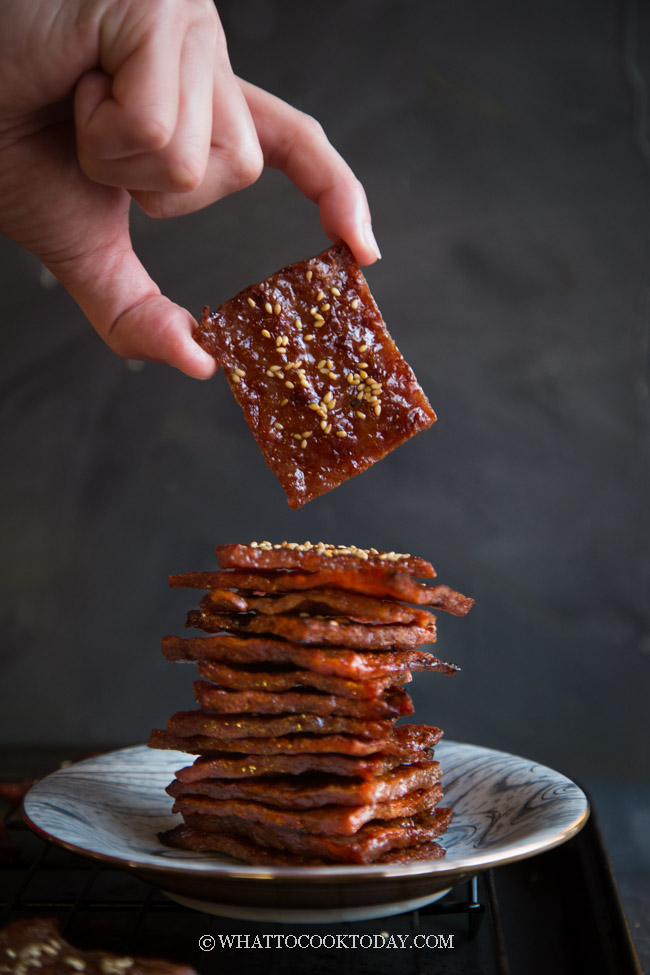 CHINESE PORK JERKY (ROU GAN)
Rou gan or Chinese pork jerky (bak kwa in Hokkien) is big deal in Singapore especially during Chinese New Year (CNY) where the sellers can jack up the price 2-3 times during this festive season. I remember trying to bring this bak kwa from Singapore to Minneapolis when I first moved here and they got thrown away at the airport! OUCH! Okay, I got it..no meat product! At least I tried LOL! Chinese pork jerky is unlike the beef jerky or pork jerky I've eaten here in the U.S. The beef jerky here is really extremely lean. So lean to the point that I couldn't even chew them most of the time! Though, I understand that the beef jerky here is marketed as a healthy snack. I've come across some of my favorite beef jerky that is more at the tender side. Bak kwa on the other hand, is tender and usually at the sweet side and it is an indulgent, not as healthy snack 🙂 Ground pork is marinated in seasonings and some cases, spices, for different choices of flavors and taste and then roll flat and grilled on charcoal for that smoky flavor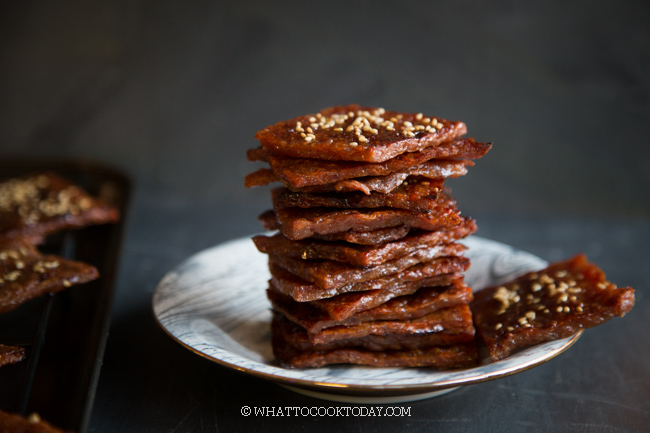 EASY NO FUSS BAK KWA RECIPE
I used to think to make bak kwa must be extremely difficult because of how expensive it is during CNY. In reality, only 4 ingredients are needed to make bak kwa with original flavor and trust me, it tastes amazing despite having only 4 ingredients!
Ingredients: Ground pork with some fat, soy sauce (some people use fish sauce), sugar and salt
Traditionally, the bak kwa is grilled on charcoal. I find that baking and broiling the bak kwa in the oven also gives an amazing result. You don't need any fancy equipment!
GROUND PORK OR SLICED PORK TO MAKE BAK KWA
A bak kwa enthusiast will say that sliced pork is a better one to use to make bak kwa because it still has that meat fiber and more flavor. I can tell you though, this ground pork version also produces a really good result and much more convenient because ground pork is widely available and easier to manage too. My husband told me the bak kwa tasted just like those you bought from the shop. The kids were all over them too.
TOP TIPS YOU NEED TO KNOW TO MAKE REALLY GOOD BAK KWA
1. DO NOT USE FROZEN MEAT
Once you thaw the frozen meat, it will have some moisture and this will affect the end result of the bak kwa
2. CHOOSE MEAT WITH SOME FAT
This is to ensure you get tender bak kwa
3. MEAT TO PAN RATIO
I use 500 gr of meat for 15 x 10-inch jelly roll pan. It's enough to cover the entire surface of the pan nicely with 3 mm thickness. If you plan to make less, you will need to use half the size of the pan I use. You want the bak kwa to have a perfect thickness, not too thin and not too thick
4. BROIL FEW PIECES AT A TIME
I found that broiling the bak kwa few pieces at a time is better because I can watch them closely and they don't get burn easily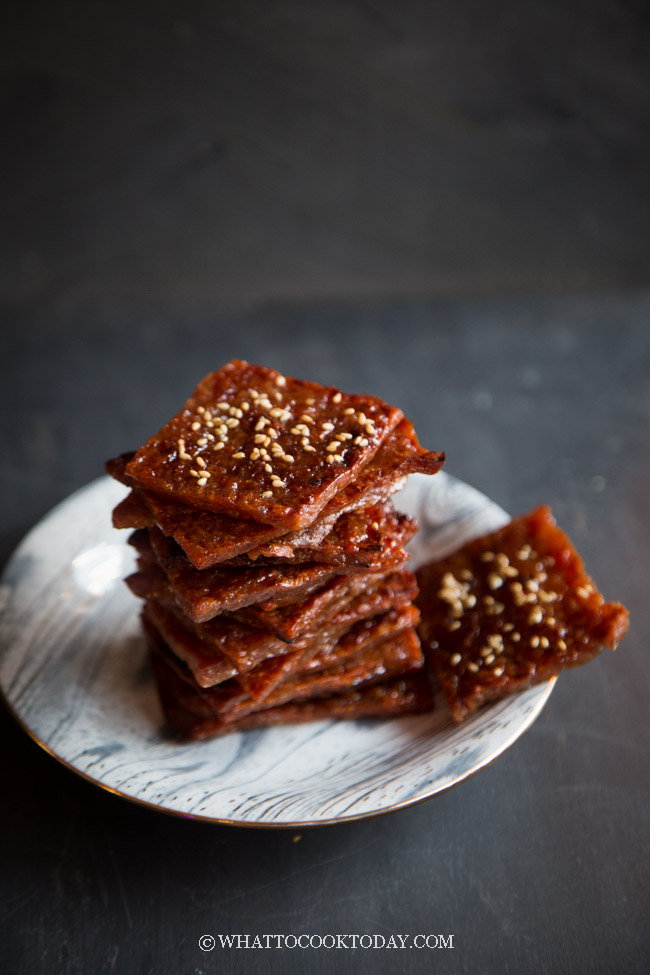 HOMEMADE BAK KWA IN THE OVEN STEP-BY-STEP COOKING GUIDE
STEP ONE: MARINATE THE MEAT
1. Place ground pork, sugar, soy sauce, and salt in mixing bowl


2. Mix with your clean hand until the mixture is pasty and sticky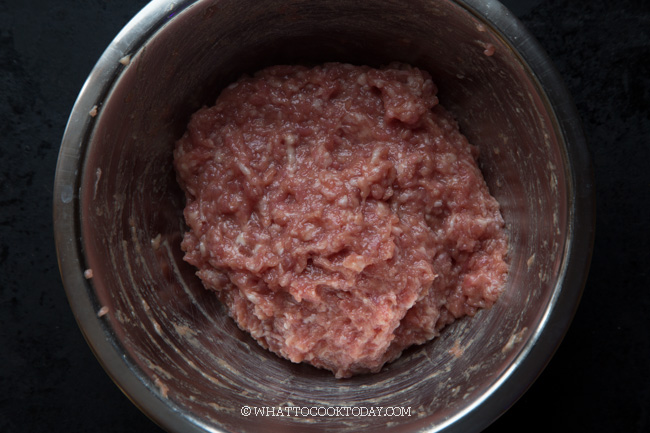 3. Cover and marinade for at least 6-8 hours or overnight (but no longer than that) for maximum flavor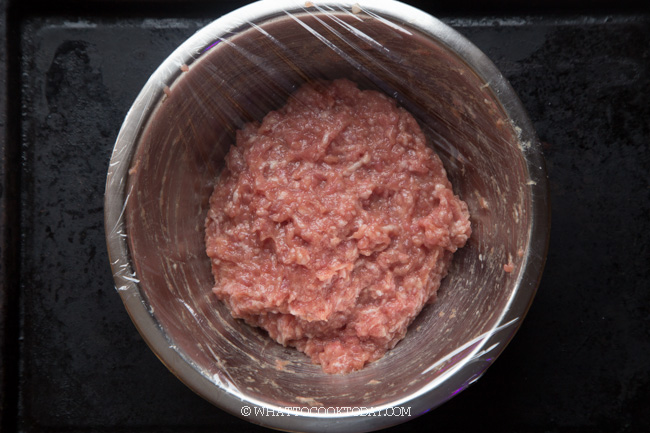 STEP TWO: SHAPING
Transfer the meat to jelly roll pan. Place a piece of parchment paper on top, slightly bigger than your pan. Roll the marinated meat out on the pan with small rolling pin to cover the entire surface of the pan and to about 3 mm thickness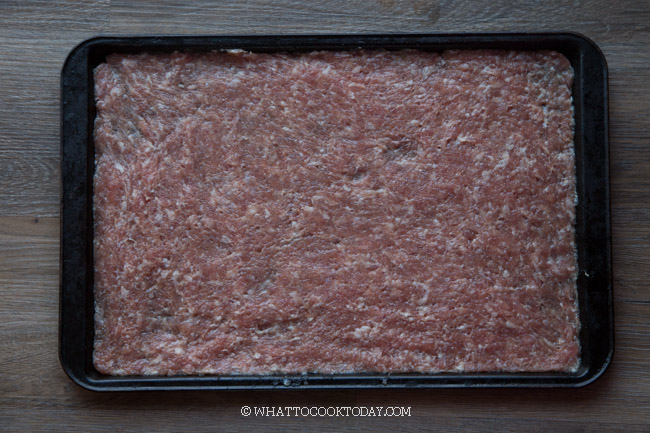 STEP THREE: COOKING
1. Bake in the preheated oven at 250 F (121 C) for 10 minutes and then gently flip to the other side and bake for another 10 minutes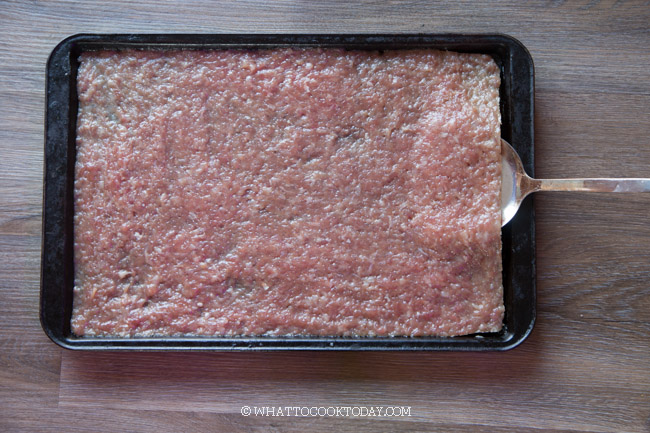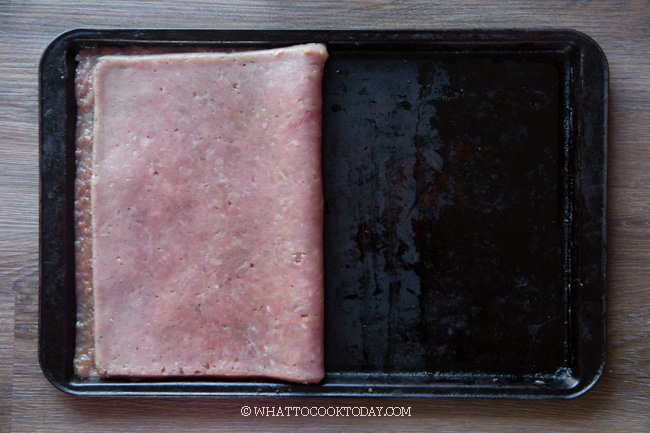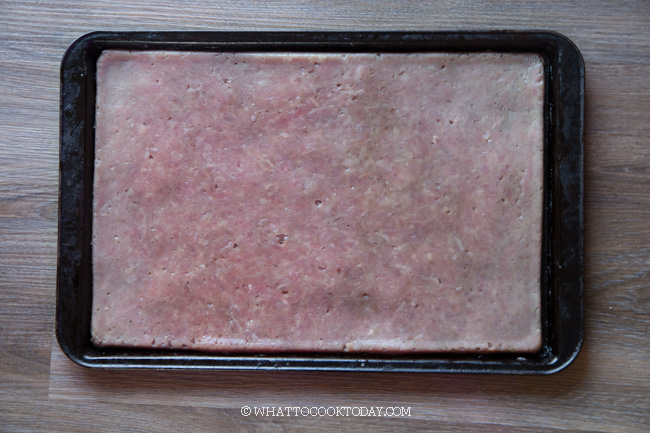 2. Cut into the desired size with kitchen shears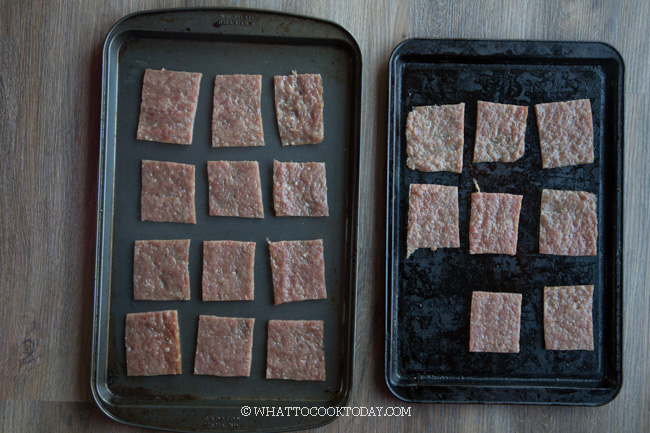 3. Turn broiler to low and grill each side of the meat until you are happy with the color and then flip to the other side. Please DO NOT walk away during this process or you will char the meat badly.

CUSTOMIZE YOUR BAK KWA
FLAVOR: I only use 4 ingredients, but you can add other flavor or seasonings you like such as five-spice powder, fish sauce, hoisin sauce, chili powder/chili flake, or glaze with honey and then sprinkle with some white sesame seeds and then broil them.
MEAT CHOICES: I've seen people use ground chicken and ground beef to make bak kwa. I haven't tried it myself, but I will in the future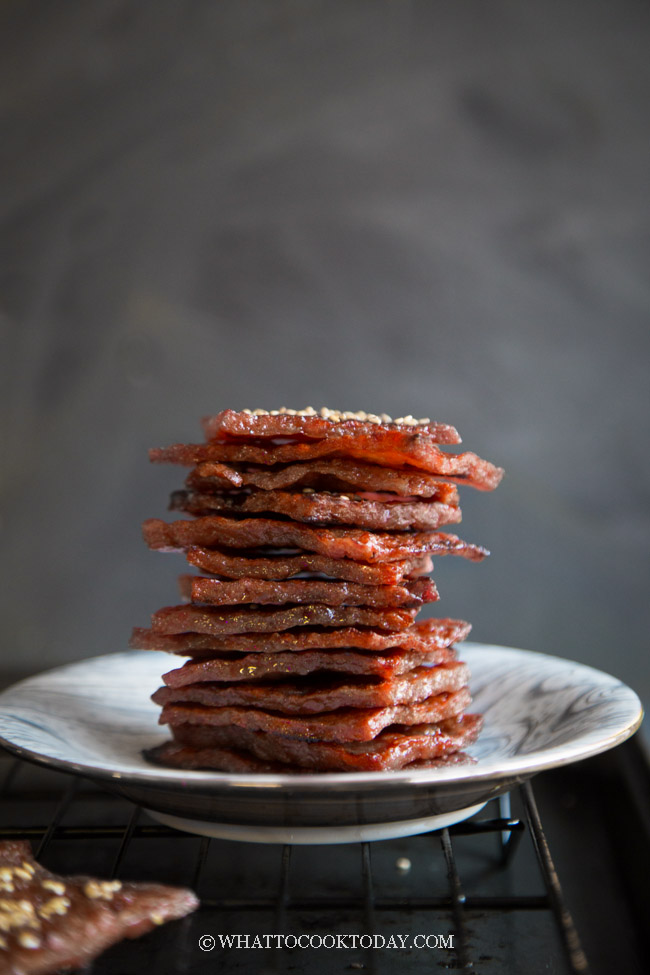 BAK KWA SHELF LIFE
Freshly made bak kwa can be stored in air-tight container for up to 3 days at room temperature. They can be kept at the refrigerator for up to one month after that. I do not recommend freezing bak kwa. If you see some white spots appearing on your bak kwa, under normal circumstances, that's not because of mold or fungi, it's usually because of the sugar hasn't been caramelized enough during the cooking process.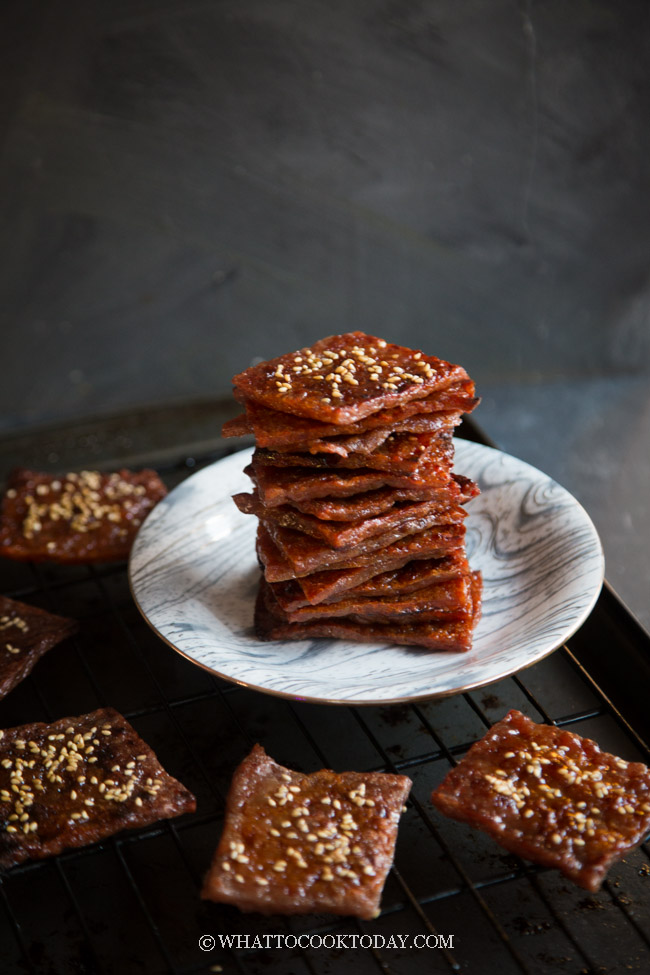 HOW TO REHEAT BAK KWA
You can wrap them with aluminum foil and reheat in the oven or toaster ovenat 350 F for 5 minutes. You can use microwave to reheat for about 30 seconds or so.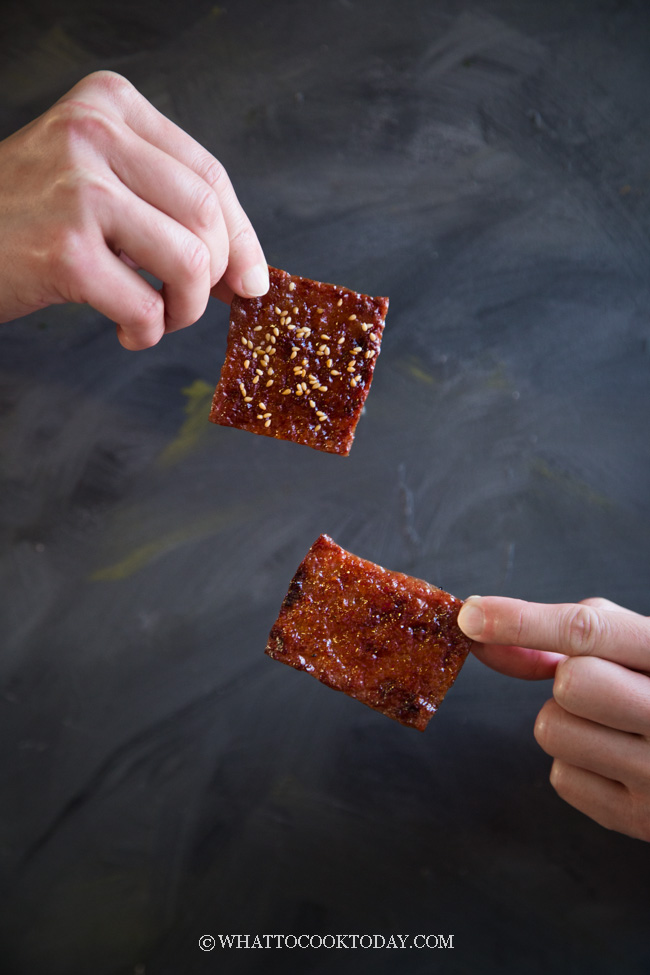 This blog post contains affiliate links. I earn a small commission when you made purchase at no extra cost to you. Learn more.
Recipe is adapted from
My Kitchen 101 YouTube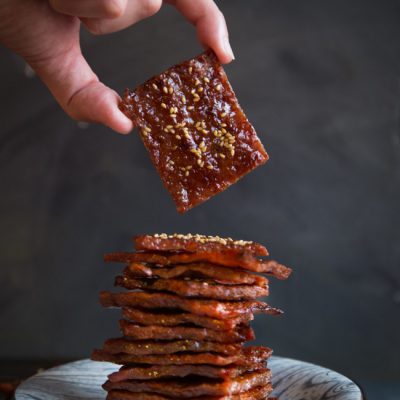 Easy Homemade Bak Kwa Chinese Pork Jerky (In the Oven)
Learn how to make tender and flavorful Chinese pork jerky bak kwa at home with only 4 ingredients using oven. All natural with no preservatives. Perfect as a snack or for Chinese New Year gifting.
Marinade the meat:
8
hours
PIN RECIPE
PRINT RECIPE
Ingredients
500

gr

ground pork

preferrably with some fat

120

gr

sugar

1

Tbsp

soy sauce

1

tsp

salt
Instructions
Marinade the pork:
Make sure to choose ground pork with some fat marbling. This is to ensure you'll get tender pork jerky later

Place all the ingredients in a mixing bowl and mix with your clean hand for about 1 minute. The meat mixture will turn pasty, which is what we want

Cover with a plastic wrap and refrigerate to let it marinade overnight, at least 6-8 hours is my suggestion for a great flavor
Shaping:
Preheat oven to 250 F (121 C). Transfer the marinated pork to a jelly roll pan. Place a parchment paper on top and use your palm to roughly spread the meat and then use a rolling pin to roll the meat out evenly to cover the entire pan and to about 3 mm thickness. I feel like this is a great thickness, not too thin, not too thick. Perfect for the bak kwa to be tender
Cooking:
Place the jelly roll pan 3rd rack from the top and let it bake for 15 minutes

Remove from the oven and very gently, use a spatula or turner to loosen the meat from the pan to flip it over to the other side. You'll be surprised how easily this can be done

Once the meat is turned, bake it again for another 15 minutes. Remove from the oven. The bak kwa is still looking pale and not even close to the finished product you imagine, but fret not, we are not done yet

Cut the bak kwa with kitchen shears into desired size. I cut into 4 x 4 inch pieces. You can cut into large size like the one they sell, it's up to you

If you want some with sesame seeds, you can brush the bak kwa pieces with honey and then sprinkle with some white sesame seeds, if not, just leave it as is
Using a broiler:
Turn your oven broiler to low. This will activate the top heat only. Place the bak kwa pieces back into the pan (I recommend lined with new sheet of parchment paper to prevent too much smokes in the oven). I highly recommend 3-4 pieces at the time. Place the pan at about 4th rack from the top. DO NOT walk away. You need to watch the bak kwa as broiling will burn the meat if you don't attend to it closely. When you are happy with the color, flip to the other side, brush with some honey and sprinkle with some white sesame seeds and et them broil again
If you don't have a broiler:
Increase the oven temperature to 375 F. Place the bak kwa pieces back into the pan (I recommend lined with new sheet of parchment paper to prevent too much smokes in the oven). Bake them for another 5-10 minutes on the top rack this time. When you are happy with the color, turn to the other side and brush with some honey and bake again for another 5-10 minutes
Serving and storage:
Let them cool down and then store in air-tight container. Bak kwa is best consumer after 24 hours as the flavors have really developed. They can be kept at room temperature for up to 3 days or store in the refrigerator for up to 1 month