Learn how to make traditional soft and bouncy kuih kosui flavored with pandan leaves and gula Melaka with nice dimples in the middle of the cakes and no alkaline water needed. Natural colors from pandan juice and coconut sugar.

KUIH KOSUI PANDAN AND KUIH KOSUI GULA MERAH/MELAKA
Kuih kosui or we write it as kue kosui among the Indo Chinese, is one of my favorite childhood kue basah (literally means wet cakes). It is known as kue lumpang in native Indonesian language. Whatever you call it, it means the same thing 🙂 I made two flavors, one with pandan and another one with gula merah/gula Melaka. I like both equally!
Kuih kosui is very economical to make. The kuih is characterized by its "dimple" in the middle of the cake, lightly sweet taste, soft, yet wobbly and slightly bouncy texture and then topped with slightly salty grated coconut topping. OMG! I love this sweet-salty combo!
NO ALKALINE WATER NEEDED TO MAKE KUIH KOSUI
Alkaline water (lye water) is usually added to food for that chewy texture (think ramen noodles!). A few years ago, a Vietnamese friend taught me how to make Banh Beo. These savory cakes also have "dimples" in the middle. Her recipe is spot on. I then used almost the same one to make Singapore Chwee Kueh, yes, you've guessed it, these also have dimples in the middle. Kuih kosui uses the same concept. The soft, wobbly, and bouncy texture can be achieved without having to add any alkaline water. You just need the right combination of flours! The dimples will magically appear too during steaming. Read on!
WHY YOU'LL LIKE THIS KUIH KOSUI RECIPE
1. Yes, no Alkaline
2. Practical
I've tried several recipes throughout the year that require to heat the batter either in the microwave or the stove until just slightly thickened. I found this troublesome and it's hard to control the thickening process and the batter ends up with lumps. This recipe doesn't need that step!
3. Nice dimples (lompang/lumpang)
Some people will say that a nice kuih kosui must have "dimple" in the middle of the cake after steaming. This recipe will give you the dimples 😉 Though really, it doesn't change a taste at all. Just a nice dimple when you topped with coconut, you can't see it LOL!
4. No special cups needed (if you don't have them)
I don't have the individual cups that look like teacups to steam kuih kosui in. I just use small muffin tins to steam the cake and it worked out just fine
5. Kuih kosui stays soft and wobbly even after refrigeration
I store them in the refrigerator and tried it out without reheating the next day and the texture is still really good. Of course, the longer you store them, the texture will deteriorate, but once you reheat, it will be good again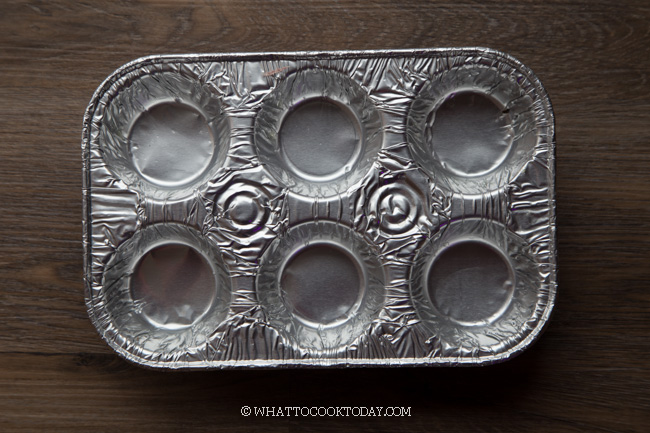 FLOURS/STARCHES USED FOR KUIH KOSUI
This recipe uses 3 different types of flour/starch: rice flour, wheat starch, and cornstarch. If you can't find wheat starch, you can just use rice flour.
TOP TIPS YOU NEED TO KNOW
1. Let the boiled water cooled down
My friend shared with me that you don't want the water to be boiling when you pour it into the flour as that will cook the flour and creates lumps. The warm water helps to create the dimples in the cake. It also improves the texture of the cake
2. Only fill the cups when you are ready to steam them
If you fill the cups with batter and let them sit waiting or the steamer for too long, the flour will sink to the bottom and guess what, your cake will not cook properly. So, please don't do that. Only fill the cups with batter just before steaming
3. Always stir
When you are ready to pour into the cups, give the batter a good stir. For the same reason I mentioned in no.2. The flour tends to sink to the bottom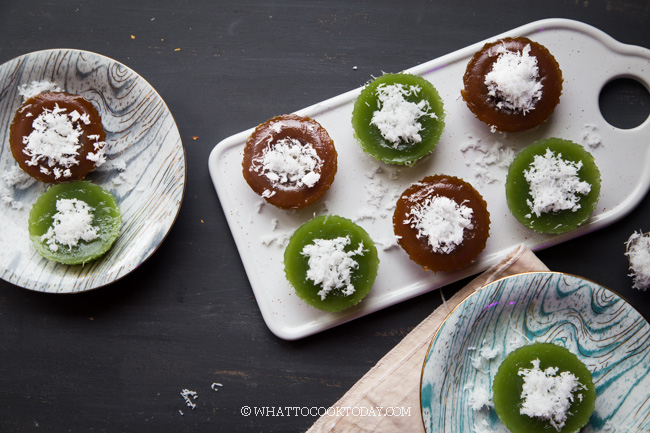 HOW TO MAKE KUIH KOSUI EASILY FROM SCRATCH
STEP ONE: PREPARE THE BATTER
1. Bring water to a boil in a saucepan and stir until sugar dissolves. Remove from the heat and let it cool down for 15 minutes
2. Get the steamer ready. Steam the grated coconut and salt mixture for 10 minutes. Set aside. Steam empty cups over high heat for 5 minutes before pouring the batter
3. Mix all three types of flour/starch in a mixing bowl. Add sugar and salt and whisk to mix and then add pandan juice (for pandan flavor).
3. Once the liquid has cool down and feels lukewarm, pour into the flour mixture and stir to mix until batter is smooth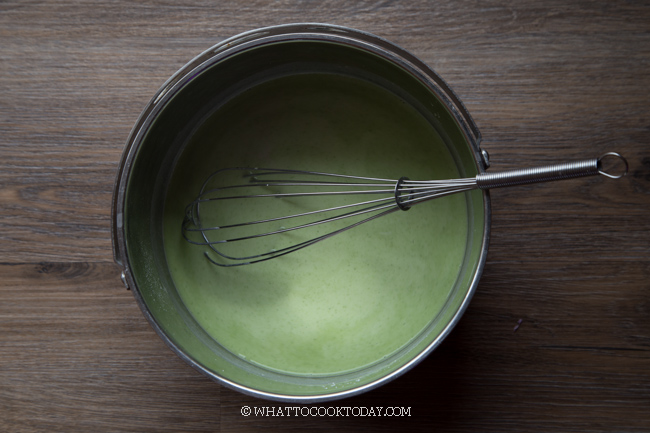 STEP TWO: STEAMING
1. Pour the batter into the preheated cups, about 3/4 full
2. Steam over high heat for 12-15 minutes for smaller cakes and about 18 minutes for larger cakes.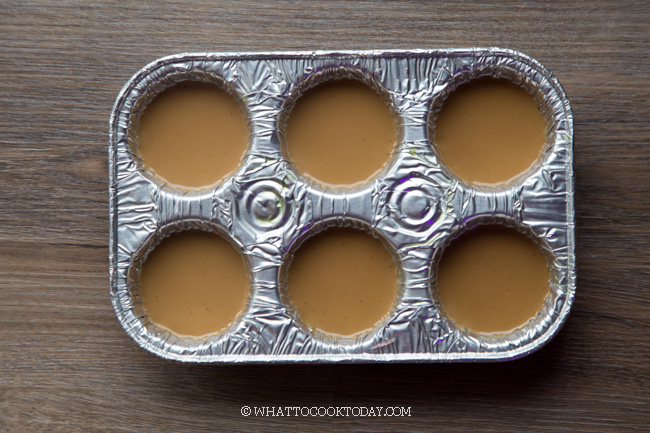 STEP THREE: UNMOULDING AND SERVING
1. Let kuih kosui cool down for 5 minutes and if you have a small rubber spatula, gently unmould the kuih kosui by running the spatula around the edge and lift it up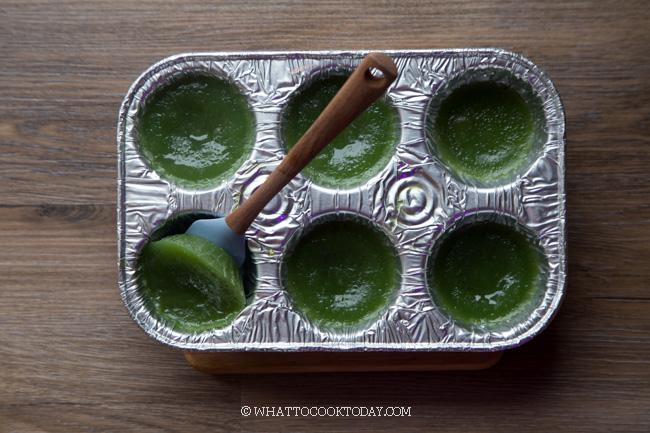 2. Top with grated coconut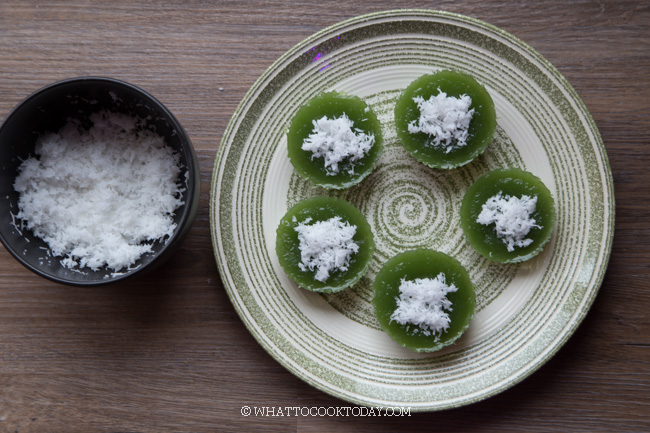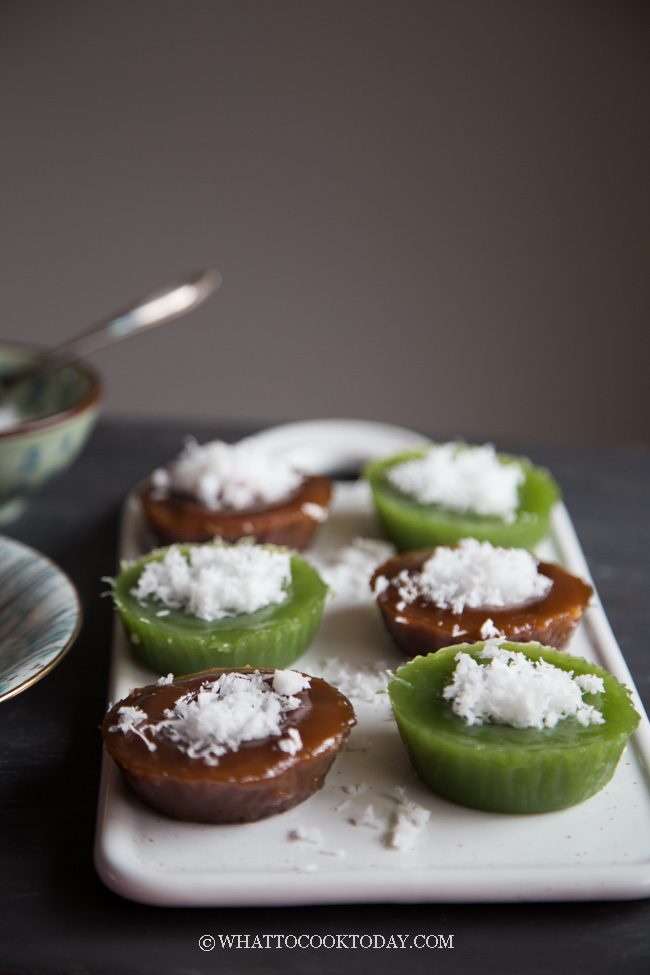 HOW TO STORE KUIH KOSUI
It's winter when I made this and the humidity is super low and so I was able to let them cool down completely and then cover with plastic wrap and keep at room temperature until the next day. I put them in the refrigerator after that. The texture was still good after refrigeration without reheating, but feel free to reheat in a steamer for 5 minutes or in the microwave for few seconds. Kuih Kosui cannot be frozen!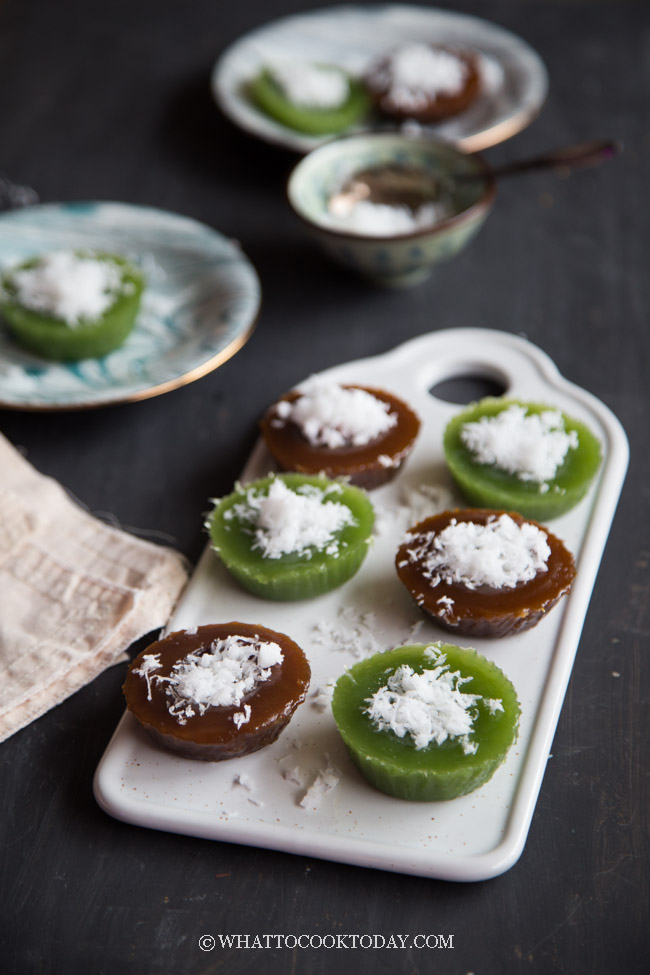 TROUBLESHOOTING
The batter is watery even after steaming for long time
This is most likely caused by:
– You did not steam the empty cups before pouring the batter
– The water that you use to make the batter has turned cold and the water and flour/starch separates
– You did not steam the kueh over high heat
We just love the soft and bouncy texture of kuih kosui!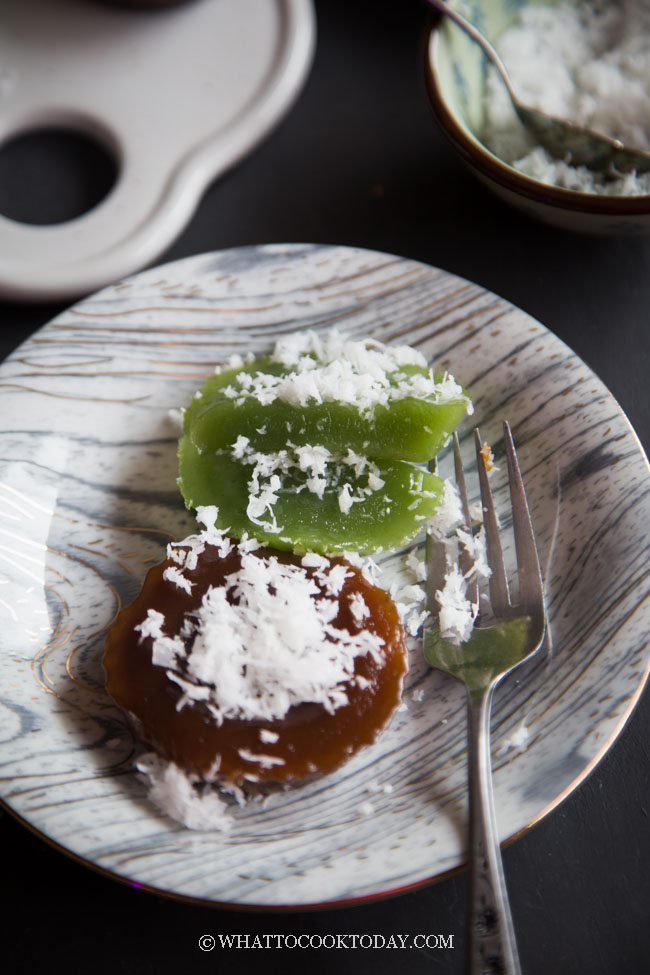 *I've done several rounds of testing using different flour/starches and I prefer this combination of rice flour, wheat starch, and cornstarch. The cake is soft and wobbly. The previous version included tapioca starch and I found it too chewy.
Kuih Kosui / Kue Lumpang (Pandan or Gula Merah)
Ingredients
For pandan flavor:
150

gr

sugar

200

ml

boiling water

let cool for 15 minutes

100

ml

pandan juice
For gula merah flavor:
300

ml

boiling water

let cool for 15 minutes

70

gr

gula Jawa

(grate into fine pieces) or use coconut sugar

30

gr

sugar
Toppings:
60

gr

unsweetened grated coconut

1/4

tsp

salt
Instructions
Bring water to a boil and let it cools down for 15 minutes so it should feel lukewarm after that. The warm water will stabilize the starch/flour and they won't separate when you steam, yet we don't want it to be hot boiling that it cooks the starch/flour into a dough
Prepare the topping:
Steam the coconut with salt over high heat for 10 minutes. Remove and set aside 
Preheat the cups/muffin cups in the steamer:
Bring water in the steamer to a boil and place the empty cups in the steamer and let them heat up for 5 minutes while you are preparing the batter. This step is also important to prevent the flour/starch from separating when you steam
Prepare the batter:
Place all three types of flour in a mixing bowl. Add salt, sugar and stir to mix. Add the pandan juice (for pandan flavor) and add the lukewarm water. Stir into a smooth batter
Steaming:
Pour the batter into preheated cups, about 3/4 cup full and steam over high heat for 18 minutes for large cakes (if using muffin cups) or 12-15 minutes for smaller cakes

If your steamer cannot fit all at the same time, do not pour the mixture ahead and let them sit in the cups. The flour tends to settle at the bottom after a while. Only pour the batter to the cups right before steaming AND stir the batter each time before pouring. This is important or your kuih kosui won't turn out right

After steaming, remove from the steamer and let them cool down for 5 minutes. They can be easily removed by running a small rubber spatula around the edge and lift them up. Sprinkle with the coconut toppings and serve

Repeat with the next batch of steaming if you need to and make sure the steaming water is back to a rolling boil before steaming and remember to preheat the cups
Notes
If you can't find wheat starch, you can replace it with rice flour.